Different strokes for Different Folks. Choosing the best car body type for your need and budget.
There are all kinds of cars and they come in all shapes and sizes. This goes along the fact that we have different tastes and specific needs; therefore no car type is completely useless.
I've overheard conversations time and again between random people saying that no one really needs a big, hulking van or a monster-sized truck and that all they need is a regular car that gives good mileage and can fit the entire family.
What happens is that guy will then settle for whatever thinks is appropriate according to peer pressure. Ultimately the buyer then regrets his purchase, one wherein he might have taken a huge mortgage from the bank for.
Luckily you have us at Philkotse.com covering you. Today we'll be discussing the different and general types of cars, discuss their inherent pros and cons so that you can make an informed decision.
Maybe after reading this article you can show this to your significant other and tell them without a doubt that yes, you do NEED that brand new sports car, or as your wife calls it, the death machine!
1. Sedan cars
Let us start off with the venerable 4-door sedan. Sedans are a staple in Filipino car culture as these historically the types of cars companies would offer as part of their entry-level or fleet motoring.
It makes a lot of sense to purchase sedans, with their 4 doors, ample seating for 4-5 (or even 10 in the Philippines), for those extended family trips and you're the only person in the family with an actual vehicle.
Ride height usually comes at a medium level when compared to high-riding SUVs or ground-hugging, bumper scraping sports cars which makes this car definitely ideal for hauling light to medium-sized cargo.
Fuel economy on these is also a determinant factor for their popularity as most available sedans in the Philippines range from 3 or 4 cylinder engines and climbs up to a V6. You can never really go wrong with a sedan and this is most people's first car.
Interior room is just adequate in most models and can comfortably fit 4-5 people. Cargo duties are handled by a rear trunk.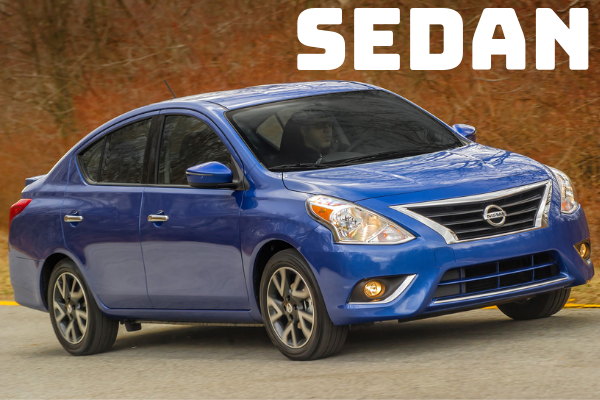 You can never really go wrong with a sedan and this is most people's first car
Most upper-tier models are performance-based machines that handle just as well as their sports-car counterparts but the primary consideration for purchasing sedans is its no-frills character and reliability. If you're looking for a good daily driver, something to rely on day in and day out this is a good place to start.
Perfect examples of this body type are the Toyota Corolla, Honda Civic, Toyota Camry, BMW 3 series and many more. Take your pick while you still can, just ask Ford USA.
>>> Also check out: 
2. Hatchback cars
Hatchbacks are another type of vehicle that has its own rabid following. They are usually 5-door versions of their Sedan counterparts. The Vios would have its Yaris; the Civic, the Civic Hatch, The Jetta, a Golf, The Accent… The main factor helps us to distinguish a hatchback and a sedan is an extended trunk. Well, you get the picture below.
Everything that applies to a sedan goes the same for the Hatchback except that it ditches the rear boot and adds an additional door. Car companies often market their hatchbacks as performance versions of their model line-up. This is why you often hear the term "hot-hatches".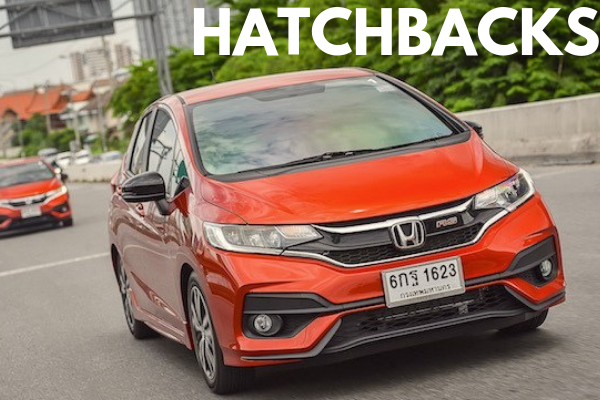 The idea of hot-hatches was actually a happy accident 
Car companies would go wild and have their way in upgrading suspension parts, body kits and engine performance parts, there is just something about that shape that exudes "sportiness".
A lot of that actually has to do with omitting the rear trunk. Fewer body overhangs push the wheels evenly across the body frame evenly spreading out the car's weight. 
The idea of hot-hatches was actually a happy accident as car-companies' original plan was to create a sensible, smaller wagon. 
The aforementioned Honda Jazz, Toyota Yaris, Toyota Prius, Volkswagen Golf, Kia Picanto and many more are all great representatives and you can find the best deal for your budget at Philkotse.com.
>>> For your further reference: 
3. Wagon cars
We come to the grand-daddy of Sedans, the almighty Wagon. Wagons have gained popularity in the '60s and '70s (remember the iconic family wagon in That 70-'s Show?) coinciding with the advent of the baby boomers.
The American Economy is humming and cross-country expressways were literally paving the way for families to explore the great outdoors. Car companies recognized this demand for a vehicle that can haul entire families and their dog, along with at least a week's worth of stuff and the existing sedans and roadsters just could not cut it. 
Enter Wagons. It's everything a sedan is with huge rear space for all your luggage and then some. These cars are the original family haulers at a time when SUVs were primarily for agricultural use.
It wouldn't be weird to see people rushing to the grocery and coming home with cartloads of shopping items just because they could.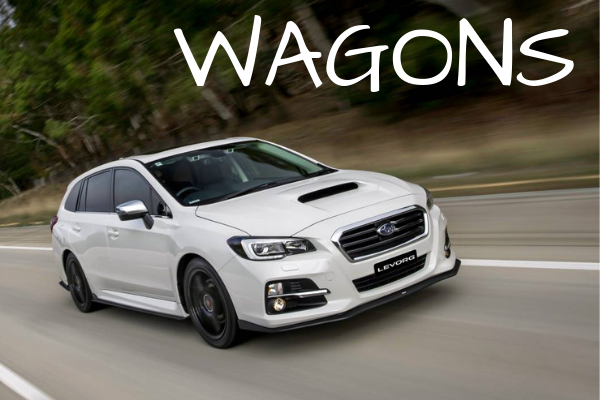 If you do decide on getting a wagon, get ready to stand out in a crowd
We don't see a lot of wagons nowadays as they have been usurped by SUVs, Hatchbacks, and MPVs (more on these later). Most wagons, nowadays, are actually now, more often than not, performance vehicles with the traditional hold-outs Subaru and Volvo hoisting the Wagon flag.
This is my favorite body type and I believe a Levorg would be my next vehicle. If you do decide on getting a wagon, get ready to stand out in a crowd by owning this one-of-a-kind and unfortunately almost extinct car type.
I did mention the Subaru Levorg and the Volvo Estate Wagons but you could also add the excellent Mazda 6 Wagon to your list of this dying breed still available.
>>> Related: Different types of car doors from regular to the unusual
4. SUV cars
SUV stands for Sport-Utility-Vehicle, but in the past models such as the Chevrolet Suburban and contemporaries are anything but sporty. They were large hulking behemoths that glugged a lot of gas and were almost extinct at the dawn of the new millennium during the great oil crisis.
To say that SUVs are experiencing a renaissance in demand and sales would be the biggest understatement you would hear today.
Fun Fact: Ford USA has announced last year that they would be ceasing production of their sedan, hatch-backs and wagon models focusing primarily on their SUVs and the Mustang.
This is in response to the American market shifting towards purchasing SUVs rather than low-riding vehicles. Mitsubishi has actually done this first a few years back with the death of the Lancer Evolution.
The only other sedan/hatchback they make is the Mirage and nothing else. The notion that the next Mitsubishi Eclipse will be released as an SUV is proof that the SUVs are here to stay, and then some!
>>> Read more: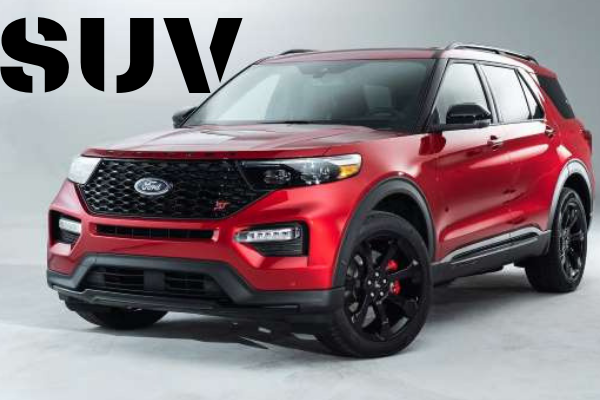 These types of vehicles are characterized by their powerful, imposing presence
Why wouldn't companies make this production and marketing shift? SUVs are bigger and more powerful than sedans and modern SUVs are actually less cumbersome to handle than they once were.
Add a diesel engine, which is very popular in the Philippines, and you get a powerful yet economical ride as well. It can also fit a whole lot of stuff and haul people much like a wagon but in a more rugged frame.
These types of vehicles are characterized by their powerful, imposing presence with their high ground clearance, and bulky frame. If you're looking for a vehicle that can wade through Philippine monsoon floods and miserably rough roads this is the car you might want to consider.
I could go on and on with a list of SUVs for sale available in the Philippines but current best sellers are PPV based models Toyota Fortuner, Mitsubishi Montero Sport; Compact SUVs like the Honda CRV and the Hyundai Tucson create a sense of diversity.
You even have subcompact SUVs like the Ford Ecosport, Hyundai Kona, Honda BRV... I told you, this list could go on and on, so look for the best deals at Philkotse.com.
5. MPV cars
Not everyone appreciates the rugged look of an SUV and would rather use the space being taken by those huge fender flares and arches for fitting even more people. The stiff ride doesn't help as well due to their sporty nature.
For that particular purpose, you have the MPV or Multi-Purpose-Vehicle. Otherwise mentioned in the same breath as mini-vans MPV types can be configured in so many ways, from a luxury set-up complete with captain seats all the way to a full-on commuter mode with bench chairs all around. The options are virtually limitless hence the word multi in MPV.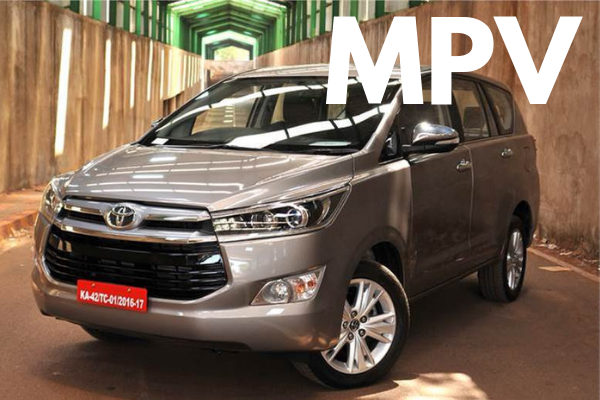 The MPV is the true spiritual successor to the traditional family wagon
These vehicles are different from SUVs in a way that MPVs have a more car-like characteristic.  They are much easier vehicles to enter due in part to their large doors.
The ride is designed to be plusher as it doesn't need to go off-roading, The MPV cars are the true spiritual successor to the traditional family wagon and is the primary reason why these are the final years of the venerable wagon. This is the perfect family car and is a no-brainer for those looking for a sensible yet spacious.
The Toyota Innova comes to mind when you shop for MPVs but other options are available, from the economical such as the Mitsubishi Xpander, Suzuki Ertiga and Honda Mobilio, to the luxurious in the Honda Oddessey and Toyota Alphard.
>>> For your reference: List of the most popular MPVs available in the Philippines
6. Pick-up truck
For the adventurous set, we have the next vehicle type. Pick up trucks are the ultimate utility vehicles. They have a cabin for the driver and passengers but then at the back, they have an entire bed to haul and carry different kinds of cargo. They also have gobs of torque to pull and tow other vehicles even ones that are much larger than the truck itself.
These trucks are then mostly used for agricultural and construction purposes in mind but now even the average Juan, Pedro, and Maria find that having a rear bed, high ride height, all-wheel drive is useful for day to day use.
>>> Also check out the in-depth review of different truck models to determine your choice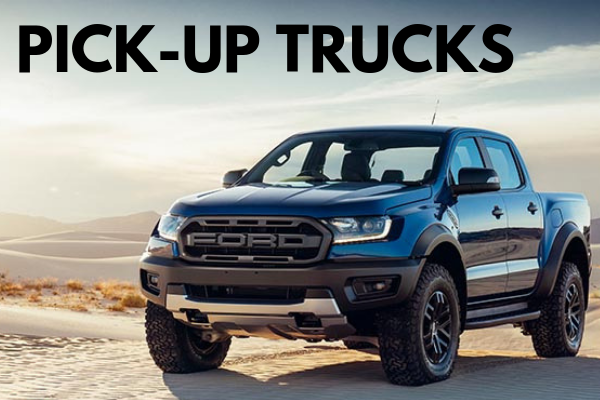 Pick up trucks are the ultimate utility vehicles
Power, and as earlier stated, is massive and is mostly distributed to all 4 wheels or the rear wheels. In the Philippines, if not all Pick-up Trucks available are powered by Diesel engines giving them huge torque.
Handling and Comfort take a back seat, even in modern trucks because of their front-heavy weight distribution and stiffer suspension set-up. The view from the driver's seat is commanding given the aforementioned ride height and also large windows all around.
Pick-up Trucks are also perfect for those who are thinking of having their own business given its hauling capabilities. This is the swiss army knife of cars. There you will see heavyweights in the segment such as the Toyota Hilux, Isuzu D-Max, Ford Ranger, Mitsubishi Strada, and Chevrolet Colorado.
7. Van cars
Vans are pretty much the larger contemporaries of the MPV but unlike that segment, these are built more specifically to haul people. Think of them as mini-buses, and you would begin to imagine how many people it can fit.
Most MPVs are proud of the fact that it can fit 7 people, 8 in a stretch but these purpose-built vans are specifically designed to carry from 10 to up to 16 individuals! This is the primary reason that vans are such a huge hit in the Philippines.
It caters to our sensibilities towards family and community. Fun fact, Toyota has reported that the Philippines is one the biggest markets in the world for their people hauler, the Hiace and this is the reason why they chose our country as one of the key locations to introduce the long-awaited new model of the van.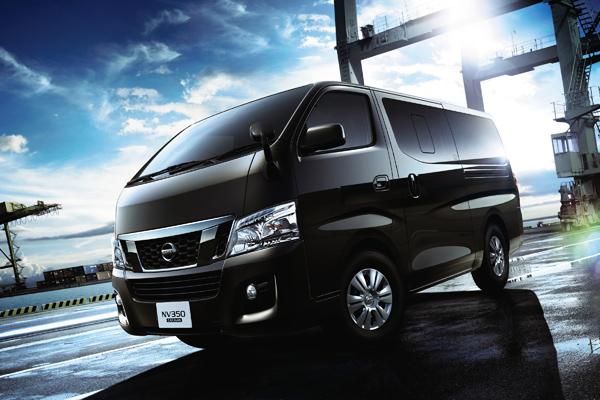 Speed and fuel economy really is not the priority for designing vans. The key word is the comfort
Power is delivered to the front wheels by more often than not a diesel engine, fitting to say the least as it requires a whole lot of torque to ferry all those passengers. Aerodynamics take a back seat for this vehicle as these literally look like refrigerators on wheels.
Speed and fuel economy really is not the priority for designing vans. Multiple configurations range from rear captain seats to regular bench types to accommodate the buyer's need. It's not odd to see the same model marketed as both a luxury machine and a pedestrian commuter.
There are three primary competitors in this space, the leader being the aforementioned Toyota Hiace followed by the Nissan Urvan and Hyundai Starex.
As this list moves along you'll find that we can throw out the utility part and move along to what our hearts truly desire. The types of cars of which we hang as posters on our bedroom walls as kids and still keep as wallpapers on our phones.
8. Convertible cars
There is nothing more satisfying than driving your car with its top down on a lazy Sunday morning drive. The wind in your hair caressing it gently as if whispering to your ear that, yes, you have indeed made it. Welcome to the world of convertibles.
Not much more can be said about these beautiful machines apart from the fact that their primary purpose is to give you an experience no other vehicle can do.
Sure it may not have rear seats, or even room for yourself when you drive, nor does it have the most powerful engines, and neither is it economical to drive but the feeling of isolation, embracing you with every mile you take.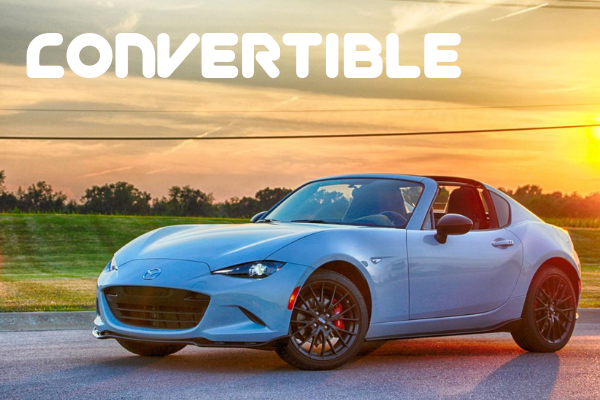 The feeling of isolation, of solace, embraces you with every mile you take
Convertibles are mostly rear-wheel drive vehicles, these are, after all, sports cars and it can't bear to be wrong-wheel-drive. Engine power does not matter really but it does tend to be leaning towards performance, again that's beyond the point of these cars.
If you want to experience the feeling of driving around the motorway with the top down, the Mazda MX-5 is the way to go, but if you are feeling quite richer when you woke up this morning, perhaps a Porsche Boxter may be up your alley.
9. Coupe cars
Coupes are cars that are not ashamed of hiding their performance aspirations. Now whether those aspirations are properly realized or not is up for debate but one can not deny the appeal they have on our boy or girl racer hearts, not with those 2 massive doors.
These segment of cars are built like sedans but omit the rear doors entirely. In their place are, well, more of the front door and usually fatter rear fenders to compensate for the bigger tires to pace the car with its bigger engine.
These models are made to at least look fast. Unapologetically sporty and race-prepped you can find muscle cars, supercars and many other performance-oriented vehicles lumped into this category.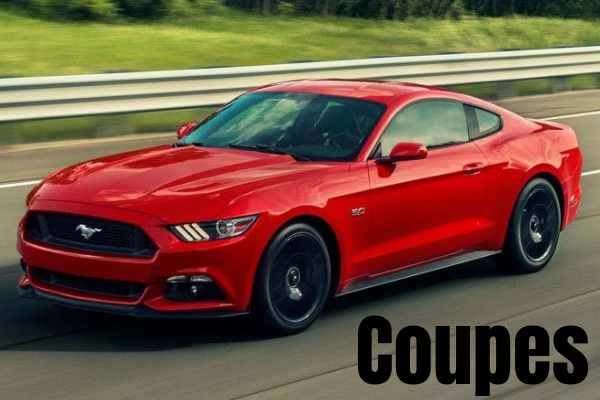 Unapologetically sporty and race-prepped
Mostly found in rear-wheel drive set-ups, you can expect a beefier engine compared to its four-door sibling. The suspension will also surely be rock hard to make the car corner better at the expense of ride comfort.
Sports cars such as these coupes are thankfully plentiful in our market, some great examples are the Toyota GT86/Subaru BRZ; muscle cars like the Ford Mustang and the Chevrolet Camaro, and special front wheeled coupes like the aptly named Kia Forte Koup and Hyundai Veloster.
10. Final thought
As you may have realized right now everyone has specific needs for their vehicles. You may think that a sedan would just be perfect for yourself and there is no need to get anything else bigger. At the end of the day, cars are purchases that require a lot of thought than just a good feeling. Its a decision of the mind as much as it is of the heart.
Fortunately, you can stay informed with the help of Philkotse.com. We gather the best possible deal out there for you to make an informed decision.
Is it time for the convertible yet?


Roy Robles
Author