We compile a list of 5 most fuel efficient hatchback cars in the Philippines for your consideration.
If you have encountered an excruciatingly 7-hour drive from Alabang to Cubao, literally using your travel time to connect your lunch and dinner, you have probably thought of how thousands of motorists could save on gas consumption especially that encountering a bumper-to-bumper scene along the stretches of Metro Manila Skyway and Epifanio delos Santos Avenue (EDSA) would be a typical panorama.
Imagining the scene may irk budget-conscious people since heavy traffic can really be a pain to the pocket. Although 7 hours travel time may not really happen to you on a daily basis, occuring half of it is not far from reality.
Fuel efficient hatchback cars Philippines seem to be increasing and becoming more and more visible nowadays. Car manufacturers see the need to produce fuel-efficient engines in order for them to stay in business especially with the oil price hike that has been happening for more than a decade now.
Although they are not the same as the usual sedans that we know, essential and practical features of vehicles have been brainstormed by manufacturers and kept in these hatchbacks to be offered to budget-conscious people. Philkotse.com will talk about these brands that can make you save on gas consumption in the Philippines.
1. Misubishi Mirage 2018: P630,000 - P790,000
Landing a spot on our list is Mistsubishi Mirage. This subcompact hatchback brags a 1.2L engine that can win the hearts of people who are budget-conscious in their everday living. If you have experienced driving a 1.3 sedan and were happy with how thrifty you were even if you were filling it with gas and not diesel, imagine the savings you will get with Mirage's 1.2L engine.
With its 16km/L fuel efficiency, this Japanese hatchback of Diamond Motors will definitely save a good place on the list of most fuel efficient hatchback cars in the Philippines.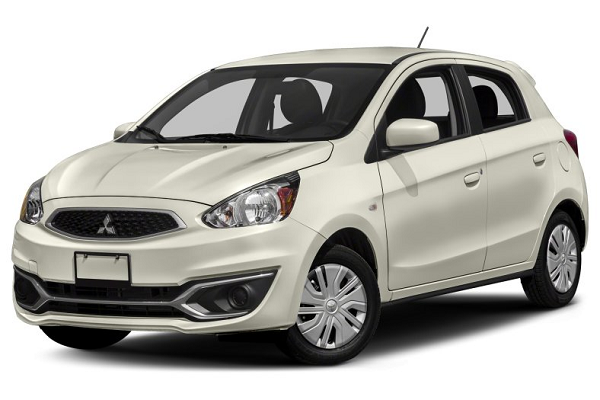 The Mitsubishi Mirage's fuel efficiency is reported to be around 16 km/L
Available in GLX and GLS options in the Philippines, you can choose between MT or CVT depending on your lifestyle and preference. The-5 seater gives you enough legroom to move comfortably inside. It has 6.5 and 7-inch touchscreen in GLX and GLS, respectively. Front power windows are available in GLX, leaving the back seat with the typical roll up and all power windows in GLS. The air-conditioning system also varies from manual to automatic.
>>> More useful information for your reference:
2. Hyundai Accent CRDi 2018: P883,000 - P975,000
Don't be surprised that Hyundai Accent Hatchback is among the most fuel-efficient Hyundai cars in the Philippines. This all-new Accent is different from the elegant looks of its sedan version. Attaching CRDi on its name, this 1.6L sporty-look hatchback boasts a diesel engine that can really be a great partner in this time of oil price increase.
It is not your usual fuel-efficient hatchback since it is not something with minimized engine power but rather something you can drag to the stretch of Marcos Highway in the middle of the night and race with racing enthusiasts between Marikina and Rizal. With its Korean turbo engine, tagged with its sporty looks, this hatchback will not let you down. This is available in MT and AT so you can choose whichever suits your style.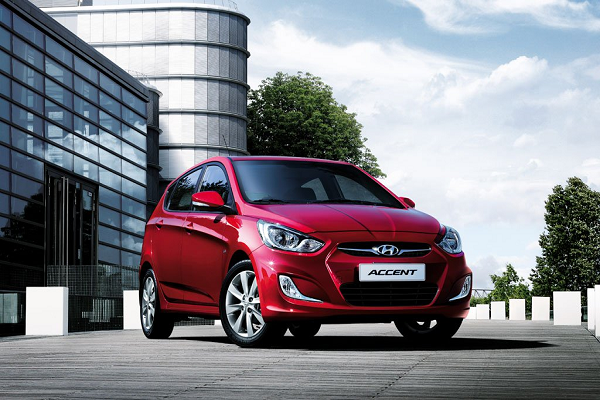 The all-new Accent hatchback is different from the elegant looks of its sedan version
The 6-speed manual transmission and 4-speed for automatic will undoubtedly give you a driving speed worth remembering. Although you may not be able to maximize its speed feature in the daytime metro on a busy day, you can take advantage of it when you go to nearby provinces for your weekend getaway.
3. Suzuki Swift 2018: P755,000 - P899,000
Who would have thought that after the renaming happened with Suzuki Cultus for its markets outside Japan, Swift will be its best-selling brand selling five million units around the globe? With its 1.2L dual-jet engine, it can really save you a lot on gas and still can give you more than a decent ride. When taken to a highway setting, the Suzuki Swift boasts a fuel efficiency of 20.4km/L.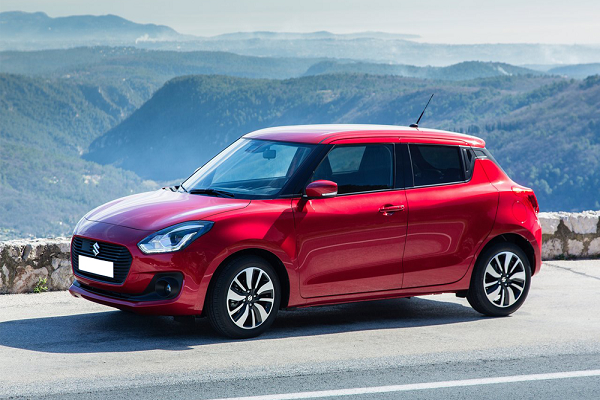 The Suzuki Swift boasts a fuel efficiency of 20.4km/L on highway
This fourth generation of Swift gives a more youthful vibe compared to its previous models. It reverberates more curves and edges, giving the car more contours that throws a more modern look on the body. Built on Suzuki's Heartect platform, this hatchback will give you an active spirit with a lightweight yet sturdy feel.
Maybe you can test this eye-candy before sunrise on North Luzon Expressway and see how this hatchback can get you your famous strawberry jam in Baguio and return to the metro by sunset. This Japanese car is available in GL MT and CVT and GLX CVT units.
Another option that you can take a look at is the Suzuki S-Presso as it is on the list of top 10 most fuel efficient cars in the Philippines.
4. Chevrolet Spark 2018: P694,888 - P859,888
A two-door Chevy lands a spot on the list. Sporting a subcompact hatchback, Chevrolet's Spark brags a 1.4L engine that can be your life saver in this day of rising fuel costs. This mini passenger from General Motors has a fuel efficiency of 24km/L that would be a great company when rushing your way to your office in the busy district of Makati.
Since it is said to withstand different road conditions around the globe, a simple test drive to your busy workplace will help you see how it is like.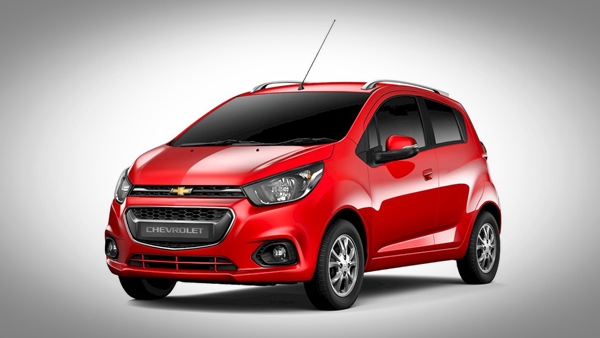 The Chevrolet Spark has a fuel efficiency of 24km/L
Carrying a unique look with its almond-shaped headlights, its two-door design gives very compact feel that can tickle the hearts of those who are loooking for their first car. Its interiors' centerpiece is a 7-inch touchscreen with Chevy's MyLink system that has buttons to control it on the steering wheel.
The Chevrolet Spark offers an LT trim that has MT and CVT options and an LTZ trim that is available in CVT.
5. Ford Fiesta 1.0 EcoBoost
®

 2018: P755,000 - P905,000

Joining our list of most fuel efficient hatchback cars Philippines is an American brand that you probably never thought will offer a 1.0L engine. Armored with its "next generation technology", Ford Fiesta has an EcoBoost® Technology that brags a fuel efficiency up to 20%.

It boasts a 6-speed dual-clutch PowerShift automatic transmission that has two manual transmissions working in parallel. Don't underestimate this 1.0L engine because it can offer more power than other premium engines while giving you extra savings in your pocket.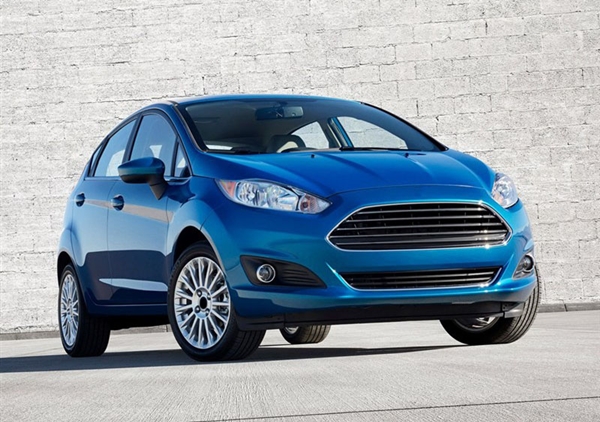 The Ford Fiesta Hatchback can be your partner on the road for all-seasons
You can probably imagine taking your family with this piece of state-of-the-art vehicle to Aguinaldo Highway for your breakfast in Tagaytay every weekend since its fuel efficiency can manage a whopping 27km/L when driven on a freeway. So don't mind the gas consumption much because with its fuel efficiency, tag with the power it can give, it can be your partner on the road for all-seasons.
Different units of the all-new Ford Fiesta 1.0 Ecoboost 2018 are sold here.
Most fuel-efficient hatchback cars in the Philippines: Final thoughts
More and more motorists are out to seek different strategies to withstand the increasing costs of petroleum in the Philippines. The price of fuel has been fluctuating here like in other countries for more than a decade now and it is primarily caused by the rise and fall of prices in the international petroleum market. Over the past decade, car manufacturers worldwide have been producing new models of fuel-efficient cars to offer a more economical way of keeping up with the increasing price of petroleum.
We will be here to update you with the prices, tips & advices, reviews, and news about the cars that roam around the Philippines. For more information about cars, please visit Philkotse.com.


Michael Morales
Author