Read the expert Suzuki Swift 2020 Philippines Review to know more details about an impeccably designed hatchback that's surprisingly quick and nimble in corners.
In this review...
Introduction

Exterior

Interior

Engine & Performance

Ride & Handling

Safety Review

Specs Review

Variant & Price

FAQs

Conclusion
1. Suzuki Swift 2020 Philippines Review: Introduction
Initially starting out as a rebadge of the Suzuki Cultus way back in 1983, the Swift came out as its own model as a replacement for the Suzuki Ignis. Back then, the first generation Swift looked much more like the Suzuki Alto and it wasn't available in the Philippines.
The first-gen Suzuki Swift was sold either as a three-door or five-door hatchback and was related to a whole slew of other vehicles like the Geo Metro and weirdly enough, to the Chevrolet Cruze Crossover.
These first-gen Swift models were cheap, easy to fix, economical to run but alas they didn't have much in terms of styling. They were however proved to be popular so consequent generations were made and from the 2nd to the present, the Swift still has that economy thing going for it albeit it has become a much more refined vehicle in terms of its Euro-inspired styling.
It also developed really good driving dynamics which has caused some enthusiasts to even tout it as a more affordable Mini Cooper due to its quick and nimble driving dynamics.
Now in its fourth generation, the Suzuki Swift 2020 has been called a return to form by the model as it resembles more the very aggressive looking 2nd generation. But does it handle and ride as good as previous-generation models? Let's find out the answer through our expert Suzuki Swift 2020 Philippines Review from Philkotse.com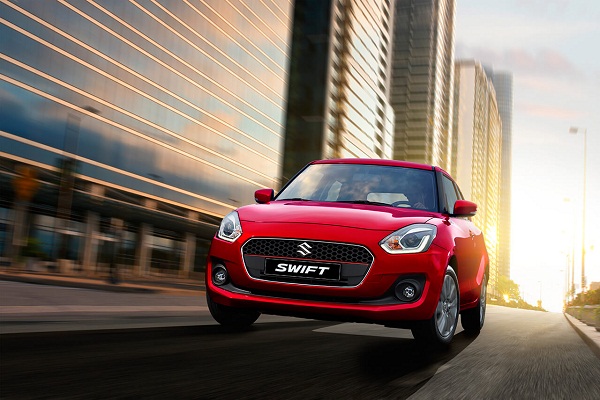 From the stance to the proportions, the 2020 Suzuki Swift is better looking than its predecessor
2. Suzuki Swift 2020 Philippines: Exterior Review
While the 2nd generation of the Suzuki Swift has been called as a more affordable Mini, the 3rd gen models had a more rounded appearance which some have described as bland and outright clashes with the overall theme and idea behind the previous model's design. There were some facelifts but still, it wasn't the same old Swift that people loved.
With the 4th gen 2020 Suzuki Swift exterior, car lovers were delighted to say that it has returned to the small yet aggressively euro look that the 2nd generation had. It now has a wider body, and it even rides a little bit lower than its predecessor.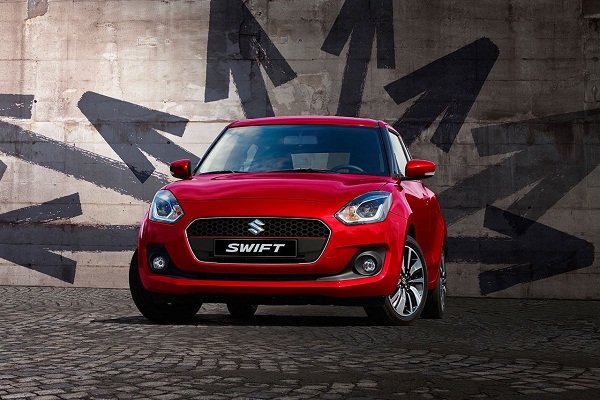 The new Swift is looking sportier than ever
Upfront, the grille has been widened up and the LED headlights are now given a much more fluid shape that seemingly flows towards the sides. Contrast that to the very angular and very conservatively designed front end of the previous model.
The Swift 2020's headlights are also very up-to-date because the aforementioned headlights actually have daytime running LED lights surrounding the lower part of the headlight itself. Pretty slick.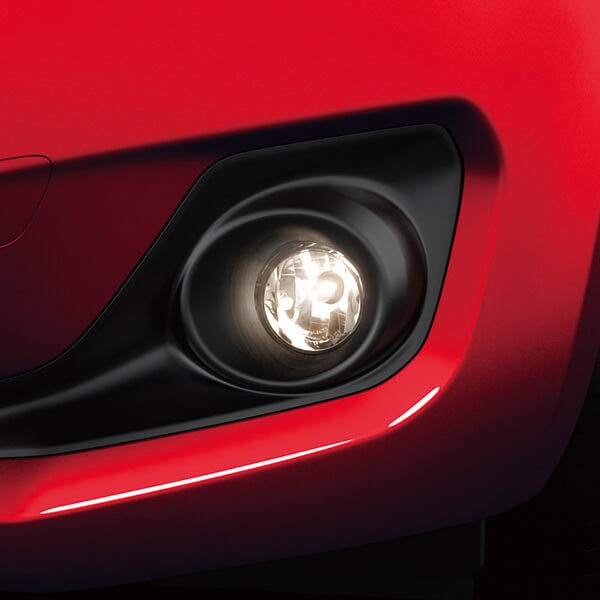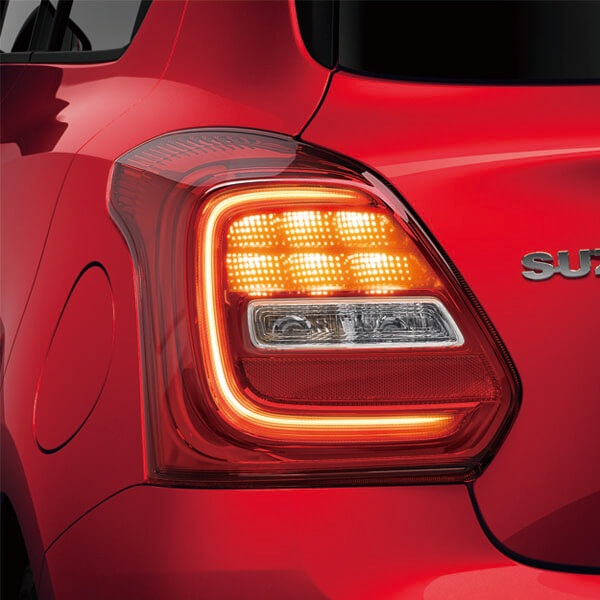 The cleverly-designed lighting system of the new Swift 2020
Towards the sides and to the rear, one will be delighted to gander at the very aggressive body lines Suzuki Philippines gave the new Suzuki Swift 2020. The rear tail-lights now seemingly slope out from the body and the handles for the rear doors which are integrated to the C-pillar is just a stroke of genius.
It makes the car look like a sporty 2-door hatch and is not clunky at all to use.  And while to roofline largely remains the same, the black accents on the C-pillar which flows towards the rear window is just gorgeous.
And lastly, while the 16 inch wheels are new, we think that it somewhat clashes with the Euro look of the Swift. They could have given the vehicle a more appropriately designed, spoke type wheels instead.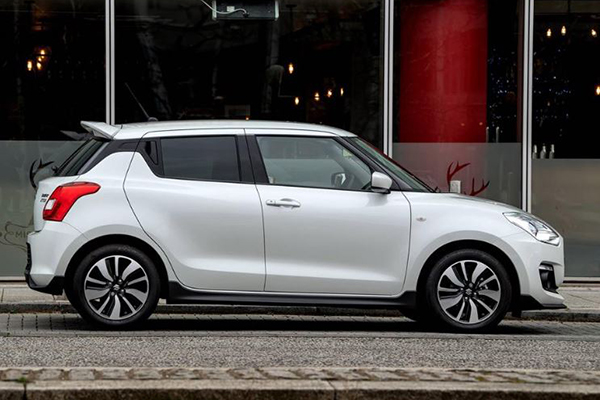 While the overall design of the new Swift looks great, it could be better if Suzuki gave it a Euro-inspired set of wheels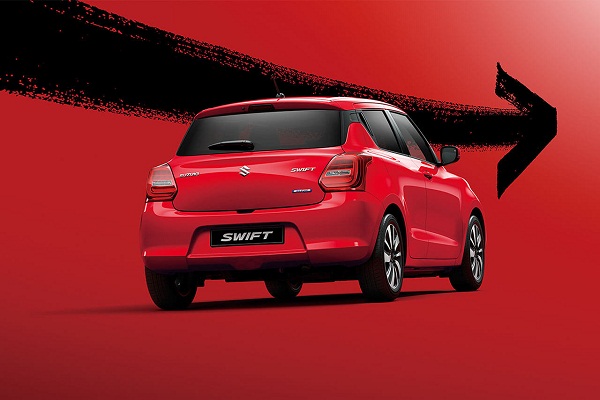 Even from the rear, one will see a lot of Euro-inspired design choices
As a side note, many Swift owners do go out of their way to swap the stock wheels for a black BBS Super RS or a similar spoked type wheel which will make the 2020 Suzuki Swift complete the Euro flavor that the manufacturer intended.
YOU MAY WANT TO READ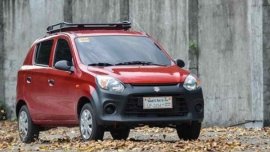 Model Price Philippines
Discontinued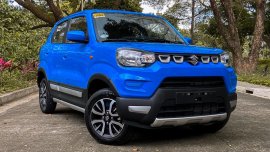 Model Price Philippines
₱ 523,000 - ₱ 588,000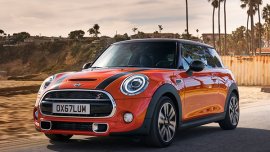 Model Price Philippines
₱ 2,550,000 - ₱ 3,850,000
3. Suzuki Swift 2020 Philippines: Interior Review
While the exterior looks of the 2020 Suzuki Swift are quite impressive, the interior is where it gets a little "economy".
Once you get in and drive, the d-shaped, tilt and the telescopically adjustable steering wheel feels great and the seats are soft and comfortable but the kind of plastics Suzuki used for the dashboard, the AC knobs, and some interior panels on the doors is that scratchy, glossy piano-black plastic that most people abhor.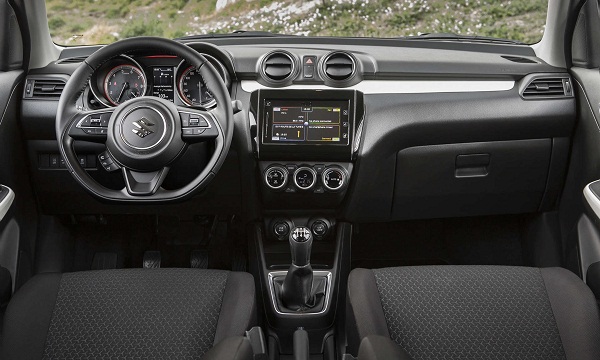 The quality of materials used for the interior will remind you that Swift is an economy car
Why? These will get scratched after a few uses and they feel cheap. And don't even think of letting your keys or other sharp objects touch these things.
The 2020 Suzuki Swift interior does get a touchscreen infotainment system with Android Auto which is useful enough and does not lag, the sound system, however, is just decent and the Swift's competitors definitely have better ones in that department.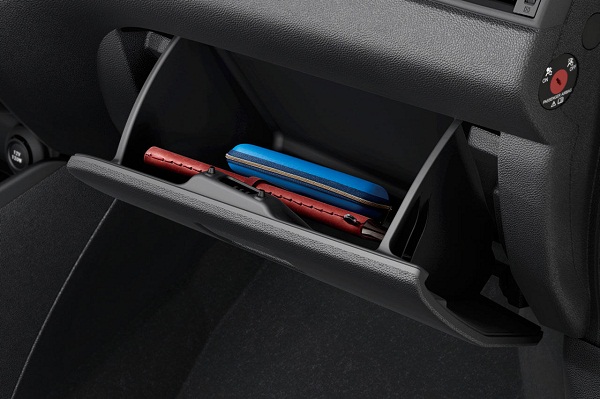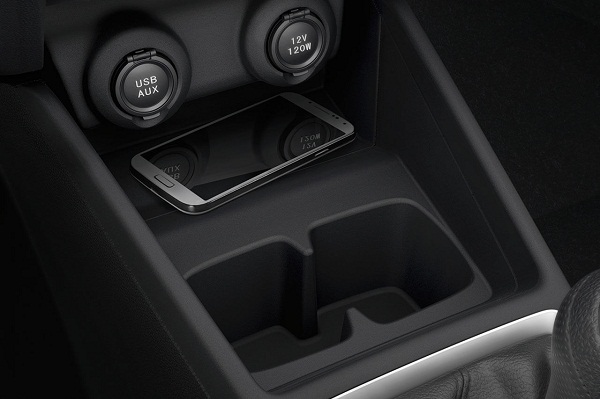 As we've said earlier, the seats up front are good and are actually bucket-ish in shape. They are comfortable and will definitely hold you in place in quick, cornering maneuvers. As for the rear, passengers get decent headroom and legroom. And as for cargo, the 2020 Swift gets a decent 242 liters with the rear seats in use and double that amount with the seats down and folded.
>>> Extend your search in our Cars for sale section for more affordable deals.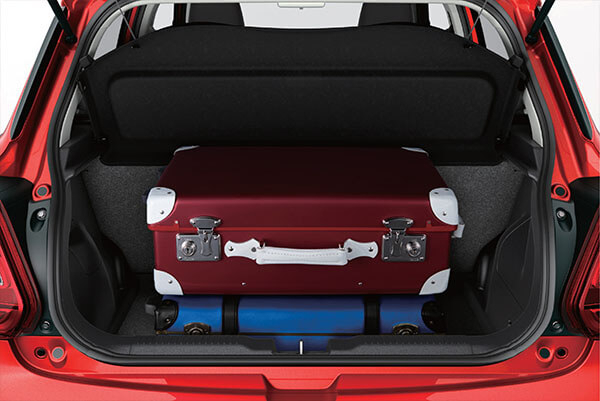 242-litre cargo for a proper daily use
Overall though, the dashboard actually looks great to look at and is ergonomically designed but what's holding the Suzuki Swift interior quality is the kind of plastic accents they used. While that is not the end of the world, it really highlights the "economy" part of the Swift.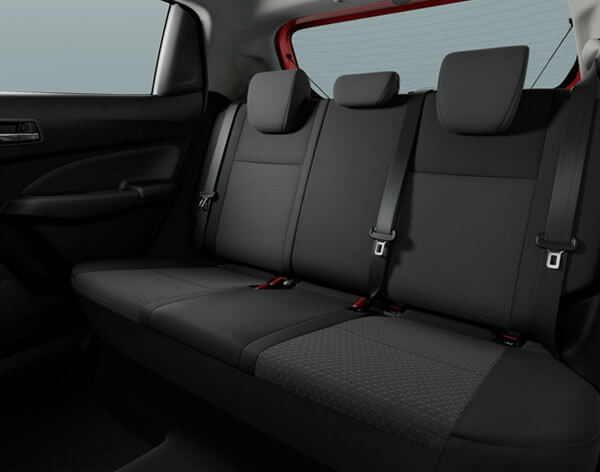 Rear seats of the 2020 Swift are comfortable and provide passengers with decent room overall
4. Suzuki Swift 2020 Philippines: Engine & Performance
While previous Suzuki Swift models like the one from 2006 had a larger 1.5-liter engine, the new Swift has a 1.2 liter K12M gasoline engine that makes around 82 horsepower and 114 Nm of torque.
While one might argue that this engine is weaker than the previous K14B and M14A, it actually isn't bad due to the fact that the 2020 Suzuki Swift is around 85 kilograms lighter than the previous generation model.
So that's around 93 horsepower per ton which is pretty decent. And in addition, upon considering that the fuel consumption for the K12M pits it around 12 km/L on the average the Swift can shape up to be a very economical yet fun daily driver.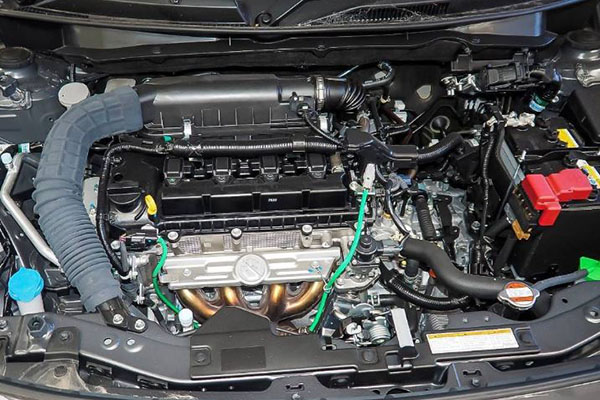 Here's the Swift's K12M 1.2 liter gasoline engine. Small but brilliant!
In terms of transmission, the 2020 Suzuki Swift either comes with a 5-speed manual or a CVT
While the CVT isn't sluggish at all, the manual transmission is pretty good and such we highly recommend it. While some say that the throw of the shifter is a bit long, we say that you'll get used to it and you're just being nitpicky. The clutch though is near perfect, it does not feel too soft or too hard and is pretty much forgiving even for a new driver.
5. Suzuki Swift 2020 Philippines: Ride and Handling
As one would expect from the power it puts out, the Swift is slow to accelerate to its top speed. Going fast on a straight line isn't the point of the Suzuki Swift. Where the Suzuki made compact car shines is with its mid-range oomph which is thanks largely to its short gear ratios which are just perfect for twisty mountain roads.
You can even do heel-toe downshifts thanks to the Swift's pedal placement. And in talking about its brakes which are drums on the rear and discs on the front, they do rather pretty well.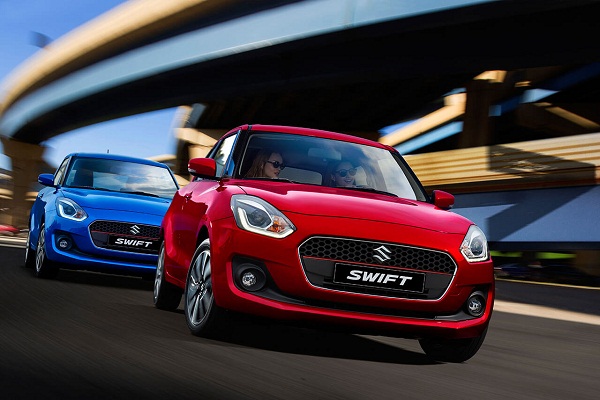 Suzuki Swift is the kind of a city car that you'll have tons of fun driving fast
In the city, the steering does its job pretty well and in combination with the Swift's light curb weight and small proportions, parking and even maneuvering in and out of traffic is pretty easy.
So in short, the 2020 Suzuki Swift is the kind of slow car that you'll have tons of fun driving fast. Its handling is pretty good and many people have even said that the Swift is the perfect gateway if you want to drive much more powerful vehicles, i.e. you'll really learn how to handle driving dynamics from this cheap wonderful compact economy car.
>>> Related:
6. Suzuki Swift 2020 Philippines: Safety Review
The Suzuki Swift comes safety features one would expect from a modern vehicle. There's the usual dual airbags upfront, an anti-lock braking system with electronic brakeforce distribution, crash sensors, and reversing sensors. Overall, the all-new Swift has a pretty good four-star rating with the Euro NCAP and a five with the ASEAN NCAP.
ASEAN NCAP - Suzuki Swift
7. Suzuki Swift 2020 Philippines: Specs Review
Overall

Name

Suzuki Swift 2019

Body Type

Dimensions

Length

3840 mm

Width

1735 mm

Height

1495 mm

Wheelbase

2450 mm

Ground Clearance

120 mm

Number of Seats

5

Engine & Performance

Machine Type

1.2 liter K12M Inline-4

Engine Size

1197 cc

Number of Cylinders

4

Number of Valves

16

Fuel Capacity

37 liters

Transmission Category

Five-speed manual or CVT

Max Output

82 horsepower

Max Torque

114 Nm

Safety Features

Driver and front passenger airbags

Child safety locks

Crash sensors

EBD

ISOFIX

Other features

Front Suspension

MacPherson Strut

Rear Suspension

Multi-link with coil spring

Front Brake

Disc

Rear Brakes

Drum

Tire Size

R16
8. Suzuki Swift 2020 Philippines: Variant & Price
| | |
| --- | --- |
| Variant | Price |
| Suzuki Swift GL MT | Php 755,000 |
| | Php 799,000 |
| Suzuki Swift GLX CVT | Php 899,000 |
For the detailed pricing on the Suzuki Swift with estimated monthly payment, please check out our Suzuki Swift price Philippines page.
9. Suzuki Swift 2020: Frequently Asked Questions
Q: How many colors does the 2020 uzuki Swift come with?
The Suzuki Swift is available in six color options as follows: Metallic Mineral Gray 2, Metallic Star Silver, Metallic Speed Blue 3, Pearl Pure White 3, Pearl Ablaze Red 3, and Pearl Super Black 2.
Q: Will Suzuki Philippines bring the 2020 Swift Sport to the Philippines?
It's been previously mentioned by Suzuki PH that the Swift Sport won't arrive to the local market anytime soon.
Q: When will the updated 2020 Suzuki Swift be coming to the Philippines?
There's no news yet from Suzuki Philippines with regards to a Philippine release of the updated Swift .For now, the updates are available on the Japanese versions only. Philkotse is predicting however that apart from the minor exterior changes, our updated Swift will likely carry over the same safety features, interiors, and the K12C engine found on the current version.
Q: How much is a 2020 Suzuki Swift?
As of 2020, the Suzuki Swift is priced from P755,000 to P848,000.
10. Suzuki Swift 2020 Philippines Review: Conclusion
Despite being priced like an economy car, the Swift is not a boring car at all. Far from it in fact. So if whether you're looking for a first car, looking for a cheaper car to maintain, or even a second car to use as a daily, the Suzuki Swift 2020 Philippines is an affordable but really good looking and great handling car that we here at Philkotse.com highly recommend.
Also, you really want to consider the Swift or any Suzuki made the model for that matter due to the fact that Suzuki has a well-deserved reputation for building reliable small vehicles that will last for a long time and in the case of the Swift, won't bore you to death.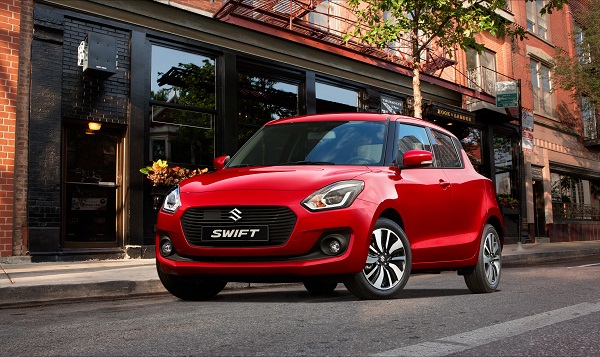 Trust us guys, with reasonable price, impressive look and driving experience, the Swift is great value for your money


Cesar G.B. Miguel
Author