5 reasons why 2019 is a big year for vans and pickups in the Philippines
This article will point out why pickups and vans will be selling like hotcakes this 2019. Let's check it out!
Are you in the market for something else besides the usual sub-compact or getting an option with space and extra mobility? If you're thinking of it then a mid-sized sedan is out of the picture as well! Suppose there would be more space need and with the option of extra utility too. Anyone with these requirements just hit the jackpot because this is a good time to get a van or a mid-sized pickup. 
As models get better every year and car brands up the ante for each successive generation of line ups. Cosmetic changes are the usual with some minor upgrades in the equipment and performance specifications. In 2019, there are vast changes that come with models getting significant changes that will be tackled to inform car buyers better!
One of last year's highlights was the massive redesign from the ground up of popular best sellers in the sub-compact and MPV segments. Needless to say, it paid off and gave big dividends to car buyers who chose to buy them. It wasn't a win-win for some car brands because they forgot to optimize their line-ups.
I. Why 2019 is a big year for vans and pickups?
1. More upgrades
Upgrades are hitting the nines and eights that's going overboard for the buyer's wallet! Once regarded are the least interesting segments for car buyers but now they've gotten better. These cars did not disappoint and they've gotten more expensive but with more to offer.
If their earlier version had a thing or two needed to make them better. In 2019 the stops have been removed and are adding more bang for the buck too. These vans and pickups are packed with every upgrade needed to spoil customers rotten. There is no scrimping here and when compared to Korean or Chinese brands, they kick ass and are worth every red cent as well.
The All-New 2019 Nissan Urvan Premium | Upgrade Your Journey
2. Refreshed look
These options used to be so plain-Jane but with enough to make them good looking enough. Stakes have been raised and such models as the New Hi-ace, Conquest, Raptor, the New Strada are hitting the stylistic notes with extreme looks and cutting-edge face-lifts!
To say that they've upped their game is not enough and went above and beyond consumers expectations. These options have such distinct contrasts and with all the hype about them fully justified. Refreshed looks and recharged specs should make them the ones to beat next year too!
>>> Read more: How to Choose the Right Van for You to Drive in the Philippines
3. More luxurious status
Premium looks and specs aren't enough to describe these must-have options because they are just as luxurious as more expensive offering than them. Car maker went all out to prove with a bigger price tag will come more and better stuff.
Yes, and howling mad with delight with all these add-ons that are also installed in luxury cars of the same class. The Toyota Hi-Ace for 2019 is changed that it offers more than what the earlier model offered. It sets the standard that other players in the van market need to exceed or lose sales. Competitions getting hot and pickups are getting better trims more than ever.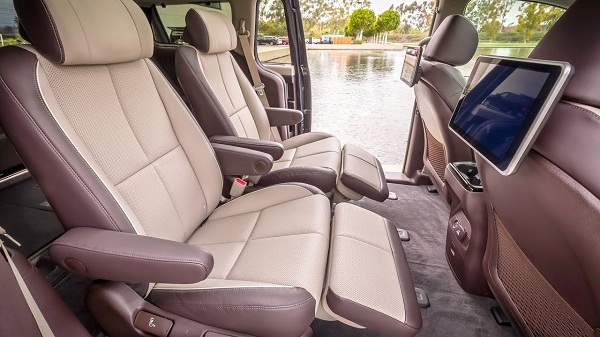 Kia Sedona 2019 comes with a luxury leather cabin
4. Customers getting benefits from the competition of these car brands
Buyers have expectantly been speculating what the next best thing from badges like Toyota, Mitsubishi, Ford will offer in 2019. The veils have been lifted from all the secrecy especially with the two-way attack of Toyota featuring the Conquest and New Hi-Ace in the race.
Not far behind, is the Raptor, Strada wanting a piece of the best-selling pie. These car brands want to exceed the consumer's expectations and more! All these options are all game changers in their own. Prospective customers are the real beneficiaries of all this competition.
5. Better overall performance 
Everything that was missing is now added and further improved too. It makes these options better and a base for further improvement in equipment layout and performance specs overall. The degree of the improvements will vary but they are still the top echelon choices.
Can Korean or Chinese car makers catch up this year? No one knows what comes next with the next wave this year yet. One fact is for sure and there's more to come. We've just got to decide to get them or wait which is good for Filipino car buyers in 2019.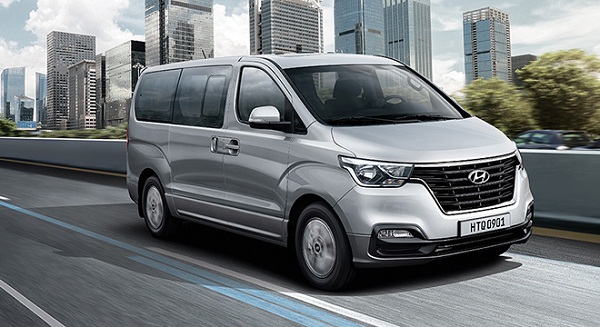 Can Hyundai Grand Starex catch drivers' eyes this year?
>>> Related posts:
II. Popular car brands in the van and pickup war
We're covering all the pertinent factors that will be important for a particular model this year. Setting the pace for better sales and enough changes to ensure a great model year to be followed up on too. For most brands willing to go on an extensive jaunt to improve sales with better offerings!
Unfortunately, only a few of the big players are moving into this high-stakes gamble. These car brands are Toyota, Mitsubishi, Chevrolet, and Ford but only Toyota released two new offerings in the van and mid-sized pickup war. Nissan has yet to release a newer and better version of the AT Urvan to compete with totally refreshed Premium Hi-Ace.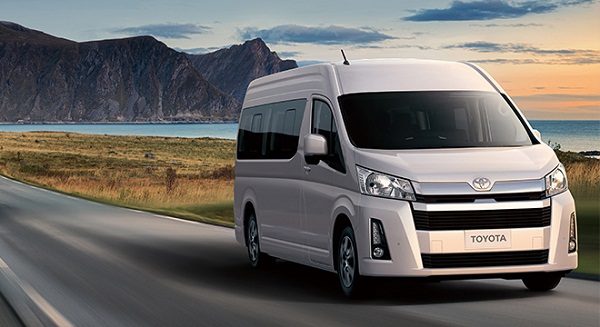 Toyota 2019 Premium Hiace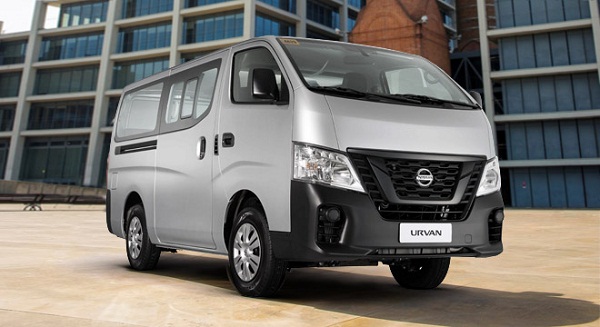 Nissan Urvan NV350 2019
Foton hasn't made any changes for its van platform yet. In the first quarter of the year which is only represented fully with Toyota's line up for these segments! Let's move on to the meat of what these game-changers has to offer the most discerning Filipino car buyer.
Author

Norjan enjoys writing about various topics, and car is among them. Don't ever ask him which his most favorite car is since he has none. He believes each car is beautiful in its own way.