The Grand Starex GLS 2020 has recently had a facelift. Read on the expert Hyundai Grand Starex 2020 Philippines Review to get more details on the changes made to this van.
In this review...
Introduction

Exterior

Interior

Engine & Performance

Safety

Specs

Prices

FAQs

Verdict
1. Hyundai Grand Starex 2020 Philippines Review: Introduction
The Hyundai Grand Starex isn't exactly new here in the Philippines as even before its official initial release way back in 2007, there was a healthy market for surplus Starex units being sold in the 2nd-hand car market. And despite having rivals such as the Nissan Urvan and the Toyota Hiace, the Hyundai Starex has held its ground admirably for quite a while now.
These early generation Starex units were very popular as there is up to this day an abundance of spare parts and it was easy to work on. Also, these 2nd-hand surplus Starex vehicles were very cheap and who wouldn't want an affordable seven-seater. Some were even sold in the gray market but regardless, this has helped in cementing the Hyundai van's popularity in the country for a quite a while.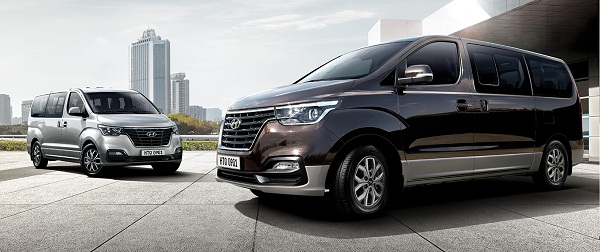 The 2020 Hyundai Grand Starex's updated version starts at Php 2,085,000
During its official release in the country in December 2007, the vehicle van has changed its name to the Grand Starex and it became one of the bestselling vans here in the Philippines. Now in 2020, Hyundai has given the 2nd generation of Grand Starex a facelift with some improvements done to its interior.
For this Hyundai Grand Starex 2020 Philippines review, Philkotse.com will dive in deep into what makes the fresh, new Grand Starex GLS a more desirable people carrier, commercial transport vehicle, or even…a family van. It's worth noting that the Starex used to be called the H model; so, if you were looking for the Hyundai H-100 2019 for sale, you should search for Hyundai Starex 2019.
2. Hyundai Grand Starex GLS 2020 Exterior
With the facelift, the 2020 Hyundai Grand Starex exterior gains a more snub shape that comes with a pair of very bright halogen headlights and also fog lights which are embedded in the bumper. The grille which is clad in chrome also now stands out more than ever before.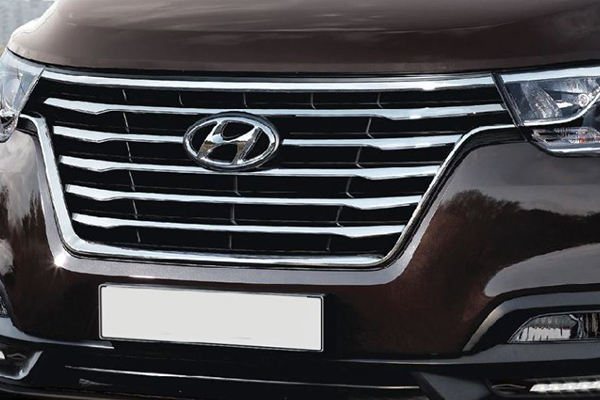 The grille of the facelifted Hyundai Grand Starex looks more prominent than ever before
Towards the sides, one may notice that the wheels are now larger at 17 inches and their design is now noticeably much modern-looking than the previous ones. Hyundai also made the effort to align the door handles of the rear and front doors as this had bothered some of our more detail-oriented compatriots.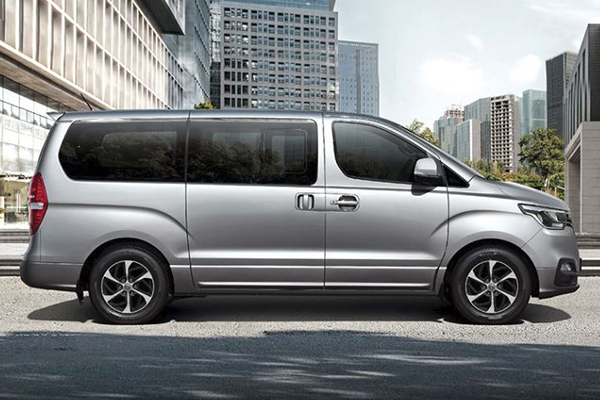 The changes to the sides of the Grand Starex GLS are much more subtle
For the rear, the updated Grand Starex GLS practically looks and functions the same as with the previous model. This isn't an issue though as the said rear portion of the van still looks and functions well.
One complains we have however is that Hyundai missed the chance to give the Hyundai Grand Starex GLS LED headlights instead of the old and aging halogen type lights.
Overall, the new Hyundai Grand Starex exterior is made as a more stylishly premium appearance.
>>> Worth to note the comparison of the Grand Starex's rivals: Nissan NV350 vs Toyota Hiace for further reference.
YOU MAY WANT TO READ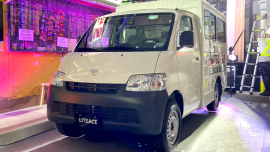 Model Price Philippines
₱ 570,000 - ₱ 727,000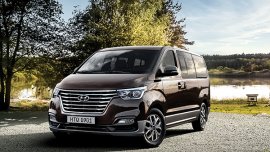 Model Price Philippines
Discontinued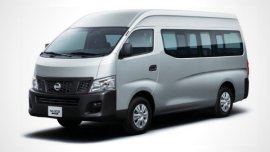 Model Price Philippines
₱ 1,172,000 - ₱ 1,896,000
3. Hyundai Grand Starex 2020 Interior
Sadly, the updated Grand Starex GLS still has the beige color theme that many other car models and car manufacturers have done away with in favor of darker colors. Otherwise, these are covered in fabric as such, they are soft to the touch and are devoid of that usual clunky plastic. There are plastic parts, but these, in fact, are fitted well and do not look cheap at all.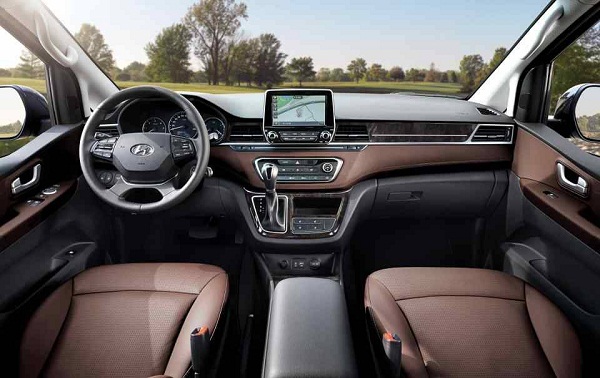 A shot of Hyundai Grand Starex GLS's front cabin shows an uncluttered and spacious front cabin
For the seats, the GLS trim is covered in a light-colored leather which is bad news especially if you have little tykes on-board. However, being that it's made of leather, it will definitely be easier to clean than the run of the mill fabric-covered seats. We're not so sure about the fabric-covered panels though.
As for the 2020 Hyundai Grand Starex interior, the legroom, headroom and overall cabin space is enormous. Likewise goes for cargo at the back.
According to the present configuration, the Hyundai Grand Starex has four, excellently comfortable captain's chairs for its 2nd row and with a bench-type seat for the last row. All in all, the Hyundai made van can provide seat for 10 people with the center seats deployed in between the captain seats.
What's also incredible with these seats is their ability to be adjusted greatly. The captain seats can even be swiveled around to face the third-row occupants and the third-row bench seats itself can be backed up further or brought forward further.
With the captain row seats turned around and adjusted forward completely coupled with the third row also brought backward towards the rear door, you can create a lounge-type space which is simply massive.

Turn the seats around and adjust them to the max to instantly create a lounge-type sitting arrangement
In terms of creature comforts, the Hyundai Grand Starex, air vents for the air conditioning mounted on the ceiling of the interior and are well distributed to provide for good AC coverage. The rear AC even has its own control knobs which ads for more convenience for the Grand Starex's passengers.
The weak spot of the Hyundai Grand Starex interior is the 7-inch entertainment system which is laggy and is seemingly run by an old OS. It does have AM/FM radio, a CD player, USB, and AUX ports.
All in all, the Hyundai Grand Starex is a very comfortable space to be in for both passengers and the driver and not to mention the massive cargo space if the third-row seats are adjusted forward to the maximum.
>>> Extend your search in our Cars for sale section for more affordable deals.
4. Hyundai Grand Starex GLS 2020 Philippines: Engine & Performance
The 2020 Hyundai Grand Starex GLS currently has three options for its engine. First is a 2.5-liter TCI which can make up to 99 horsepower and 226 nm of torque, the second is a 2.5 liter CRDi VGT diesel engine rated at 168 horsepower and 392 Nm of torque, and finally a Euro 6 compliant 2.5 liter CRDi VGT which can make 173 horsepower and 451 Nm of torque.
For the Hyundai Grand Starex 2020, a 5-speed manual is available. For the higher trim variants with the CRDi VGT engines, it comes with a 5-speed H-Matic automatic transmission. Power is then sent to the rear wheels.
The GLS models come equipped with a 5-link with coil springs for the rear suspension and a MacPherson with coil spring for the front. All in all, these can take the usual Metro Manila bumps decently and provides the van with a stable ride.
2019 Hyundai Grand Starex (Face Lifted)
Also of note is the steering feel which somehow gives decent feedback to the driver. This is thanks of course to the Hyundai Grand Starex GLS's hydraulic power steering. As such, the Starex GLS despite its size still handles rather quite well.
Otherwise, you'd want to take note that you typically do not buy a vehicle like the Hyundai Grand Starex GLS to enjoy driving, but rather it's a vehicle you buy to be driven around in. But that is entirely up to you in the end.
5. Hyundai Grand Starex GLS 2020 Philippines: Safety
When it comes to safety, the Hyundai Starex GLS has airbags for the front passenger and driver, an anti-lock braking system, EBD, stability control, crash sensors, and reverse parking sensors. For brakes, the large Grand Starex GLS has ample stopping power thanks to its 16-inch disc brakes.
It would be great though if Hyundai included some airbags for the rear passenger seats like some other brands of similarly priced and classed vehicles in the global auto market today.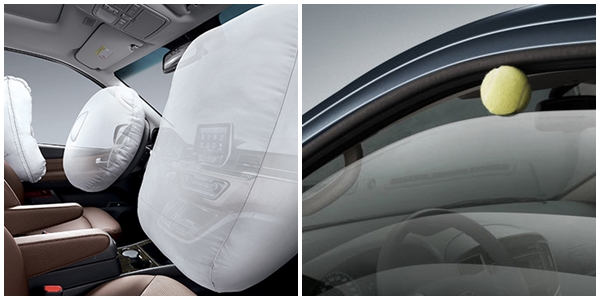 Here are the safety features comes equipped for the Grand Starex 2020
6. Hyundai Grand Starex 2020 Specs
Overall

Name

Hyundai Grand Starex GLS 2019

Light commercial 4-door van

Dimensions

Length

5150 mm

Width

1920 mm

Height

1925 mm

Wheelbase

3200 mm

Ground Clearance

190 mm

Number of Seats

10

Engine & Performance

Machine Type

2.5 CRDi VGT DOHC

Engine Size

2.5 liters

Number of Cylinders

4

Number of Valves

16

Fuel Capacity

75 liters

Transmission Category

5-speed automatic

Max Output

168 hp

Max Torque

441 NM

Safety Features

Driver and front passenger airbags

Child safety locks

Crash sensors

EBD

Other features

Front Suspension

MacPherson Strut

Rear Suspension

Multi-Link with Coil spring

Front Brake

Ventilated Disc

Rear Brakes

Drum

Tire Size

R16
>>> Visit the nearest Hyundai Philippines dealerships for info on the latest promos, financing options, etc
7. Hyundai Grand Starex Philippines price
| | |
| --- | --- |
| Variant | Price |
| Hyundai Grand Starex GLS 2.5 CRDi GLS AT | Php 2,085,000 |
| Hyundai Grand Starex GLS 2.5 CRDi GLS AT Gold | Php 2,188,000 |
| Hyundai Grand Starex Urban 2.5 CRDi AT | Php 2,789,000 |
>>> Check out our Hyundai Grand Starex for sale at cheap prices on Philkotse
8. Hyundai Grand Starex 2020: Frequently Asked Questions
Q: What engine is equipped for the Hyundai Grand Starex?
There are 2 engine options for the Grand Starex: the 2.5-liter CRDi and the 2.5-liter TCI.
Q: Which engine is more powerful?
The TCI makes around 98hp and 225Nm of torque which might sound a little weak but it does just enough. The CRDi engine, on the other hand, makes a more powerful 168hp and 441Nm of torque.
Q: What are the pros and cons of the Hyundai Grand Starex?
Pros:
- Versatile seating arrangements
- Roomy
- Premium exterior looks
Cons:
- No LED lights
- Lack of safety equipment
- Infotainment is outdated
Q: What are the competitors of the Hyundai Grand Starex in the Philippines?
The Grand Starex currently shares its market segment with the likes of the Toyota Hiace, the Nissan Urvan, and the Kia Carnival.
9. Hyundai Grand Starex GLS 2020 Philippines Review: Verdict
The Hyundai Grand Starex including the current facelifted GLS model is a very versatile vehicle which can perform in a lot of transport roles quite nicely. Other than being a comfortable, long-distance capable family vehicle, the Grand Starex GLS might also fulfill the role of a commercial passenger vehicle or even a cargo vehicle.
As such, if you're looking for a high capacity van with tons of space and style, you might want to consider the newly updated 2020 Hyundai Grand Starex.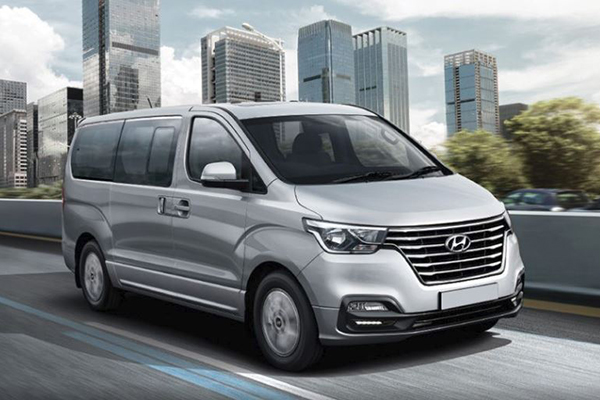 Are you willing to spend Php 2,085,000 for the Hyundai Grand Starex GLS?
>>> Find more full-scale car reviews by Philkotse's experts.


Cesar G.B. Miguel
Author