A straightforward workhorse utility vehicle.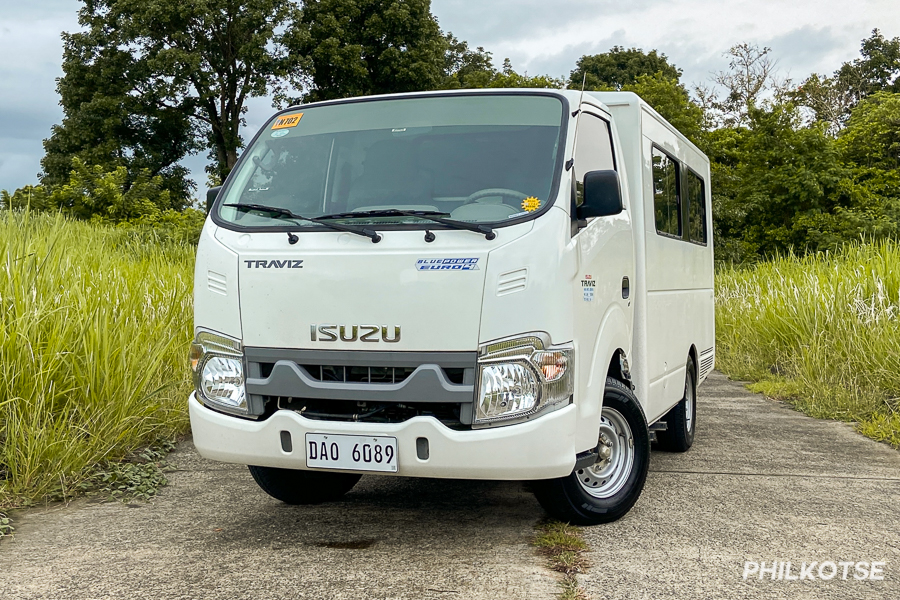 In this review...
Introduction

Exterior

Interior

Tech & Safety

Engine & Performance

Verdict

Variants & Price

Specs
2021 Isuzu Traviz Review: Introduction
It's an understatement to say that the COVID-19 pandemic has affected our day-to-day lives. The threat brought upon by the virus resulted in economic uncertainty that changed how most of us deal with life. The restriction of movement closed a lot of doors for many Filipinos but it has also opened a window of opportunity that allowed individuals to discover and try new things such as starting a small business. 
I'm speaking from experience since my family ventured into a couple of small businesses as a source of additional income. In case you're wondering, and as a shameless plug, we started selling pizzas and supplying Korean blinds last year. As a small business owner, every cost counts to maximize profit, and having a reliable workhorse is one key to achieving that. 
The Traviz is Isuzu Philippines' entry into the light commercial vehicle (LCV) segment. Isuzu says it is designed as a business mobility partner specifically for Small and Medium Enterprises (SMEs). In other words, the Traviz is meant to be a workhorse vehicle for business use. With that, how can the Isuzu Traviz help small business owners in their operations? Read on to find out.  
 
Overall exterior & Interior design, build quality, form vs function

Number of safety & tech features, consistency during usage

Power delivery, acceleration, transmission, suspension, handling

Overall Ride Comfort, Space, Storage Areas

Sticker price vs overall package
2021 Isuzu Traviz Exterior Review: Ready to roll
The exterior of the Traviz is straightforward, it has the typical design you can expect from a light commercial vehicle or utility van. To put things in perspective, the Traviz goes up against the likes of the Kia K2500 Karga, Mitsubishi L300, Hyundai H100, among others. Of note, the Traviz falls under Class 1 vehicle classification on the expressway.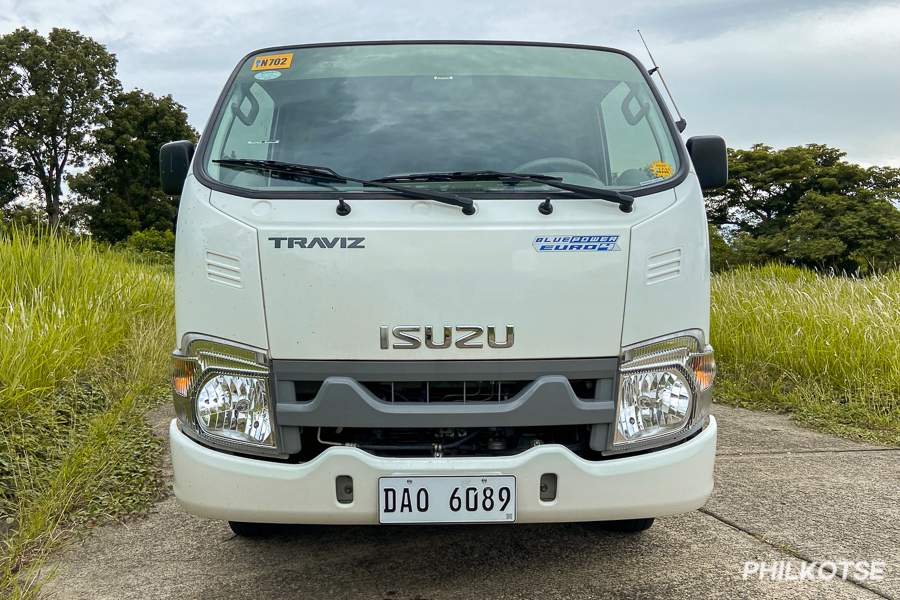 The Isuzu Traviz comes with a straightforward fascia
The flat front end design of the Traviz is fitted with large halogen headlights and a simple bumper design. Despite the straightforward fascia, I like how the headlights and the bumper create a ready-to-roll character when you view the Traviz upfront. I also like how Isuzu designed the grille that's finished in grey as it adds flavor to the truck's fascia.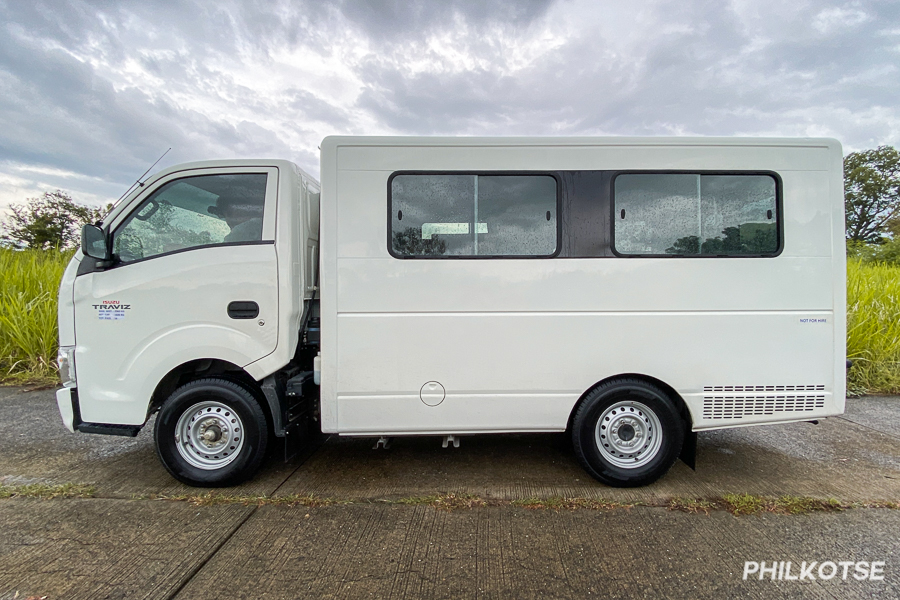 It has the typical utilitarian vehicle design
You'll encounter the same design approach when you turn to the side as it looks like the typical business mover workhorse. Like other vehicles in its class, it has a front cabin, and a long rectangular passenger or cargo area. It gets a set of 14-inch wheels in steelies, which is expected since the Traviz is meant for tough jobs. Of note, the said vehicle is offered in two body styles: S and L. S stands for short wheelbase while L for long. The test unit handed to us comes with a Long wheelbase.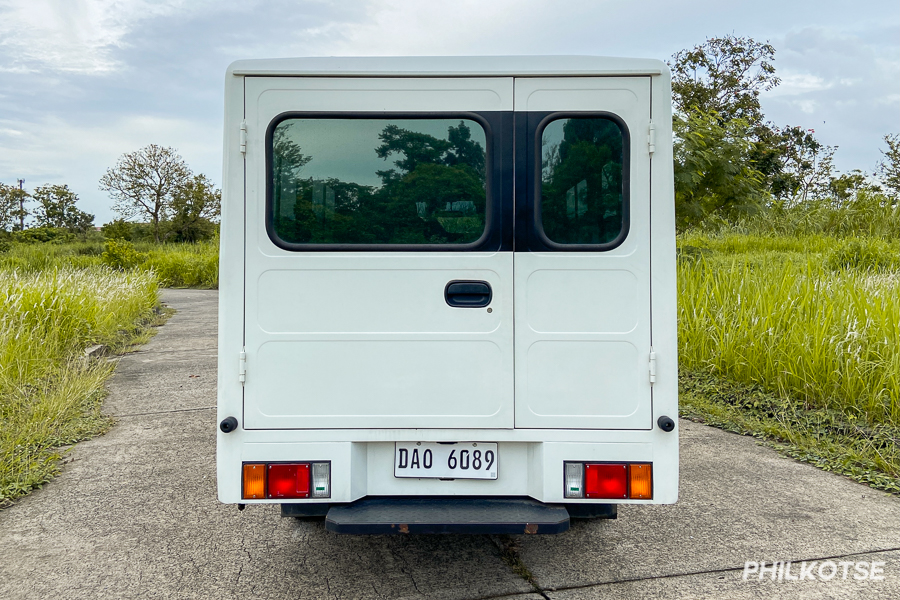 What you see is what you get
The rear of the Isuzu Traviz is as straightforward as it gets. It has a flat rear design that comes with a swing door, taillight, and a step board. Indeed, what you see is what you get, and don't expect it to come with a rear camera. Other than having a closed utility van design, the Traviz can be configured in a wide variety of settings like a Class 1 modern public utility vehicle, aluminum van, refrigerated van, or a dropside truck. 
YOU MAY WANT TO READ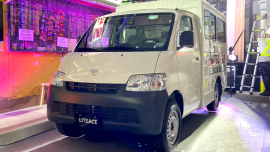 Model Price Philippines
₱ 570,000 - ₱ 727,000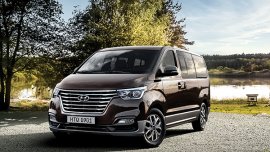 Model Price Philippines
Discontinued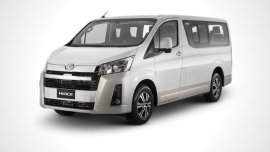 Model Price Philippines
₱ 1,679,000 - ₱ 2,998,000
2021 Isuzu Traviz Interior Review: Bare necessities
You'll be greeted with a Spartan-like interior once you hop inside the Traviz, which is expected for a utilitarian vehicle, and it's also ideal since you don't need to worry much about maintenance costs. The light grey interior is integrated with bare necessities, and abundant use of hard plastic materials to make the cabin more durable.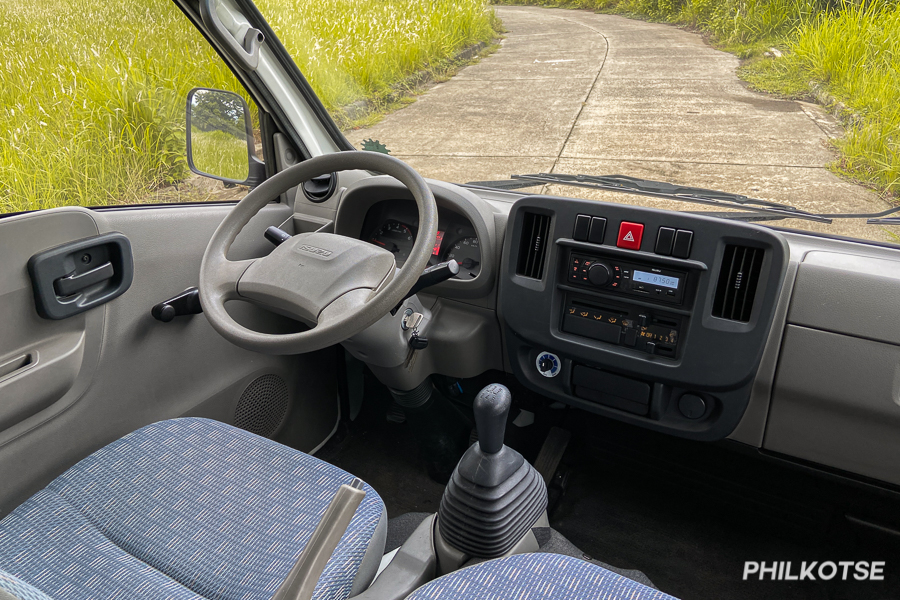 The Traviz has a no non-sense interior layout
While the light grey interior makes the cabin look more spacious, I prefer to have it finished in black as it can hide dirt better in the long run. The seating position is high since the fabric seats are located above the wheels, and the engine is also underneath it.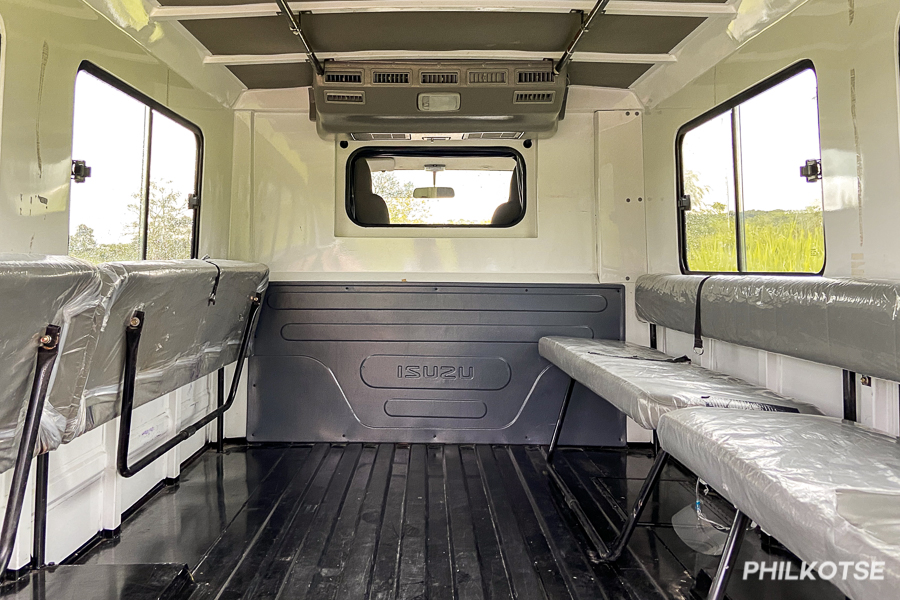 The Traviz can accommodate an assortment of items; it can also fit up to 16 individuals
Isuzu says the rear passenger area of the Traviz can accommodate up to 16 individuals. Fold the seats up and you'll get a spacious cargo area. We managed to fit up to 12 large boxes at the back with enough space for other items. And oh, the Traviz L can carry up to 1,655 kg worth of cargo.
2021 Isuzu Traviz: Tech & Safety Review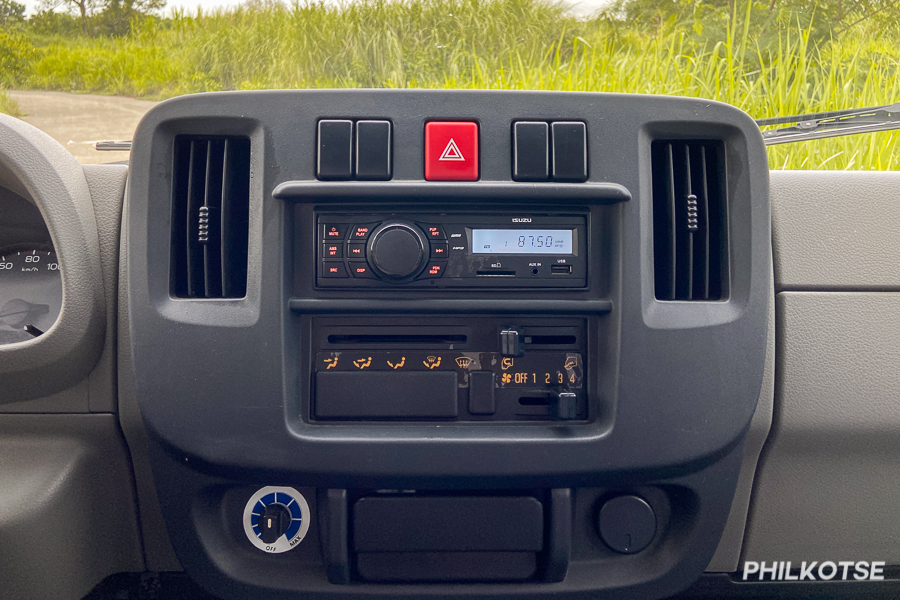 Bare essentials, which is expected
In terms of tech, the Traviz only gets the essential features one could expect from a utilitarian business workhorse. It has an entertainment system that comes with AM/FM radio, USB, and Aux support, which are already a nice companion when you're stuck in traffic. The instrument cluster is reminiscent of cars in the 90s up to the early 2000s but the Traviz has a digital multi-info display smacked in the middle of the analog gauges.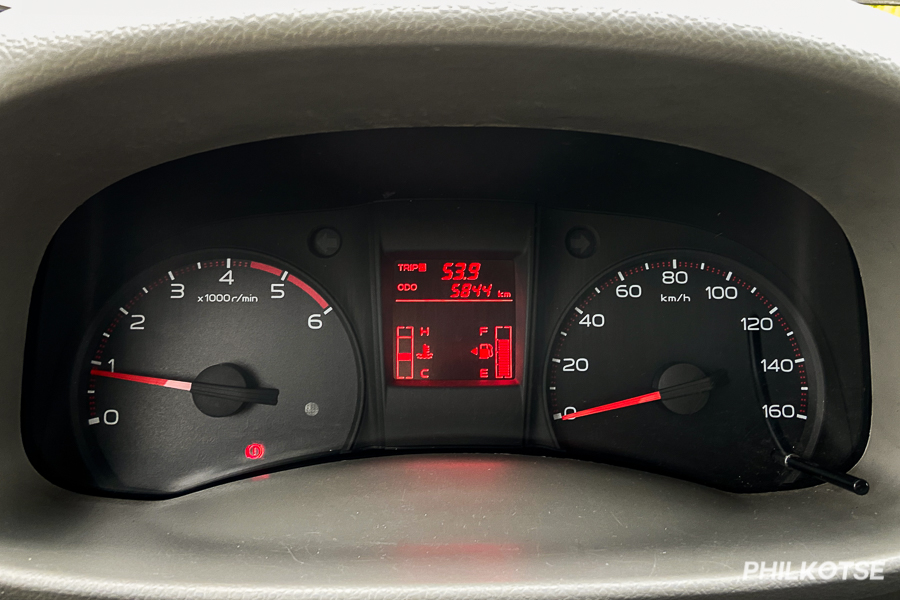 It has a digital trip meter
The seats can be adjusted, and it comes with a slide function for you to get your most preferred driving position. It also has an air conditioning unit at the front and at the back, which makes the cabin more comfortable. The Traviz also comes with a reverse warning buzzer, which is useful especially when you're backing up to a densely populated area.
2021 Isuzu Traviz: Engine & Performance
The Isuzu Traviz is powered by a 2.5-liter 4JA1 Blue Power diesel engine that puts out 77 hp and 176.5 Nm of torque. It's the same power unit that was equipped on the Crosswind AUV, but Isuzu improved the engine to be Euro 4 compliant. The engine is connected to a five-speed manual transmission with power sent to the rear wheels.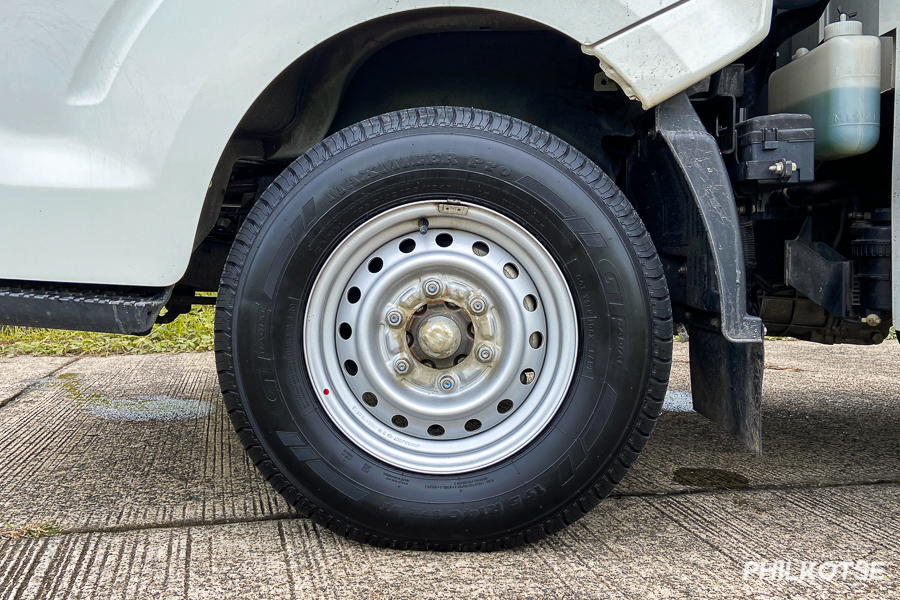 The Traviz is fitted with 14-inch wheels
Isuzu PH said that it took into consideration to make the Traviz an owner-driven vehicle, which is cost-efficient especially for small business owners like myself that are just starting out. When I first drove the Traviz, the first thing that I noticed is the high seating position on the driver's seat that gives you good forward visibility. This is beneficial since you have a wide and clear view of what's ahead, and it also helps in minimizing blind spots in the event that you need to drive through tight streets. The Traviz's clutch also has a high bite point.  
The driver's seat also offers you a fairly decent cushioning, which came in handy when I drove through the Friday evening traffic that started in SLEX Alabang. Aside from the seats, one of the things I appreciate in the Traviz is its steering wheel design. It looks like the usual steering wheel that you can see from a utilitarian vehicle. But interestingly though, the steering wheel design allows you to rest your arms on top of it allowing you to relax when the vehicle in front is not moving or when you're waiting for the traffic light to turn green.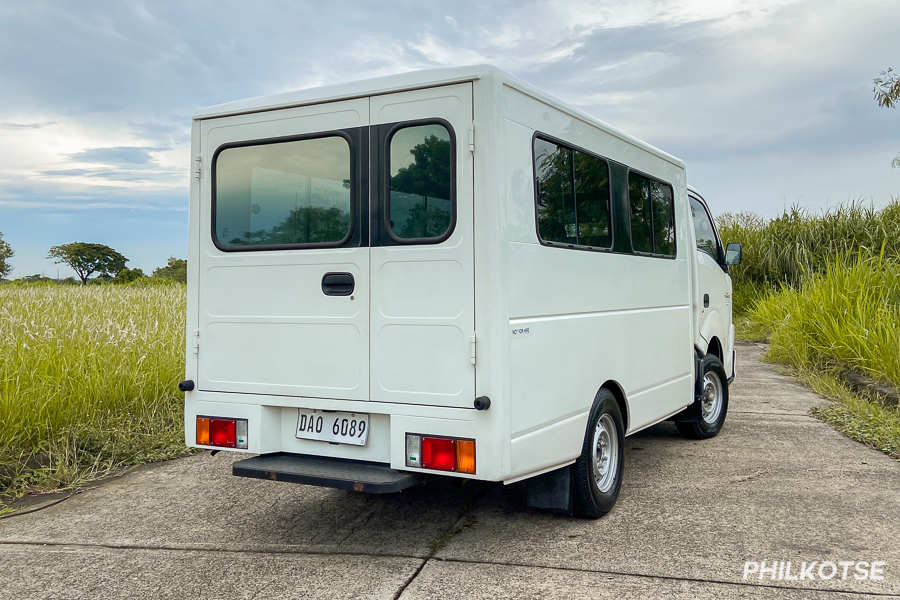 Ready to transport cargo
When driven around the city, the Traviz delivers enough power that makes urban jungle driving manageable. The ride gets relatively bouncy when you drive through rough patches on the road. On the other hand, the Traviz drives and handles averagely well when driven on the open highway considering its overall size and body configuration.
2021 Isuzu Traviz: Verdict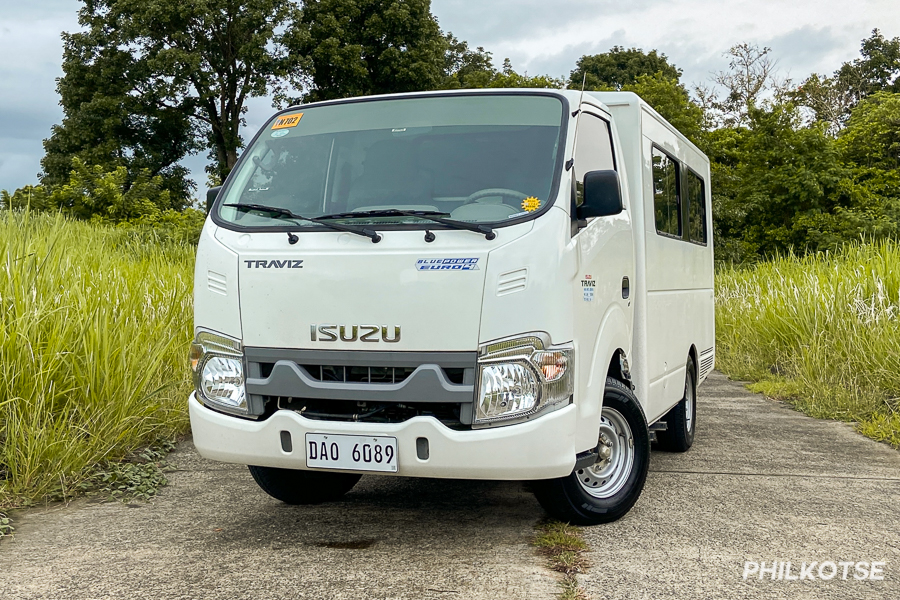 2021 Isuzu Traviz
The Isuzu Traviz L is priced at Php 992,000 (Cab & Chassis only), and it's a workhorse that can help your business grow. It has a straightforward design that results in fewer maintenance costs. The Traviz also offers a notable cargo space that allows you to maximize the number of trips when it comes to delivery or picking up supplies. It's an open secret that having a reliable steed that will keep your business moving plays an important role in achieving success.   
And in case you're wondering, the Isuzu Traviz got its name from "Transport, Trading, and Transcend" combined with the word "biz", the shortened term for "Business". With that, It's indeed a workhorse vehicle that can aid you in expanding your business. 
Visit Phikotse.com for more car reviews. 
2021 Isuzu Traviz: Variants & Price
Isuzu Traviz Price & Variants in the Philippines

TRAVIZ S

Php 962,000

TRAVIZ L

Php 992,000
2021 Isuzu Traviz: Specs
Engine
4JA1Direct Injection Common Rai lBlue Power Diesel Engine
2.5-liter
77 hp and 176.5 Nm of torque
50-liters Fuel Tank Capacity
Suspension
Double Wishbone with Coil Spring (front)
Semi-Elliptical Leaf Spring (rear)
Brakes
Ventilated Disc (front)
Drum (rear)
Wheel & Tire
Wheel: 14 x 5.5JJ (6 studs)
Tires: 195R 14C 8PR
Convenience
Audio: Tuner Radio with USB, AUX
Reverse Warning Buzzer
Aircon: Optional
Payload Capacity
1,655 (Traviz L)
Dimensions Traviz L
4,600mm x 1,695mm x 1,955mm (LxWxH)
Wheelbase: 2,400mm


Martin Aguilar
Author