Large in size and comfort.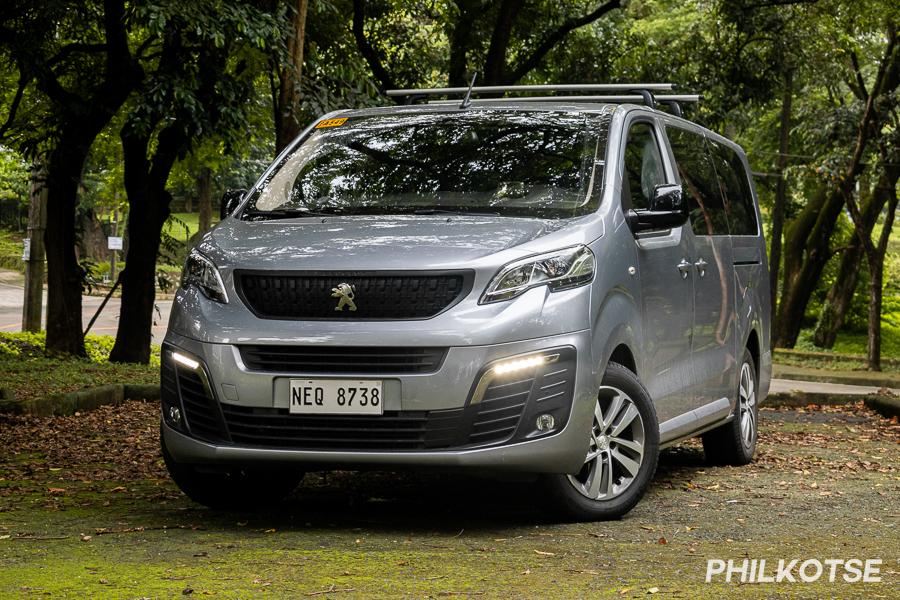 In this review...
Introduction

Exterior

Interior

Tech & Safety

Engine & Performance

Fuel efficiency

Verdict

Variants & Price

Color options

Specs
2022 Peugeot Traveller Review: Introduction
Those who already own seven or eight-seater MPVs are probably using Japanese, Korean, or even Chinese branded car models. We can safely say that no non-Asian brand has considerably penetrated the local market. This, of course, is apparent by the plentiful number of three-row MPVs or minivans from Toyota, Mitsubishi, Hyundai, Honda, and Kia running around on local roads. Well, you get the point.
At the 2022 Manila International Show however, the French brand Peugeot brought the Traveller MPV. The question now is, does this Euro-centric people mover hold up against the local driving setting? And, is it worth its Php 3,150,000 price tag?
To answer those, we drove the 2022 Peugeot Traveller Premium (8-seater) variant for about a week. Here are our thoughts on this sizable French MPV.

Overall exterior & Interior design, build quality, form vs function

Number of safety & tech features, consistency during usage

Power delivery, acceleration, transmission, suspension, handling

Overall Ride Comfort, Space, Storage Areas

Sticker price vs overall package
2022 Peugeot Traveller Exterior Review: Boxy and huge
The Peugeot Traveller assumes the familiar box-like formula of a van and/or large MPV, so nothing stands out that much. But again, this is for a good reason, and it has something to do with maximizing interior space. More on this later.
On this MPV's front end is a stubby front end graced by a faux grille. The actual grille that air passes through is positioned down below, which is on the vehicle's lower bumper.  The design of its headlamp cluster thankfully adds a splash of sharpness to the otherwise loaf-like shape of the vehicle. You can also see some bits of chrome on the lower bumpers as well.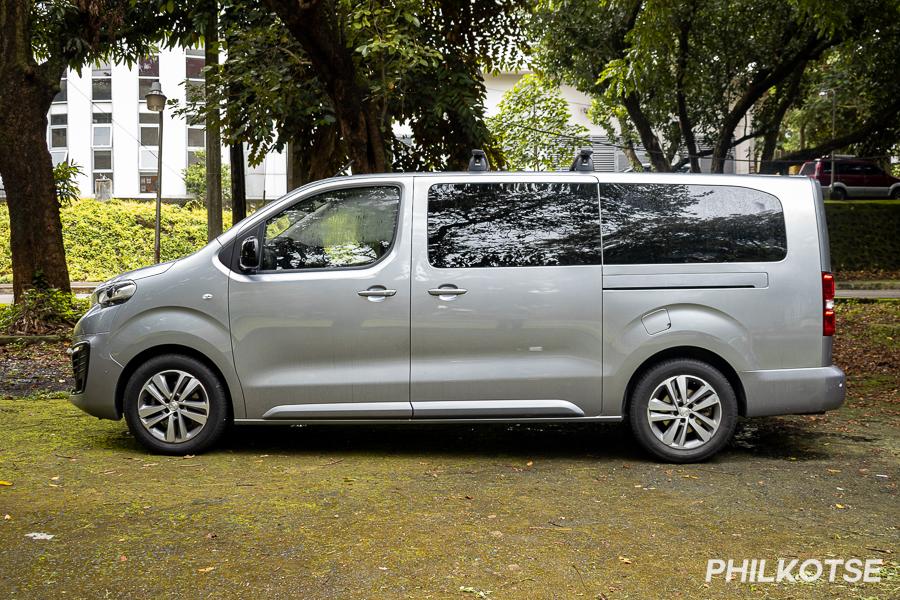 Everything about this vehicle is huge. Just look at those sliding doors
Speaking of its lights, the Traveller comes with Xenon headlamps with a convenient auto on/off function. The headlights are significantly powerful when brightness is concerned, and they will absolutely bathe the entire width of a two-lane road when placed in the high-beam position. Be careful when using these as they can blind oncoming traffic that's for sure.
This MPV also has LED daytime running lamps. Unlike the headlamps though, nothing is fancy about its design, but it does work well in terms of brightness and enhancing the look of the vehicle slightly.
These Xenon headlamps are intensely bright
From the side, the Traveller has a set of 17-inch alloy wheels. These are as modern as wheel designs get, but are quieter-looking compared to most. This Peugeot also has power-folding and power-adjustable side mirrors that work fine if not too small.
It is also from the side where the size of the Traveller is more apparent. For its exact measurements, this Peugeot model comes with a length of 5,309mm, a width of 1,920mm, and a height of 1,940mm. So one will definitely see it coming. It also has a lengthy 3,275mm wheelbase, substantially longer than the pricier Toyota Alphard.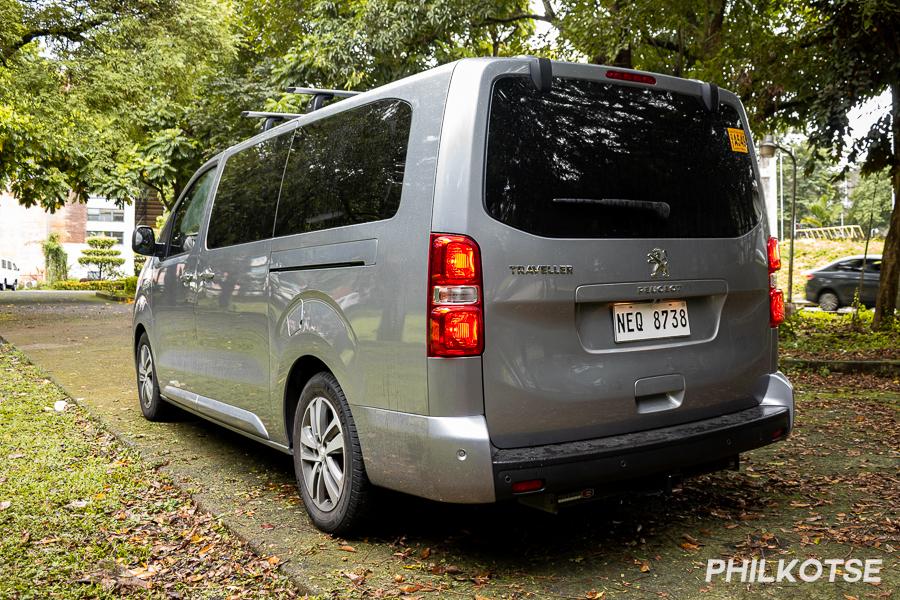 The Traveller from the rear
Towards the rear, there's nothing eye-catching regarding the Traveller except for the part that it is huge. Flanking both sides of its flat, boxy rear end is a pair of LED taillights.
The Traveller test unit that we used also came with an aftermarket Thule roof rack. This of course proves that this model's roof can actually bear weight – great for mounting tents or maybe it can even function as additional cargo space.
YOU MAY WANT TO READ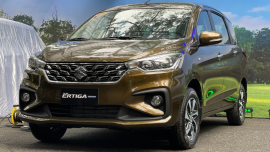 Model Price Philippines
₱ 954,000 - ₱ 1,153,000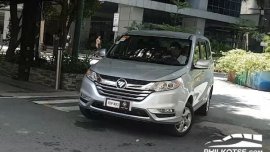 Model Price Philippines
₱ 520,000 - ₱ 708,000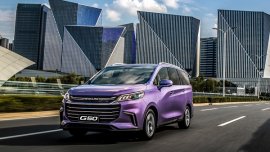 Model Price Philippines
₱ 948,000 - ₱ 1,338,000
2022 Peugeot Traveller Interior Review: Rich in space
When appearances are concerned, the interior of the Traveller is all business. So as much as the marque would like to push it as "premium," it doesn't have much of the cosmetics of a vehicle that one would usually associate with the said term.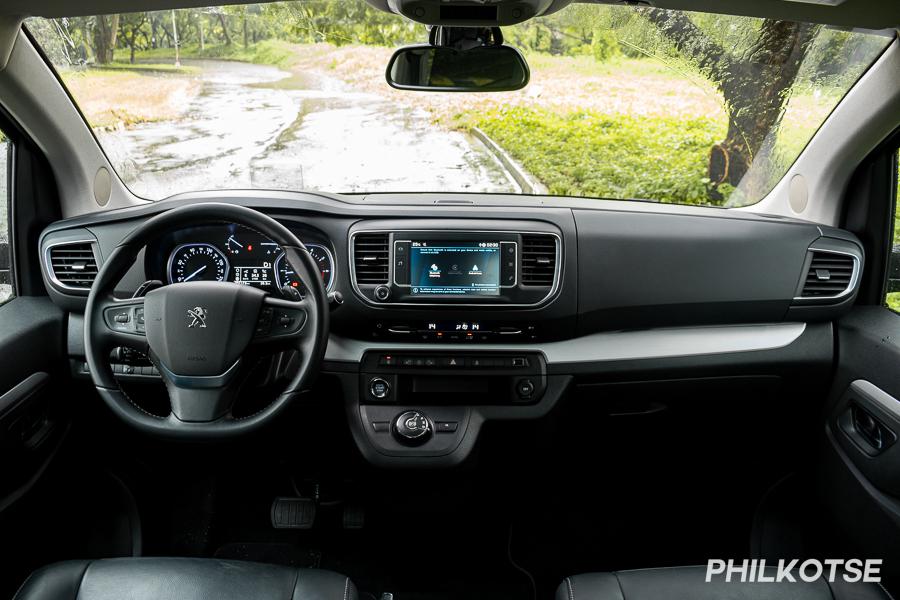 The Traveller's cockpit is made even more spacious thanks to the lack of a center console
For instance, it does away with the wood trim, nor does it have a particularly attractive interior color scheme. It doesn't even have much in the way of soft-touch features at least on the dashboard.
But while the interior looks quite simple, there's plenty to like about the Traveller's cabin. For one thing, the space of this Peugeot is really generous – thanks to the aforementioned long wheelbase. The box-like exterior design helps in providing utmost space. All four sides have about the same equal amount of space from the floor to the ceiling, resulting in an interior that is also box-like.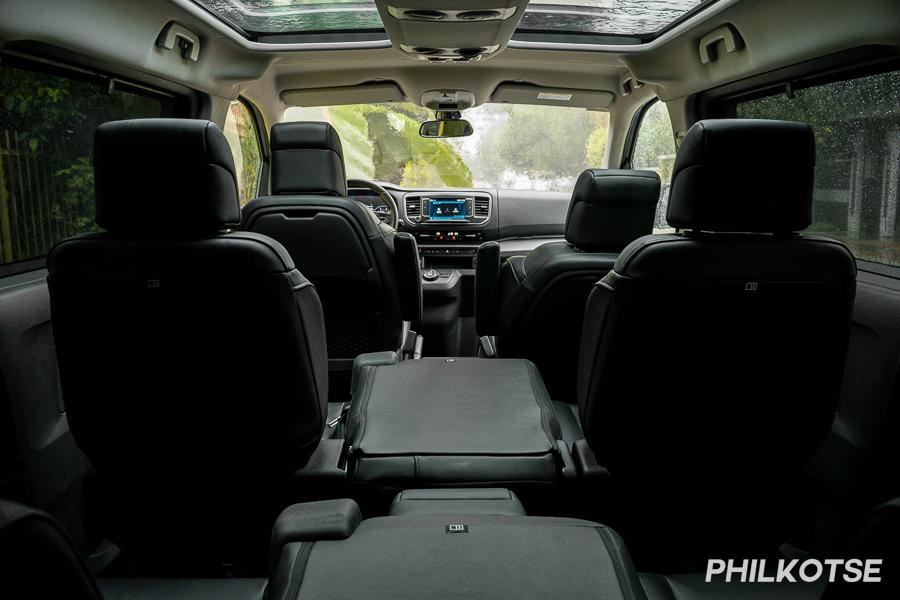 With the middle seats folded down.
The front cabin alone provides the driver and passenger with several amenities. The analog gauge cluster and the digital trip computer is legible and easy to use, and finding the optimal driving position is also made easy thanks to its electronically adjustable seats. It also gets a push-to-start button and plenty of storage space, plus a cubby hole on the dash beside the two large glove boxes.
One feature that stood out is the massage function for the front seats. While these aren't capable of providing a Nuat Thai experience, it does the job of minimizing fatigue, especially when you're on a long road trip or when you find yourself stuck in rush hour traffic.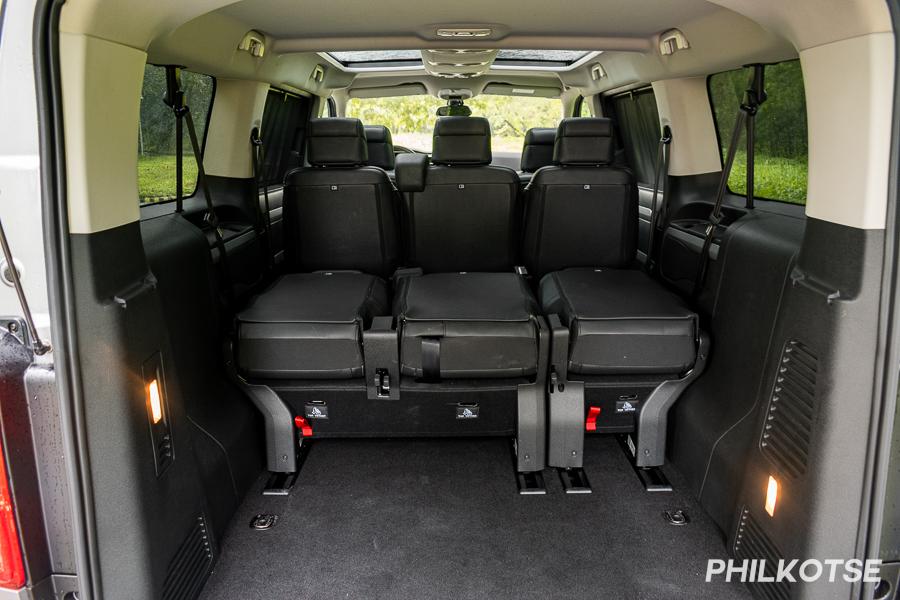 Cargo space on this MPV is abundant
The leather seats themselves on the Traveller are not only soft and comfortable, but they're also versatile. The second row can also be folded and tumbled if one needs more space for entry into the third row. The third row can also be tumbled down for even more cargo space.
In total, the variant that we tested can seat a total of eight occupants. Legroom is plentiful and even large individuals will have no qualms about elbow and headroom. I, for one, also had the opportunity to ride in the third row and even I, a large and wide individual, found it rather accommodating.
It's moonroof is equally huge
Regarding cargo space, this model has a default capacity of 1,060 liters. Even with the third row seats up, you can load an assortment of items in the Traveller's cargo area. You can put three to four large-sized luggage with room still to spare for other items. This gives me the impression that the Peugeot Traveller has the potential to become a great or posh private "school bus," or a premium hotel transport as it does have space for all those luggage. And of course, it can even be a versatile family vehicle.
Entry and exit for occupants are also made painless with the two power-sliding rear doors on either side. These can even be controlled from the dashboard. The large tailgate does come with gas struts, but shorter individuals will have some trouble closing it. Moreover, the driver's seat could also use a handhold for ease of entry, though the passenger side does get one.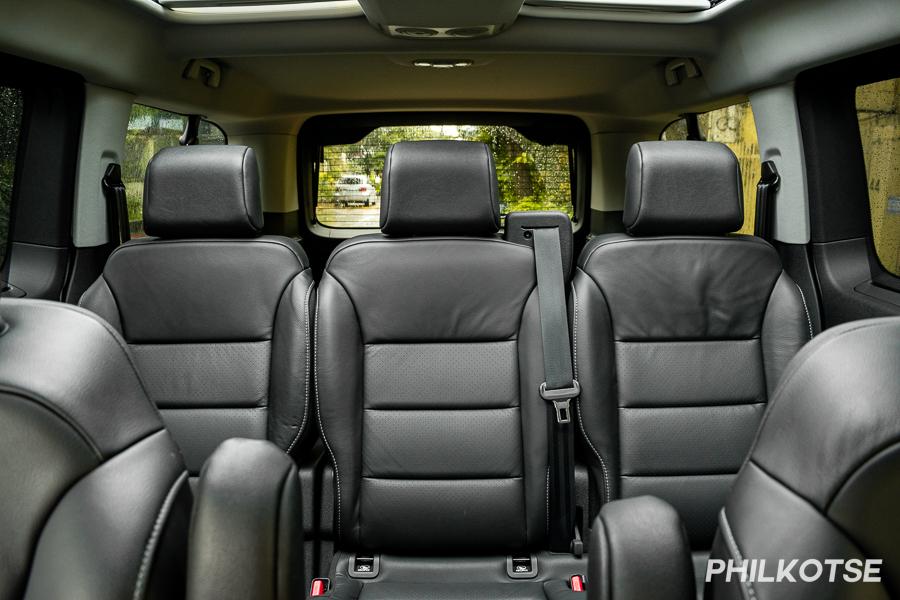 The second row seats can all be folded individually
Positioned on the ceiling on top of the second row is a large split moonroof. This is a nice feature for road trips but an automatic function for its blinders will make life easier for its occupants.
I also appreciate the fact that the driver or front passenger can actually move seamlessly towards the rear rows without the need to get out. This is thanks to the Traveller's lack of a center console. This also makes it a great potential candidate for those "van-life" mobile home builds.

2022 Peugeot Traveller Review: Tech & Safety Review
Moving on to this Peugeot model's on-board tech, I found it to be a competent set that will meet the needs of most owners and drivers.
But one major gripe I personally have about the Traveller is the size of its infotainment screen. Sure, this head unit works well and has Apple CarPlay and Android Auto, but its seven-inch size does not jive with the abundance of interior real-estate. Feeding sound into the cabin of the Traveller is a six-piece speaker system that sounds decent enough.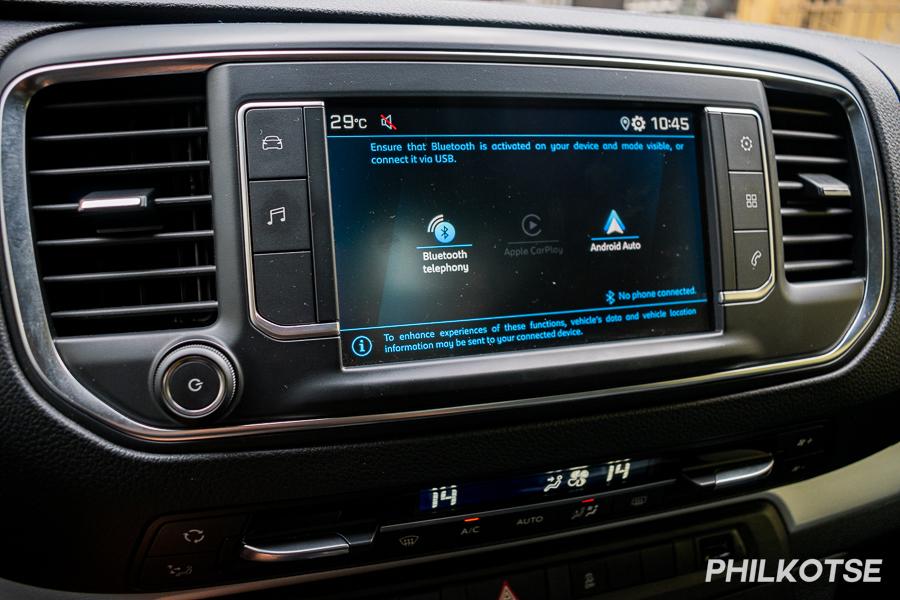 The Traveller's 7-inch touchscreen headunit
The Peugeot Traveller also gets plenty in the way of safety and driver-assist features. The one that I personally got to use often is the blind spot assist which worked through blinking pilot lights on the side mirrors. These were quite responsive and will let you know if something or someone gets too close to you.
Its 180-degree camera also helped a great deal in parking this sizable vehicle. But then again its image quality might be blurry at times, and the composite top-down image will sometimes take a while to form.
While not an outright safety feature, the pop-out heads-up display is also helpful for keeping my eyes on the road as it reduces the need to look down on the gauge cluster.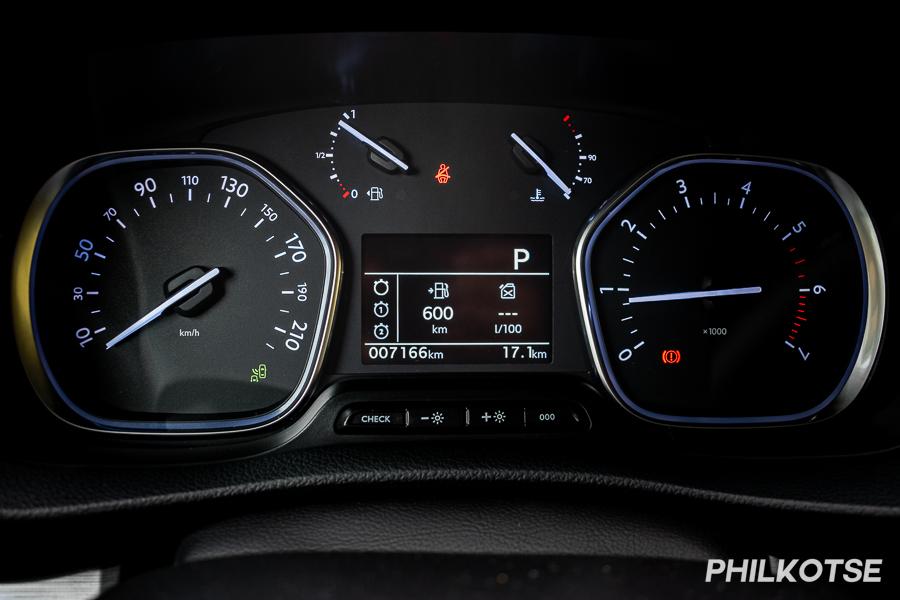 It's analog gauge cluster and digital trip meter
Other standard safety features found on the Traveller Premium are antilock braking with electronic brake-force distribution, electronic stability control, hill-climb assist, front and rear parking sensors, as well as a programmable cruise control system with a speed limiter.
Those standard safety features, I feel, are already sufficient for the Traveller. Though, I would have liked the addition of an autonomous braking system. This would certainly make it more desirable considering its price.
2022 Peugeot Traveller Review: Engine & Performance
Propelling the 2022 Peugeot Traveller is a 2.0-liter turbodiesel inline-4 mill that's good for 150 horsepower and 340 Nm of torque. With that output, this MPV model provides decent acceleration for its size.
Power is sent to the front wheels of this vehicle via an eight-speed automatic tranny. Interestingly, the gear shifter assumes a dial-type form which reminds me of the controls of a washing machine. It looks weird, but I got used to it fast.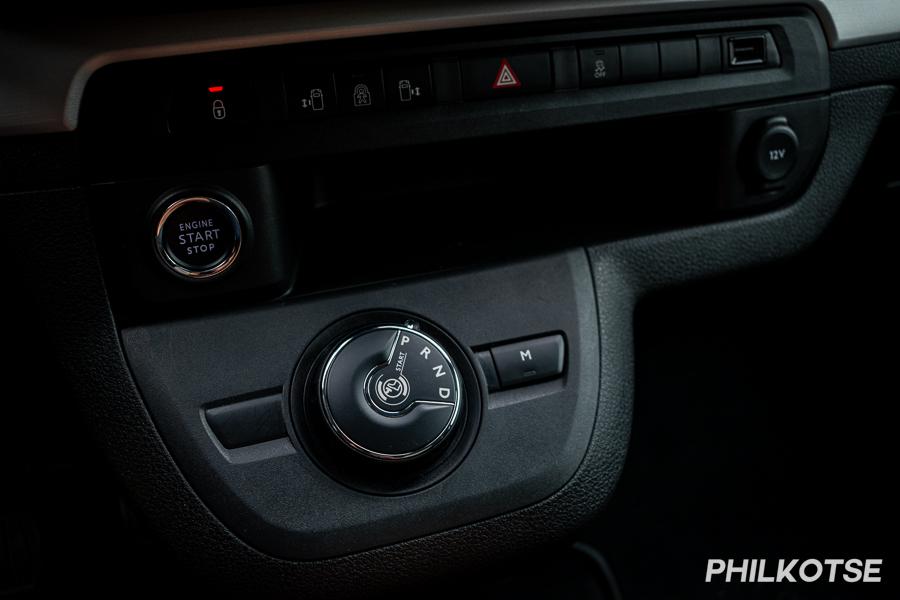 Here's the Traveller's dial-type shifter
The said tranny also gets a true manual mode that can be controlled by paddle shifters. I say "true" since one can actually keep it in the desired gear and rev the engine to your heart's content. That isn't advisable, but the additional degree of control over its transmission is nice to have.
I was also pleasantly surprised to find out how easy it was driving this huge chunk of a vehicle. The steering is direct and will provide some degree of feedback, and it felt as if I was driving a vehicle several degrees smaller than it actually is.
The suspension strikes a good balance between firmness and softness. The vehicle will still roll ever so slightly on corners, but as a passenger, you won't feel jarred by bumps, potholes, and the like.  Ride quality is also smooth on both the city and highway. Wind noise however, can be heard upon reaching around 75 to 80 km/h but that's a minor annoyance at best.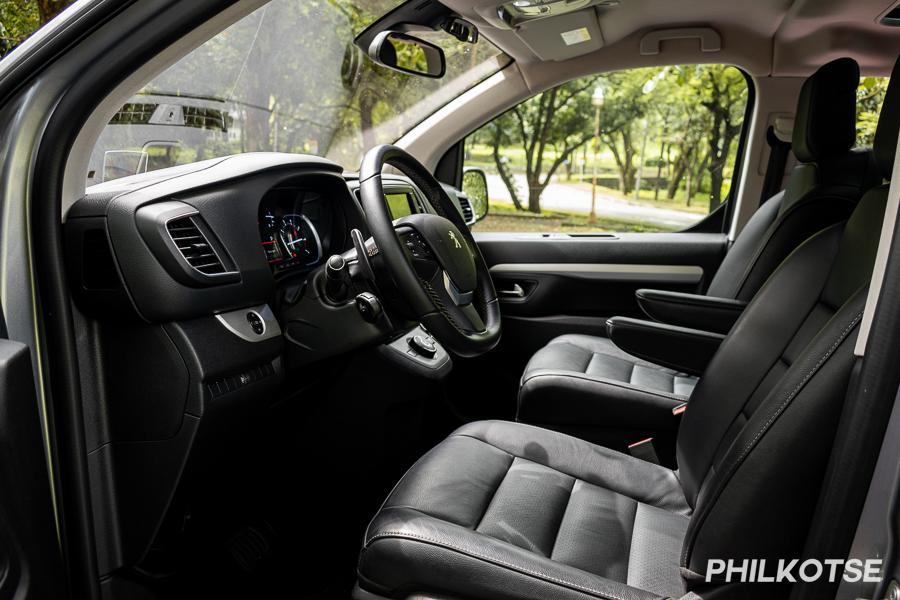 The paddle shifters does not rotate with the wheel though
Braking for this model is also quite good for its size. This is thanks to its ventilated disc brakes for all four wheels. It does however, have this boosted feel to it that one will need to adjust to. Also, it uses a hand-operated parking brake positioned low on the flood of the front cabin. One will need to bend down a bit to reach it but that's just a minor issue.
This French MPV or minivan also has plenty of road presence. I felt this when I was driving it on the traffic plagued Commonwealth Avenue and along EDSA. Couple that with the high driving position and the wealth of forward visibility, you have a vehicle that enhances one's confidence even in tight traffic.
2022 Peugeot Traveller Review: Fuel efficiency
The 2022 Peugeot Traveller Premium as tested, returned 9.5 km/l in moderate traffic. On the highway, it registered 17.2 km/l while driving at an average speed of 80 to 90 km/h. Also, note that the Traveller comes with a 70-liter fuel tank capacity. During the said tests, there were only two occupants inside the vehicle.  
2022 Peugeot Traveller Review: Verdict
In talking about comfort and drivability, there's plenty to like about the 2022 Peugeot Traveller. It arguably deserves the variant name "Premium" with some caveats.
As for the caveats, its styling is basic at best inside and out. The box-like shape reminds me of the utilitarian vans that are common in Europe, and as mentioned above, its interior is void visual pizzaz of a premium model. Thankfully, the Traveller is quite thorough when it comes to features, plus that massive cabin space is its primary selling point.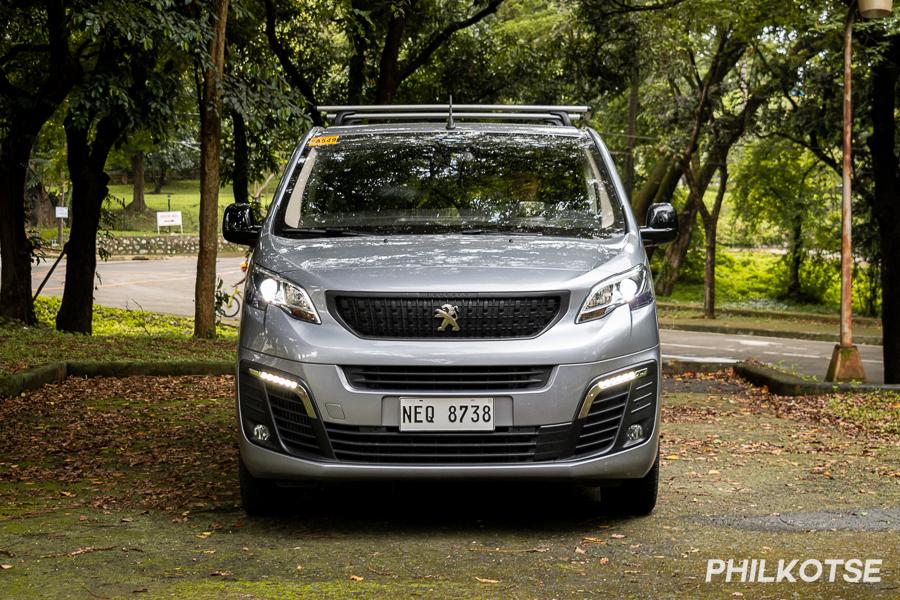 The Traveller from the front
So, is it worth Php 3,150,000? Let's put it this way. The Traveller, while not commonly seen on local roads, is ubiquitous in Europe. Over there, this huge beast has more than proven itself to buyers as a workhorse or cargo carrier. In fact, it is a common sight on their roads as much as the Toyota Hiace is on ours. To some degree, this is a good sign that Peugeot knows what they're doing with regards to this particular segment.
Another is that the Traveller's ride quality is on the upper end of the spectrum compared to other three-row models available locally. It is, after all, a unibody model, so those who are allergic to bumpy rides might just be the Traveller's target market.
Of course, there's also the undeniable novelty of driving a European-made vehicle. Especially in this case, a French-made vehicle. Well, this might be a superficial reason for some folks but it's still a valid point to consider about the Traveller.
2022 Peugeot Traveller: Variants & Price
Peugeot Traveller Price & Variants in the Philippines

Traveller Premium 2.0 AT (8-seater)

Php 3,150,000

Traveller Premium 2.0 AT

Php 3,260,000
2022 Peugeot Traveller: Color options
Peugeot Traveller Color Options
Bianca White, Artense Grey, Nera Black
2022 Peugeot Traveller: Specs
Overall

Make

Peugeot

Name

Traveller Premium (8-seater)

Body Type

MPV

Dimensions & Weight

Lenght

5,309mm

Width

1,920mm

Height

1,940mm

Wheelbase

3,275mm

Ground Clearance

219mm

Seating Capacity

8

Engine & Transmission

Type

Inline-4 Turbodiesel

Fuel Type

Diesel

Displacement

2.0-liters

Transmission

8-speed automatic

Horsepower

150

Torque

340

Exterior

Xenon headlights w/ auto on/off

LED daytime running lights

Front fog lamps

Power folding, adjust side mirrors

LED taillights

LED turn signal lamps

Manual tailgate

17-inch alloy wheels

Interior

Leather seats

Tilt and telescopic steering wheel

Analog gauge cluster

Lever type Parking Brake

7-inch touchscreen infotainment (Apple CarPlay and Android Auto)

9-piece speaker system

Engine Push Start

Individual folding and tumbling second row seats

50:50 Folding Third Rear Seats

12-volt accessory outlet and USB ports

Heads-up display

Safety & Tech

Four airbags

ISOFIX

ABS with Traction Control

Stability Control

Hill-start Assist Control

Front and rear sensors

180-degree view camera

Speed Sensing Door Locks

Blind Spot Monitor

Rear Cross Traffic Alert

Suspension

Front

Pseudo McPherson Strut

Rear

Torsion Beam

Brake

Front

Ventilated Disc

Rear

Ventilated Disc


Cesar G.B. Miguel
Author