We took the next-generation Celerio on a quick day tour down south for an initial verdict.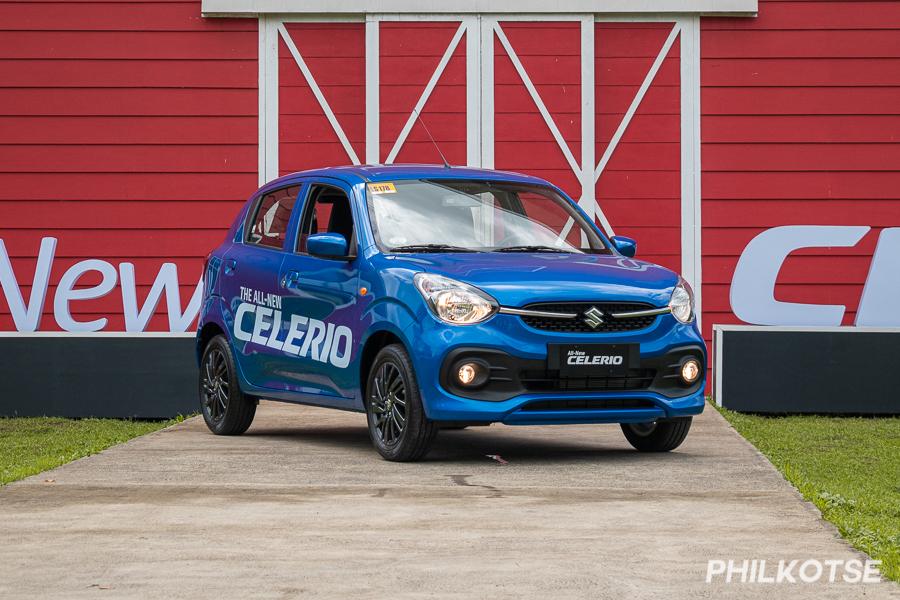 In this review...
Introduction

Exterior Review

Interior Review

Tech and Safety

Performance

Price

Initial Verdict
2022 Suzuki Celerio Quick Drive Review: Introduction
Suzuki Motor Philippines has brought in the third-generation Celerio for the local market. That's eight long years after the global release of the second-generation model that we've come to know and love. 
Being an all-new model, this Celerio that we're talking about vastly differs from the older version by having a more modern exterior design, more interior features, and even more space. The new Celerio also rides on a new platform, which Suzuki claims to have improved its interior space, handling, and crash safety. 
2022 Suzuki Celerio - New Year, New Look | Philkotse Quick Look
So, does the all-new 2022 Suzuki Celerio have what it takes to compete in the ever-competitive local subcompact hatchback segment? Let us give you an inkling by sharing with you what we experienced during our one-day outing with the Celerio from Sucat, Paranaque to The Old Grove Farmstead in Lipa, Batangas. 
2022 Suzuki Celerio Quick Drive: Exterior Review
To make it more appealing to current car buyers, Suzuki gave the all-new Celerio a modern look. And as far as our first impressions go, it doesn't stand out too much, nor is it too flashy. For some folks, that's a good thing when it comes to economy cars.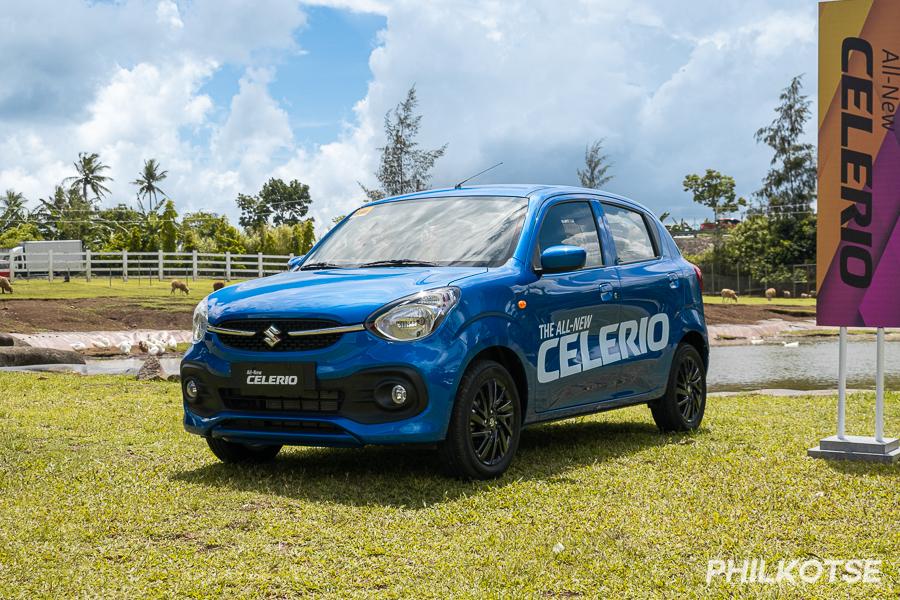 The front end of the new Celerio now sports a pair of large, teardrop-shaped halogen headlamps. Below that is a sizable black trim piece positioned on the lower bumper. It then rides on a set of 15-inch black alloy wheels, while the side and rear sections of the car both mirror the front of the car in that they also get minimal sharp lines and angles.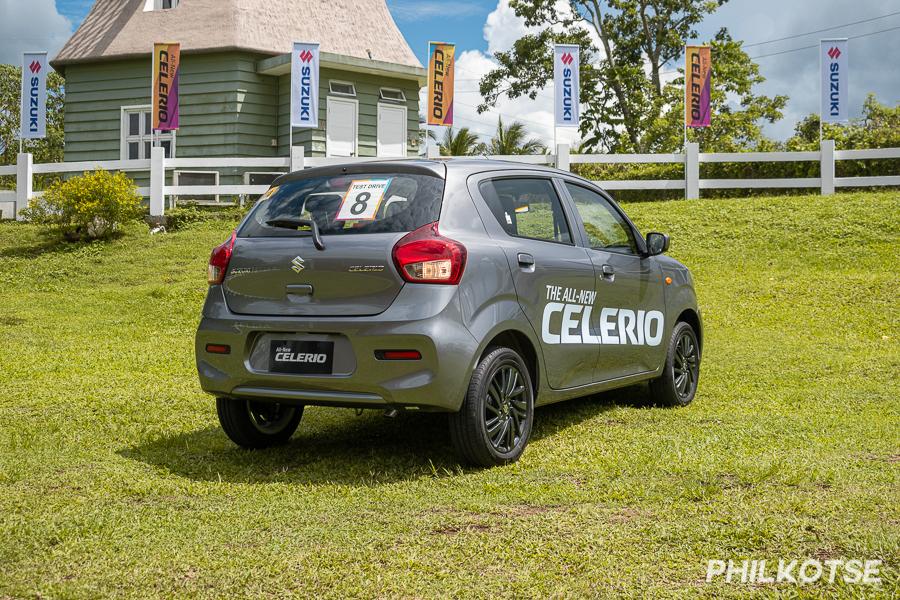 Its rear end comes with a simple but clean design
That said, the new Celerio contrasts the S-Presso's "tough" look, exuding a cutesy persona instead – a design direction that isn't for everyone. We'll give it to Suzuki, though, as it is indeed more contemporary compared to the older Celerio.
YOU MAY WANT TO READ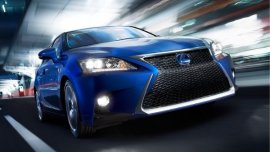 Model Price Philippines
₱ 2,458,000 - ₱ 3,178,000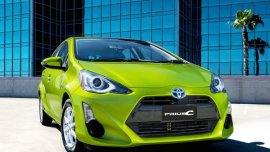 Model Price Philippines
₱ 1,970,000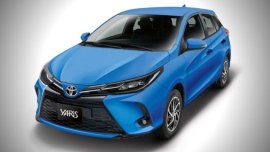 Model Price Philippines
₱ 973,000 - ₱ 1,114,000
2022 Suzuki Celerio Quick Drive: Interior Review
Step inside the all-new Celerio and you'll certainly feel that Suzuki really did try to optimize its interior space.  
For instance, the door cards are thin, and the controls for the front windows were repositioned on the dashboard (just like in the S-Presso and the Jimny), while the ones for the rear are on the rear-most portion of the center console. These are easy to access for all occupants, but their unusual positions certainly takes some getting used to.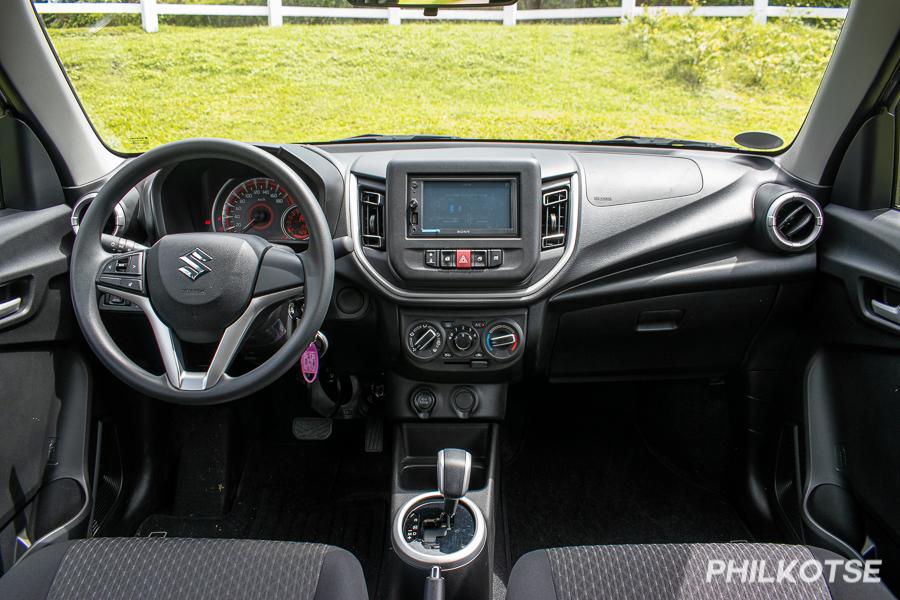 The all-new Celerio's cockpit. 
Speaking of space, note that the author of this review stands at 5'11", and as mentioned on the Honda HR-V quick drive review, a bit wide in terms of girth. The all-new subcompact Suzuki hatchback didn't present any issues when it came to rear seat and driver's seat comfort. There was ample headroom and legroom, and even the trunk was relatively generous with its 295-liter capacity. That can even be further expanded as the rear seats can be folded down in a 60/40 split.  
For taller folks, though, do note that the front seat isn't adjustable when it comes to height. This feature is not typical on economy cars like this one, so you'll have to live with that.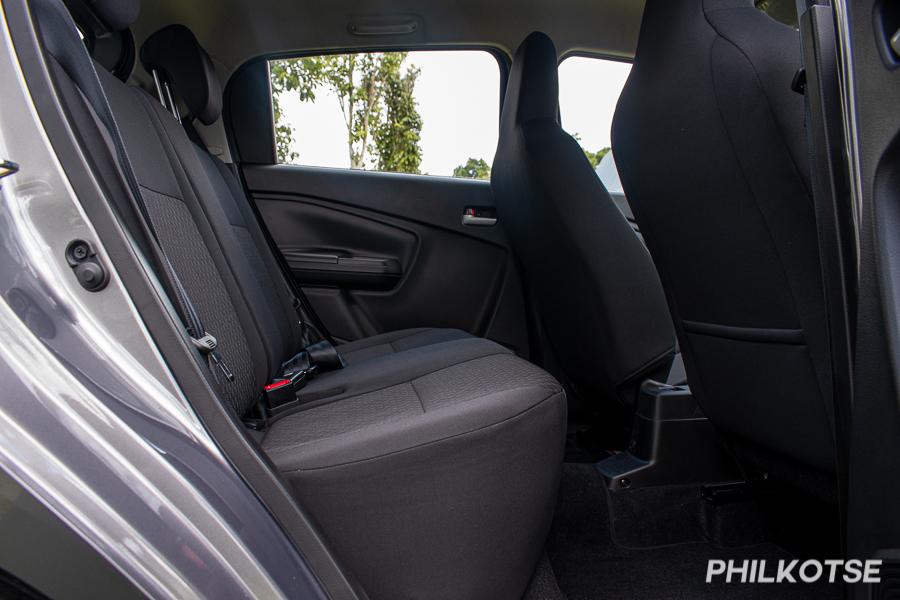 Two adults will be accomodated comfortably in its rear cabin
The controls on the Celerio also feel pretty solid. They aren't scratchy-feeling at all, and are responsive. The new and huge gauge cluster is also quite legible and actually stylish. The center 6.2-inch Sony touchscreen display, however, will get drowned out by the sunlight at certain angles – more on this later. 
 
2022 Suzuki Celerio Quick Drive: Tech and Safety
According to Suzuki, one of the main strengths of the all-new Celerio is its safety kit. The brand highlighted the fact that it now uses the stronger but also lighter HEARTECT platform. This will help cradle the car's occupants in the event of a crash.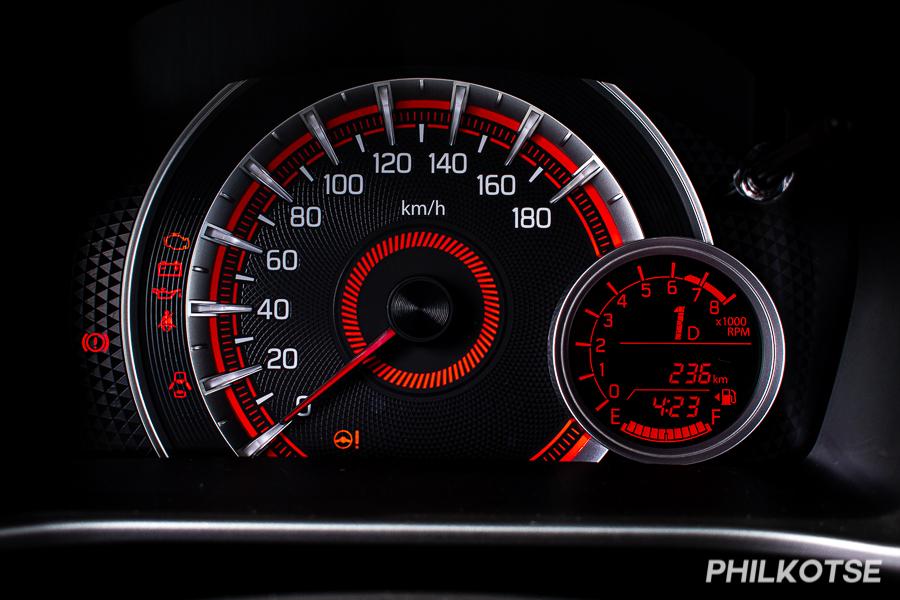 The new Celerio's gauge cluster
Supporting the new platform are other safety features, ones that you'd commonly see on modern cars. It has anti-lock braking, dual front airbags, electronic stability control, rear parking sensors, and a segment-first hill-hold control.  
Thankfully, we didn't get to test most of these, though the hill-hold control and rear-parking sensors did work well. 
As mentioned above, the display of the Sony 6.2-inch touchscreen can be drowned out by direct sunlight. This didn't happen that much, but it was annoying when it did. In spite of that, the head unit itself was fairly responsive, legible, and easy to use. Even the four-piece speaker system sounded decent.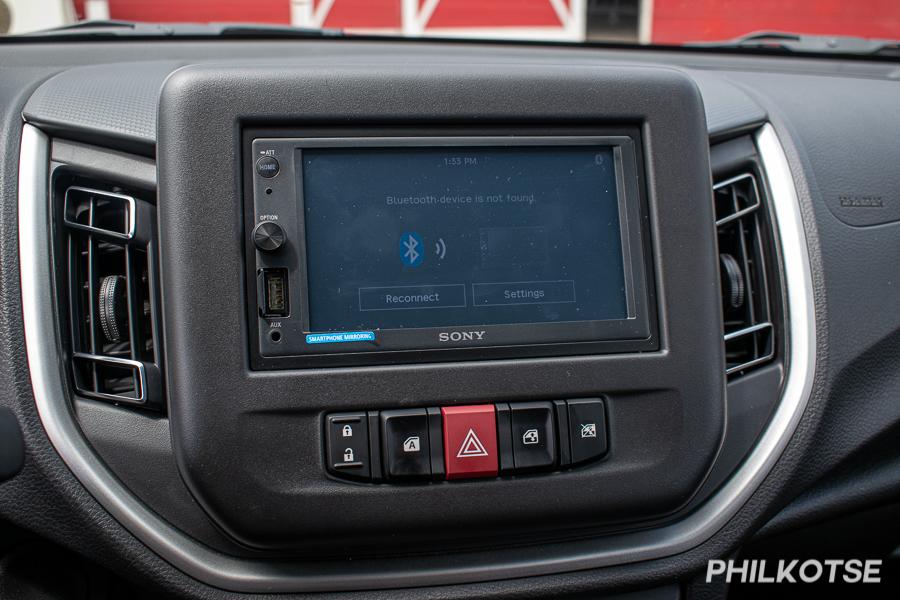 The 2022 Celerio's touchscreen headunit. Note the power window controls below.
What hamstrings the new Celerio's feature set, though, is its lack of Apple CarPlay and Android Auto, which have not been carried over from the Indian-spec version. Sure, the Weblink that is available on the Celerio offers something different, but having Apple CarPlay and Android Auto is widely considered the gold standard when it comes to in-car smartphone connectivity.  
Then again, this new model from Suzuki did have Bluetooth and USB connectivity, and those worked well enough. 
2022 Suzuki Celerio Quick Drive: Performance
While we had gripes with its infotainment system, we actually admire how the all-new Celerio drives. It is quick on its feet, and its steering is very responsive to the point that it is a very "point-and-shoot" kind of car. 
Do note that if you're used to torque converter transmissions, using the Celerio's auto gear shift gearbox, especially in its automatic mode, will take getting used to. To put it in simple terms, it feels like a phantom foot is doing the clutch work, and that sometimes the gear shifts will happen rather too late, or sometimes too early into the rev range.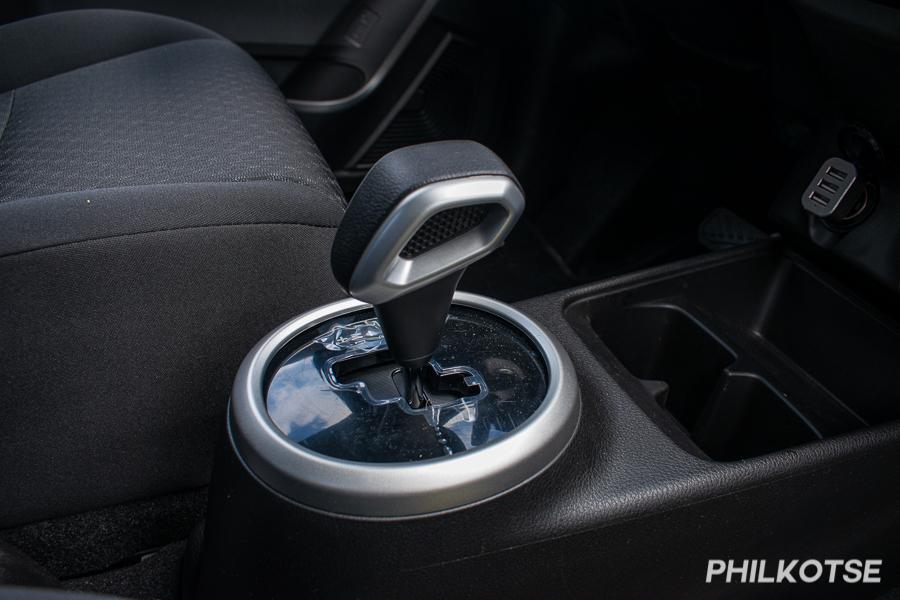 The shifter for the Celerio's auto gear shift transmission
The manual mode feels great however, and by using this mode one can squeeze out everything the 1.0-liter inline-3 gasoline engine can offer. 
Of note, the said engine can make up to 67 horsepower and 89 Nm of torque. These aren't much, but coupled with the Celerio's very light 830 kg curb weight, there were instances in the drive when we had some bit of fun.  
That was before a strong downpour happened in the afternoon on the drive back to Sucat. The Celerio was able to handle the puddles and slight flooding on the roads of Lipa. Moreover, it took potholes and bumps on the road with aplomb, and it was pretty quiet in the cabin as well. It also did pretty well on the highway, and we were able to cajole it into reaching the speed limit with no fuss. We also appreciate the engine auto stop-start system on the new Celerio. It wasn't obtrusive, and one can deactivate it with a simple push of a button.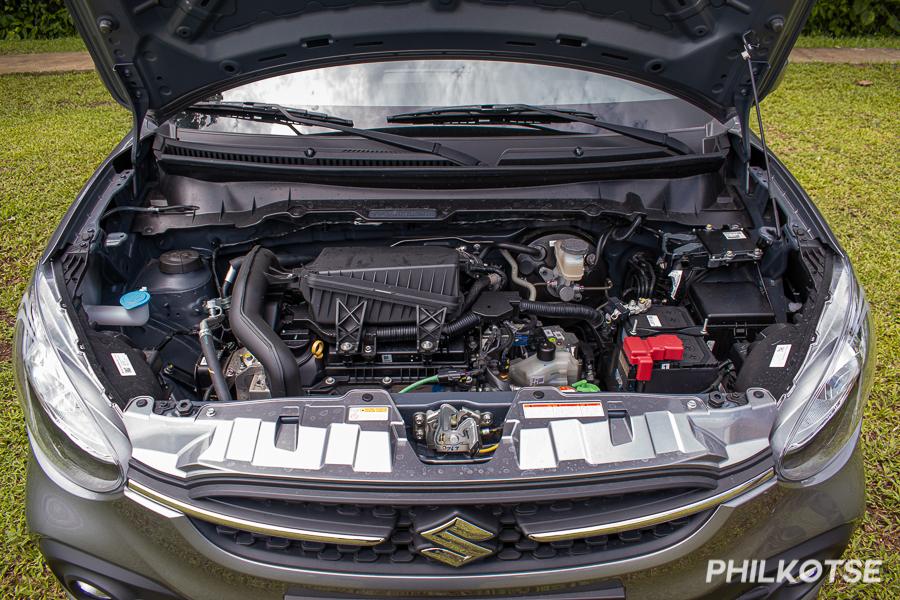 Under the hood, the 2022 Celerio gets a 1.0-liter inline-3 gasoline engine
Lastly, Suzuki claims that the Celerio can return up to 28.25 km/liter based on an official fuel economy test. During our run from Sucat to The Old Grove Farmstead, we managed to return an average of around 21 km/liter. Mind you, the test drive was also a fuel-economy run of sorts, though we were hampered by very slow-moving traffic as we were traveling out of Sucat. Still, 21 km/liter isn't bad by any stretch. 
2022 Suzuki Celerio Quick Drive Review: Price
| | |
| --- | --- |
| 2022 Suzuki Celerio Variants  | Price  |
| Celerio GL MT  | Php 708,000  |
| Celerio GL AGS  | Php 754,000  |
2022 Suzuki Celerio Quick Drive Review: Initial Verdict
Now, to address the elephant in the room. If we were to put it bluntly, the Celerio is one of the more expensive models in its class.  
To put this into perspective, the entry-level all-new Celerio manual variant is Php 8,000 more expensive than the top-spec Toyota Wigo. There's also the fact that its price range is within striking distance of better-equipped models from China, as well as other Japanese-branded subcompacts that offer a bit more be it in terms of power and features.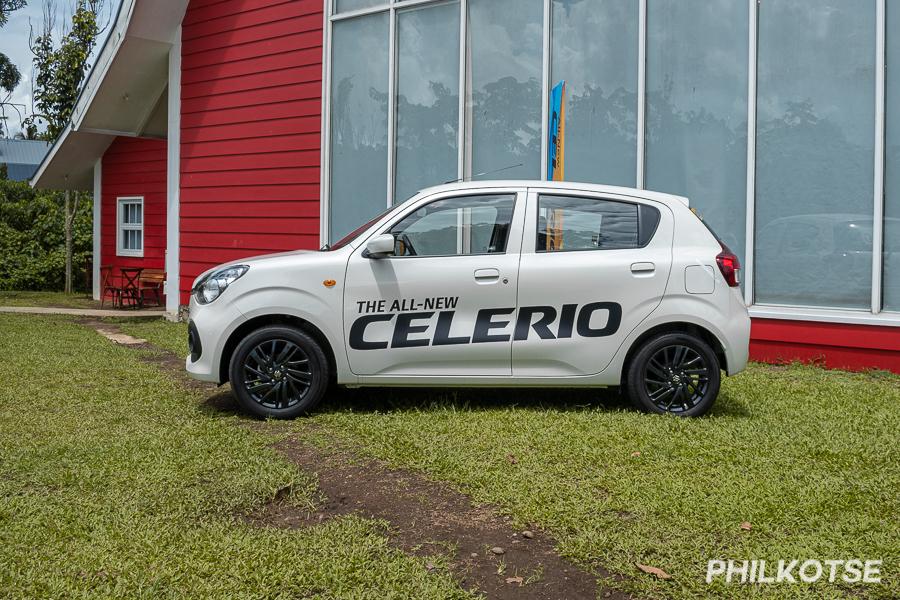 It's a compact ride that'll do great for in-city driving
This, of course, is the one thing that will affect whether the 2022 Suzuki Celerio will have takers. Then again, do consider that many models from many other brands right now are also adjusting their own prices, so this might not be true in the coming months. So for now, we'll have to wait and see how the market will react to the Celerio and its current pricing.    
All-in-all, the Celerio is a pretty good ship, and we are certain that it will perform well in tight city streets apart from handling road trips with ease. That said, we are hopeful that consumers will find what they are looking for in the Celerio, and that it will assure them that they are getting their money's worth. 


Cesar G.B. Miguel
Author