If you are puzzled as which are the best van/family van to go for in the Philippine market, this article can definitely help you to make the right choice.
While pickup trucks are undoubtedly one most of the most versatile car types currently available, vans are also quite useful. As such, they are quite popular here in the Philippines either as a family van, a transport and logistics solution for small to large businesses and even as daily drivers. Or maybe even all those at the same time. Vans are just that great after all.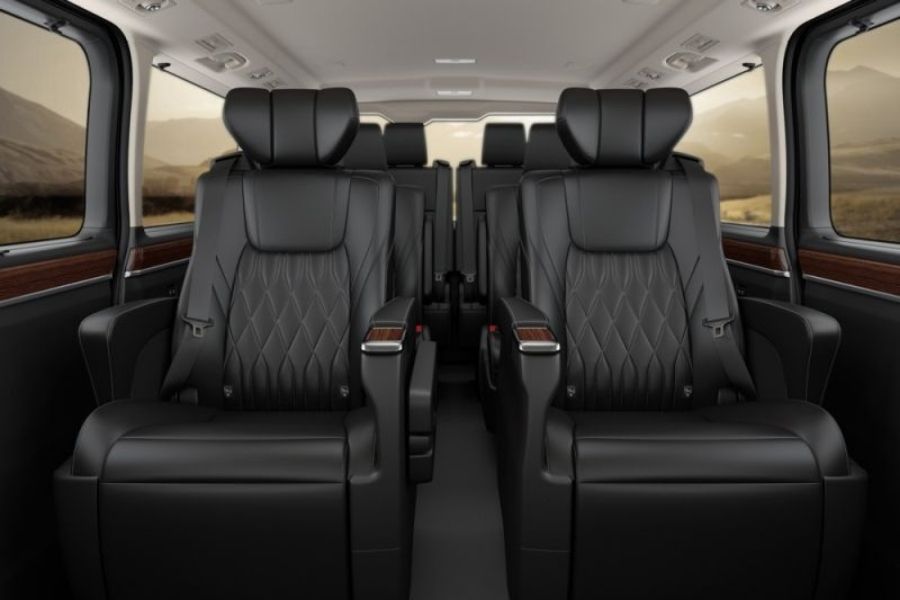 Modern vans can range from having no seats, basic decently comfortable seats, or something as cushy as this
But if you're in the market for a van right now, you might be intimidated by the plethora of models available locally. So, to help you choose, we selected seven of the best van Philippines.
Toyota Hiace
The Toyota Hiace is one of the most popular van models in the Philippine market. As a model, it has been around since 1967 and is available in numerous countries around the world.
Currently, the Hiace that's available locally is now in its sixth generation. It now has a hood, and it is sharper-looking than its predecessors. Propelling the Toyota-made van is a 2.8-liter inline-4 turbodiesel engine. For the six-speed automatic variants, the said four-banger can produce up to 174 horsepower and 450 Nm of torque. The variants with the six-speed manual gearbox also have a 174-horsepower rating, but it makes less torque at 420 Nm. The current Hiace, like the previous fifth-gen version, is a rear-wheel-drive vehicle.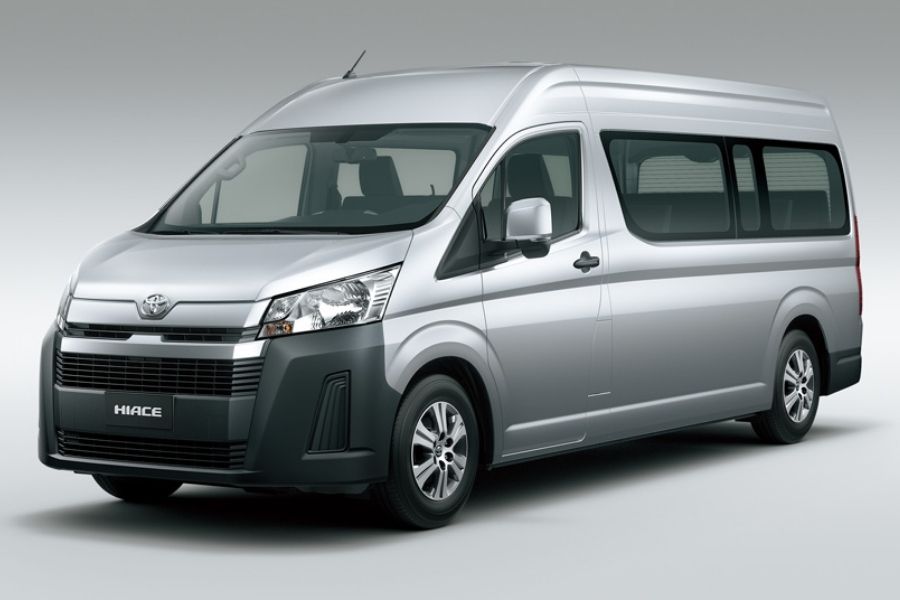 The Toyota Hiace Commuter variant
The Hiace Commuter variant has the most seating capacity numbering at 15. The high-end trim levels of which the Super Grandia Elite is the most luxurious. It however has a significantly lower seating capacity of 10.
For the non-Super Grandia variants of the Hiace, prices range from Php 1,649,000 for the Commuter Deluxe MT, to Php 2,319,000 for the GL Grand Tourer AT. The Super Grandia with leather seats on the other hand has a price tag of Php 2,608,000, while the top-of-the-line Super Grandia Elite AT can be had for Php 2,998,000.
>>> Related: USED KIA CERES FOR SALE
Nissan Urvan
The Nissan Urvan is also a noteworthy van that's available in the Philippine market. Like the Hiace, it is also a veteran model as its very first iteration can be traced back as far as 1965 in the form of the Nissan Caravan B640. Of note, the latest Urvan is also known as the Caravan in certain countries.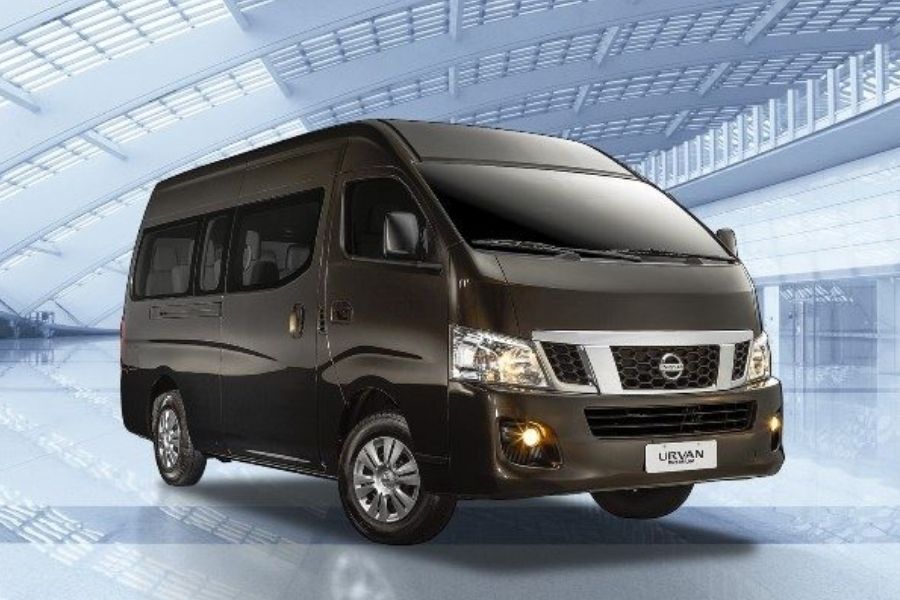 Nissan Urvan Premium
For the Philippine-spec version, the Nissan Urvan is propelled by a 2.5-liter inline-4 turbodiesel. This engine is the sole engine option for the said van, and it is either paired with a five-speed manual transmission, or a five-speed automatic transmission. At most, the said engine can deliver 127 horsepower and 356 Nm of torque, all of which are sent to its rear wheels.
Most Urvan variants save for the Cargo and Standard 18-seater, can seat up to 15 people. The Cargo has the smallest seating capacity numbering at three, as its interior is stripped of passenger seats for optimal cargo capacity.
The Nissan Urvan's price ranges from Php 1,162,000 for the Cargo MT variant, while the top-spec Urvan Premium AT has a price tag of Php 1,866,000.
Philkotse also has plenty of Nissan Urvan 2016 and other model years for sale at a very budget-friendly price.
Maxus G50
While the Maxus G50 is classified as a minivan and not actually a full-on van, it is large enough that it can handle van duties. At most, the Maxus-made model can seat up to eight people and it provides a lot of high-tech features for both entertainment and comfort. Fold the seats down, and the G50 also provides a lot of cargo room too.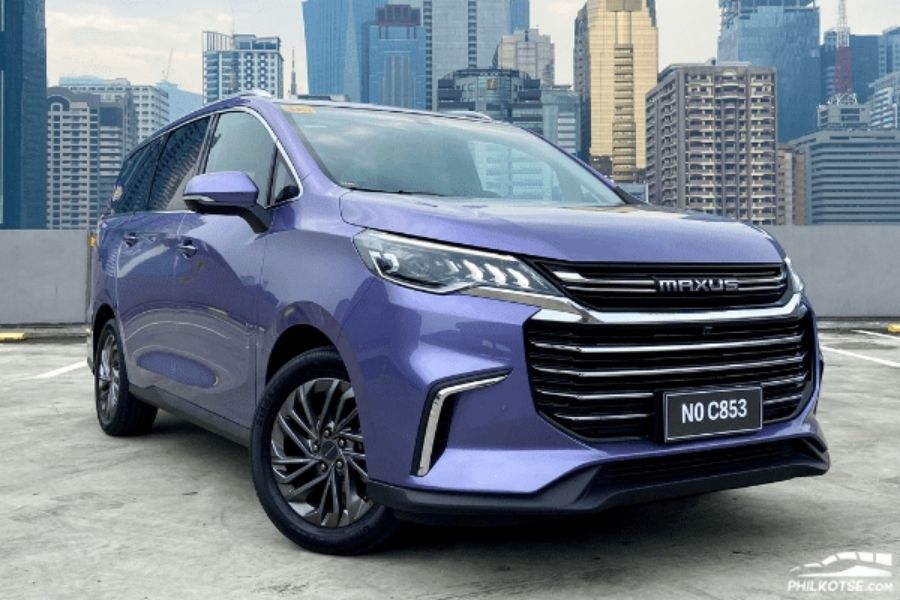 The Maxus G50
For powertrains, the family van Maxus G50 uses a 1.5-liter inline-4 gasoline engine that's paired with a seven-speed dual-clutch automatic transmission. At most, this engine can make up to 167 horsepower and 250 Nm of torque. There's also a 1.3-liter inline-4 turbocharged gasoline engine that can produce 150 horsepower and 230 Nm of torque for the entry-level Comfort trim. For this variant, it uses a six-speed manual transmission. Unlike most of the models on this list, the Maxus-made minivan is a front-wheel-drive model.
There are four variants of the Maxus G50 that can be bought locally. Its price starts at Php 948,000 for the G50 MT Comfort, to Php 1,338,000 for the G50 Premium.
Hyundai Starex
Another best van in the Philippines is the Hyundai Grand Starex. While the new Staria, the Starex's successor, is coming, Hyundai Philippines is currently selling the second-generation Starex TQ model.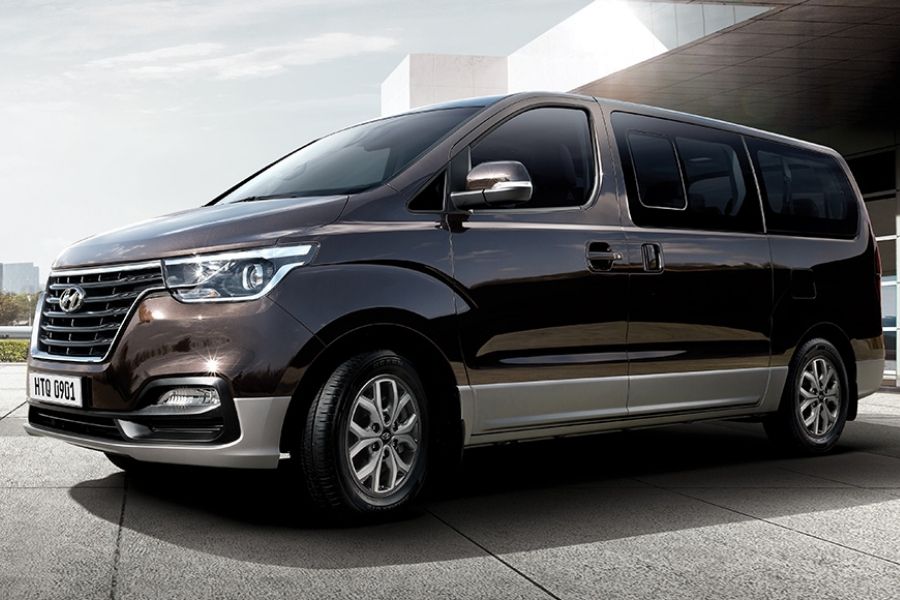 The Hyundai Grand Starex
Currently, the Philippine-spec Grand Starex uses two engine options, both of which use diesel. The first one is a 2.5-liter naturally-aspirated inline-4 mill that can produce up to 100 horsepower and 226 Nm of torque. The second engine option meanwhile is a 2.5-liter turbocharged (CRDi) inline-4 mill that can make up to 170 horsepower and 441 Nm of torque. All Grand Starex variants are rear-wheel-drive, although the turbocharged versions can only come with a five-speed automatic transmission. The 2.5-liter naturally aspirated engine in turn is only available with a five-speed manual transmission.
The Grand Starex variant with the most seating capacity is the Grand Starex GL 18-seater version. The Hyundai-made model also has a seatless cargo variant, which only has space for the driver and front passenger.
Currently, the Grand Starex's price ranges from Php 1,248,000 for the Grand Starex GL MT seatless variant, to Php 2,938,000 for the top-spec Grand Starex GLX Platinum AT. Take a look at some Hyundai Starex 2019 for sale right here on Philkotse.
Maxus V80
Next up on the list is the Maxus V80. Unlike its minivan brother, this model is a full-on van. There are only two variants of these available in the Philippines right now, the 2-seater V80 Flex cargo van, and the 13-seater V80 Comfort.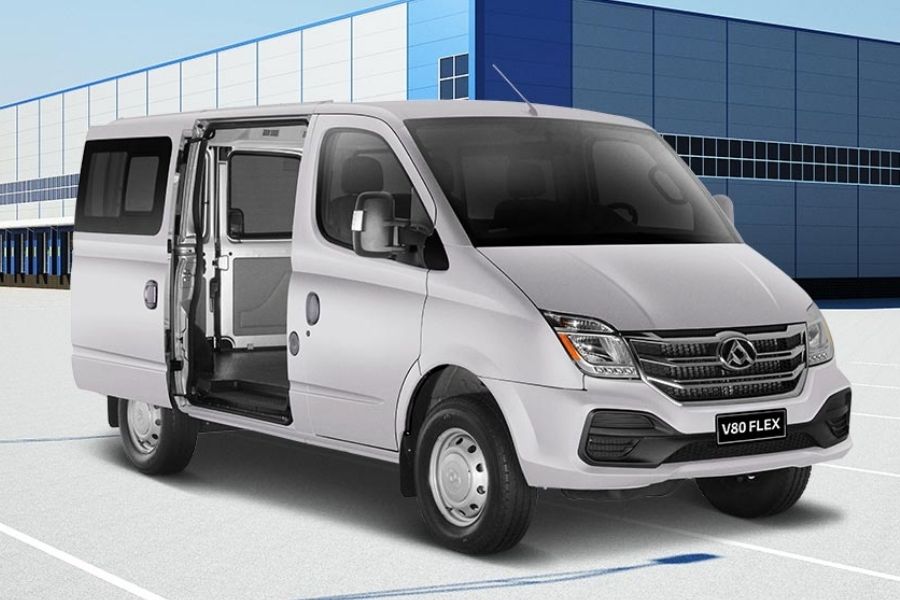 The Maxus V80
Of note, Maxus has a long history of making vans. Before being acquired by SAIC, the said brand was based in England where it was known as the LDV Group. Maxus, under SAIC acquired the said name from the famous LDV Maxus, which itself was a van model primarily used as a commercial vehicle.
Propelling the Maxus V80 is a 2.5-liter inline-4 turbodiesel engine that can produce 134 horsepower and 330 Nm of torque. Power is sent to its rear wheels via a six-speed manual transmission. As of the moment, the V80 doesn't have an automatic transmission variant.
With regards to pricing, the V80 starts at Php 1,190,000 for the V80 Flex 3-seater cargo van variant, to Php 1,570,000 for the 13-seater Comfort variant.
Honda Odyssey
The Honda Odyssey is a seven-seater minivan purpose-built as a family van Philippines. Despite that, one can indeed use this Honda-made model as a VIP carrier, and even as a daily due to its car-like handling characteristics.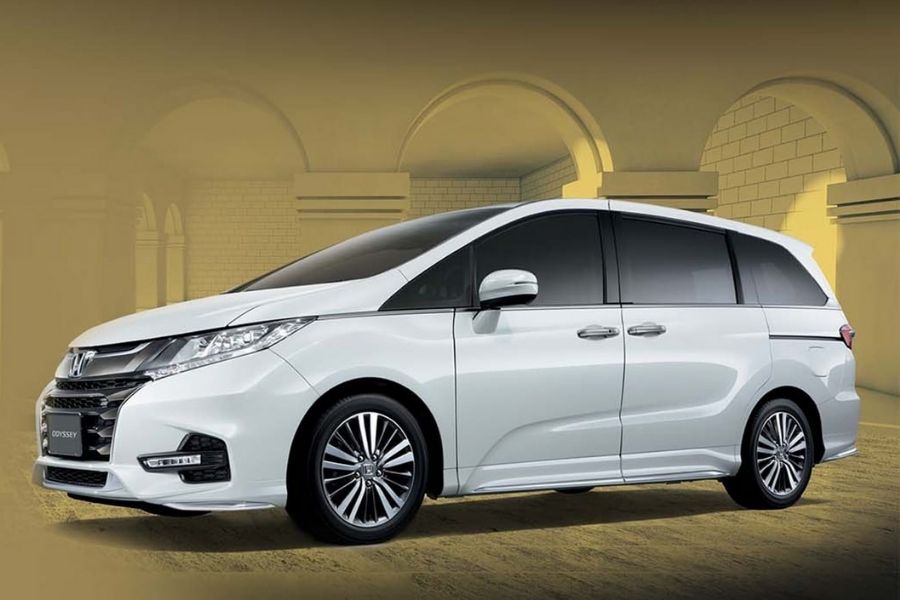 The Honda Odyssey
For the Philippines, the Odyssey is powered by a 3.5-liter V6 gasoline engine. The said mill can make up to 173 horsepower and 226 Nm of torque, which are then sent to its front-wheels via a continuously variable transmission.
The Honda-made minivan's price for the Philippine market starts at Php 2,298,000 for the Odyssey EX 2.4 CVT, to Php 2,698,000 for the top-spec Odyssey EX-V Navi 2.4 CVT. So it is quite a luxury van Philippines.
Best passenger van Philippines: Bonus Round
Hyundai H350
Known as the Solati in its home country of South Korea, Malaysia, and Vietnam, the said model instead takes the H350 as its name in the local market. Like most vans on this list, the Hyundai-made van was designed to function as a passenger model and as a commercial model.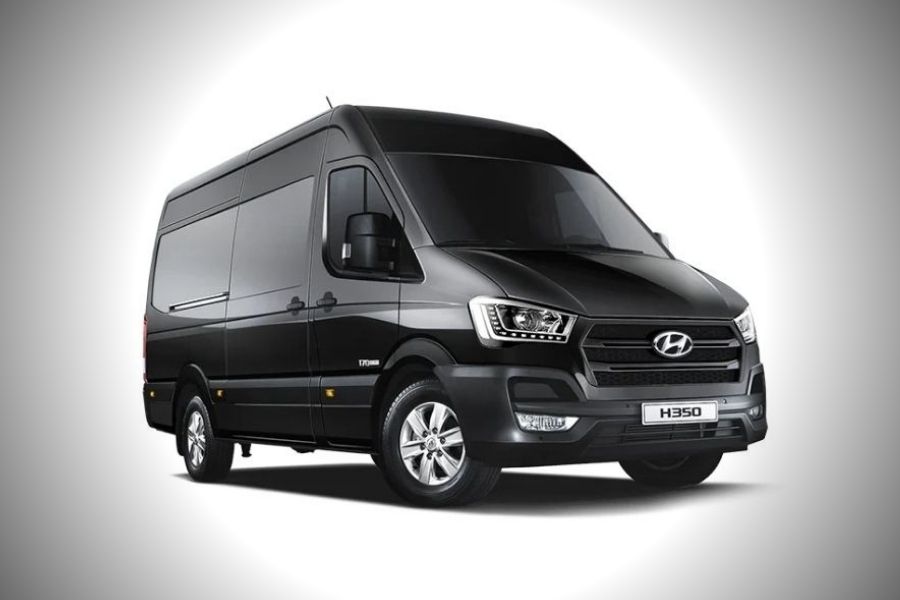 The Hyundai H350
While the H350 is considered as a minibus instead of a van, this said model can likewise fulfill any duties that a van is capable of. Sure, it is larger, but for its price, the added space it provides is not something you'd want to ignore.
Propelling the Hyundai H350 for the Philippine market is a 2.5-liter inline-4 turbodiesel that can make up to 178 horsepower and 421 Nm of torque, which is then sent to its rear wheels. For both variants of the H350, it utilizes a six-speed manual transmission.
At most, the Hyundai-made minibus can seat up to 14-people with room to spare for cargo. Also, do note that as a minibus, it is more elevated than the standard van. This provides its passengers a better view of the outside, so it'll do great as a tour vehicle.
Ford Transit
Competing against the H350 is the Ford Transit. For those unaware, the Ford-produced minibus is one of the company's best-selling models worldwide. It is one of the most recognizable commercial vehicles in North America and Europe as it is highly favored for the floor-space it provides. To put that into perspective, the Blue Oval managed to sell 153,868 Transits in 2019 in the US alone.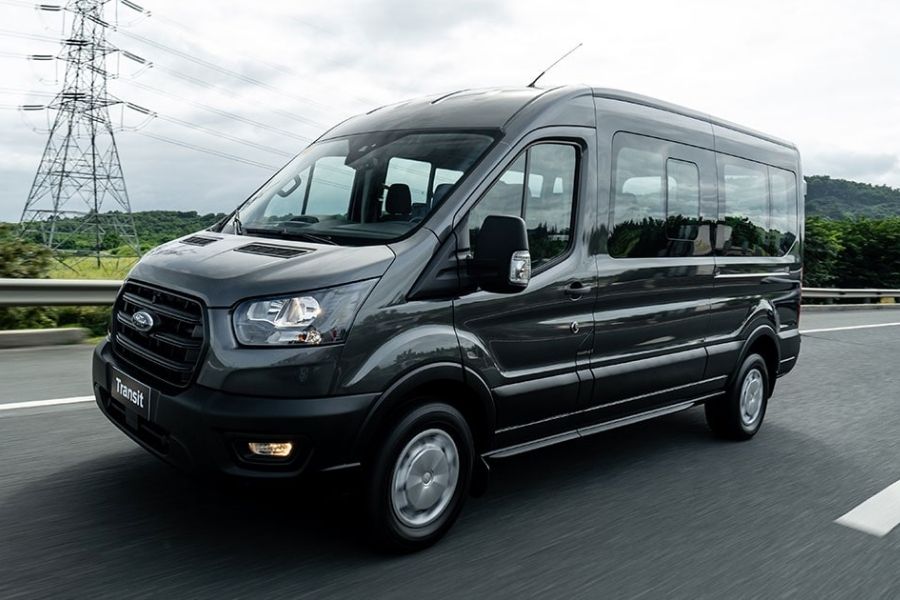 The Ford Transit
For the Philippine market, Ford is positioning the Transit as a people carrier. It is one of the big van Philippines that can seat up to 15 passengers, and like the Hyundai H350, it provides a good view from its huge windows. Propelling the Ford-made minibus is a 2.2-liter turbodiesel inline-4 engine. At maximum, it can make up to 133 horsepower and 385 Nm of torque. The model's sole variant available locally uses a six-speed manual transmission.
Currently, the Ford Transit 2.2 MT 15-seater has a price tag of Php 2,300,000. The Ford Transit also ends out list of best van models in Philippines right now.
Foton View Transvan
Similar to the Urvan, the Foton View Transvan comes with a rectangular and boxy design. It has versatile seating configurations to comfortably support 13 to 15 people. A 2.8-liter turbo diesel Cummins engine powers the car. The engine is more than enough to speed up the car when it is fully loaded.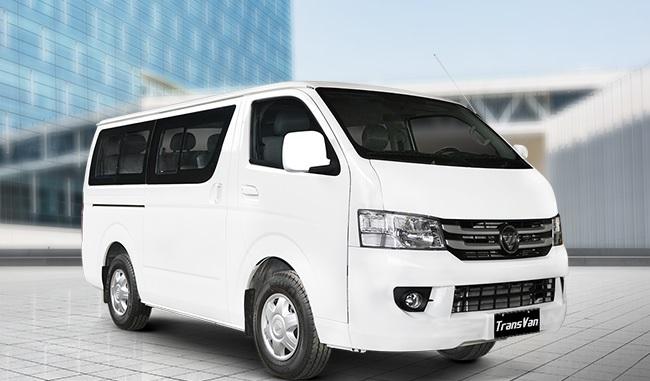 Foton View Transvan.
Foton view Traveller XL
If the Transvan is too short and you want a longer version, take a look at the Foton View Traveller XL. It has a similar front end but a taller roof-line. A different front fascia is also present. The same 2.8-liter turbo diesel Cummins engine is also used to power the car.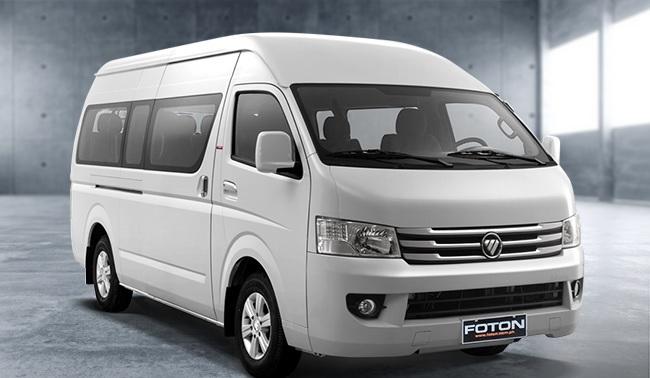 Foton view Traveller XL.
For more car buying tips, car maintenance guides, and general car knowledge, keep reading here on Philkotse.com.

Know more about Toyota Hiace 2022

The Toyota Hiace 2022 is a light commercial vehicle that is a familiar sight on Philippine roads. Aside from being used as a spacious private transport for households with large families, it is also typically employed for business in delivering cargo and as a fleet transport. Toyota Hiace Prices in the Philippines range between PHP 1,649,000 and PHP 2,998,000 with seven variants, from a base 15-seater Commuter Deluxe variant to the top-spec 10-seater Super Grandia Elite trim. A single 2.8-liter turbodiesel engine is on offer, partnered with either a 6-speed manual or 6-speed automatic transmission.
A Hiace car features a body measuring 5,265mm long, 1,950mm wide, and 1,990mm high on most variants, with a wheelbase of 3,210mm. Dimensions differ on the range-topping Super Grandia Elite which sits 650mm longer and 290mm higher, and has a wheelbase of 3,860mm. Monthly installments start at Php 19,875 for the Commuter Deluxe, with a 60-month contract on a 50 percent downpayment. Among its rivals are the Nissan Urvan, Foton View Traveller, Hyundai Grand Starex, Hyundai H350, and Ford Transit.


Cesar G.B. Miguel
Author