For those who are looking for a brand-new sedan but don't want to go over budget.
Thanks to its small size, easy parking and maneuvering as well as fuel economy, sedans are always a top pick for Filipinos. If you're a sedan fan and want to get a brand new one within a shoestring budget, we have put together a perfect list of options at under ₱ 700,000 for you.
1. Kia Rio Sedan
The
Kia Rio 4-door sedan
is considered a stunner on the road because of its sporty appearance and appropriate size. With overall dimensions of 4370 mm x 1720 mm x 1455 mm (L x W x H) and a 2570 mm wheelbase, the Rio sedan can comfortably seat 5 people.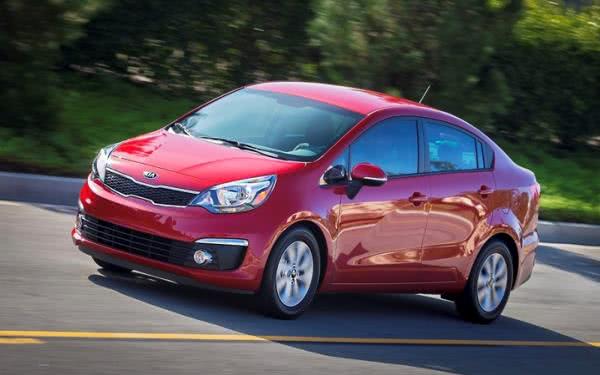 The Kia Rio 4-door sedan is considered as a stunner on the road 
In the cockpit, the vehicle gets a manual air-conditioner, trip computer, power outlet and a tilt adjustable power steering. Besides, CD player, Bluetooth, USB, AUX, MP3 and 4 speakers are offered depending on each variant. For driver's safety, the Kia Rio has ABS, vehicle immobilizer, high mount stop light and keyless entry.
According to many drivers, the Rio is also a city-adequate power and notable fuel-efficiency car. These two features come from either a 1.2-liter 4-cylinder Kappa MPI petrol engine, or a 1.4-liter 4-cylinder Gamma MPI petrol unit. The 1.2L engine delivers an output of 87 PS at 6,000 rpm and 120 Nm of torque at 4,000 rpm while the bigger one churns out 107 PS at 6,300 rpm and 137 Nm of torque at 4,200 rpm.
With only ₱ 635,000, you can completely possess an entry-level of the Rio.
>>> Click to find out why Kia Rio is one of the best cars for first time drivers in the Philippines
2. Nissan Almera
Known as the most graceful sedan in the Philippines, the
Nissan Almera
attracts Filipinos for its sleek style and chrome highlighted curves.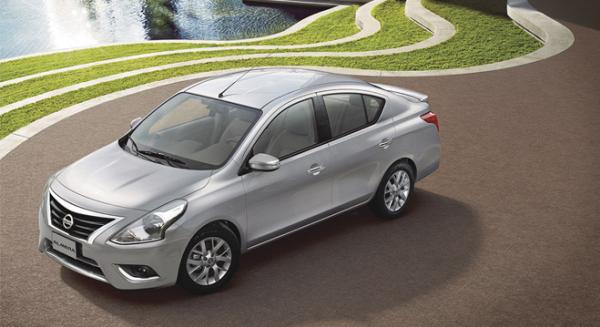 Nissan Almera is known as the most graceful sedan in the Philippines
Inside is a spacious cabin with lavish head and legroom. It is fitted with front airbags, brake assist, immobilizer, keyless system, child protection lock plus anchor and speed sensing door locks as standard features. For each trim level, Nissan will provide more entertainment facility like MP3, 2 DIN AM/FM unit, AUX connectivity and CD player with 2-4 speakers. In particular, dual SRS airbags, BA, EBD, ABS, keyless system with remote, immobilizer and rear parking sensors are also available in this ₱ 630,000 sedan.
>>> View more: Nissan X-Trail X-Scape comes with a GPS Tracking Drone
The first engine option of the Almera saloon is a 1.2-liter engine which knocks out 79 PS at 6,000 rpm and 106 Nm of torque at 4,400 rpm. In addition, it also comes with a bigger 1.5-liter engine with 99 PS at 6,000 rpm and peak torque of 134 Nm at 4,000 rpm.  
3. Honda Brio Amaze
This is Honda's smallest sedan on the market owning a traditional but eye-catching 4-door styling. Accordingly, the
Brio Amaze
is cleverly designed with multi-reflector headlamps, a sporty-chrome grille, and chrome taillights. All makes it distinctively different from cars in the same segment.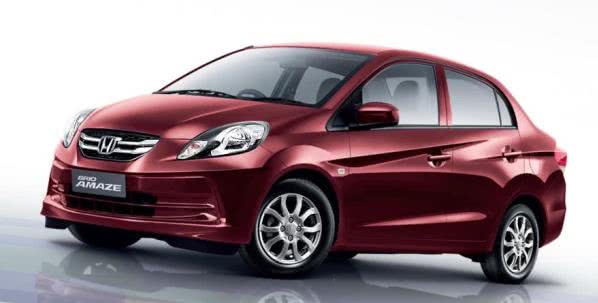 Honda Brio Amaze is Honda's smallest sedan on the market 
Surprisingly, ₱ 629,000 is enough for you to get this ideal sedan which features manual air conditioning facility, engine temperature warning light, tachometer, pillow type head rests and 12V accessory socket as well. Also, the sedan is loaded with CD/DVD player, Bluetooth, AUX and USB connectivity with 2-DIN Honda DVD navigation system depending on the trim. Aside from similar safety features as the two sedans mentioned above, the Brio Amaze is installed with an ECO indicator for better fuel economy.
Under the hood, the Honda Brio Amaze is powered by a 1.3-liter
i-VTEC engine
– one of the most advantage points for the Japanese brand. This engine can produce 100 PS and 127 Nm of torque. 
>>> Looking for a small car for city driving? Do not miss our list of top 10 best city cars for the money in 2017.
4. Hyundai Accent
The
Hyundai Accent
is one of the most popular choices in our country, especially for those who are considering a great
sedan under ₱ 700,000
.
Possessing curvy headlights, bold radiator grille and a creased bonnet, the car will truly leave a good impression on sedan enthusiasts.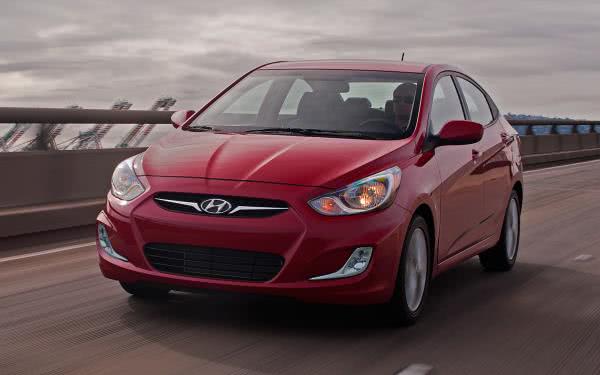 The Hyundai Accent is one of the most popular choices in our country
Driving the Hyundai Accent is a 1.4-liter engine capable of 100 PS and 133 Nm of torque along with a 1.6-liter engine churning out 136 PS and from 260-300 Nm of torque.
Besides standard features inside like central door locks, trip computer, manual air conditioner and portable ashtray, the sedan is fully equipped with AM/FM, AUX compatibility, USB port, MP3 and 4 speakers in addition to driver side airbag, ABS, ESP, EBD and keyless entry.
The Hyundai Accent is priced at ₱ 673,000 for the base trim.
>>> Hyundai has officially unveiled the performance Tucson Sport SUV with a power of 204hp. Click here for more details.
5. Toyota Vios
The
Toyota Vios
is the best-selling car in the Philippines and it's always a top-of-mind choice for sedan lovers.
>>> The Toyota Vios is a great companion of Uber/Grab drivers in our country. Click here to see list of 10 affordable cars for the money which can be used as a taxi.



The Toyota Vios is the best-selling car in the Philippines
Together with a sporty exterior, the cabin retains its practical and clever ambiance with spacious legroom for all passengers and common standard features. The Toyota Vios is likewise compatible with an integrated entertainment system containing 7-inch touchscreen display, Bluetooth connectivity and 4 speakers.
Customers can take options between 1.3-liter and 1.5-liter Dual VVT-I engine with either 5-speed manual transmission or a
CVT
with Sequential Control. The 1.5-liter engine is rated at 106 hp and 140 Nm, while the 1.3-liter unit gives 98hp and 123 Nm of torque.
₱ 611,000 is definitely a bargain price for such a great car.
>>> Get confused choosing between a sedan or an SUV for your family car? Read our tips to make the right decision.
>>> Click here to check out the list of 10 most fuel efficient SUVs from as low as Php 790,000 in the Philippines