More than five decades and eight generations of reliability.
The Toyota Hilux already spans more than five decades, securing a reputation for toughness and reliability along the way. It has journeyed to both the North and South Poles, participated in motorsports via the gruelling Dakar Rally, and even had a war named after it (the Chadian-Libyan war of 1987 or the "Toyota War," so-called because the Hilux was used as a troop transport by both sides).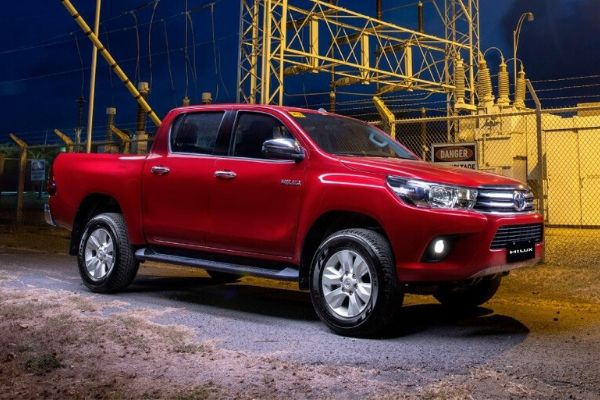 The Hilux remains a benchmark for toughness and reliability
The Hilux actually started out in the 1960s as a small truck called the Briska, made by Hino. Toyota had some inputs on how the Briska can be improved, and in 1967 the two companies agreed to manufacture the vehicle under the Toyota marque.
Here's how the Toyota Hilux embarked on its journey towards being one of Toyota's most iconic vehicles.     
First Generation (1968-1972)
Conceived as a light-duty commercial vehicle, the Hilux was named using a portmanteau of "high" and "luxury". The first Hilux had a chassis code designation of N10, and came in two cargo bed sizes: standard (1,850 mm) and extended wheelbase (2,250 mm). There were also aluminum van and refrigerated versions.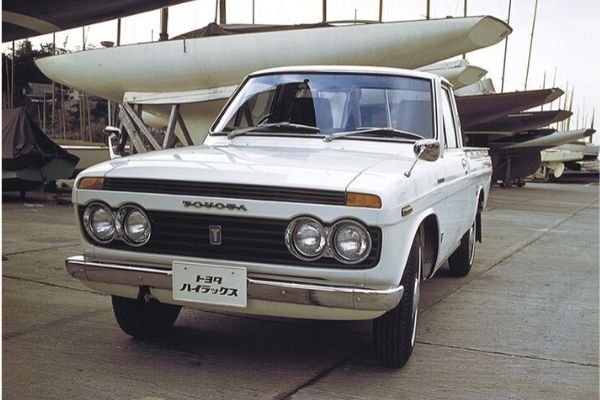 The first Hilux was actually a small Hino truck called the Briska
The first Hilux was mounted on a separate frame construction riding on double wishbone/coil springs in front and leaf spring suspension at the rear. Power initially came from a 1.5L 4-cylinder OHV engine generating 69 hp, coursing to the rear wheels through a column-mounted 4-speed manual transmission.
The engine would eventually be replaced by a 1.6L model that made 83 hp. Three passengers sat abreast on a bench-type seat. The standard wheelbase variant was sold in the U.S. market under the name Toyota Truck, equipped with bigger 1.9L and 2.0L engines.       
Second Generation (1972-1978)
The second-generation Hilux carried the N20 chassis code, and came in both 1.5L and 1.9L engines. The 4-speed manual had a floor-mounted option, which meant that the bench could be exchanged with bucket seats for two occupants.
The extended wheelbase version was finally made available in the U.S., with a 2.5L engine and 5-speed manual transmission.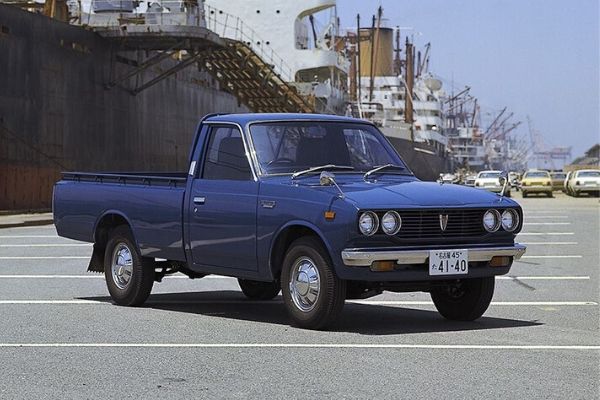 An automatic transmission first became available on the second-generation Hilux
This generation marked two milestones: it was the first Hilux to be introduced in the U.K., and the first to offer a 3-speed automatic transmission, partnered with a 2.0L R-series engine.
The engine would eventually be replaced in 1975 with a 1.6L powerplant to comply with emissions standards.
>>> Related: What comes with the Toyota Hilux 2020 Philippines? Take a glimpse from the updated Aus-spec version
Third Generation (1978-1983)
Chassis code N30 was used on the third-generation Hilux, which saw a suspension upgrade from coil springs to torsion bar. Front disc brakes became standard kit for higher-spec variants, and customers can order a special tailgate embossed with the Toyota name.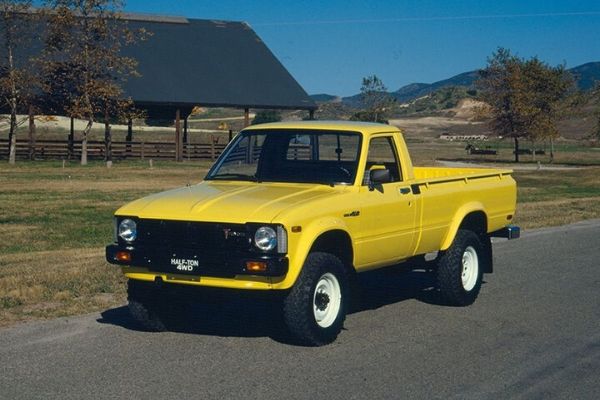 The third generation was the first to have a diesel engine and four-wheel-drive
The third generation was notable for being the first to use a four-wheel drivetrain, with a driveline and transfer case adapted from the Land Cruiser 40 Series, powered by a 2.0L gasoline engine. It's also the first Hilux to offer a diesel engine, in the form of a 2.2L oil burner.     
Fourth Generation (1983-1988)
The fourth-generation Hilux featured a refreshed design by way of blistered arches, and a revamped interior. Single and double cab versions were released, along with an elevated-bed variant equipped with all three sides hinged at the bottom.
The engine choices were expanded; 2WD versions came with four engines (1.6L and 1.8L gasoline, 2.2L and 2.2L diesel), while 4WD variants offered a 2.0L gasoline and 2.4L diesel.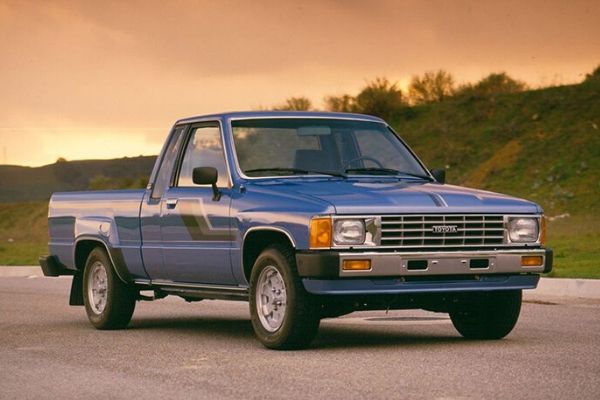 The fourth generation served as the basis for the Toyota 4Runner SUV
By this time, recreational vehicles such as the Ford Bronco and Nissan Pathfinder were gaining prominence. In response, Toyota modified the Hilux by installing a one-piece fiberglass canopy and rear bench seats, as well as installing bigger 2.4L turbo and 3.0L V6 gasoline engines. The result was the Hilux Surf, sold in other markets as the Toyota 4Runner.
>>> Related: 2020 Ford Ranger vs Toyota Hilux Comparison: Spec Sheet Battle
Fifth Generation (1988-1997)
With the fifth generation, Toyota sought to differentiate the Hilux 4WD from the 2WD variants with the use of overfenders. The former came with 2.0L gasoline and 2.8L diesel powerplants, while 1.8L gasoline and 2.4L diesel engines powered the latter.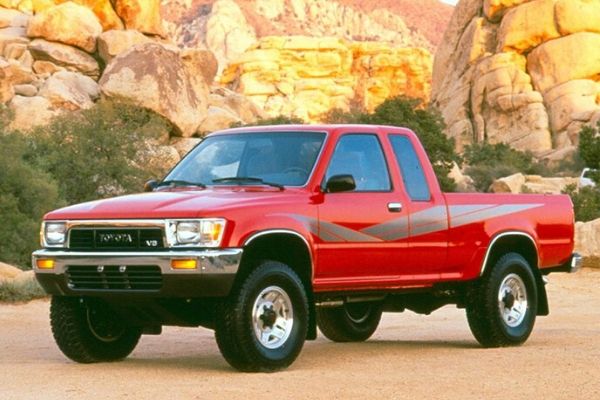 This generation was the last Hilux line to be sold in the United States
Double cab 4WD models also received a front independent double-wishbone suspension with torsion bar. Meanwhile, the interior was revised again to give a more sedan-like look and feel.
In August 1994, the 2WD range began to adopt the 4WD engine lineup, and a 2.4L turbodiesel option was added one year later. In US markets, the Hilux was eventually replaced with the larger Tacoma for the 1995 model year.
Sixth Generation (1997-2004)
After spinning off the Hilux Surf/4Runner into a separate model range, Toyota focused on the Hilux's dual role as both workhorse and personal-use sports pickup.
Variants used for business had more basic features, while the lifestyle trims had their cabin's height and length extended, with improved sound insulation. Front independent suspension became standard across the range.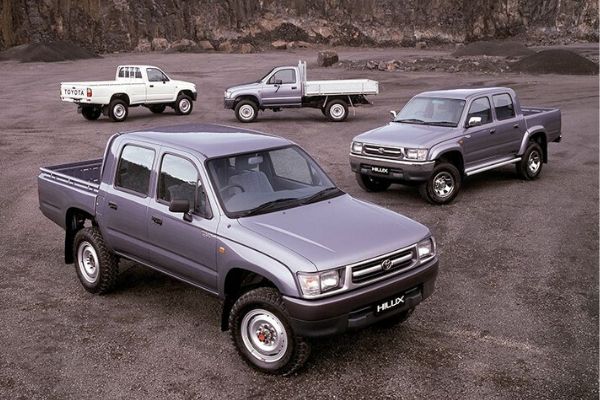 The sixth-generation Hilux assumed dual roles as a business and leisure model
It offered the Hilux as a single or double cab body, in either 2WD or 4WD drivetrains with four engine choices: 2.0L and 2.7L for gasoline, 3.0L naturally-aspirated and 2.4L turbo for diesel.
>>> Related: 
Seventh Generation (2004-2015)
This release saw the Hilux using the IMV (Innovative International Multi-purpose Vehicle) platform, which it shared with the Fortuner midsize SUV and Innova MPV, resulting in increased interior space and upgraded load capacity.
The 2.5L D-4D engine would be accompanied by a 3.0L 16-valve equivalent, making the Hilux compliant with Euro 4 emissions standards.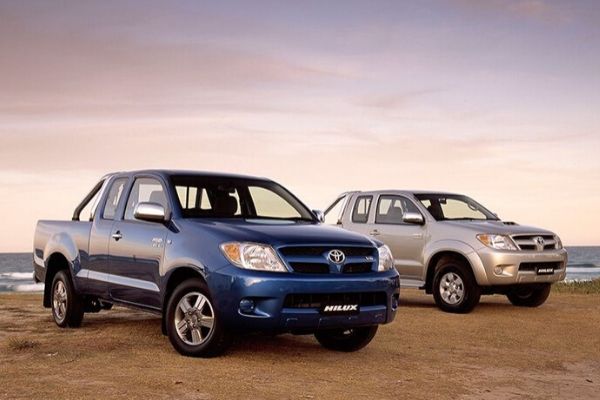 Toyota brought Hilux production out of Japan for the first time with the seventh generation
The seventh generation also marks the first time that Hilux production was brought outside of Japan, with most units assembled in Thailand, South Africa, and Argentina.
Hilux units for the 2012 model year underwent exterior and interior restyling, with mid-range and top-spec variants getting the latest Toyota Touch Multimedia system.
Eighth Generation (2015-Present)
Toyota used feedback from its global customer base to design and engineer the Hilux using the "redefining toughness" development concept.
This meant that the new model now featured increased durability, enhanced comfort and communications, as well as improved cruising range brought about by better fuel efficiency.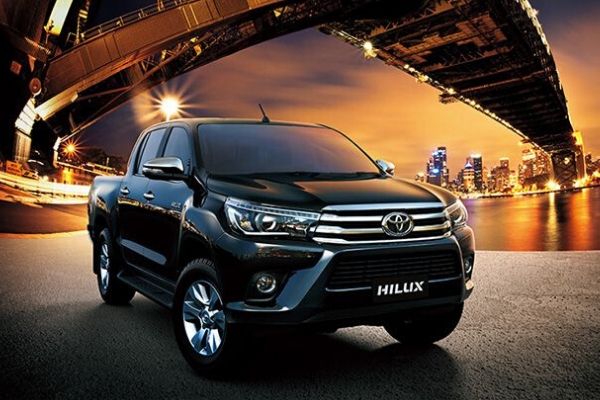 Toyota gathered feedback from customers worldwide in creating the current Hilux
>>> Related: Latest updates in Toyota Hilux Philippines price
The present Hilux uses a stronger ladder frame chassis with a reinforced deck. Improved 4WD capability also translates into uprated towing capacity.
By 2015, 16 million Hilux units have been sold worldwide, with Europe making up almost 25% of this figure. In the Philippines, the Hilux has sold nearly 21,000 units in 2019, the second best-selling Toyota model next to the Vios.
For the 2020 model year, the Hilux underwent a facelift while retaining the current IMV platform. The new Hilux Revo sports a bolder appearance, with a fascia comprising a more prominent grille, new Bi-Beam LED headlamps, and a more aggressive bumper. Redesigned double C-shaped taillamps make the truck even more visible during stops.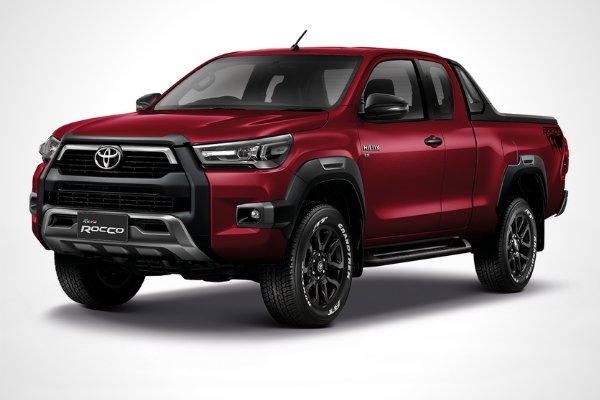 The new Hilux for the 2020 model year looks more aggressive and packs more power
Inside, a black color motif lends a premium appearance to the cabin, while a new 8-inch touchscreen now includes Apple CarPlay connectivity. Variable Flow Control power steering regulates steering stiffness based on vehicle speed, to reduce driver stress.

The standard 2.8L diesel engine has been tweaked to produce an incredible 500 Nm of torque, while adjustments to the suspension promise a more comfortable ride while retaining the Hilux's class-leading payload capacity. And for the first time, the Hilux Revo is equipped with the Toyota Safety Sense suite of driver-assistive features such as Pre-Collision Alert, Dynamic Radar Cruise Control, and Lane Departure Alert.      
Do you own a Hilux, whether new or old? What's your Hilux story? Keep reading Philkotse.com to learn more about your favorite rides.
Know more about Toyota Hilux

The Toyota Hilux is a pickup with a globally known nameplate for being one of the reliable workhorse vehicles. It was 1968 when the Toyota Hilux started building a reputation for being rugged and dependable, and it continues until today. 2018 marks the 15th anniversary of the Toyota Hilux. This popular pickup continues to evolve and slowly move upmarket after gaining luxuries. The most significant revolutionary jump of the Hilux happened in 2004 when the seventh-generation Hilux was introduced. It was the first 21st-century iteration of Toyota's pickup. It is also the first generation to ride on Toyota's new Innovative Multi-purpose Vehicle architecture. It provided improved safety, better ride comfort, modern D-4D diesel engines, more interior space, and a more modern aerodynamic body. The current 8th generation offers a more refined and stylish design than its predecessor, but the tradition of being a tough pickup continues. It gets a much-awaited refresh in 2020 inline. Aside from improved looks, the Philippine iteration also comes with more powerful engine options. The Toyota Hilux is available in 4x4 and 4x2 variants. In the Philippines, the Toyota Hilux is offered with diesel engines. It is available with automatic or manual transmission depending on the variant.

Joseph Paolo Estabillo
Author
Joseph has been a member of various car clubs since he got his driver's license in 2004 – old enough to remember riding in taxicabs with analog meters, but his fascination with cars goes way back. After nearly two decades of working in broadcast media, he shifted gears by coming on board as Philkotse's first Filipino member and staff writer in 2017.
Apart from his role in Philkotse, Joseph has written episodes for Drive, which has been airing on CNN Philippines for five seasons running. He has also delivered content for various car dealerships based in the U.S., spanning multiple brands such as Alfa Romeo, Maserati, Jeep, Dodge, among others.
Keeping his hopes high and his revs low, he dreams about owning a Kei car when he retires. Hates slow parkers.