The Australian-spec Hilux 2020 is getting a huge update. So let's check it out before the Toyota Hilux 2020 Philippines makes it official debut!
In this review...
1. Toyota Hilux 2020 Philippines Review: Introduction

Exterior

Interior

Engine

Safety Features

Price list

FAQs

8. Toyota Hilux 2020 Philippines Review: Conclusion
1. Toyota Hilux 2020 Philippines Review: Introduction
Pick-up trucks have always been a big deal here in the Philippines mainly due to how durable and how versatile they are. Thanks to their cargo beds, these vehicles can function really great as the backbone of a business be it a farm, a restaurant or whatever. These vehicles are also very capable off-roaders even on a bone-stock configuration. And of course, they're really comfortable especially the newer models.
2021 Toyota Hilux Philippines Quick Look: Subtle changes that matter
As such, every major manufacturer who's worth their salt to include pick-up truck in their model lineup and most often than not, these come with a whole plethora of variants to accommodate a whole host of customers.
One of the biggest marques here in the Philippines, of course, is the Toyota Hilux. The Hilux, as you might have heard, has gotten an update to one of its current-generation model's variants, the 2019 Toyota Hilux 2.8 G. Toyota Philippines gave it a lot in terms of safety features like Automatic High Beams, 7 airbags, and much other stuff, all of which is a welcome change to the aging platform.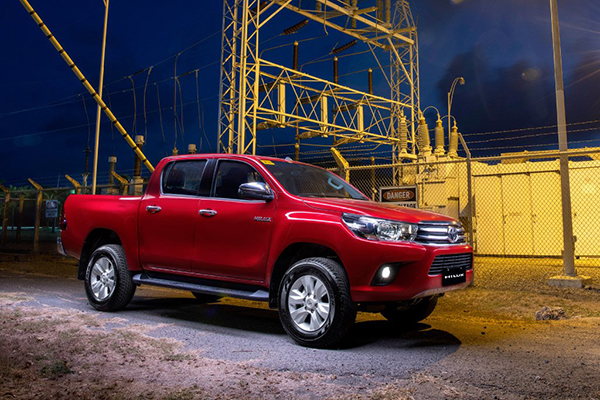 Here's the current, 2019 Toyota Hilux. Aging but still tough-looking right?
However, the current Hilux, as we've said, is getting a bit old. So the Australians, who also like pick-up trucks very much, will be getting much more significantly updated 2020 version a bit earlier than us on August 26 of this year. They do have a larger automotive market over there due to the fact their terrain to some degree, is much harsher after all.
So without further ado, here's a preview of how the Toyota Hilux 2020 Philippines has changed. Also, this would serve as a reference for you to decide whether to get a Hilux now? Or should I wait for the 2020 model year variants? If you can't wait though, be sure to check out our Toyota Hilux for sale section for listings of the current available Hilux in the Philippines.
2. Toyota Hilux 2020 Philippines: Exterior Review
While the mid-2019 update for the Philippines did get new and pretty useful exterior features like LED lights as well as daytime running lights, the Australian release of the Toyota Hilux on ALL variants not only gets those but it also comes with a set of new wheels and a really interesting front fascia which looks identical to the Toyota Hilux Conquest.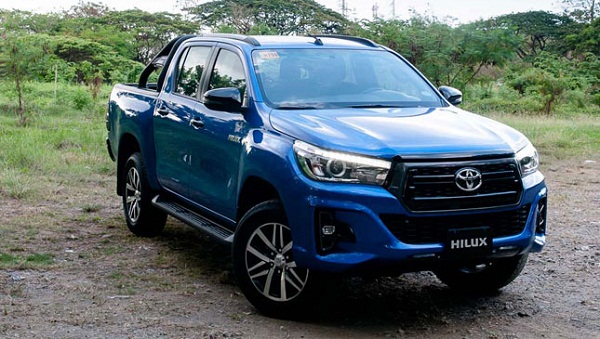 So here's the front end of the 2019 Toyota Hilux Conquest...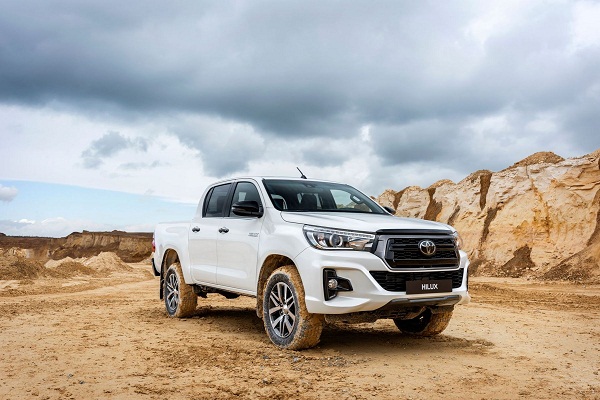 And here's the one on the 2020 Toyota Hilux for the Australian Market. Looks the similar right?
The grille, which currently has a slatted style, now has this very solid mesh-type grille which looks very much like the one on the current Philippine-spec Hilux Conquest. The same goes for the air-intake below which also ditches the slats in favor of a mesh with a hexagonal pattern.
For the fog light housing, the new 2020 Toyota Hilux exterior now has a much angular pair and the bulb itself is noticeably smaller than the current one.
>>> Related post:
YOU MAY WANT TO READ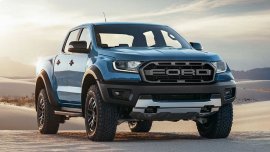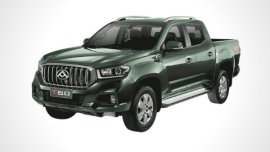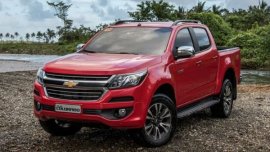 3. Toyota Hilux 2020 Philippines: Interior Reivew
Unlike most upcoming models, the 2020 Toyota Hilux for Australia won't be getting a true phone connectivity system like Ford's Sync 3. Instead, just like the current 2019 Hilux, the Toyota Hilux 2020 will only come with Apple CarPlay and Android Auto but at least they're making it available for all variants. Other stuff like USB, Bluetooth, and a 2-DIN stereo are also standard for the 2020 model.
For the Philippine release that's surely coming in the future, we also hope that the case would be the same because currently, only the higher trim variants are getting those Apple and Android connectivity options.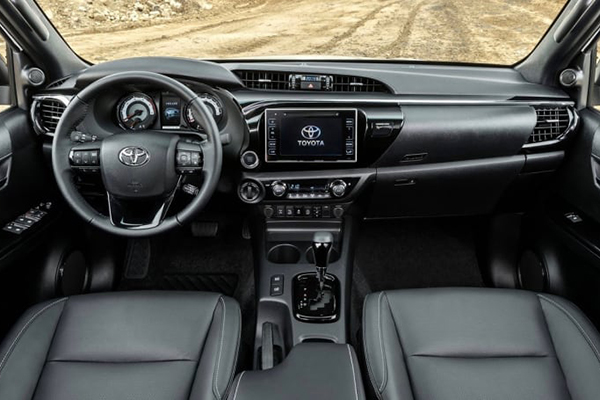 Take a peek into the 2020 Toyota Hilux's black interior
As for seating, the double cab version is as spacious as it was before with room for both legs and heads remaining largely the same. Also unchanged is the top variant's access to leather-clad seats.
Another key difference on the updated Toyota Hilux 2020 is that the gauge cluster is a new 4.2-inch multi-function display that's coming to all variants in Australia. Likewise, we also hope that this new feature will grace the 2020 Toyota Hilux Philippine version.
>>> Widen your search in our daily-updated cars for sale section
4. Toyota Hilux 2020 Philippines: Engine Review
As was mentioned earlier, this is not a next-generation Hilux even for the Australians but rather an update. So we won't be expecting anything new to come with regards to the 2020 Hilux's engines as well as the 4x2 and 4x4 transmission choices available.
Both the 2.4-liter diesel and the 2.8-liter diesel engines on the current version will also make their return. However, the Australian versions are also getting an additional 2.7 gasoline engine option which has been an option for them for a long time.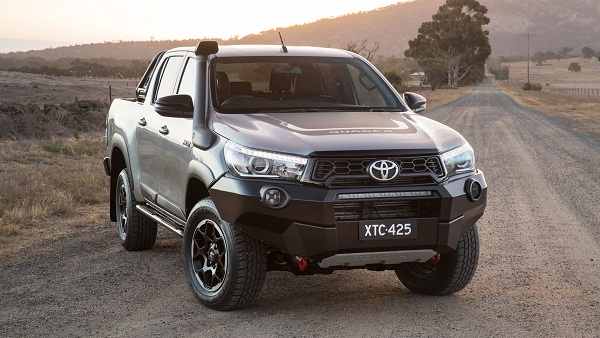 And yes, currently available after-market parts can fit on the new 2020 Toyota Hilux
>>> Useful information for Toyota owners-to-be:
5. Toyota Hilux 2020 Philippines: Safety Features
A much more significant update will come in the form of safety equipment. Much like the recently updated Philippine spec 2019 Toyota Hilux, the 2020 Toyota Hilux the Aussies are getting has seven airbags, Automatic High Beams, Blind Spot Monitoring, ABS and EBD, and stability control.
For them, it has been reported that they're going to have all of these standard car safety features across all trim levels. This places their version of the 2020 Hilux up to par with the Ford Ranger's safety features.
Toyota Safety Sense-P™(TSS-P) Pre-Collision System (PCS) | Select Models | Toyota
Another very important safety feature that the Australian 2020 Toyota Hilux will be coming with is the Toyota Safety Sense or TSS. This includes a whole host of new active driver-assist features like a lane departure warning system, adaptive cruise control, as well as a road sign detection.
The TSS will also come with auto emergency braking which uses sensors to detect road obstructions like pedestrians and cyclists. This, of course, is good news for Toyota and Toyota fans alike because the TSS will also turn up the Hilux's competency against the likes of the Ford Ranger and the Ford Ranger Raptor. Two competing models which also come with Automatic Emergency Braking.
6. Toyota Hilux 2020 Philippines: Price Review
As per the 2020 update, the Aussie spec Hilux will also be getting an AUD 800 price bump. So yeah, we can also expect a similar, or even higher price increase if ever the updated 2020 Toyota Hilux gets here.
As for the starting price in Australia, it comes up to around AUD 21,865 for the single cab "ute" version which is optimized as a dedicated work truck equipped with a large cargo bed with droppable sides; a variant that we won't be getting.  Once converted, that's around Php 773,180.48.
Also, note that all variants of the Toyota Hilux for the Australian market are now hi-rider spec. So yeah, they're eliminating the low-rider Hilux which we are accustomed to seeing on our own 2019 Toyota Hilux J.
Below is the full price list of the current available Toyota Hilux in the Philippines. Check out for further reference:
| Model | Price |
| --- | --- |
| Toyota Hilux 2.8 G DSL 4x4 AT price | P1,636,000 |
| Toyota Hilux 2.8 G DSL 4x4 MT price | P1,506,000 |
| Toyota Hilux 2.4 G DSL 4x2 AT price | P1,279,000 |
| Toyota Hilux 2.4 G DSL 4x2 MT price | P1,204,000 |
| Toyota Hilux 2.4 E DSL 4x2 MT price | P1,030,000 |
| Toyota Hilux 2.4 E DSL 4x4 MT price | P1,186,000 |
| Toyota Hilux 2.4 J DSL 4x2 MT price | P939,000 |
| Toyota Hilux 2.4 Cab & Chassis 4x2 MT price | P829,000 |
| Toyota Hilux Conquest 2.4 G DSL 4x2 AT price | P1,427,000 |
| Toyota Hilux Conquest 2.4 G DSL 4x2 MT price | P1,352,000 |
| Toyota Hilux Conquest 2.8 G DSL 4x4 AT price | P1,792,000 |
| Toyota Hilux Conquest 2.8 G DSL 4x4 MT price | P1,662,000 |
>>> Refer to our Toyota Hilux price list for details on the monthly payments
7. Toyota Hilux 2020: Frequently Asked Questions
Q: How high is the 2020 Toyota Hilux?
The Hilux's height varies, depending on variants. The base variant is 1,690 mm tall while the top-spec model measures 1,815 mm tall.
Q: How many 2020 Toyota Hilux variants are there?
The Toyota Hilux is available in the Philippines with 12 variants.
Q: What is the water-wading capacity and ground clearance of the 2020 Toyota Hilux?
The Hilux has a decent ground clearance of 279mm and a water-wading capacity of 700mm.
Q: How many engine options does the 2020 Toyota Hilux have?
The Toyota pickup is offered to Filipino buyers with two diesel engine options – a  2.8L for the 4x4 variants and 2.4L for lower 4x2 trims.
Q: Where is the Philippine-spec Hilux 2020 sourced from?
The local-spec Toyota Hilux is assemble in Thailand.
8. Toyota Hilux 2020 Philippines Review: Conclusion
The 2020 Toyota Hilux Australian version kicks it up a notch especially with the addition of the Toyota Safety Sense. As such, if Toyota Cars Philippines wants to keep up their pole position in terms of pick-up truck sales, it is very crucial for them to introduce this feature to the Hilux as well as the rest of their vehicle line-up.
In lieu of the recent update though, we predict that something akin to the 2020 Toyota Hilux Australian-spec won't be coming into the country until 2020. So for now, just keep yourself posted on Philkotse.com as we'll be covering it as soon as they release the all-new Toyota Hilux 2020 Philippines.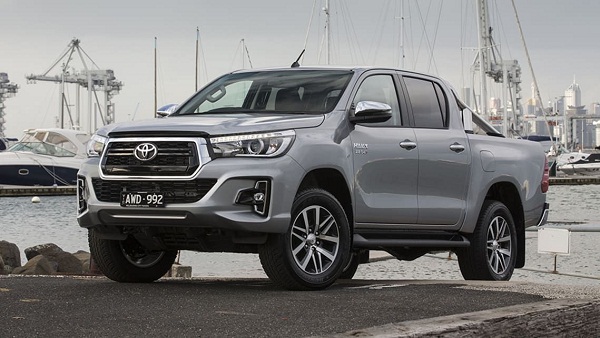 So what do you think of the Australian-spec 2020 Toyota Hilux?

Cesar G.B. Miguel
Author