The special Toyota Hilux Revo Z Black Mamba body kit version is designed for asphalt driving.
Many are caught up by the excitement generated by the exhibition of pickups in local and international car shows. Many of the pickups are updates of current models that use carbon body kits and total or minor updated hardware that are performance off-road parts.
One particular conversion that stands out is the Toyota Hilux Revo Z that is further converted with the Black Mamba body kit version that totally follows are a different approach. One reason that the Black Mamba is very distinctive from the others, the conversion kit is for asphalt driving.
The Raptor, Conquest, N-Warrior, and the High-Country Storm are all for off-roading, but the Black Mamba is for the faster performance aspect. Yes, this is totally opposed to the others which is why it catches attention. Noting the fact that mid-sized trucks with 2.8-liter turbo intercoolers are quite powerful brutes.
When the clearance is converted to car-like ground clearance, lowered center of gravity improves road grip! Adding a rear wheel drivetrain position the power behind the pickup truck that is like a sports car.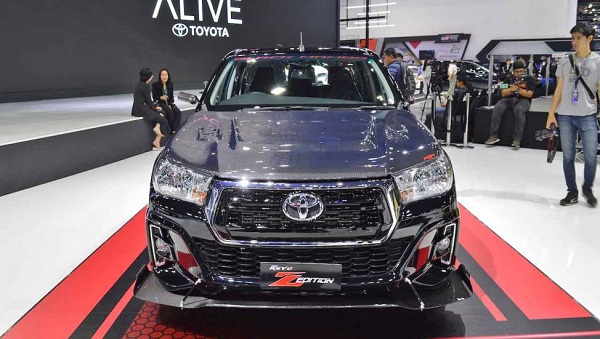 Black Mamba body kit version is for asphalt driving
1. Toyota Hilux Revo Z Black Mama Edition: The look
This conversion is part of a collaboration with PSP shop which customized the truck from top to bottom. If you're into a racing truck, then drag racing will be identified as the main inspiration. Visualizing the changes was a truly original design enterprise to make it a different animal from other off-road inspirations.
One can spot the use of carbon fiber panels to alter the Hilux's generic shape. Specific changes that made the silhouette look different before the modding was done. To be more specific with the carbon body kits that added a vented hood, a different tailgate, and finally spoiler specially designed for the Black mamba upgrade components.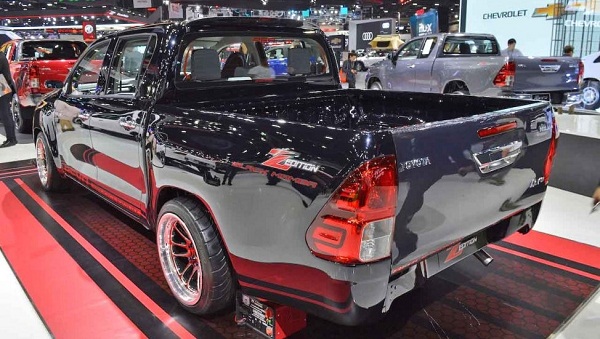 The off-road-inspired design of the Black Mamba Edition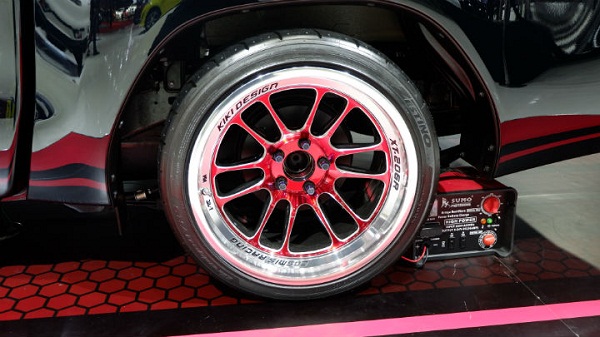 Achieving the low slung racing pickup look is not enough without the splitter panel with added carbon fiber side mirrors. Just lowering the truck is not enough to truly optimize the low drag profile, because the Mamba needs something else.
2. Toyota Hilux Revo Z Black Mama Edition: Safety Features
Final touches to get it included using specially modified suspension to give it softer ride. Turbos installed are upgraded, but exact technical specs aren't available as of now. Last but not least is a full set of Cosmic Racing rims and adding low profile sticky tires.
Since the Black Mamba is made for speed, there are some changes to lower the weight of the truck. Less weight will give more speed and losing a few pounds makes a big difference. Original seats have been changed with carbon racing seats and PSP brand titanium shift knob.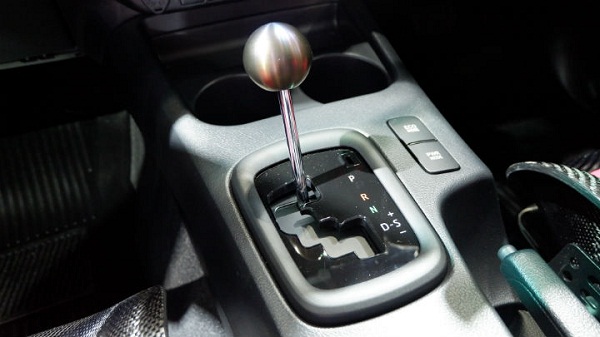 The special titanium shift knob
For extra safety, there is a 5-point safety harness used inside the passenger compartment. Removing the original truck bed liner to further save more weight and look like vintage pickup truck beds. If the Black Mamba mod is done, another change is ECU remapping for more power added.
>>> To look for more Toyota Hilux variants, please refer to the Toyota Hilux for sale section.
3. Toyota Hilux Revo Z Black Mama Edition: Engine & Performance
The overall engine specs are 150 PS at 3,400 rpm and 343 Nm at 1,400-2,800 rpm for torque offered. Under the hood is a 2GD-FTV four-cylinder 16-valve DOHC turbocharged engine that provides the substance, not just racing looks.
It seems that the Black Mamba is similar to lower pickups that ran drag races years ago, with the same low-slung profile. Feeling the speed is not enough without the racing steering wheel specially meant for it. Some may go for it and some may not through a racing pickup style be interesting.
Toyota Hilux Revo | Z-Edition feat. The BLACK MAMBA
There is no official word if the conversion kit will be available outside of Thailand, which is something that owners of Hilux trucks will be willing to pay for.
Please check online and for more information in regard to this. Officially PSP Shop has options for the parts used to make the conversion possible. Everything can be bought piecemeal or in specific conversion packages. Here are the parts that are part of the total conversion kit offered by PSP.
4. Toyota Hilux Revo Z Black Mama: Body kit price 
4.1. Interior accessories with prices
Here are all the interior parts needed to get the Black Mamba's cockpit.
| | |
| --- | --- |
| Part | Price  |
| Steering wheel | 4,000 baht (6,515 PHP) |
| Carbon fiber front seat (right and left) | 50,000 baht (81,427 PHP) |
| Seat rail adapter (a pair) | 6,000 baht (9,773 PHP)  |
| Rear view carbon mirror | 3,000 baht (4,886 PHP) |
| Old-school Spherical titanium gear head | 3,000 baht (4,886 PHP) |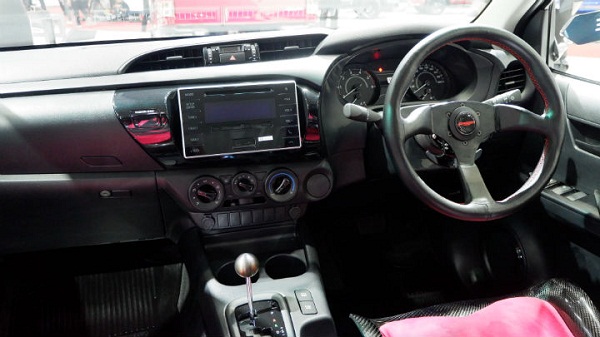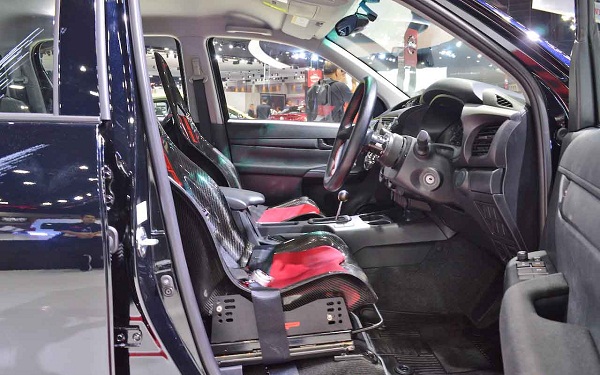 Toyota Hilux Revo Z with Black Mamba interior accessories
4.2. Exterior accessories and their prices
All the exterior carbon parts to get the aerodynamic surfaces and the unique silhouette will need this.
| | |
| --- | --- |
| Part | Price |
| Custom Decals | 10,000 baht (16,288 PHP) |
| Wheel Spacer | 6,000 baht (9,773 PHP) |
| 18-inch rim, 9.5-10-inch size including tires | 45,000 baht (73.296 PHP) |
| Right and left side /Sideview Mirror F1-style | 6,000 baht (9,773 PHP) |
| Roof cap Carbon | 4,000 baht (6,515 PHP) |
| Front Splitter on hood Carbon | 18,000 baht (29,319 PHP) |
| Front Hood Carbon | 15,000 baht (24,432 PHP) |
| Trunk lid Carbon | 13,000 baht (21,174 PHP) |
If you're convinced to the Black Mamba conversion treatment, get all these as a complete set, but some charges may be spent importing them! Some utility might be lost by lowering the body.
In which loading up the truck bed is out of the question. But, if you really want it then go for it. Choose this kit to look different and choose street racing, old school!
>>> Also refer to our Toyota Hilux Philippines price list to keep up to date with the latest changes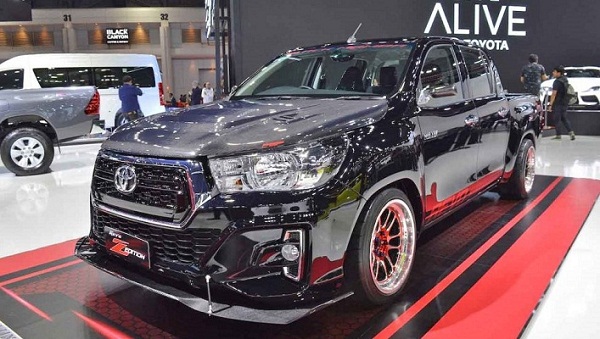 All the exterior carbon parts to get the aerodynamic surfaces
Wrapping up! 
There's more than one way to get critical attention and generate interest for pickups in particular. In the case of the 2019 MIAS and 2019 Bangkok International Motor Show that showcased such vehicles. No doubt that the Black Mamba body kit version is one handsome and lower slung pick up.
Drivers who are into performance and wanting another type of pickup to drive may get this as another alternative. Whether concept truck modified by PSP shop in Thailand will have the conversion kits marketed here is up in the air. Owners of the Toyota Hilux Revo Z are sure to be keen on a unique conversion. 

Know more about Toyota Hilux 2023

The Toyota Hilux 2023 is a midsize pickup offered in the local market as both fleet and regular units. Toyota Hilux Prices Philippines range from PHP 861,000 to PHP 2,057,000 with 14 variants, spanning from the basic cab & chassis 4x2 model to the range-topping GR Sport 4x4. It is also available in two turbodiesel engine options and four gearbox choices, accompanied by eight exterior colors. Dimensions start at 5,285mm in height, 1,800mm in width, and 1,700mm in height, with a wheelbase of 3,085mm. Among the rivals to the Toyota Hilux in the market are the Mitsubishi Strada, Nissan Navara, Ford Ranger, and the Isuzu D-Max.
This popular pickup continues to evolve and slowly move upmarket after gaining luxuries. The most significant revolutionary jump of the Hilux happened in 2004 when the seventh-generation of the model was introduced. It was the first 21st-century iteration of Toyota's pickup. It is also the first generation to ride on Toyota's new Innovative Multi-purpose Vehicle architecture. It provided improved safety, better ride comfort, modern D-4D diesel engines, more interior space, and a more modern aerodynamic body.
The current 8th generation offers a more refined and stylish design than its predecessor, but the tradition of being a tough pickup continues. It received a much-awaited refresh in 2020.

Norjan Ismail Abbas
Author
Recent posts