The more conservative-looking Hilux.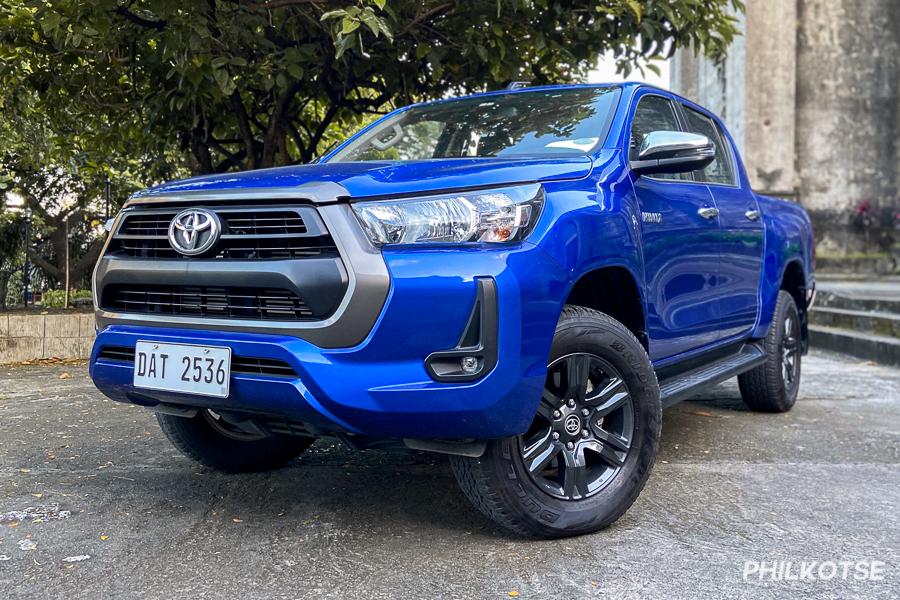 In this review...
Introduction

Exterior

Interior

Tech & Safety

Engine & Performance

Fuel Efficiency

Verdict

Variants & Price

Color Options

Specs
2022 Toyota Hilux G Review: Is it a good alternative to the top-spec Conquest?
It's a known fact that pickup trucks have evolved from being a workhorse to a lifestyle vehicle. This makes the pickup truck one of the popular vehicles of choice among car buyers in the Philippines. It offers functionality especially for individuals who regularly drive through rough terrain and flood-prone areas. Pickup trucks also allow you to transport different types of cargo, which is a plus if you're into the construction business.
The Toyota Hilux is one of the staple trucks in the local market. In fact, it is the second best-selling Toyota during the first half of 2021 with more than 8,800 units sold.
With that, we look into what the mid-spec Hilux G can offer. Is it a good alternative to the top-of-the-line Hilux Conquest? Read this review on the Toyota Hilux G to find out.
Overall exterior & Interior design, build quality, form vs function

Number of safety & tech features, consistency during usage

Power delivery, acceleration, transmission, suspension, handling

Overall Ride Comfort, Space, Storage Areas

Sticker price vs overall package
Toyota Hilux G Exterior Review: Toning down is not always a bad thing
Car brands integrate all the bells and whistles into top-of-the-line models, which takes most of the marketing limelight. But that doesn't mean that mid-spec trims are not good enough to make a statement of their own. Case in point: the Toyota Hilux G, which comes with a less aggressive exterior styling compared to the Conquest variant.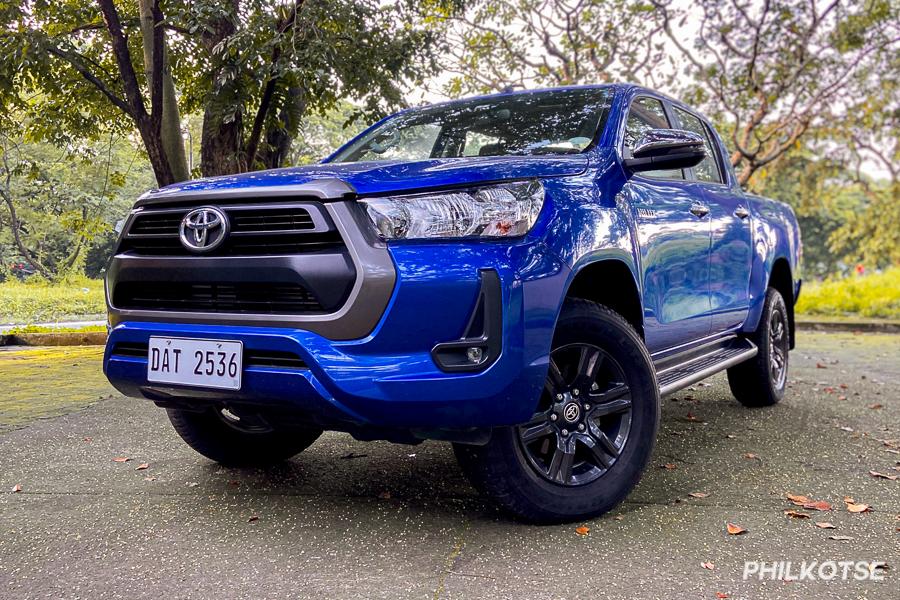 2022 Toyota Hilux G
The front end of the Hilux G is not as bold as the Conquest but it doesn't lack style points either. It still looks assertive thanks to the wide two-tone grille finished in gray and black, and I appreciate that Toyota opted to drop the chrome trim.
The assertive look is further highlighted by the large bumper that houses the Hilux's LED fog lights. The bumper also comes with a black trim that complements the look of the two-tone grille. The fascia is finished off with a pair of halogen headlights, which is quite a letdown since I prefer it to have it in LEDs.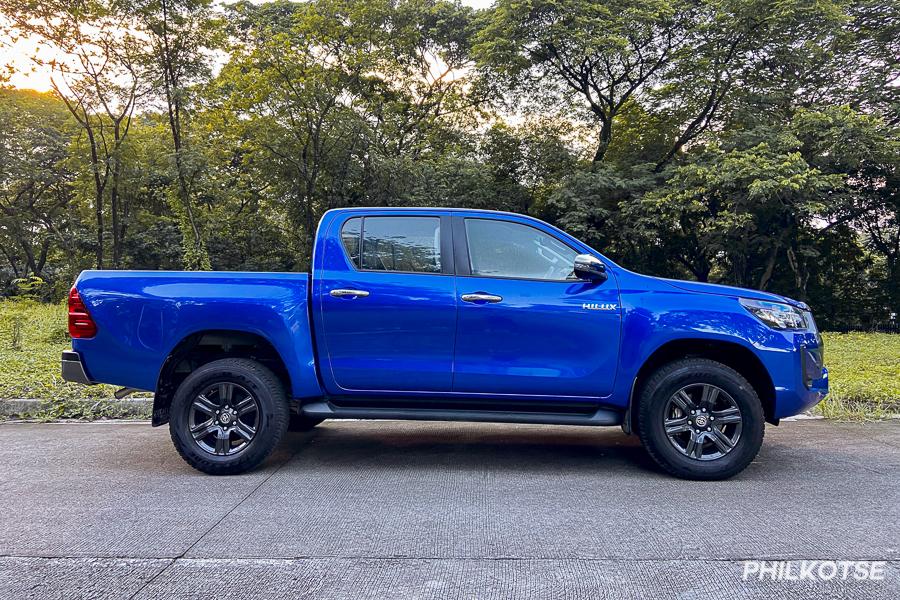 The 17-inch alloy wheels give extra style points
The side profile of the Hilux G comes with the typical design you can expect from a pickup truck. There's not much going on when you look at the Hilux G's side, and it looks simpler compared to the Conquest as it has no trim on the fenders, and it has no sports bar on the bed.
But, the 17-inch alloy wheels in gun metallic finish make up for the Hilux G's clean side look. The alloy wheels add character and give enough style points to the truck.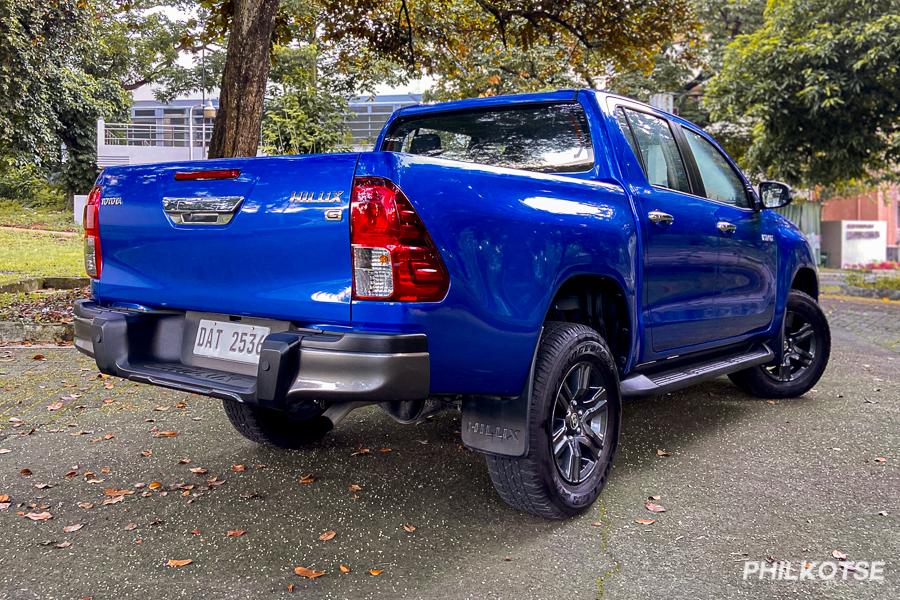 The Hilux gets a two-tone bumper
The same design approach is seen at the Hilux G's rear. It comes with a straightforward look, which is highlighted by the two-tone bumper finish. Other than that, the Hilux G comes with the typical pickup truck design, which is expected.
All in all, the Hilux G has a no-nonsense exterior design that's highlighted by a composed front end. It only proves the point that toning down is not always a bad thing. In case you're wondering, the Toyota Hilux dimensions are as follows: it is 5,365mm long, 1,855mm wide, and 1,815mm tall.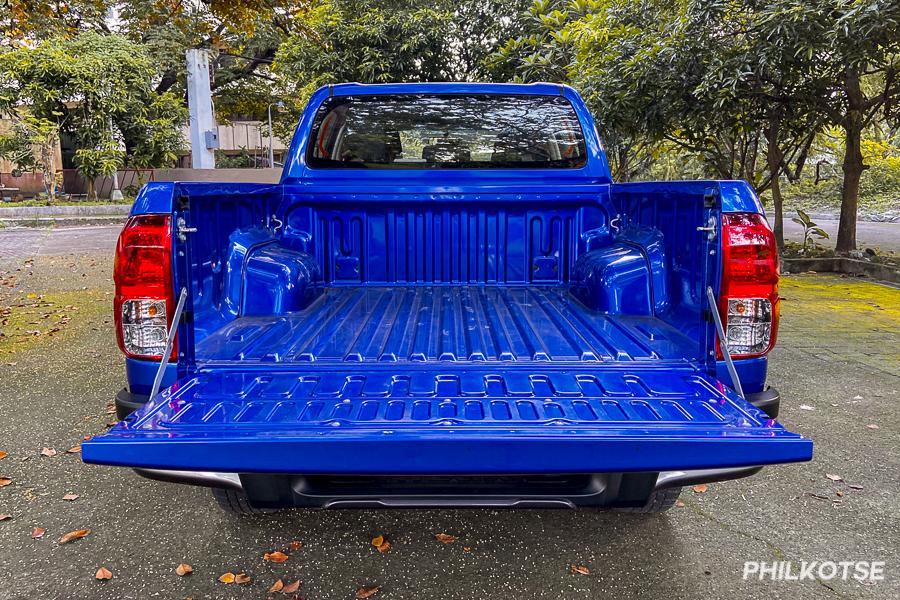 It has no bedliner
Another thing that you should be aware of is that the Hilux G doesn't come with a bedliner, which is something you have to consider when you plan to use the truck in hauling stuff on a daily basis. During the test drive, the Hilux G's bed already has scratches here and there. In case you're wondering, this Hilux has a payload capacity of more than 1,000 kilograms.
YOU MAY WANT TO READ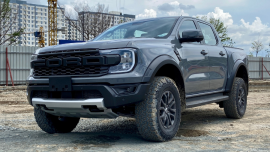 Model Price Philippines
₱ 2,339,000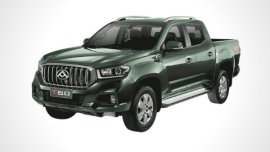 Model Price Philippines
₱ 998,000 - ₱ 1,328,000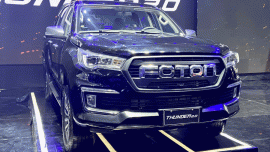 Model Price Philippines
₱ 1,180,000 - ₱ 1,350,000
Toyota Hilux G Interior Review: Sticking to the basics
The interior of the Hilux G has a dark interior theme with silver and glossy black accents. The cabin is straightforward, and the use of hard plastic material is dominant throughout the interior. Despite that, it still offers enough creature comforts that can make your drives pleasant.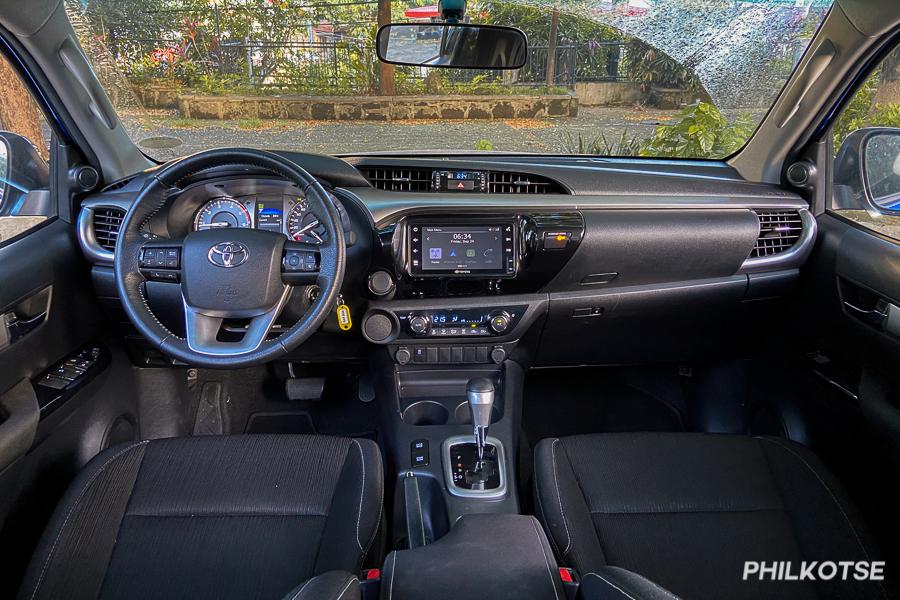 The Hilux G has a straightforward interior layout
Chief of those is the leather steering wheel with mounted audio and phone controls. The Hilux G doesn't come with cruise control though. The fabric seats also provide a good cushion but it only comes with manual adjustment, which could be challenging at first when you're trying to set your most preferred driving position.
There is also an abundant number of cup and bottle holders, which is typical for Toyota cars. I am fond of the bottle holder that's placed below the aircon vents on either side of the dashboard. It helps to keep your drink cold even while you're on a long drive.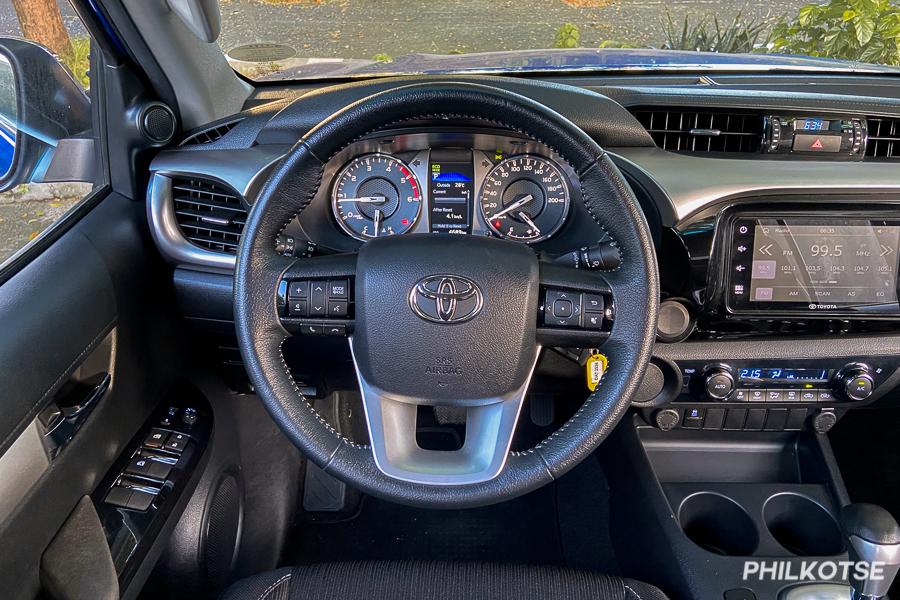 It is equipped with the typical Toyota steering wheel
There are also several storage compartments inside the Hilux, two on the dashboard, and one on the center. These will be beneficial for individuals who carry a lot of stuff such as notebooks, cables, face masks, and whatnot.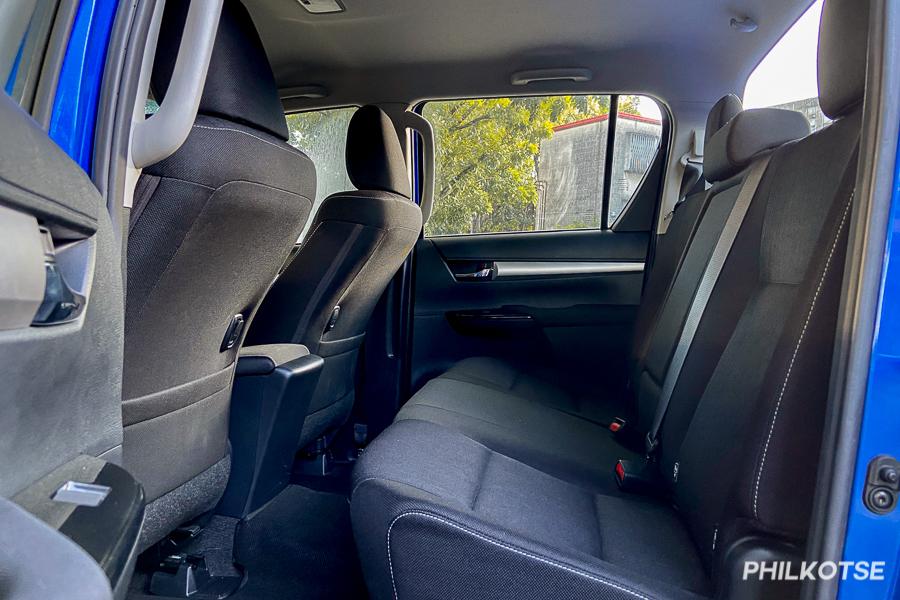 Rear seats can accommodate up to three individuals
The Toyota Hilux G can accommodate up to five individuals. Three passengers can sit on the rear seats but elbow- and leg-room would be tight. The rear seats can comfortably accommodate up to two average-sized Filipino adults with enough leg- and elbow-room.
You'll also appreciate the grab handles on the rear passenger area, which makes ingress easier. Of note, the Hilux G doesn't have rear aircon vents, which is not much of a problem since the front blowers are enough to cool down the cabin.
Toyota Hilux G: Tech & Safety Review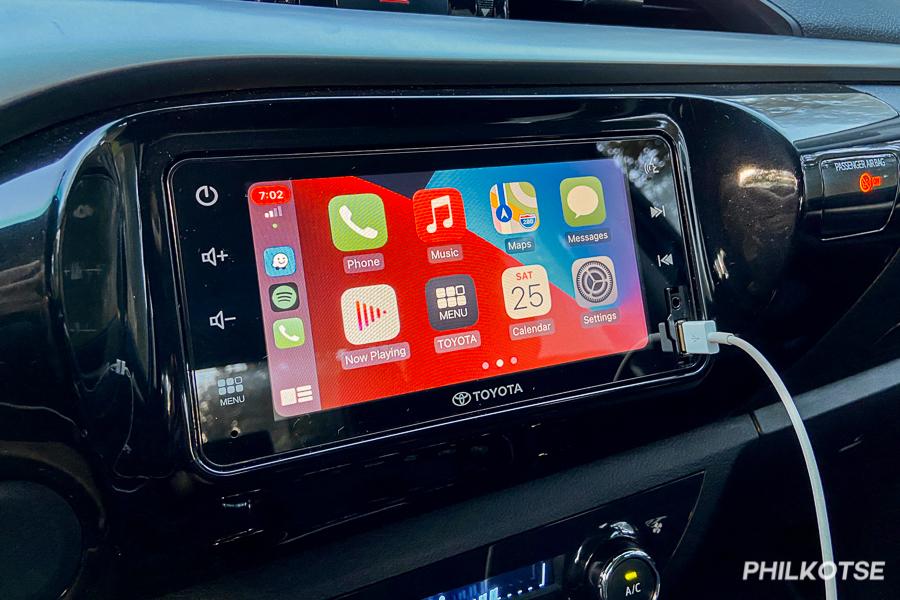 2022 Toyota Hilux G infotainment touchscreen with Apple CarPlay
Despite being a mid-spec variant, the Toyota Hilux G is packed with the essential tech and safety features. The test unit that was handed to me comes with a 6.75-inch infotainment touchscreen with Apple CarPlay and Android Auto compatibility.
However, the Hilux G doesn't come with a reverse camera, which is a useful feature that could help you squeeze into tight parking spaces. But, don't worry, Toyota Motor Philippines is now offering the Hilux G with a reverse camera, and a larger 8-inch infotainment touchscreen.  
Safety-wise, the Hilux G is equipped with airbags (driver, front passenger, and driver's knee), an anti-lock braking system with electronic brakeforce distribution, brake assist, stability control, hill start assist control, rear parking sensors, speed-sending door locks, among others.
2022 Toyota Hilux G: Engine & Performance Review
The Toyota Hilux G is powered by a 2.4-liter diesel engine that puts out 148 hp and 400 Nm of torque. The engine is connected to a six-speed automatic transmission, and it comes with a 4x2 drivetrain.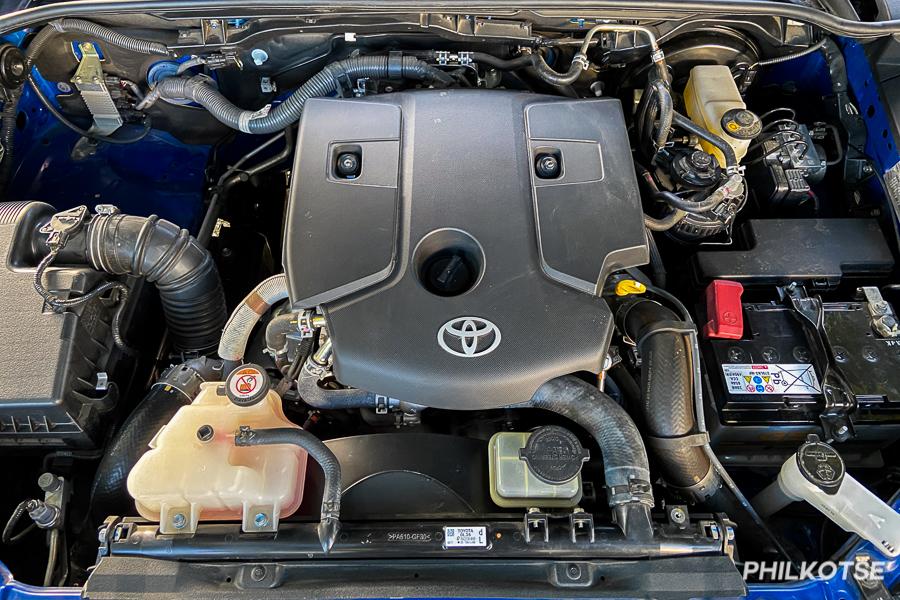 Powered by a 2.4-liter diesel engine
The first thing I noticed when driving the Hilux G is that its steering wheel leans on the firm side. I don't consider that a problem since pickup trucks, like some midsize SUVs, have a firm steering feel. It gives you better control and feedback but it could also increase driver's fatigue during long drives.
The diesel engine of the Hilux delivers adequate power, and it has good acceleration even when the Eco mode is the selected drive mode. You can also overtake slower vehicles on the highway with confidence even on Eco mode.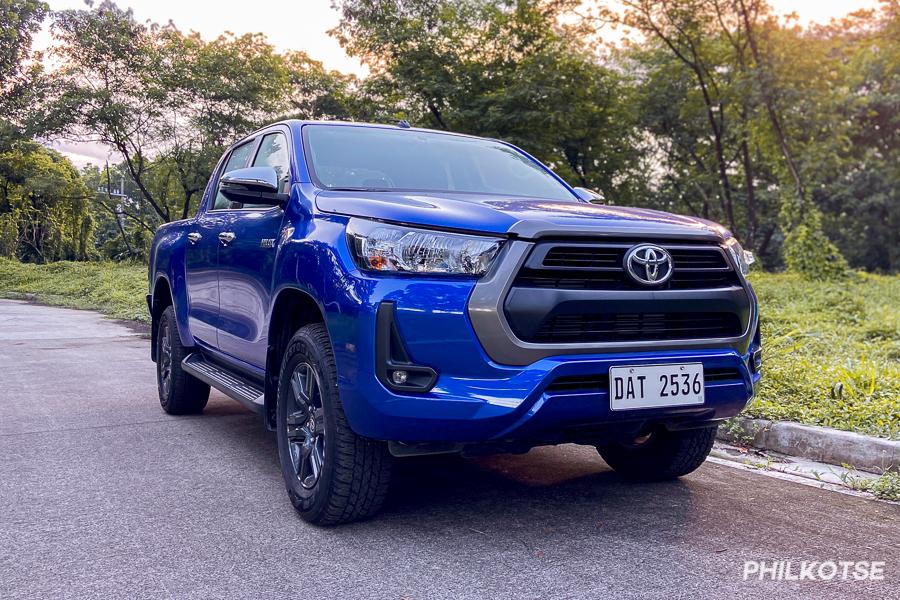 The Hilux G has an assertive front end
To put things in perspective, this Hilux also has a Power mode, which is the equivalent of Sport mode in other vehicles. When engaged, you'll get a more responsive acceleration and better throttle response. It also maximizes the engine rpm before shifting.
Now, how about ride comfort? Well, don't expect too much on the Hilux's ride comfort since the suspension is firm, a bit too firm actually. This resulted in a harsh ride especially when you drive the Hilux along EDSA.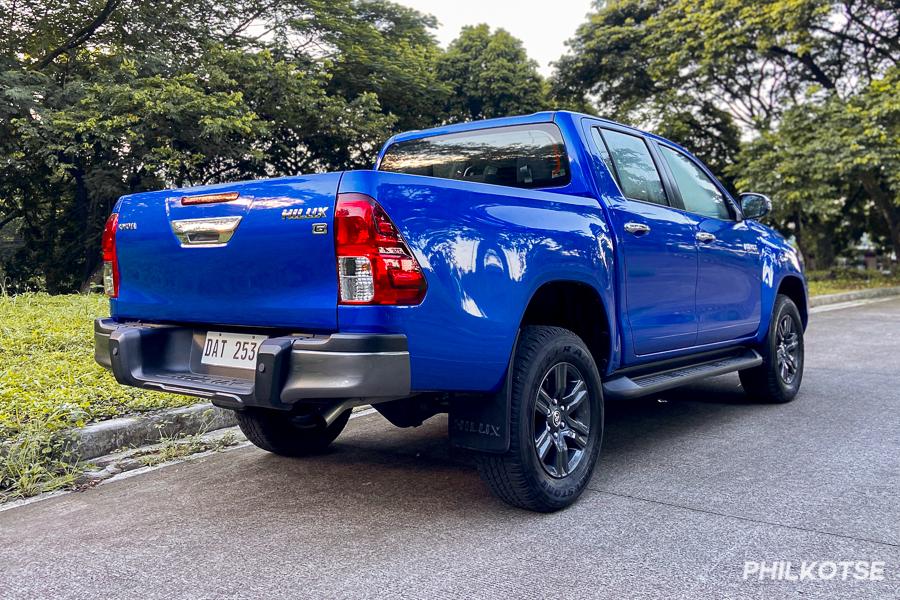 It's not as flashy as the Hilux Conquest
Although pickup trucks are not known for having a smooth ride since these types of vehicles are designed to be cargo haulers in the first place, the Hilux's segment rivals have a relatively more pleasant ride. Moreover, having a leaf spring under the Hilux's body should already indicate that it's a vehicle meant for cargo loading rather than giving you a pleasant ride.
Toyota Hilux: Fuel Efficiency
In terms of fuel economy, the Hilux was able to deliver 15 km/l while being driven at an average speed of 40 km/h. On the open highway, it was able to register 17.4 km/l while driven at an average speed of 90 km/h.
Toyota Hilux: Verdict
The Toyota Hilux G 4x2 AT is priced at Php 1,325,000, which is Php 170,000 less compared to the Conquest 4x2 AT. Is it a good alternative to the Conquest variant? The way I see it, the G variant is the ideal choice for individuals who want a more conservative-looking Hilux.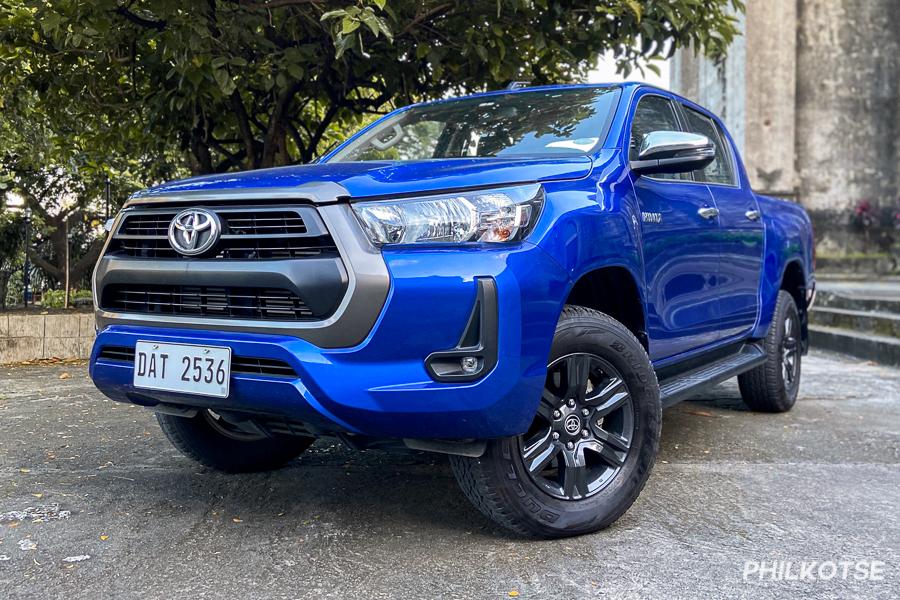 2021 Toyota Hilux G
This Hilux is also for those who are on the market for a truck that could be used as a daily driven vehicle, which can carry cargo occasionally. It's also an ideal truck for individuals who have to drive through rough terrain on a daily basis, and more importantly, the Hilux G is a sound choice for those who don't intend to go hardcore off-roading.
Toyota Hilux: Variants & Price
Toyota Hilux Price & Variants in the Philippines

Toyota Hilux Conquest 2.8 4x4 AT

P1,875,000

Toyota Hilux Conquest 2.8 4x4 MT

P1,800,000

Toyota Hilux Conquest 2.4 4x2 AT

P1,495,000

Toyota Hilux Conquest 2.4 4x2 MT

P1,420,000

Toyota Hilux G 2.4 4x2 AT

P1,325,000

Toyota Hilux G 2.4 4x2 MT

P1,250,000

Toyota Hilux J 2.4 4x4 MT

P1,148,000

Toyota Hilux E 2.4 4x2 MT

P1,135,000

Toyota Hilux FX w/ Rear AC 2.4 4x2 MT

P1,057,000

Toyota Hilux FX w/o Rear AC 2.4 4x2 MT

P1,029,000

Toyota Hilux J 2.4 4x2 MT

P952,000

Toyota Hilux Cargo 2.4 4x2 MT

P936,000

Toyota Hilux 2.4 Cab & Chassis 4x2 MT

P843,000
>>> You can refer to second hand Toyota Hilux for sale in the Philippines
Toyota Hilux: Color Options
Toyota Hilux 2022 Color Options
Super White, Silver Metallic, Gray Metallic, Attitude Black Mica, Crimson Spark Red Metallic, Nebula Blue Metallic, Orange Metallic, Emotional Red
Toyota Hilux: Specs
Overall

Make

Toyota

Name

Hilux G

Body Type

Pickup truck

Dimensions & Weight

Lenght

5,365 mm

Width

1,855 mm

Height

1,815 mm

Engine & Transmission

Type

2.4L Diesel, 4-Cylinder, 16-Valve DOHC

Engine Displacement

2,393 cc

Max Power

148 hp @ 3,400 rpm

Max Torque

480 Nm @ 1,600 - 2,000 rpm

Transmission

6-speed automatic

Chassis & Suspension

Brakes (Front / Rear)

Ventillated Discs / Drum Type

Suspension (Front / Rear)

Double Wishbone / Leaf Spring Rigid Axle

Exterior

Multi-Reflector Halogen Headlights

LED fog lamps

Power Adjust + Power Fold side mirrors

GT Edition Exhaust Tailpipe Cutter

265 / 65 R17 Alloy - Gun Metallic Gray

Side step board

Pole Type antenna

Interior

Fabric Seats

Driver: 6-Way Manual Adjust / Front Passenger: 4-Way Manual Adjust

Power Steering + Variable Flow Control

Cupholder: 4 + Bottleholder: 2: Front

Cupholder: 2 + Bottleholder: 2: Rear

Rotary Type Ignition

Speed-Sensing Door Locks

2022 Model Year: 8" Display Audio

Apple Carplay + Android Auto + Smart Device Link (SDL)

6 Speakers

2 Accessory Outlet (12V)

Safety & Technology

Driver + Front Passenger + Knee (Dr) Airbags

ABS (Anti-Lock Brake System) with Brake Assist + EBD

Vehicle Stability Control

Hill-Start Assist Control

ISOFIX

Immobilizer

Rear parking sensors

Speed-sensing door locks

2022 Model Year: Reverse Camera
>>> Read more: 2021 Ford Ranger vs Toyota Hilux Comparison: Spec Sheet Battle


Martin Aguilar
Author