Upgraded safety and new convenience features. What's not to love?
If you've been following our news, then surely you know that the facelifted 2020 Toyota Fortuner has already been revealed.
Toyota has given it a more modern looking front fascia, more in the way of high-tech safety and entertainment features, as well as an upgraded diesel engine.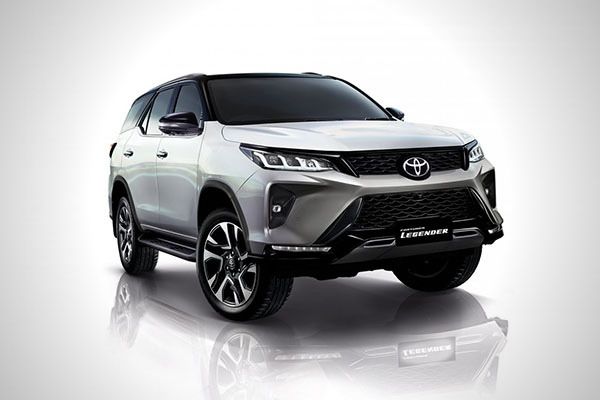 You've seen the red Toyota Fortuner Legender in the other article, here's a white version
But guess what folks, what really delights us about the new Toyota Fortuner is the added convenience given to us by a simple, but impactful change to how you load cargo; the motion activated automatic rear door.
The facelifted Toyota Fortuner's more convenient rear door
If you've owned, rented, or driven the currently available top-of-the-line Toyota Fortuner V, then you'll know that it also came with an automatic rear door.
That version however requires you to push a button tucked just above the license plate, or a button on the keyfob. So when you're carrying a hefty or weirdly shaped baggage that requires both of your hands, this might be inconvenient for you.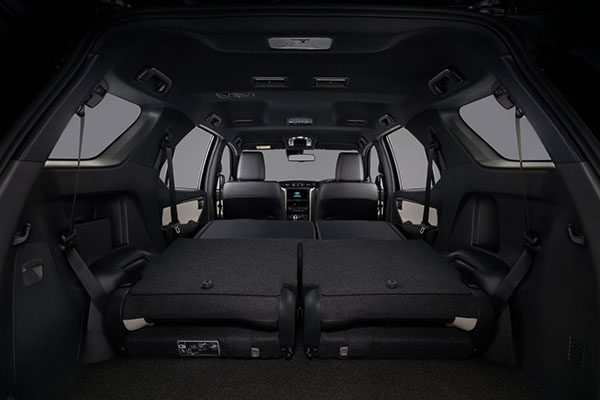 For now though, you'll still need to hook the seats up to the sides to maximize it into a flatter cargo space
To circumvent this, the facelifted 2020 Fortuner now comes with a rear door which opens itself if you perform a kicking motion below the rear bumper. With this, there's no need for you to put down your shopping bags.
For some who like to try doing two things at once, there's even less risk for you to scratch up your paint while trying to push that trunk release button while carrying something with both hands.
>>> Related: What can we expect from an updated Toyota Fortuner 2020?
The upgraded touchscreen and the TSS
Apart from the motion activated rear door, the facelifted 2020 Fortuner has also been given a better touchscreen with Apple CarPlay, Android Auto, as well as the T-Connect, and a smartphone wireless charging.
This means the multimedia headunit is much more convenient, to the point that you can say goodbye to your cables entirely.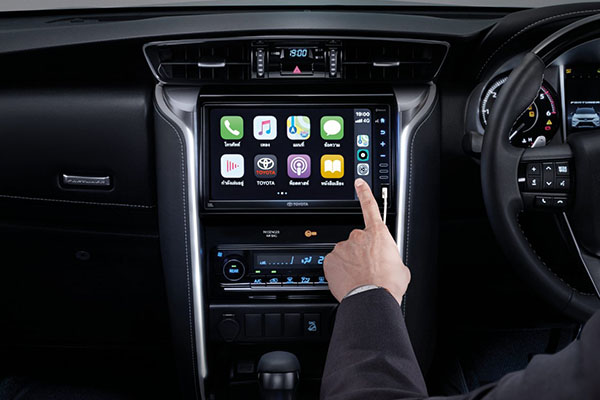 The upgraded touchscreen aboard the 2020 Toyota Fortuner
The facelifted 2020 Toyota Fortuner is also notable as it is the first time ever that the Toyota Safety Suite (TSS) is available in the Toyota midsize SUV. That means it now has a 360-degree camera, which vastly increases visibility for the driver.
Other very high-tech safety features included on the all-new Fortuner via TSS is a radar-guided cruise control system, lane departure alert, and an automatic emergency braking system.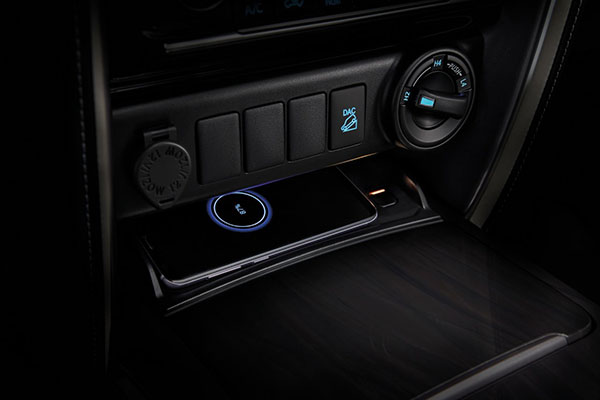 The facelifted Fortuner's wireless charging doing its job
>>> Related: List of all Toyota SUVs in the Philippines: Price list with Brief review
Are these going to be available in the Philippines?
As of writing this article, we do not know yet as to when the facelifted, upgraded 2020 Toyota Fortuner will be released here in the Philippines. For that matter, we also don't know if the Philippine version will be getting these new features – for now.
However, if you want to keep tabs on the latest news about the all-new 2020 Toyota Fortuner, then keep reading here on Philkotse.com for more updates.
Know more about Toyota Fortuner 2021

<p>The Toyota Fortuner is one of the best-selling midsize SUVs in the Philippines. This midsize SUV has been driven on the country&rsquo;s highways since the early 2000s. It became a household name because of its rugged platform, strong brand support, and tested durability. The second-generation Toyota Fortuner has topped the sales chart consistently, not only in the midsize SUV segment but also for the entire automotive industry in the country. And in 2020, Toyota Motor Philippines launched the new Fortuner facelifted which showcases a more aggressive SUV appeal. It still shares the same Innovative International Multi-purpose Vehicle (IMV) platform as the Hilux and Innova. The new model is offering a wide array of variants to market to various car consumers. These variants include the base G, V, Q, and top-of-the-line LTD variant which comes with a more distinct styling. The sky&#39;s the limit for Toyota&#39;s entry to the local midsize SUV segment as it remains to be a top choice among Filipino car buyers when considering a reliable, rugged, and family 7-seater vehicle. As for pricing, the G variant with a 4x2 drivetrain and manual transmission starts at Php 1,633,000 and goes up to the new LTD variant with a 4x4 drivetrain and automatic transmission (excluding the White Pearl body paint option).</p>

Cesar G.B. Miguel
Author