Do you think this color option will sell here in the Philippines?
Limited edition cars are an instant treat for us car fans. It does not only give exclusive and time-limited features, but also represents a specific point of time in our life which can be very sentimental.
So just take a look at this Limited Edition Toyota Fortuner Emerald Green SUV (more of an army green) introduced at a dealership in Ho Chi Minh City in Vietnam. It provides a different feel from what we are used to seeing in the well-known Toyota Fortuner.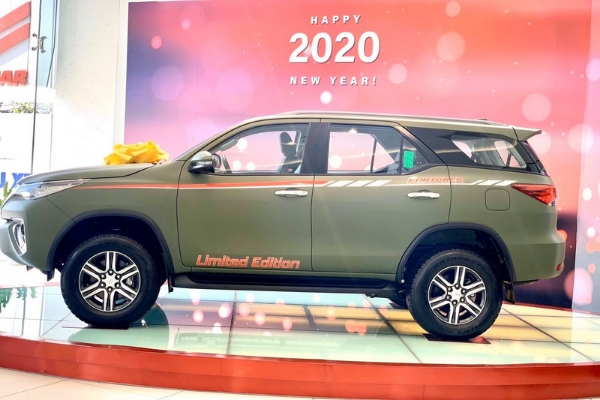 "Limited Edition" decals just to remind everyone you got it [Source: Oto.com.vn]
Featured on Oto.com.vn - a leading website to buy and sell cars in Vietnam, the Limited Edition Fortuner is outfitted with two red seals across the body and decals that say "Limited Edition" on the doorstep and "Fortuner" on the end of the rear passenger door. Toyota Vietnam offers five paint color options for the Fortuner, including black, brown, copper, pearl white, and silver – with the Army Green being a limited option.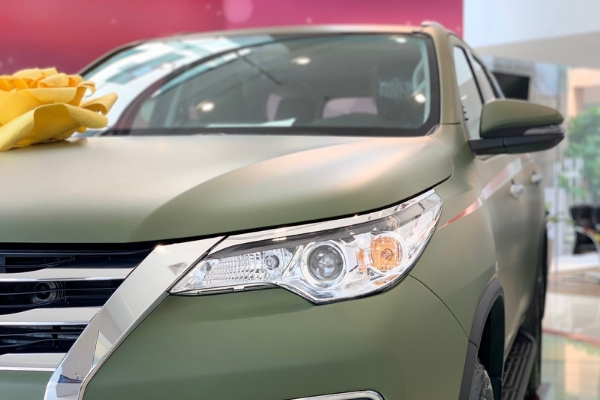 It's basically the same all throughout the car – just added an aggressive-looking Army Green paint finish [Source: Oto.com.vn]
The Limited Edition Fortuner only offers an exclusive paint finish. Other than that, there are no changes or modifications. It still runs on a 2.4-liter 4-cylinder engine capable of producing 148 hp at 3,400 rpm and 400 Nm of torque at 1,600 to 2,000 rpm. It is mated to a 6-speed automatic transmission and has a rear-wheel-drive system.
The Toyota Fortuner is the most popular 7-seater SUV in Vietnam which would help it sell its Limited Edition in no time. It is said to have a fairly reasonable price of around 1.1 billion Vietnamese Dong (Php 2,382,190). For more updated pricing information, please refer to the Cars For Sale section on Oto.com.vn.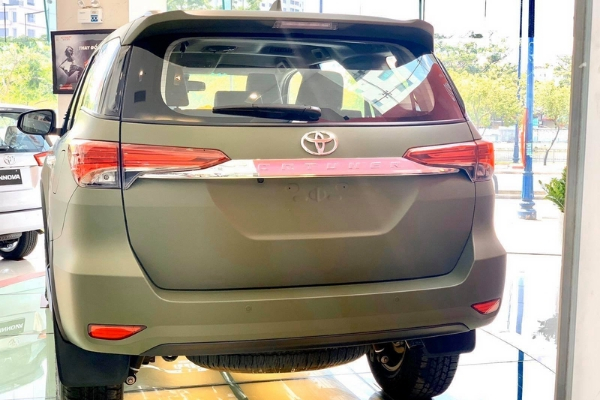 Rearview of the limited edition Toyota Fortuner [Source: Oto.com.vn]
There are currently seven color options for the Toyota Fortuner here in the Philippines. It would be a great initiative to bring in the Army Green color for the local market as they can really be unique and distinctive.

Know more about Toyota Fortuner 2022

The Toyota Fortuner 2022 sold in our market spans six five trim levels and 11 variants. Toyota Fortuner prices in the Philippines range from PHP 1,633,000 for the Fortuner G 2.4 M/T to PHP 2,509,000 for the flagship GR Sport 2.8 A/T. This midsize SUV spans two turbodiesel options, with most of the range equipped with a 6-speed automatic gearbox (6-speed manual for the base variant) as well as a 4x2 drivetrain (4x4 is available on the LTD trim and is standard on the GR Sport). The Fortuner brings a length of 4,795mm, a width of 1,855mm, and a height of 1,835mm on a 2,745mm wheelbase.
The lowest monthly installment starts at Php 19,683 for the G 2.4 4x2, with 60-month payment terms on a 50 percent downpayment. As a contender in the midsize SUV segment, the Toyota Fortuner faces off against a slew of rivals including the Mitsubishi Montero Sport, Nissan Terra, Ford Everest, Isuzu mu-X, and Foton Toplander.


Rex Sanchez
Author