Like fiddling with car configurators? Then you'll like TMP's virtual showroom
Toyota PH's new online showroom
If you've ever been a curious car enthusiast like us, then surely you know that websites for some car brands in the U.S. uses an online car configurator. If you don't know what is, it's a virtual showroom wherein you can change the way your car looks inside and out based on several options.
It's indeed a powerful tool as it allows a car buyer to make a truly personalized vehicle. Apart from that however, these configurators can also help a buyer inspect the car better due to the fact that these configurators commonly use 360-degree views of the interior, the exterior, and other useful view modes.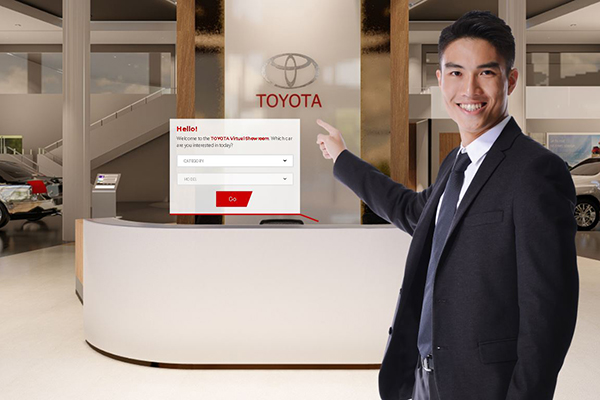 Here's the landing page for the Toyota virtual showroom. Here, you can select the model you want to view
Now why are we talking about online car configurators? Well due to the COVID-19 pandemic, a lot of car dealerships here in the Philippines, despite being allowed to open now, are hard at work in developing ways for a better car buying experience from the comfort of your home.
One such car company is Toyota Motor Philippines, which has recently launched the Toyota Virtual Showroom, which to us, is the closest thing we can get to an online car configurator.
Not a configurator, but still a useful virtual showroom
That's right, because like the car configurator common in American car websites, the Toyota Virtual Showroom also has a 360-degree vehicle display, as well as other interactive features that'll surely help you get to know all the Toyota car models available in the Philippines better, inside and out.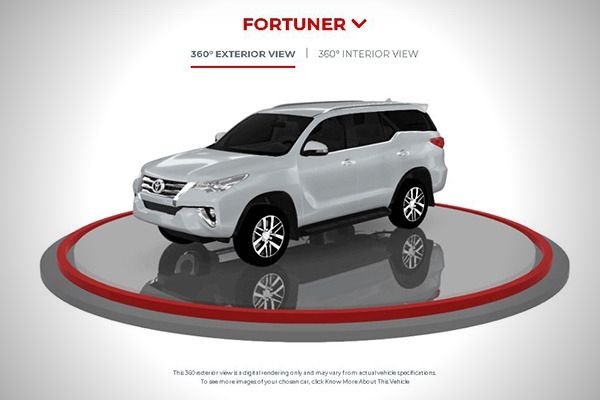 Once you've chosen a model, a 3D which you can view from all angles will load
Once you've chosen a car, the virtual showroom can also show you payment estimates, and if you fill in the provided online forms with your details, dealer representatives can then contact you to answer more of your questions, offer a quotation, and of course, facilitate an actual car purchase. In short, it's an easier way to view and/or purchase a car from the comfort of your home.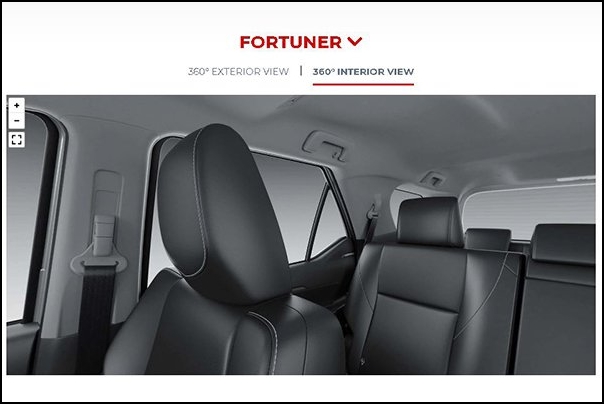 A 360-degree view camera is also available for the interior of the car. Neat!
>>> Related: A complete guide to Toyota cars in the Philippines
Regrettably though, the most you can do to "customize" or "configure" your car is choosing its color. Car options aren't that common here in the Philippines after all, and it's more of an American thing.
Regardless, the Toyota Virtual Showroom is still a very useful tool, which will undoubtedly provide a lot of convenience especially in this age of social distancing. 
For more automotive industry news, keep reading here on Philkotse.com.
Know more about Toyota Fortuner 2021

The Fortuner by global auto giant Toyota is one of the best-selling midsize SUVs in the Philippines. This midsize SUV has been driven on the country's highways since the early 2000s. It became a household name because of its rugged platform, strong brand support, and tested durability. The second-generation Toyota Fortuner has topped the sales chart consistently, not only in the midsize SUV segment but also for the entire automotive industry in the country. And in 2020, Toyota Motor Philippines launched the new Fortuner facelifted which showcases a more aggressive SUV appeal. It still shares the same Innovative International Multi-purpose Vehicle (IMV) platform as the Hilux and Innova. The new model is offering a wide array of variants to market to various car consumers. These variants include the base G, V, Q, and top-of-the-line LTD variant which comes with a more distinct styling. The sky's the limit for Toyota's entry to the local midsize SUV segment as it remains to be a top choice among Filipino car buyers when considering a reliable, rugged, and family 7-seater vehicle. As for pricing, the G variant with a 4x2 drivetrain and manual transmission starts at Php 1,633,000 and goes up to the new LTD variant with a 4x4 drivetrain and automatic transmission (excluding the White Pearl body paint option).

Cesar G.B. Miguel
Author