Ever wondered how a Ford Mustang can stand out in a sea of other similar cars? GM Bugayong of Drift Xaust shows us that keeping it clean can make your car badass.
Sometimes you get so complacent in life. As a car guy, driving around in his Honda Civic, I start to think that nothing can ever beat my own car. That my car is fast and powerful because I've grown so accustomed to it every quirk and power map.
Then, I got the chance to ride a modified Ford Mustang 2017 and I get shot back down to earth. One of the scariest and glorious experiences is riding this car being driven on full throttle. Check out this week's special feature of one of the most special and unique specimens of the Mustang GT in the Philippines.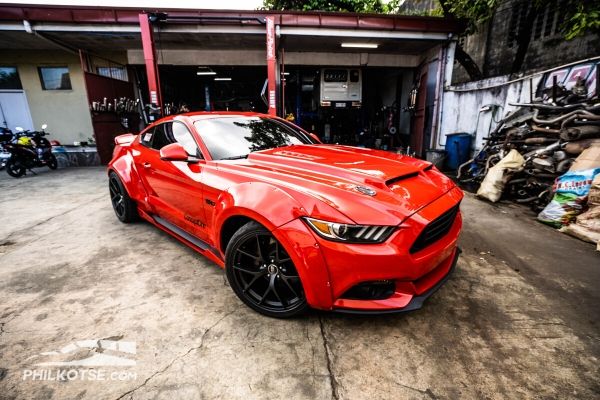 I couldn't sleep thinking I would get to see this up close
The Ford Mustang made even better
The Ford Mustang is the world's most recognizable sports car. In the Philippines, a v8 powered, wide-bodied hardtop will more often than not be mistaken for a "Mustang". To a certain point, the Ford Mustang became a generic word for such types of vehicles.
From its inception in 1964 to the present its generic formula of 2 doors, rear-wheel-drive seating for 4, and having a long hood and short deck has remained largely unchanged. Almost every type of modification has been done to a Mustang so how will Drift Xaust proprietor, GM Bugayong make his 2017 Mustang GT any different?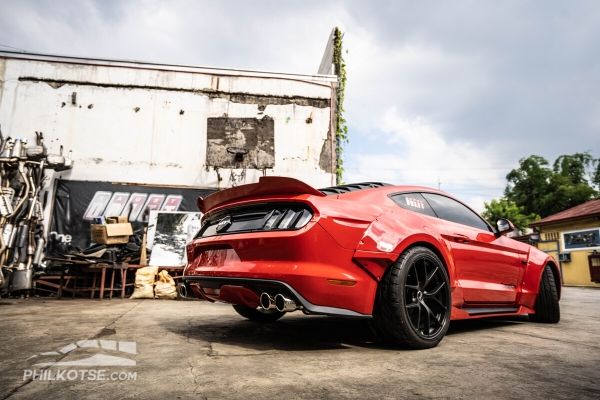 The word "Mustang" is now a generic name for muscle cars
The current generation of Mustang is the most technologically advanced Mustang ever. First and foremost the sixth-generation Mustang GT now sports and independent rear suspension, replacing the original solid rear axle synonymous with Mustangs of old.
This makes for dramatically improved handling and effectively brings the Mustang to the 21st century. It also makes the Mustang a more comfortable daily drive.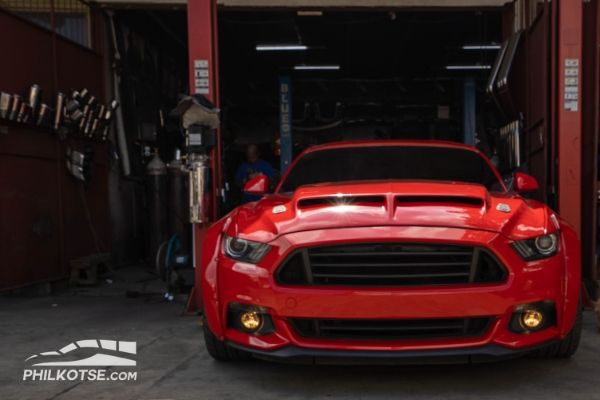 Heading to see the Mustang made me feel a sense of restlessness
Meeting your heroes
When GM accepted our invitation to cover and feature his Ford Mustang 2017 which was modified. I was literally restless and sleep eluded me greatly. It felt like I was going to meet one of my childhood heroes. In a way that was true and apt. As a kid, I loved a certain old muscle car but I never did bother to know what it was called.
All I knew back then was that it was red, it was shiny, and it looked so much like a badass. Only back in high school did I read up on more about cars and found what that hero car was called. The words MUSTANG just jumped out of the page and I was hooked since then.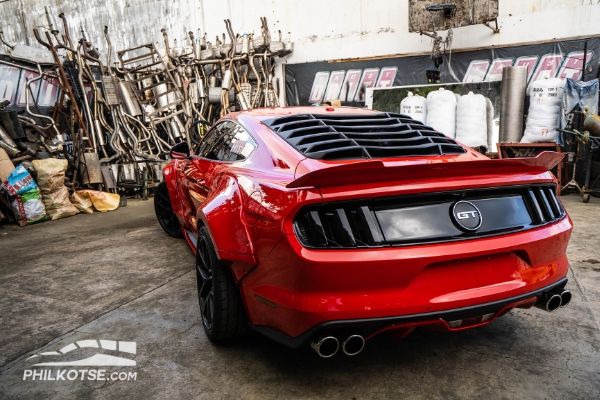 The Ford Mustang GT sounded the most refined and solid compared to its competition
"I've always wanted a car that reflects my identity and who I am." GM reflects, "The Ford Mustang GT sounded the most refined and solid compared to its competition." As I said earlier, GM is the owner and proprietor of DRIFT Xaust in Taytay, Rizal, a leading performance-oriented car garage shop that specializes in exhaust systems for almost any car.
His Ford Mustang 2017 is the perfect car than to show the precision and craftsmanship of his products and he proudly wears it here as we will find out.
Watch it before buying a Ford Mustang!!! | Used Car Review | Philkotse
>>> Check out for Ford Mustang reviews by Philkotse's experts
Everything you love about Mustangs
The Ford Mustang GT in its 6th generation is a culmination of all the best design details of Mustangs throughout the years since 1964. It has that classic retro styling hits in and around the car and if you squint just the right way you could even see cues from the now-iconic Fox Body and SN-95 Mustangs.
The design of the 6th generation is an homage to all Mustangs before it and the execution did tastefully that it is almost close to perfection. Modifying the body would require proper planning and resources as to not ruin the overall design. This one hits the ball right out of the park!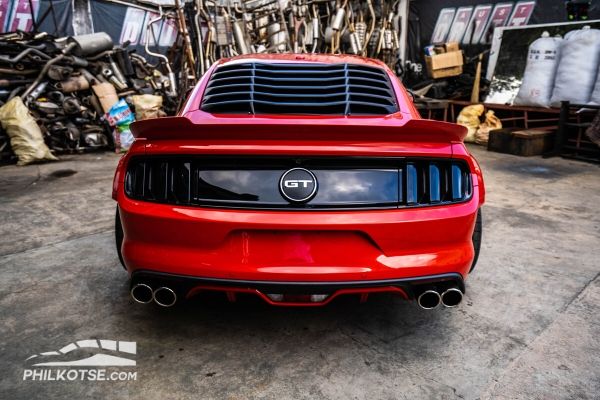 Those rear louvers are an homage to the Fox Body Mustang
Duraflex wide-body kits adorn the entirety of the car that includes the grid front bumper, side skirts, rear diffuser front, and rear fender flares. Adding more to the wicked body kit is the MMD V-Series rear spoiler, Cervinis Stalker hood, and a Rear Window Louver as a callback to the 80s Fox Body Mustang.
Combining all these kits gives GM's 2017 Mustang GT a distinct look making it special even when lined up across other Mustangs.
>>> Let's update the latest changes in Ford Mustang Philippines price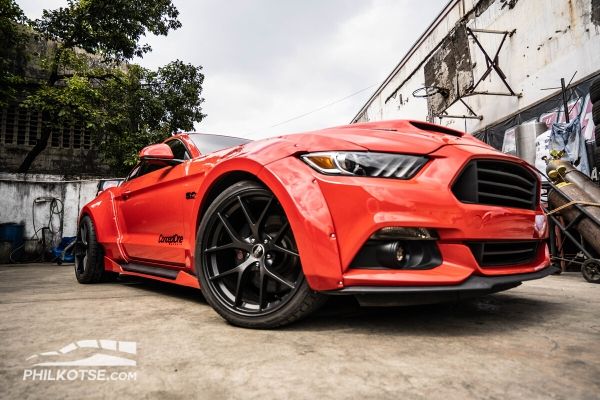 The complete set of body kits create a cohesive and clean look
I've already mentioned that the 6th generation Mustang adopts a fully independent rear suspension setup making it more agile around the bends and more comfortable to daily but that all doesn't end there.
This very special 2017 Mustang GT includes suspension upgrades such as H&R Lowering Springs matched with bonkers matte black 20 x 11 Concept One Forge Wheels shod in slick low profile Nitto Tires.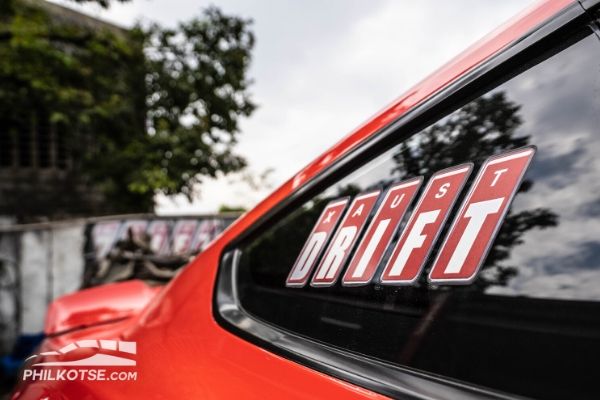 GM takes pride in Drift Xaust as a quality product
>>> Read more: Nissan GT-R vs Ford Mustang: Godzilla vs The FAHVO
Sometimes you have to make your own
Here comes the most interesting part. GM prides himself in the quality of his product that he is confident enough to install it on his baby. Drift Xaust's intake and exhaust system are all bespoke for each individual car's needs or client requests.
Starting off from the Drift Xaust K&N intake system with a heat shield to minimize the amount of warm air coming into the combustion chamber, as you know you have to keep the intake air cooler to optimize performance.
It then heads off to their very own in-house manufactured long-tubed headers leading to bespoke Drift Xaust dual downpipes with flex pipes then ends out to Drift Xaust True Dual Catback with dual exits that finally terminate to 4-inch quad exhaust tips.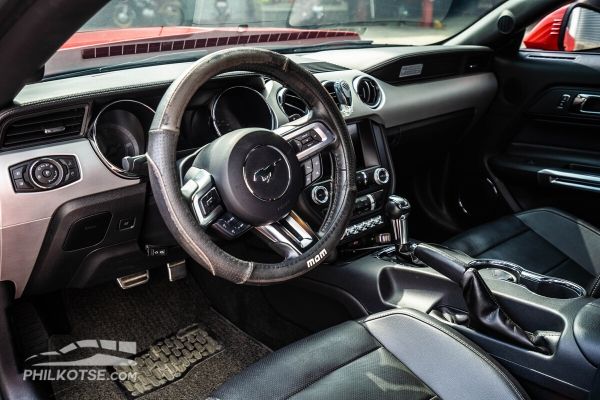 The interior is left pretty much stock, but beautiful nonetheless
>>> Useful tips on car modification:
Of course, installing new intake systems might need further tuning and that he did. The ECU has been re-tuned to handle the increased airflow. GM also has a new product called the Drift Xaust Speed Booster. It is pretty much a throttle response piggy-back controller.
This is necessary as newer cars use drive by wire technology which is different from mechanical cable-operated throttle bodies in a way that some delay may be off-put by this.
The Speed Booster resolves this by altering the throttle's responsiveness. In heavy gridlock traffic, this is essential as you never know when you might need all that power to avoid obstacles or speed away.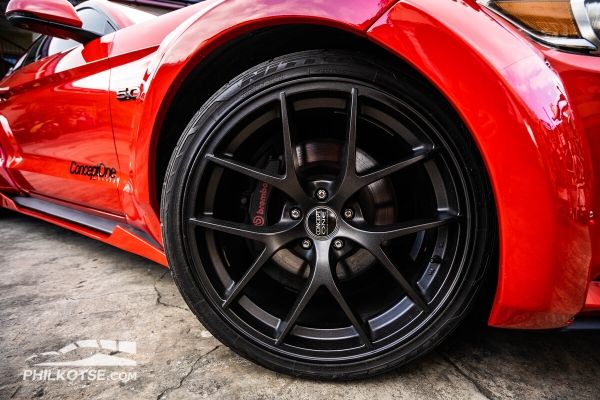 Massive 20-inch wheels from Concept One Complement the bodywork well
GM knows best for his own car and after doing his own research he is happy with the mods he's placed in it. He was somewhat dissatisfied when he first got the car. As the engine was a tad more refined than what he is expecting. Now the idle sound just growls and bites making its presence heard every time his car drives by.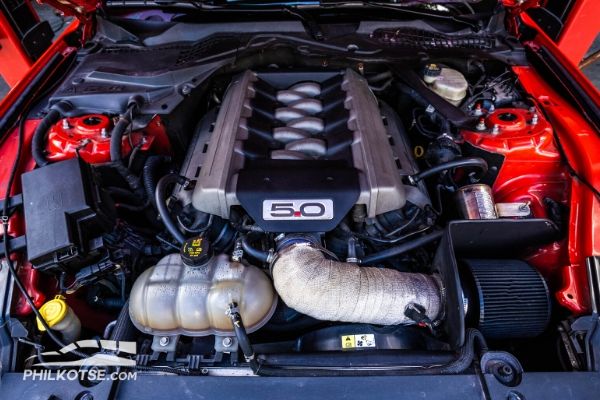 The engine is largely stock but who needs upgrades if you can run hard all the time
The Ford Mustang is one of those classic cars that no matter what the generation will always look badass. The perfect setup always calls for minimalist and practical design decisions and GM seems happy with what he currently has.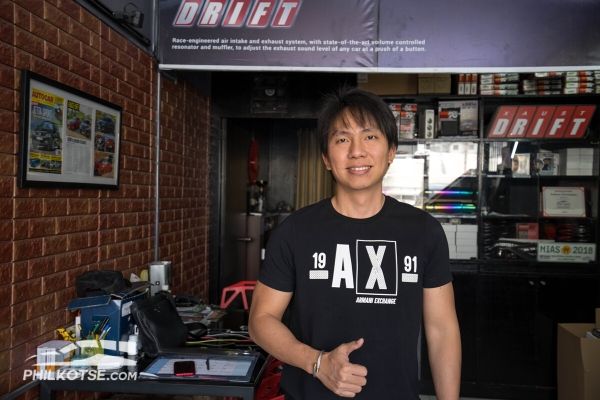 GM is one of the most humble and best persons I know. And he drives a mustang!
For more information about Drift Xaust contact them at +639174646222. They are located at Valley Fair Town Center, Ortigas Ext. Taytay Rizal.
>>> Read more about other "car of the week" featured on Philkotse
Ford Mustang GT 5.0 2017: Spec sheets
Overall

Variant

2017 Ford Mustang GT 

Sports Coupe

Price when new

PHP 3,195,000

Price range now

PHP 2.3M -3M

Dimensions

Length

4784mm

Width

1916mm

Height

1381mm

Wheelbase

2720mm

Weight

1600 kg

Number of seats

2+2

Engine and performance

Engine

5.0L Coyote V8

Fuel capacity

60 liters

6-Speed Automatic

Stock Max power

440 hp @ 6500 RPM

Stock Max Torque

540 Nm @ 4,250 RPM

Average Fuel Economy

4-5 km/l (city)

Modifications

Duraflex Wide body-kits

MMD V-Series rear spoiler 

Cervinis Stalker hood 

Rear Window Louver 

H&R Lowering Springs 

20 x 11 Concept One Forge Alloy Wheels 

Nitto Tires.

Drift Xaust x K&N intake system with a heat shield

Drift Xaust Long-tubed headers

Drift Xaust dual downpipes with flex

Drift Xaust True Dual Catback with dual exits

Drift Xaust 4-inch quad exhaust tips

Drift Xaust Speed Booster
 >>> Find yourself an affordable Ford vehicle in our Ford cars for sale section.
Make sure you keep your eyes glued to Philktose.com for more news, reviews, and insights on Philippine motoring!

Know more about Ford Mustang 2022

Arguably the most popular vehicle from the Blue Oval company, the Ford Mustang is one powerful coupe that is competing in the market with its sixth-gen model. Ford Mustang 2022 Price Philippines from Php 2,948,000 to Php 7,760,000, depending on the variant. Speaking of variants, the Mustang comes with four variants in the Philippines, namely the 2.3L EcoBoost, 5.0L GT Fastback, 5.0L GT Convertible, and Shelby GT500. The base Mustang uses a 2.3-liter EcoBoost inline-4 engine that makes 310 hp and 475 Nm of torque, while the GT variants are powered by a 5.0-liter Ti-VCT V8 engine that generates 460 hp and 569 Nm of torque. As for the top-spec Shelby GT500, it boasts a 5.2-liter supercharged V8 engine that churns out 760 hp and 847 Nm of torque. Only the Shelby GT500 utilizes a 7-speed Tremec dual-clutch transmission, while the rest offer a 10-speed SelectShift automatic transmission.
In terms of dimensions, this American sports car has a length of 4,788 mm, a width of 2,081 mm, and a height of 1,395 mm. Additionally, it comes with a wheelbase length of 2,721 mm and a ground clearance rated at 137 mm. The Mustang is competing in the local market against the likes of the Chevrolet Camaro, Dodge Challenger, and Nissan 370Z.

Roy Robles
Author