When there is a will, there is a way and your only limit is your imagination, these words all ring true for KAT Kustom and Tuning owner Justice Mateo and his 2008 Ford Focus TDCi.
The Ford Focus TDCi is a Turbo Diesel, front-wheel-drive hatchback sold by the blue oval brand to much fanfare more than a decade ago. It was lauded for its raw performance and unreal fuel economy. It provided a blast of fresh air in the compact car market which at the time was a sea of Corollas and Civics and took the fight straight to them.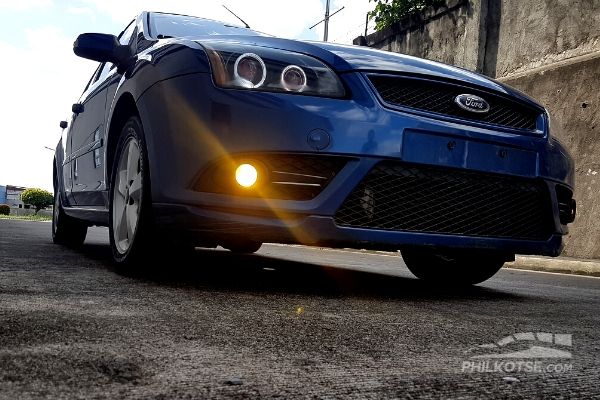 The Ford Focus TDCi Hatchback was a blast of fresh air in a dull compact car market
Ford Focuses on its rivals
When Ford first released the Ford Focus TDCi, they were banking on the relative success of its predecessor the Ford Lynx RS. That particular cat was powered by a Mazda sourced 2-liter gasoline engine and was kitted to the nines with sports seats, a sunroof, go-fast bits like a Nardi Racing Steering wheels and a sublime and chuckable 5-speed manual transmission.
It was in fact marketed in other countries as the Mazda Protege MPS, a sport version of what is locally known as the Mazda 323.
So when Ford introduced the 2nd generation Ford Focus at a basketball game flying through the air everyone was psyched. They finally released one of their best selling compact sedans which took Europe by storm. Initially, they only offered a 1.8 and 2.0-liter gasoline, sedan and hatchback variant with 4-speed autos.
Fans of the old Ford Lynx RS were disappointed but still loved the refinement offered by the kids. Then Ford took the wraps off of what could be, in my opinion, the best car they have EVER introduced in the country. The Ford Focus TDCi.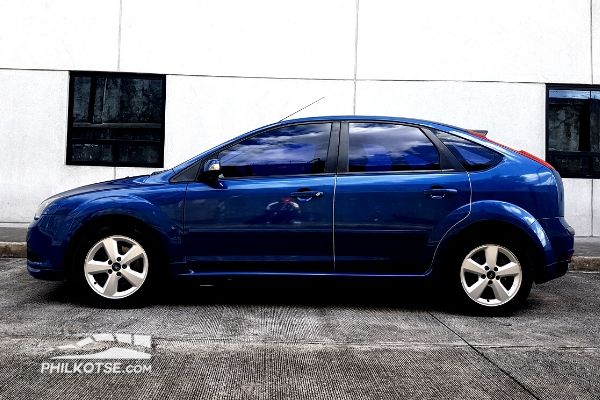 Chunky 16 inch mags came standard to this sporty Ford Focus
It was insane, some journalists even went as far as calling it an unhinged cheetah on wheels. I have to say that this cheetah is on so much more than that. Off the bat, it already made a respectable 134 hp at 4000 RPM but just blew everything out of the water with a neck-snapping 340 Nm of pull at, get this, 2000 RPM.
No waiting to get high up the rev range, just instantaneous pull right as soon as you hit the pedal. As a kid, I've always known this car to be special. I even choose the Ford Focus every time I play Need For Speed Pro Street even when playing against more powerful cars.
So when the opportunity arose for me to test drive a unit 12 years later, I took on the opportunity straight away and to be honest I could sleep knowing that I would come face to face with my hero car.
>>> You might want to check out the Ford Focus Philippines Pricelist before consider buying one.
The King of DIY
The owner Justice Mateo takes full pride in his 2008 Ford Focus TDCi and uses the little blue monster as a test unit for his electronic wizardry. You see, Justice is the owner and proprietor of KAT Kustoms and Tuning, a hidden backyard gem of a tuning shop that specializes in upgrading car electronics primarily exterior and interior lighting solutions.
He is the guy you go-to for all your lighting needs and uses his love of tinkering things to experiment on state of the art and innovative lighting solutions.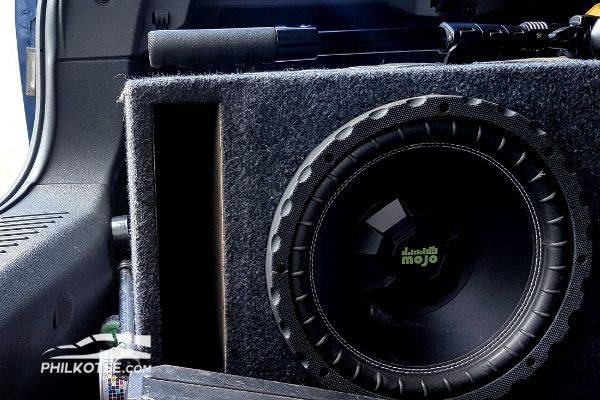 DIY Subwoofers are always a win
"I used to work abroad as an engineer, but got a bit hard by the tuning bug!" Justice admits. Ingenuity knows no bounds at his shop and he is proud of the small-scale nature of his business. "At times customers would arrive unannounced during the day time with a project in mind and I take it head-on because I love a challenge!".
Whatever his customers want whether it be stage 3 projector headlamps to interior ambient lighting or LED retrofitting and sound systems, Justice finds away and is only limited by the imagination.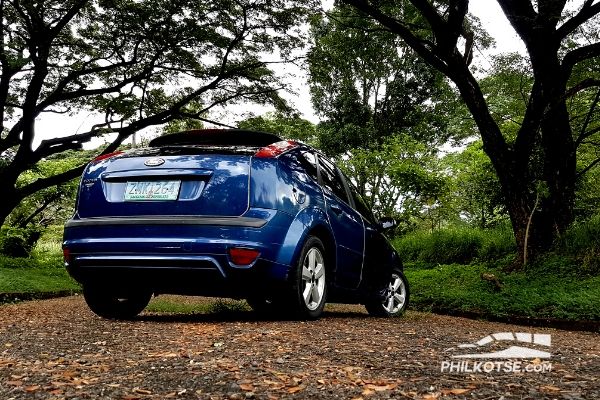 Muscular wheel arches give the Ford Focus an aggressive stance, even when stock
This imagination and versatility marry well with his Ford Focus. Unlike more popular Japanese brands that ply metro manila streets, the Ford Focus offers less OEM and aftermarket accessories.
It is harder to find aftermarket parts or even replacements for the car than say, a Honda Civic or Toyota Corolla. Necessity is definitely the mother of invention and with his car, you definitely need to do a DIY job on most things, especially electronics.
The Washed King
You see, despite the Ford Focus TDCi being as powerful and fuel-efficient as it is, it did not sell as well as Ford had hoped. Whether it be for bad marketing or limited stocks, we won't know for sure. It was still outsold by the more conventional models. People still flocked over to their Corollas and their Civics and the on-the-rise Korean brands.
The local market places a misplaced stigma against American cars. Just ask Chevy. The lack of sales in the country led to a limited supply of OEM parts and aftermarket parts because, why would you stock up for a model that didn't sell all that well?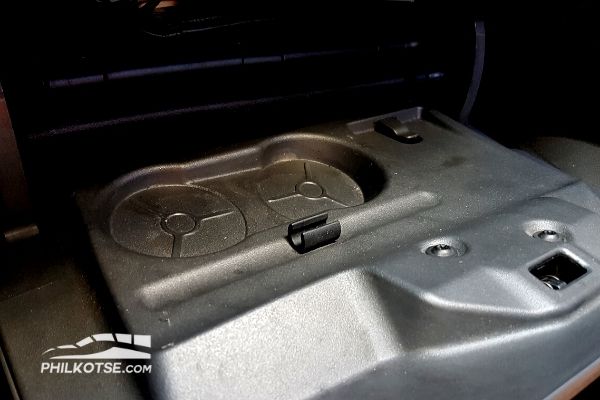 There are a ton of surprises and Easter eggs on the Ford Focus, like these hidden cup holders
That didn't stop Justice from upgrading his own unit though. He devised ingenious solutions to this problem by, with his words "Destroy-It-Yourself" methods. "I've experimented most of my electronic solutions in my own car and the things that worked, I've applied it to my clients."
His Ford Focus uses upgraded Speakers and channels the sound from his stock head unit to an under-seat amplifier. Tweeters on the dash add some high-end sound to complement a huge MOJO subwoofer at the back.
"I consciously used cheaper branded sound systems and a stock head unit to prove that even on a budget you can have good sound quality." It sure does have that and then some, the car's sound quality and bass can go head to head with the best of them.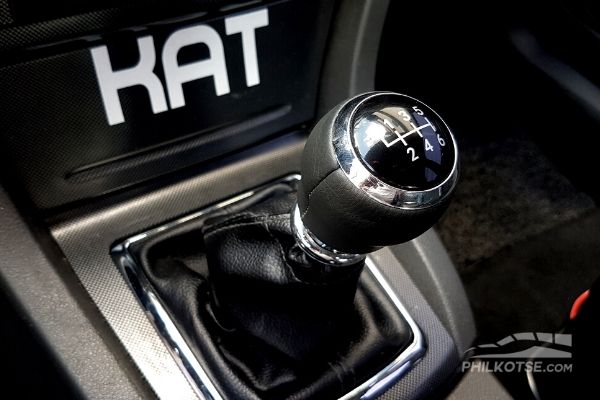 The Ford Focus has a short-throw 6-speed manual as standard
I wouldn't call the Ford Focus an American car, even though it had a "Ford" badge. You see the Focus was developed and marketed in Europe, where it absolutely sold like damn hotcakes! It is, in fact, one of the most popular and best-selling marques on the continent.
The 2 liter Duratorq engine is manufactured by Peugeot and is still being built to power its compacts. Another clue of its European lineage is the location of the headlamp switches.
If you are used to driving a Japanese or American car, you know to find the switches on the steering wheel stalk but the focus has it as a dial on the left side of the chunky steering wheel, like any self-respecting European car.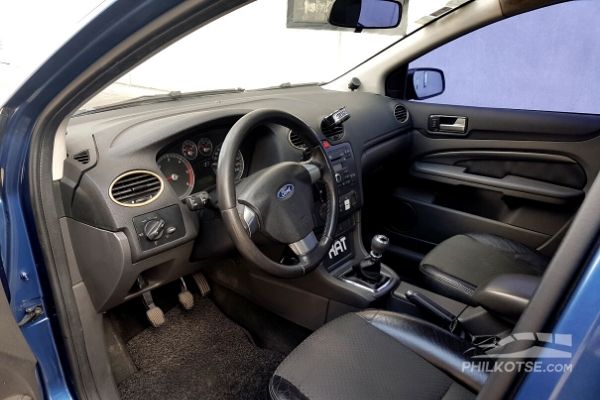 Soft-touch materials put its competition to shame, thanks to its Euro roots
The best indication of its Euro roots is the way it drives. The NVH level on the Ford Focus is top-notch and the suspension system absorbs bumps and ruts like a champ. "Ever since I got the car, I haven't once replaced the Shock and struts, just the stabilizing links and bushings." and sure enough driving the Ford Focus is a smooth experience.
Being a hatchback it has the less overhanging weight bearing down on the rear suspension body roll is almost non-existent and the tail is happy to kick out when attacking corners aggressively.
>>> Read more about other "car of the week" featured on Philkotse
Sneaky: Wolf in Sheep's Clothing
The body remains stock just the way it left the factory with no modifications whatsoever. It has the same 16-inch mags, factory-installed spoiler, side indicators and all but his pride and joy lighting innovations are evident.
His headlamps feature Stage-3 projector-style ones combining the best of both worlds of Angel Eyes and Devil's eyes. He also placed LED strips right beside the blinding fog lamps. "My foglamps alone can be used to light even the darkest of roads."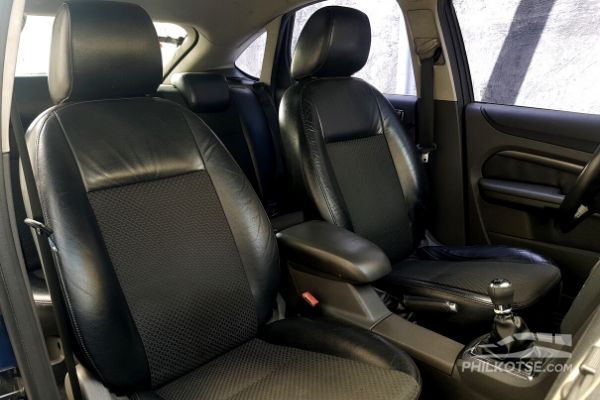 You know it's real leather if it's soft to touch and doesn't get hot even under the sun
His car is fitted with a Greddy Front Mounted Intercooler that further increases boost up to 30 psi from a turbo taken out of a Volvo S40 and installed a scat pipe after the header enabling exhaust gasses to escape quicker out of the ignition chamber out to the stock muffler.
This formula should create an unbearable noise and harshness inside the cabin, but no. You can still hear the exhaust sound but the inside is still relatively quiet and smooth. You have to thank Ford of Europe for the thick sound insulation and padding.
Straight-line acceleration comes in an instant with almost none of the dreaded turbo lag. "I love driving this car hard and it hasn't failed me or put me to shame."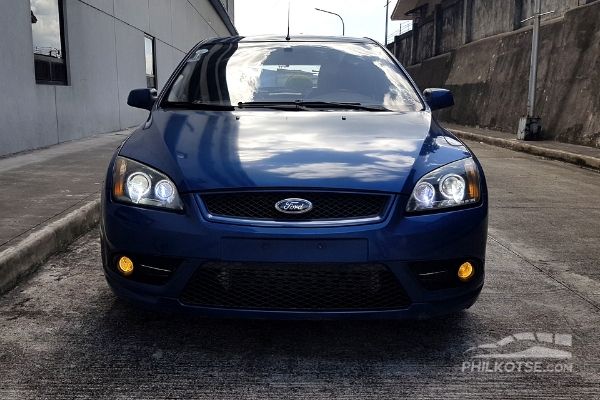 Sneaky: Under that unassuming stock grill lie a front-mounted intercooler
My time behind the wheel was everything I could have dreamed about in this car. If you've ever driven a diesel-powered vehicle, throw everything you know out the door. It revs quick and the throttle response is similar to that of a gas-powered car, thank the front-mounted intercooler and scav pipe.
Rev-matching is easy and the clutch is sublime, with just enough spring and bite to chuck around the precise, factory short-throw shifter. Body roll was non-existent when attacking sharp corners, it makes you forget that you're driving a diesel car.
I would also like to mention that after all these shenanigans, his OBD2 Bluetooth linked app on his phone registered a fuel economy of a whopping 10 km/l. Is there a thing as a perfect car?
>>> Useful tips on car modification: 
Not all is Peachy | What to Look Out For
"Not quite.." says Justice. "If you do get to break the engine it could definitely cost you." Although there are shops such as KAT Kustom and Tuning that can help you out with accessories and other bits, engine and transmission parts are hard to find, and if you do get to find one, it will cost you an arm and a leg.
One thing to watch out for is the Ford Focus TDCi's flywheel. You can get too caught up with the power, that the cogs on the flywheel can break over time. "A Ford Focus Flywheel can get you upwards to P60,000! But I have myself to blame on that one, I just love driving this car hard!"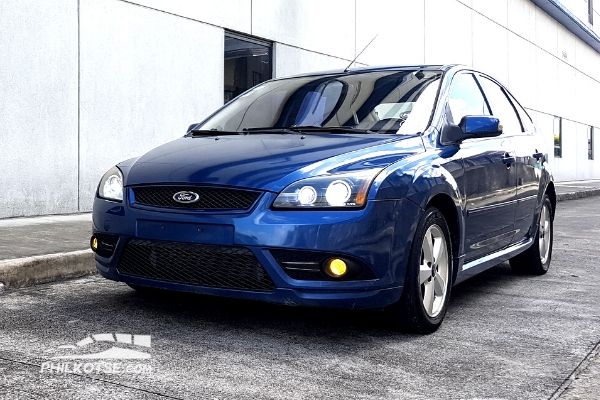 Upgraded stage 3 projector headlamps and foglight with LED strips really look good on a clean Euro look
Being a diesel car, and with the Philippines' dirty fuel, service intervals are much shorter than gasoline ones. "I do a change oil and tune-up session every 3,000 km. Some people say 5,000 or 7,000 is fine but at 3K you find that the oil gets really dirty, I don't want to risk ruining my engine."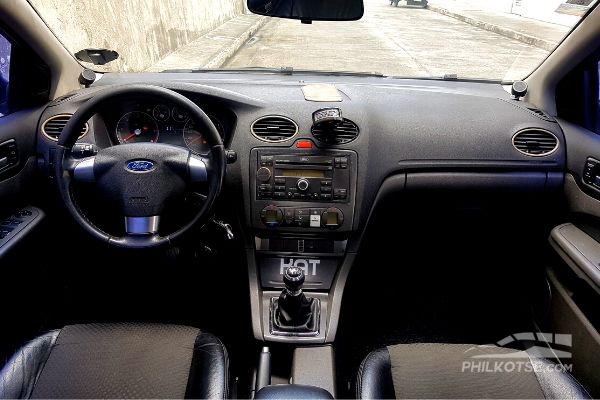 Even if you have a stock head unit, your sound system can sound like the very best of them
It is really hard to find a car where you can both have your cake and eat it too, but Justice's Ford Focus TDCi comes damn close, and it really personifies the owner, just as any car featured here. "I used to earn a living working overseas for the Man but nothing beats pursuing your dreams and doing what you love.
As the saying goes, 'do what you love and you won't have to work a day in your life!" and the blue Ford Focus shows just that. I left the shoot wanting for more, I used to dream of the Focus Diesel, now I yearn for it.
>>> Find yourself an affordable Ford vehicle in our Ford cars for sale section.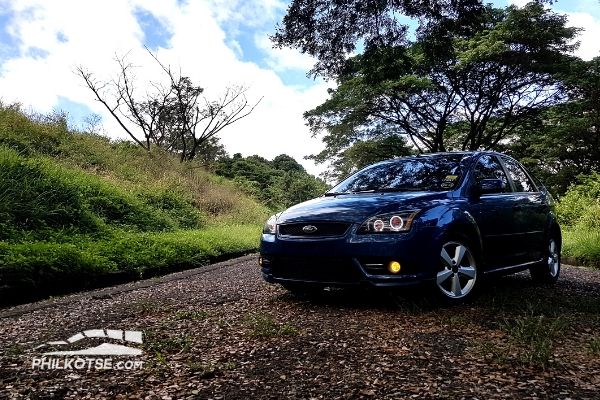 Power, fuel economy and refinement make up the holy trinity in the Ford Focus
2008 Ford Focus TDCi Specifications
Overall

Variant

Ford Focus TDCi

Compact Hatchback

Price when new
Php 1,089,000
Price range now
Php 300,000 - Php 450,000

Dimensions

Length

4340mm

Width

1840mm

Height

1500mm

Wheelbase

2640mm

Weight

1229kg

Number of seats

5

Engine and performance

Engine

2.0 L Inline-4 Diesel TDCi

Fuel capacity

53 liters

Six-speed Manual

Stock Max power

134hp @ 4,000 RPM

Stock Max Torque

340Nm @ 2,000 RPM

Average Fuel Economy

10-12 km/l (city)

Modifications

Stage 3 and 2 Projector Headlamps Retrofitted

Bi-Beam Projector Foglamps

Fiber Optic Switchback DRL

Twin Reverse Fog Lamps

LED Ambient Interior Lighting

Footwell LED Ambient Lighting 

Speaker upgrade OEM with Tweeters and Amplifier

Custom MOJO Subwoofer 

Turbocharger from Volvo S40

Megasquirt ECU Remap

Greddy Front Mount Intercooler
You can visit Justice's page "KAT Kustom and Tuning" on Facebook to see the Ford Focus and more of his projects or contact him at +639564002062 and tell him we sent you! If you want us to feature your ride, don't hesitate to drop me a line at leroy.robles@philkotse.com or leave a comment down below. Follow Philkotse.com for more reviews and features!


Roy Robles
Author