How can you take something and make it all your own? 2010 Toyota Corolla Altis 1.6G owner Robby Cireneo shows us exactly how and teach us about tasteful mods.
Since its introduction in 1966, the Corolla has been Toyota's most popular nameplate; in fact, it has sold more than 44 million units worldwide over 12 generations, and is the most successful car model in the world, even surpassing the ubiquitous Volkswagen Beetle.
With its successful formula of affordable transportation, a capable yet fuel-efficient engine, and comfortable seating for the entire family, paired with Toyota's famed reliability, the Corolla is definitely a winner, especially when compared with other Toyota Corolla 2010 for sale cars.
"Corolla" is a Latin word for "small crown", an apt description of the car at the time of its inception, as it was considered a smaller version of the famed Crown sedan. Early iterations of the Toyota Corolla Altis were rear-wheel-drive vehicles, switching to front-wheel drive beginning in the late 70s, to increase fuel efficiency and interior space, as well save on costs.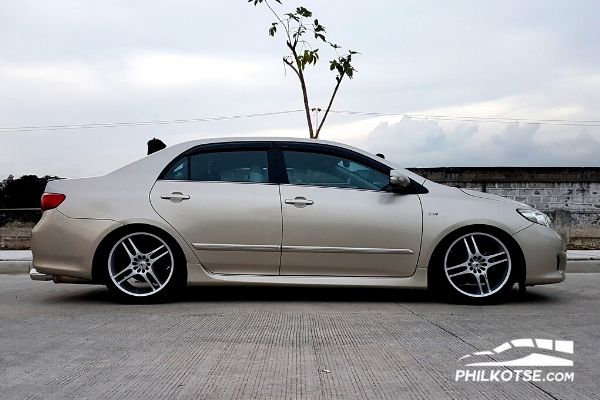 44 million people can't be wrong
The Corolla, after all, is a family car. The E140 internal chassis designation code for the 10th generation Corolla represents an evolution from the previous model, which was based on the MC platform shared by almost all Toyota models at the time. Revised and updated as the Toyota New MC Platform, it would eventually be superseded by the C Platform in 2015, created under the current Toyota New Global Architecture (TNGA) framework.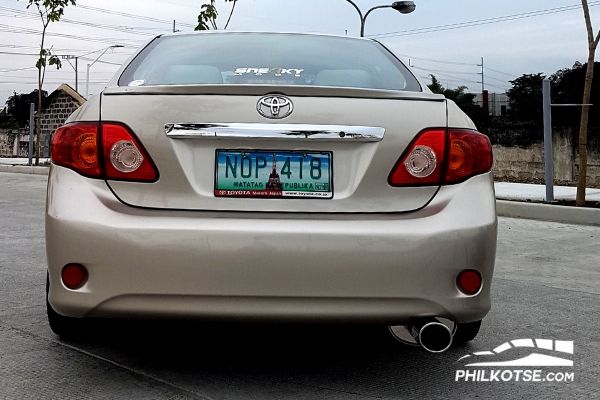 "Corolla" is a Latin word for "small crown"
The 10th generation Corolla built on the strengths of the previous generations: excellent, almost "Lexus-like" NVH levels and improved driving dynamics. It offered a choice of three engine displacements in the local market: a 2.0-liter, a 1.8-liter, and a 1.6-liter powerplant showcased by our example here.
One of the hallmarks of this iteration has to be its excellent safety scores. The US NHTSA gave it four stars for front driver, front and rear side passenger and rollover ratings. As far as side driver crash rating was concerned, the Corolla scored a perfect five stars. Relevant supplemental safety features such as airbags and antilock brakes came standard, even for entry-level variants.
>>> Related: Toyota Corolla Big body: The perennial family sedan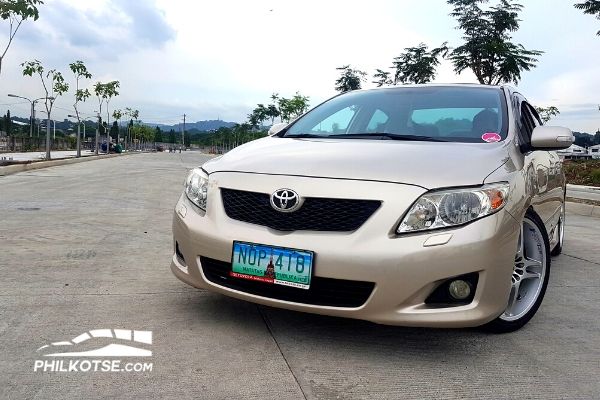 The Corolla Altis has "Lexus-like" NVH levels, as well as improved driving dynamics
The only problem with being in a "dime a dozen" crew is expressing yourself; luckily, there are tons of options to customize and make the Corolla your very own. Today we'll be featuring a great example of what tasteful modifications can do to a regular old Corolla, especially a 2010 Altis 1.6G running on a 3ZZ engine and a 4-speed automatic transmission.
It sounds pedestrian in almost every way, but believe me when I tell you that definitely is not the case.
>>> Find more affordable Toyota vehicles in our Toyota for sale page to get the best deal.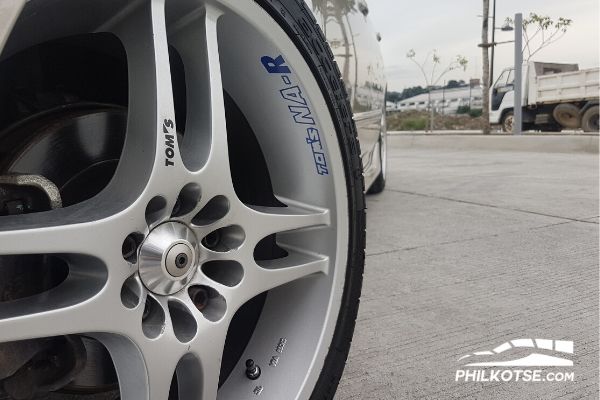 These wheels make die-hard Corolla fans drool
Owner Robby Cireneo has always wanted a car that he can rely on; something he can bring every day to his real estate job, and will start on the first click. The Corolla Altis easily fit the bill.
He came into possession of this Toyota Corolla Altis 2010 with just about 40,000 clicks on the odometer, perfect for a used car. But then he didn't stop there, as he got bitten by the modding bug. He was inspired to go the all-out Japanese Domestic Market (JDM) route on his daily driver. Under the hood, the Altis makes an ample 110 hp and 150 Nm of torque.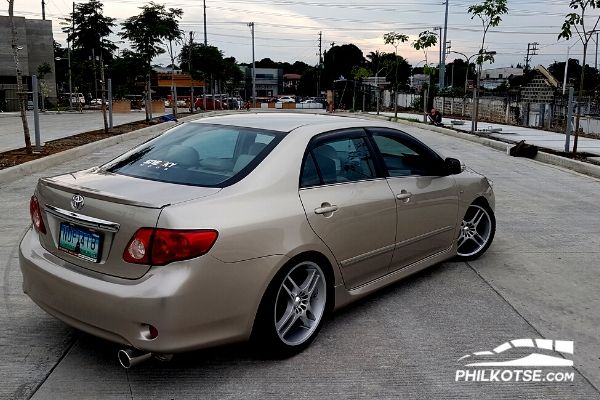 As far as car choices go, the Corolla Altis is a no-brainer.
>>> Read more articles about modified cars:
Honda Civic fans might mock the Corolla's lack of horsepower, but these machines were not intended for engaging VTECs in an all-out drag match. The beauty of a Corolla engine is that unlike on other cars, power comes much earlier in the rev range, thanks to an intuitive Super-ECT 4-speed automatic transmission that efficiently puts the power down on demand.
Helping the engine further utilize that power is a K&N short ram intake running through the exhaust system to a Fujitsubo FGK chambered muffler, that gives it a pronounced bass sound during start-up, idle and acceleration.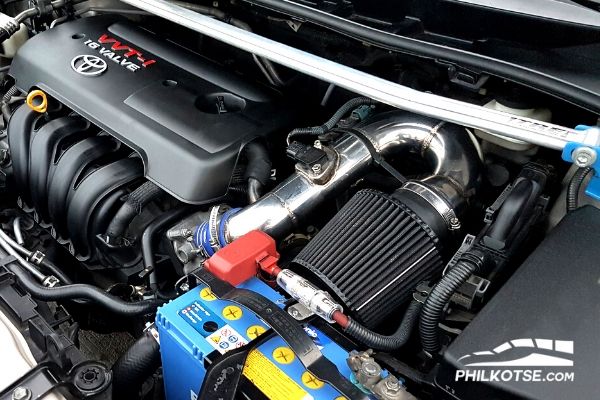 The 1.6-liter 3ZZ engine is refined and frugal
No self-respecting tuner will omit their car's suspension system, as this 2010 Altis 1.6G is lowered with performance BC coilovers, offering better stability and improved suspension dynamics. The front car coilovers are further reinforced by a stiff TRE strut bar, making the car ride like it was on rails.
The real show-stoppers, however, are those gorgeous 18 x 8.5 Tom's NA-R with a +45 offset riding on Accelera 235/40 Tires. The stance of the car is just superb, proof that with the right amount of mods and proper research, you can turn a regular old 'Rolla into a swag cruiser.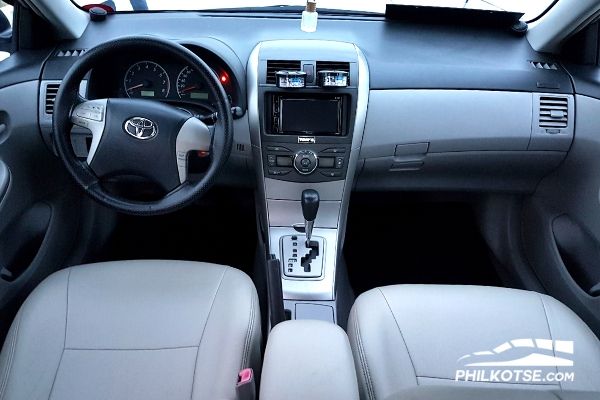 The inside has been left clean and proper
Helping the car stand out from the pack are some really tasteful body modifications, like OEM side skirts and grille taken from the 2.0-liter 2.0V version of the Corolla from the same period. Flanking that grille are stock headlamp housings modified with powerful Keon Sondra LED lights that can light up even the darkest of alleyways.
At the rear, you'll also find a ducktail spoiler. Robby maintains the car's clean look by lovingly cleaning and waxing it, thanks to Nifty Garage detailing.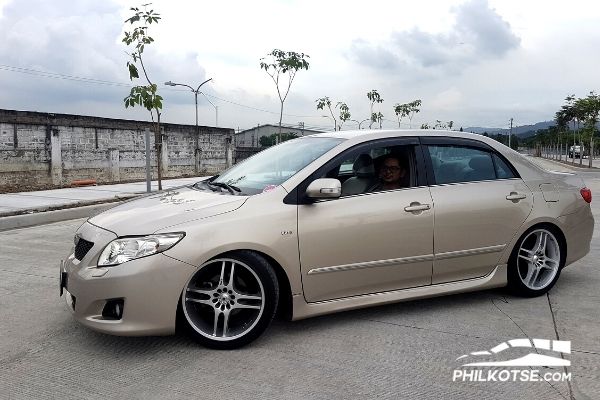 Those 18-inch mags give the Altis 1.6G a powerful stance
As extensive as the outside modifications have been, the interior has been left clean and proper, for the most part. The center console stack has a 2-din Pioneer 205BT with a 6.2-inch touchscreen that supports Bluetooth, USB connectivity and smartphone integration. Sounds are pumped throughout the cabin via Category 7 separates and an Infinity Harman Kardon subwoofer. Personally, I'm not too big on audio mods, but once Robby up those speakers, the sound quality is just sublime. I think with our traffic situation, having a great entertainment system is almost mandatory.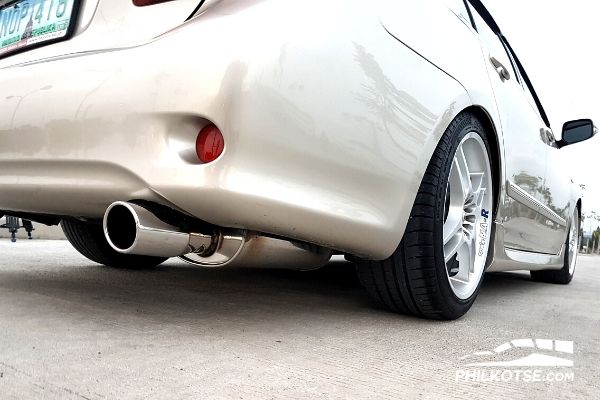 A Fujitsubo chambered muffler gives the Corolla Altis a pronounced bass sound
Looking at the car from every angle, it's difficult to find fault with the owner's vision of how he wants it to look like; in fact, even to a non-car guy, it still looks like a work of art. Standing side by side with newer cars, the 2010 Corolla Altis 1.6G can still go toe-to-toe with the best of them.
I'm admittedly a Honda Civic fanboy, raised to be averse to the Corolla, with their rivalry and such. But looking at this mechanical masterpiece, 44 million car buyers can't be all wrong.
>>> Widen your search in our Car for sale section for a various choice of the car brands and models.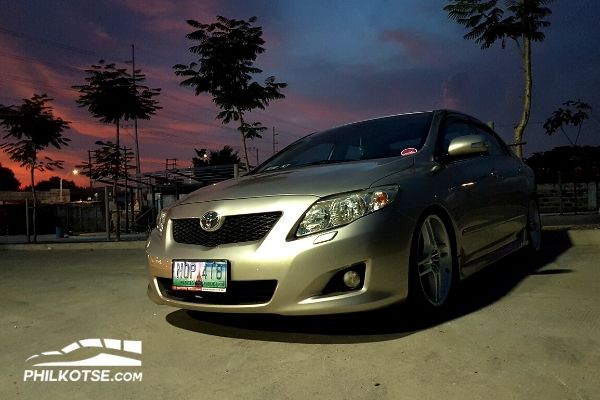 This car is beautiful in every light and angle
Stay tuned to Philkotse.com for all the latest news, reviews and insights on everything about cars and car culture in the Philippines! If you have any car you want us to feature, follow Philkotse.com on Instagram at @philkotse.philippines, or send me an email at leroy.robles@philkotse.com.

Know more about Toyota Corolla Altis 2023

The Toyota Corolla Altis is Toyota Motor Philippine's entry into the compact sedan segment. Currently, this model has four available variants. There's the Corolla Altis E 1.6 CVT, the Corolla Altis G 1.6 CVT, the Corolla Altis V G-RS 1.6 CVT, and the Corolla Altis V 1.8 Hybrid CVT. These come with a price ranging from Php 1,054,000 to Php 1,665,000.
There are two engine options for the Corolla Altis. For the midspec G and entry-level E, they use a 1.6-liter inline-4 gasoline engine that makes up to 121 horsepower and 153 Nm of torque. The top-spec V trim meanwhile, gets a 1.8-liter hybrid engine that can deliver 121 horsepower and 207 Nm of torque.
For transmissions, all of this model's variants use a continuously variable transmission.
Size-wise, the Toyota Corolla Altis comes with a length of 4,630mm, a width of 1,780mm, and a height of 1,455mm. It also has a wheelbase length of 2,700mm, and a ground clearance of 175mm.
In the local market, the Toyota Corolla Altis mainly competes against the likes of the Honda Civic, Mazda3, MG 6, among others.

Roy Robles
Author