Families to car tuners favored the E100 Corolla
We are all familiar with the Toyota Corolla. Even non-car enthusiasts can recognize it, and some who even dislike cars know of it. It is after all, one of the models, if not the model, that placed Toyota in the map.
For Filipinos, the Corolla E90 "Small Body" was incredible. It was affordable and compact, but even so, it was spacious enough to function as a family vehicle. When 1992 rolled around however, Toyota brought in the E100 "Big Body" for the Philippine market. It was received well, so well in fact, that a lot of people today are lovingly restoring these cars back to their former glory.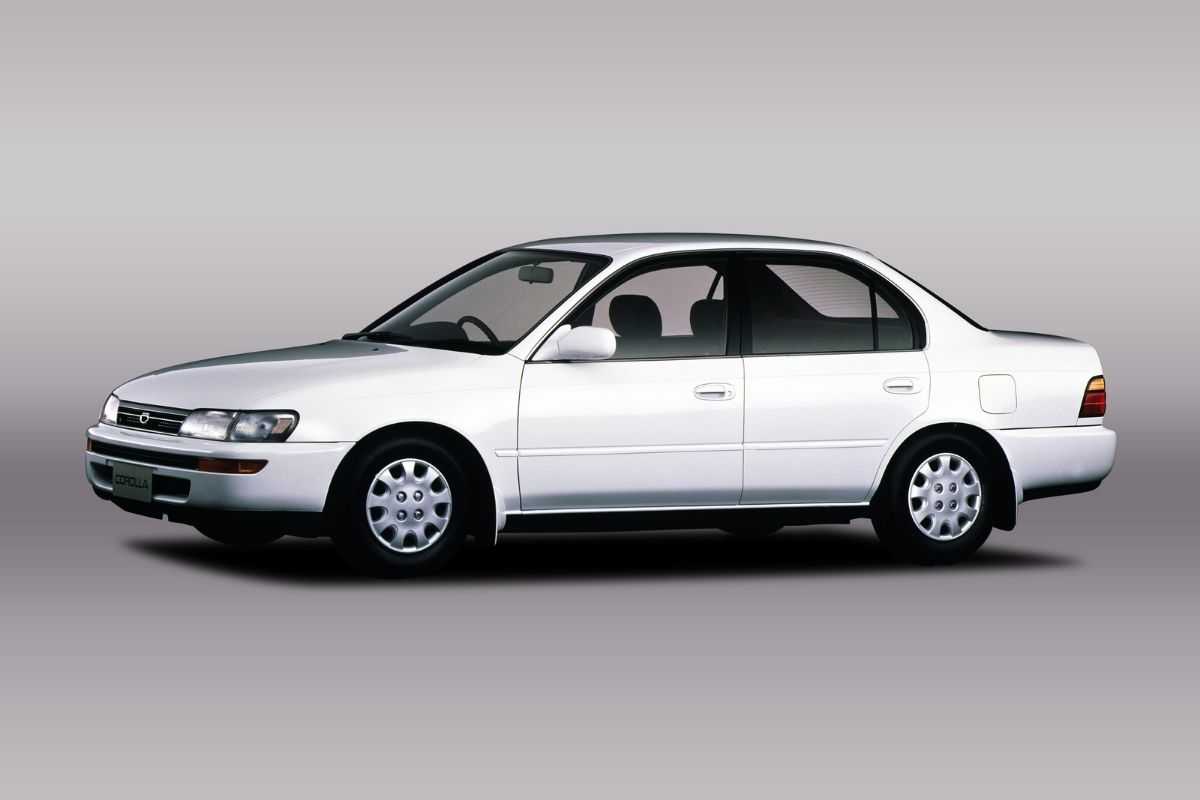 The Toyota Corolla E100 "Big Body"
Well, that's unsurprising seeing that most of the people buying and repairing these as a project car, were once little kids who probably rode in the back of their dad or mom's old E100 Corolla.
So why do we love the Corolla E100 so much?
Corolla E100 Big Body: When larger and heavier didn't mean worse
As the brainchild of Dr. Akihiko Saito, the E100 Corolla was a car designed as a "mini-Lexus." For the sedan version that was released locally, its wheelbase was 30 mm longer than the previous version. Its body itself was also longer and wider, making it a larger model overall. And when it came to its exterior design, the E100 also became rounder and smoother than its boxier predecessor.
While it offered more interior space due to the sizing changes, the Corolla E100 became heavier with a curb weight of 950 kg. That's around 40 kg heavier than the E90 Corolla. What made it heavier was the new engines, which we'll talk about later. It also came with new features that added on its weight like a digital clock and tachometer, 60:40 folding seats, among others.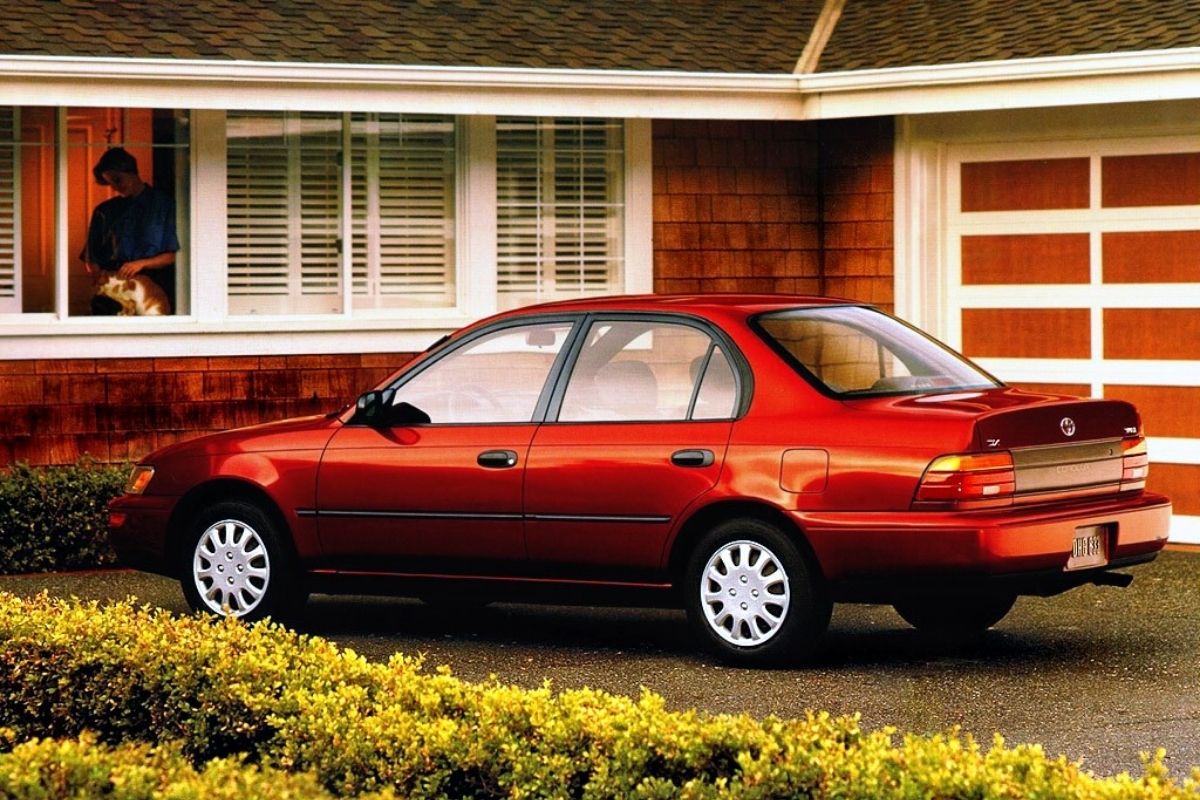 The E100 offered more room than its E90 predecessor
As we've said, another consequence of its growth was that it offered more space. We're talking about more legroom and luggage space. This, of course, was a boon for those looking for a family car.
As for the top-spec GLi variant. It came standard with power windows, a central locking system with a car alarm, a defogger for the rear window, and a digital clock. On top of those features, Toyota added cupholders and seat belts as a standard in 1994. The added safety features also quickened the Corolla Big Body's position as a favored family sedan.
Do note that while this set of features are a staple in modern cars today, these were already bordering on the premium back in the early 1990s. As a whole, however, the Corolla E100 prioritized functionality over style. This was especially prevalent with the entry-level variants, as their interiors were dominated by tough, hard plastics. These were far from pretty, but it has been noted that they could last for years. And yes, its plastic door panels could take a beating from your little tykes.
>>> Related: The Toyota Celica: The OG liftback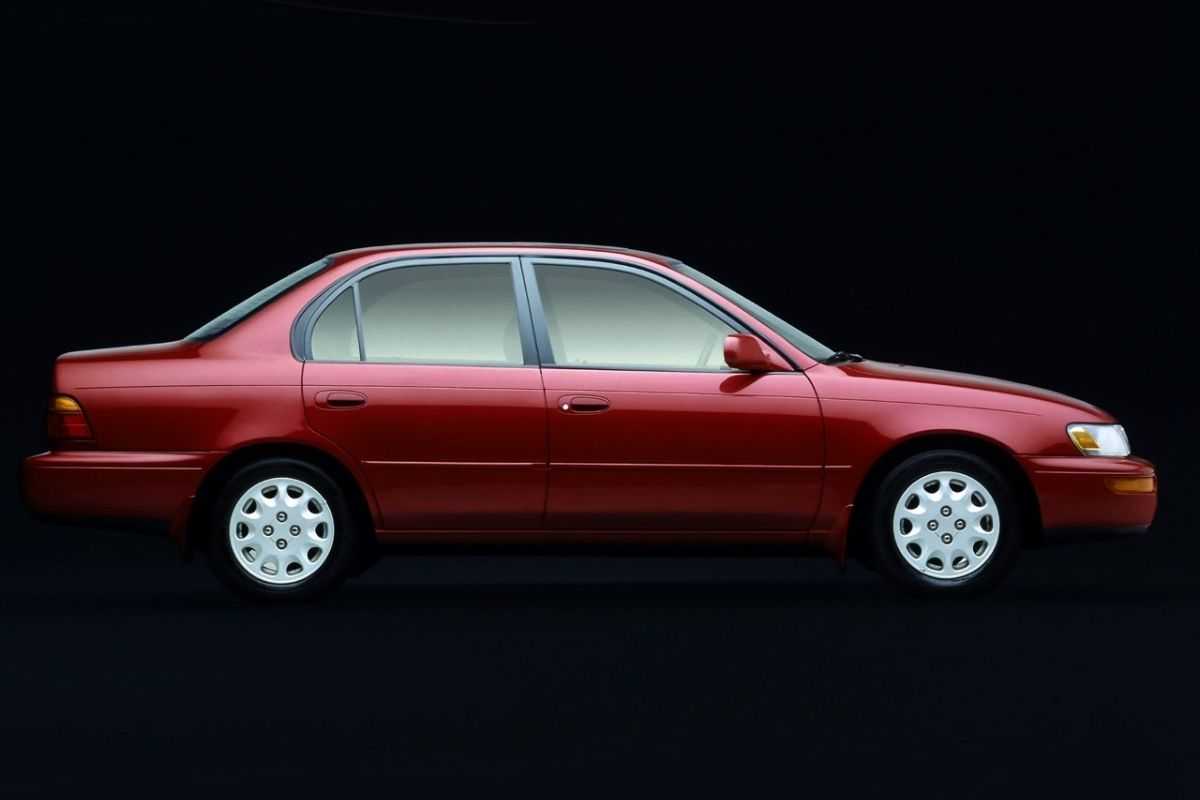 From the side, one can view the E100's planted stance and smooth roofline
Throughout its production run, the Big Body Corolla had two engine options. The smaller engine, which came on the entry-level XL and XE variants was the 1.3-liter 2E SOHC inline-4 engine. It had 16 valves, and at the most, it made 72 horsepower and 98 Nm of torque.
Being a simple, low-cost mill, the 2E engine was carbureted, and the XL and XE were both paired to a five-speed manual gearbox. This meant that a fairly competent mechanic can repair the 2E engine with minimal tools.
The top-of-the-line Corolla GLi in turn, used the larger, more powerful, 1.6-liter 4A-FE inline-4 gasoline engine. It was more complicated as it used electronic fuel injection, but it made more power at a maximum of 113 horsepower and 140 Nm of torque.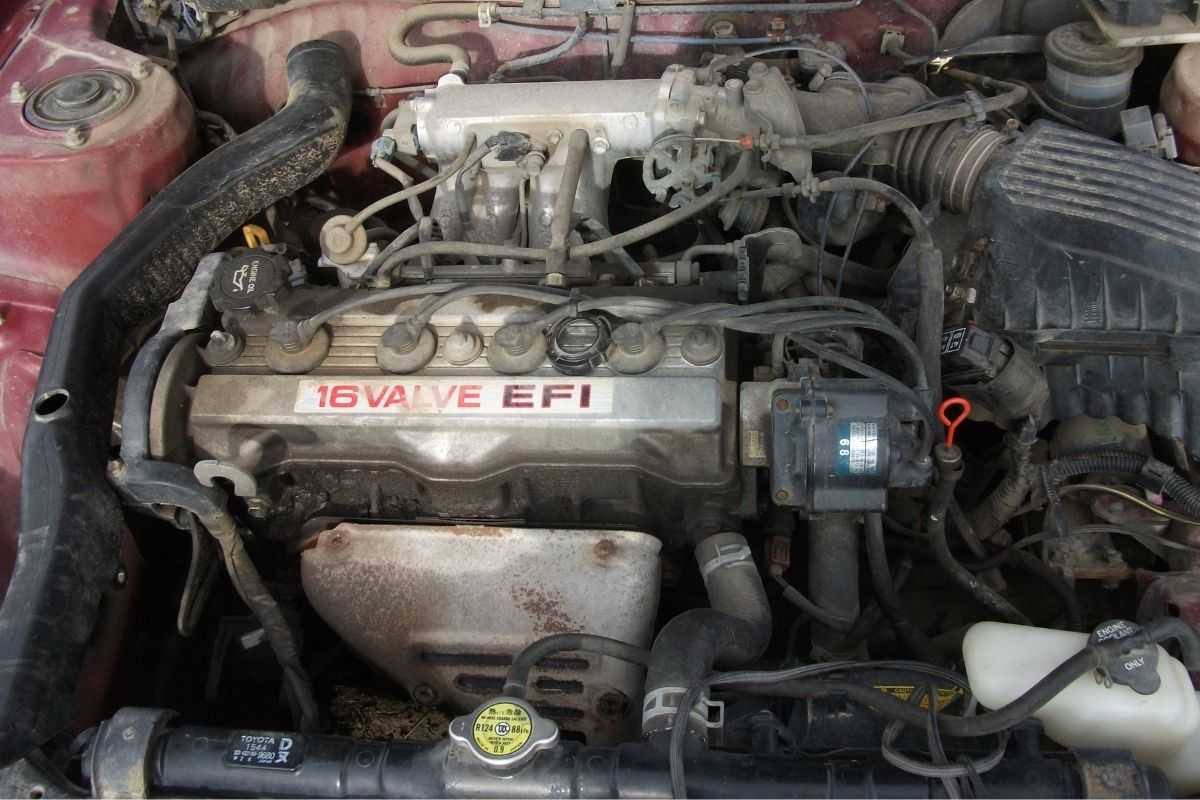 The 1.6-liter 4A-FE inline-4 engine available on the Corolla E100 GLi variants
While both the GLi, XL, and XE all used a front-wheel-drive layout, only the top-spec variant can come with an automatic. The GLi and XE also had power steering, which made these two favored by families living in the city who needed a cushy, easy-to-drive daily car.
With that kind of power, the E100 was already more than a match for its competitors. It's even more powerful than many sedans today. It even has more oomph than the Toyota Vios, which itself can be called the modern-day equivalent of the Corolla at least for the Philippine market.
More importantly, however, the E100 Corolla was as reliable as the smaller E90. This was on top of the fact that at that time, it could still be acquired without breaking the bank while offering a sufficiently comfortable, spacious, and feature-rich interior.
>>> Related: TOYOTA COROLLA ALTIS 2011 FOR SALE
Corolla E100 Big Body: Tuner's favorite
While many families liked the E100 Corolla for its fuel economy, affordability, and practicality, many car tuners like it for its versatility. Also, maybe due to nostalgia but that's just part of the E100's charm, right?
Of note, the Corolla's engine bay can actually fit a lot of other engines. Many have swapped the 4A-FE for its more powerful 4A-GE cousin. Some even managed to jam in the turbocharged 4E-FTE that was initially found on the Toyota Starlet GT Turbo, and the Toyota Glanza.
There's also the fact that even today, many aftermarket parts manufacturers also cater to the E100 Big Body tuner crowd. There are brands like maXpeedingrods, D&D, and many others who still cater to those wanting to squeeze out more power and handling from the Big Body Corolla.
>>> Related:Toyota Crown: The peak of 1990s Japanese luxury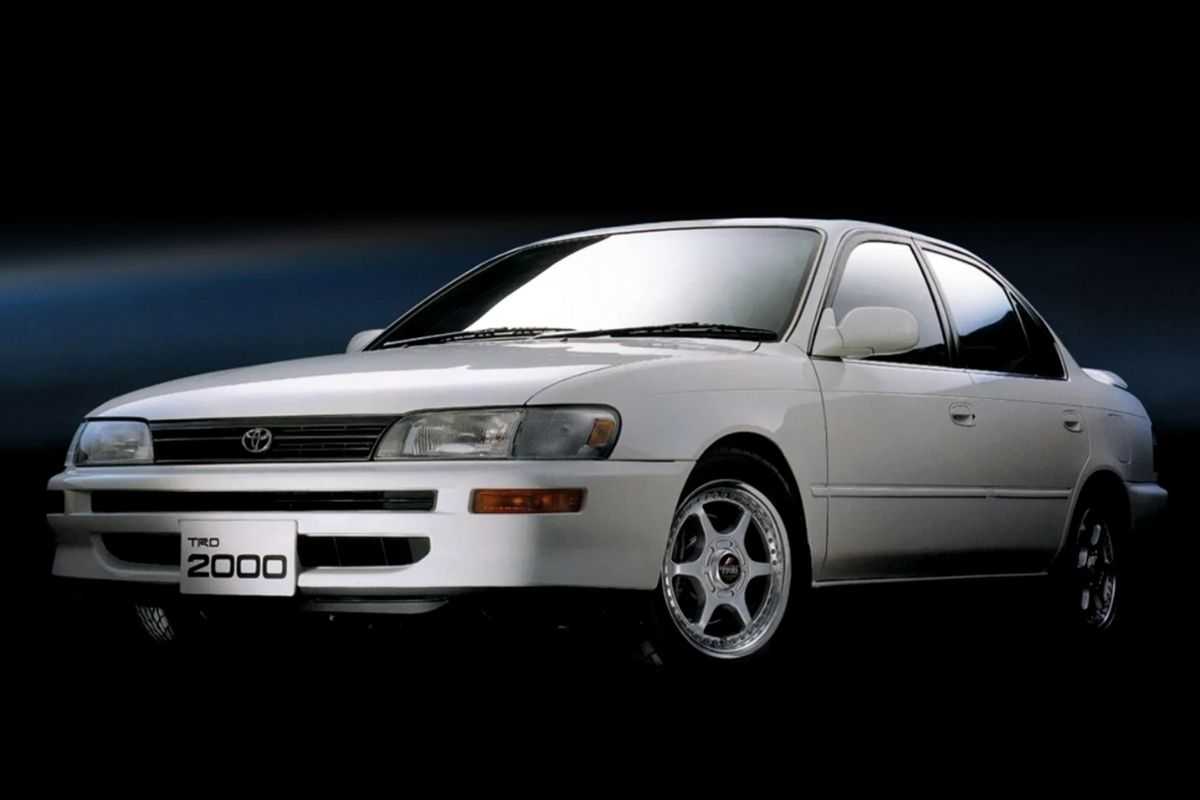 The Corolla TRD2000 is the rarest Toyota model, if not one of the rarest JDM cars ever made
As with most Japanese-made models, however, there are the versions that we didn't get. The most notable of course is the Toyota Corolla E100 TRD 2000, which surprisingly, was even more expensive than the Celica GT-Four ST-205. It was powered by a 178 horsepower 3S-GE engine, and it also came with a mechanical limited-slip differential, Yokohama Grandprix M5 tires, TRD brakes, Konig bucket seats, among others. Sadly, only ten of these amazing Corollas were built.
Yes, the Philippine market also received the TRD Sport version in 1996, but this was mechanically identical with the GLi. It did have different special body kits, and other parts unique to them, but other than that, they didn't offer much difference in terms of performance.
Later in 1999, the TOM's Corolla Turbo was introduced. It also had special body kits and parts, but one thing that set this version from the TRD Sport Version, is that it came equipped with actual mechanical upgrades. These included a TOM'S strut bar, TOM'S sport muffler, and a TOM'S turbo kit with an intercooler, which was tuned and designed for the Philippine market.
>>> Related: Toyota Corolla E90: 33 years old, and still going strong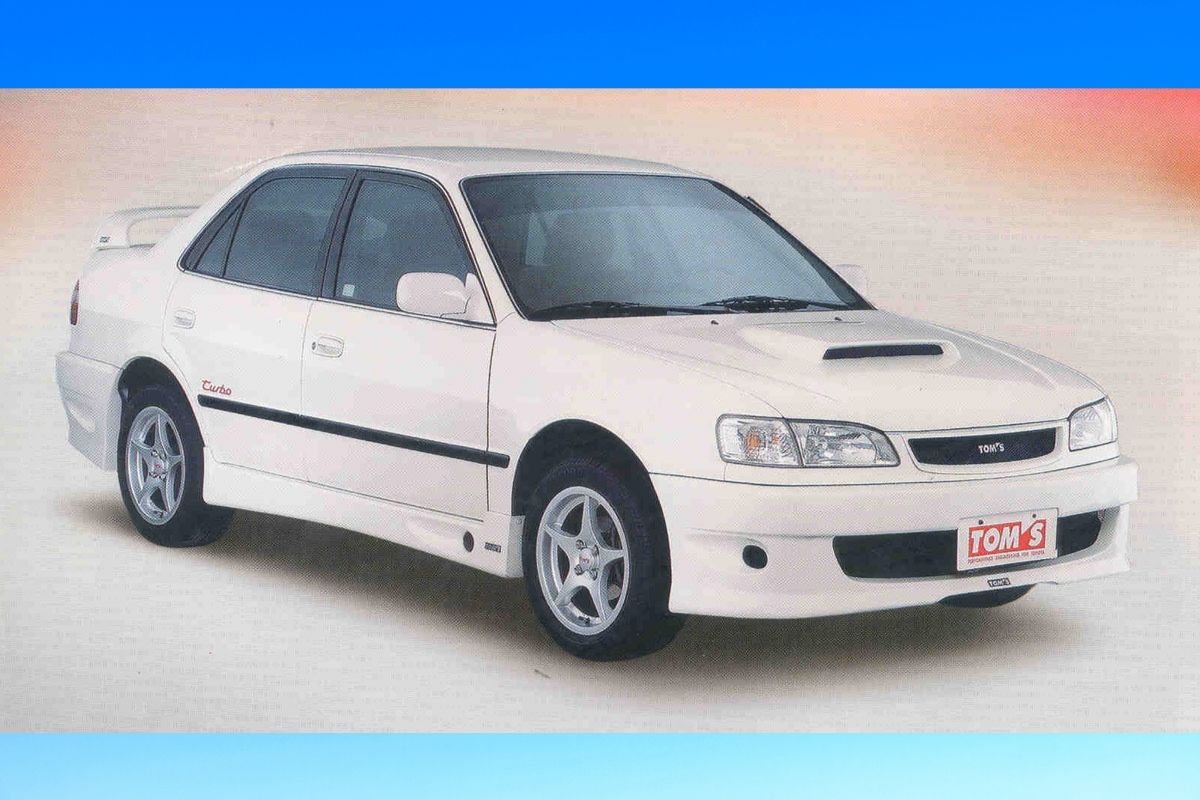 Surviving examples of the TOM's Corolla Turbo is hard to find nowadays
According to several sources, the special edition Corolla TOM'S variant could make up to 150 horsepower. It was a zippy car that looked great, but alas, it was overshadowed by the very popular Honda Civic SiR.
Do you miss the Toyota Corolla Big Body? Would you like to relive the 1990s and drive one? For this, do check out our Toyota Corolla car for sale section. If you want to read more articles like this, keep reading here on Philkotse.com.


Cesar G.B. Miguel
Author