Every wonder why a lot of people still want a Civic SiR? 
If you grew up in the 90's, then one of the cars that you may have dreamt of owning one day, have owned, or your dad owned, is probably a sixth-generation Honda Civic.
The Civic now has 10 generations, the latest of which is the FC (sedan) and the FK (hatchback/Type R). Despite the newer iterations, there might probably be many of you who are of tito and tita age that will always think back to one particular model of the sixth-gen Honda Civic; the SiR. It's 21 years old now, but it's still one of the most popular versions of the Honda made sedan here in the Philippines to this very day. Now why is that the case?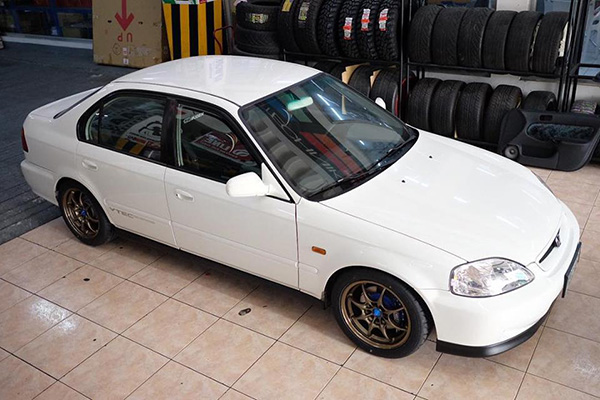 And despite its age, the Civic SiR is still a great looking car. [Source: Autocircuit]
Honda Civic sixth-gen: A little bit of History
Introduced initially in Japan in 1995, and then in the Philippines and the rest of the world in 1996, the sixth-generation Civic came in many flavors. It had a two-door coupe version, a four-door sedan, and a two-door coupe.
The Honda Civic released specifically for the Philippine market however were the LXi 1.5-liter SOHC, or the one without VTEC, and the 1.6-liter SOHC with VTEC. Both came in a sedan body style, had front disk and rear drum brakes, as well as two transmission choices; a four-speed automatic and a five-speed manual.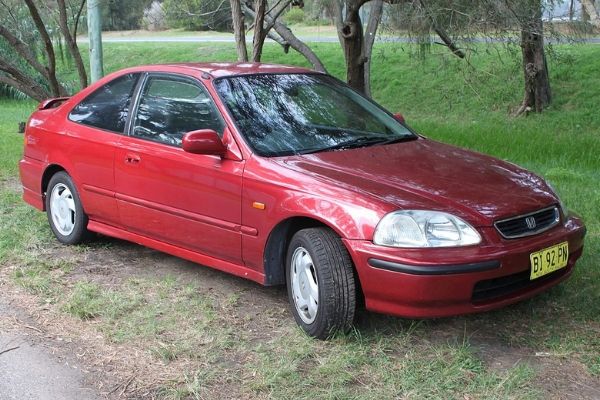 Here's a Honda VTi. It ain't as beefy as the SiR but it still looks cool
In 1999 however, the sixth-generation Civic received a facelift. Along with that, the Philippine market also received the Honda SiR. Everybody went wild for it. From serious car enthusiasts, college runts, to middle aged mid-life crisis types, a lot of people wanted one, and thus, bought one.
Due to its success, the Civic SiR even heralded a slew of other high-performance cars released on the Philippine market like the Nissan 200SX, the Mitsubishi Eclipse, and many others.
Also, it's important to point out that like its humbler VTi and LXi brothers, Civic SiR is a four door sedan. As such, it can comfortably fit four – even five people, it's easy to get in, and it has a trunk. In short, the Civic SiR was, and still is, a car that the missus might not object to.
>>> Check out our list of used Honda Civic for sale at affordable prices in the Philippines
The 1999-2000 Honda Civic SiR: A lot of people still want one
To make the Civic SiR stand out from the base LXi and VTi Civic, both of which already oozed of coolness, Honda gave it several styling upgrades. It came with a set of 15-inch Enkei rims, a very unique selection of body colors, a sporty looking front chin and spoiler, a mesh grille, great looking seat covers, a better audio system, and of course; an SiR badging.
What got everyone's socks off when it came to the SiR were the several mechanical upgrades Honda gave it. It had disc brakes all around, a front upper strut bar, a lower sports suspension, and it used the now legendary B16A2 1.6 liter DOHC VTEC engine, which was rated to make 160 horsepower and 150 Nm of torque.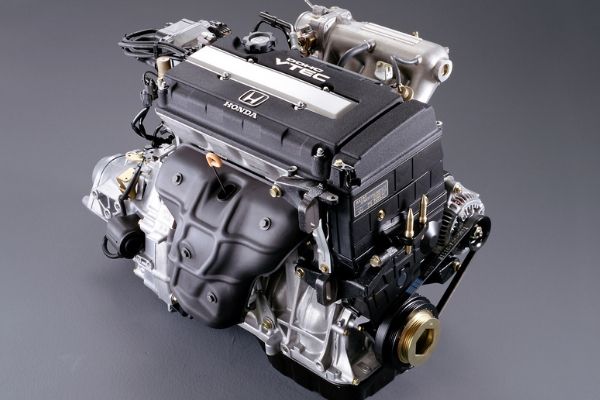 There are more powerful Honda engines than the B16A2, but it's what we got at that time
Big whoop right? Well just so you know, that kind of power was, and still is very significant to Pinoy enthusiasts. Prior to the SiR, the enterprising *cough* "street-racer" had to source a stronger engine to swap into an LXi or a VTi.
Some even resorted to forced induction, which quite frankly, produced very mixed, and sometimes unreliable results at best. Note though that many still gave (or planned to give) the SiR a turbocharger, and guess what, the B16A2 could take the added stress better. This might result in amazing Civic SiR's making up to 200 horsepower or even more if a builder couples it with stronger forged aftermarket internals.
For some who didn't want the turbo lag, Jackson Racing even sells a roots type supercharger for the B-series engine. And yes, while quite rare, some mad folks even made twin-charged Civic builds, which means it both has a turbo, and a supercharger. Ludicrous? Yes. Fun? You betcha.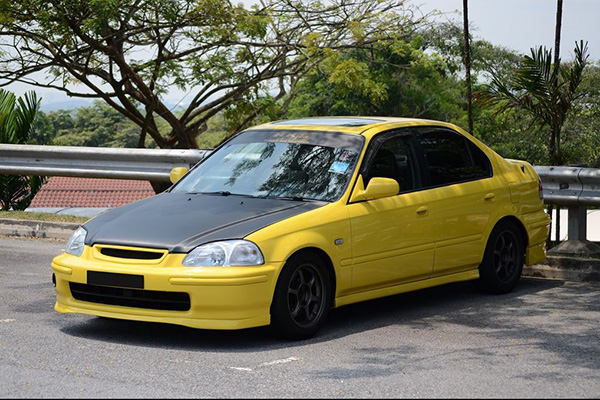 Of course, our nearby ASEAN neighbors also got the Civic SiR. Here's one from Singapore. [Source: nighteye]
We also cannot help but mention the five-speed manual transmission that came with the Civic SiR. It was lighting fast, and yet it was very forgiving, even for ham fisted beginner drivers. It's also probably one of the reasons as to why many favored the Civic SiR more than the more powerful 2.0 liter performance cars that came out that time.
>>> See more: Find the best Honda Civic 2019 price Philippines
The Honda Civic SiR: You can still get one.
As you might already know, the Honda Civic FK8 Type R is already available here in the Philippines. Sure, it's very powerful, and agile, but the price tag, and its exterior styling is just too much for some people. This is where the older Honda Civic SiR can fit in.
Some Civic SiR examples with around 100k plus kilometers on their odometers can be had for around P400,000 to P600,000 depending on its condition. Some stock ones however, since it's now achieved the status of being a classic, Honda Civic price Philippines even higher at around P700,000, with some pristine, low mileage ones even more than that.
Do watch out for pretty banged up ones like this example 
Note though that the B-series, including the B16A2 does have some common problems. So if you're planning to get an SiR, you should check for its camshaft seals, which might be leaking oil, and idling problems due to vacuum leaks. And if the previous owner yanked out the engine, do check the O2 sensor because it's very common for people to plug it in backwards.
And lastly, a lot of surviving Civic SiR examples have been modded to kingdom come. Do check those first, and remove the ones that might compromise safety.
For more nostalgia filled articles like this, keep reading here on Philkotse.com - The best car listing website in the Philippines

Know more about Honda Civic 2023

The 2023 Honda Civic is a compact, five-door sedan. It is now in its eleventh-generation. For the Philippine market, the Civic has a price range of Php 1,583,000 to Php 1,775,000. It has three variants consisting of the V Turbo, and the RS Turbo as the top-spec trim. All of them are equipped with the Honda Sensing driver assist safety suite, and all use a 1.5-liter turbocharged VTEC inline-4 gasoline engine capable of making up to 175 horsepower and 240 Nm of torque. All trims use a continuously variable transmission (CVT).
Size-wise, the 2023 Civic is 4,678mm long, 1,802mm wide, and 1,415mm in height. It wheelbase length measures 2,735mm long, and it has a ground clearance of 134mm. Competitors of the Honda Civic for the Philippine market includes the likes of the Toyota Corolla Altis, Mazda3, Kia Forte, Nissan Sylphy, among others.

Cesar G.B. Miguel
Author