The Thai-spec 2021 Nissan Almera comes with a turbo.
2021 Nissan Almera: What we know so far
While the current Almera is already nine years old, the said Nissan sedan is still doing great in the local market. It's affordable, fuel-efficient, and roomy. It isn't that fast, but it will do its job as a daily driver.
Nissan Almera Product Walkaround
That said, the new fourth-generation Almera is already out. Nissan is already selling it in the United States as the Versa, and it's already up and about in the Thailand compact sedan segment. As you might have guessed, it will eventually make its way to the local market.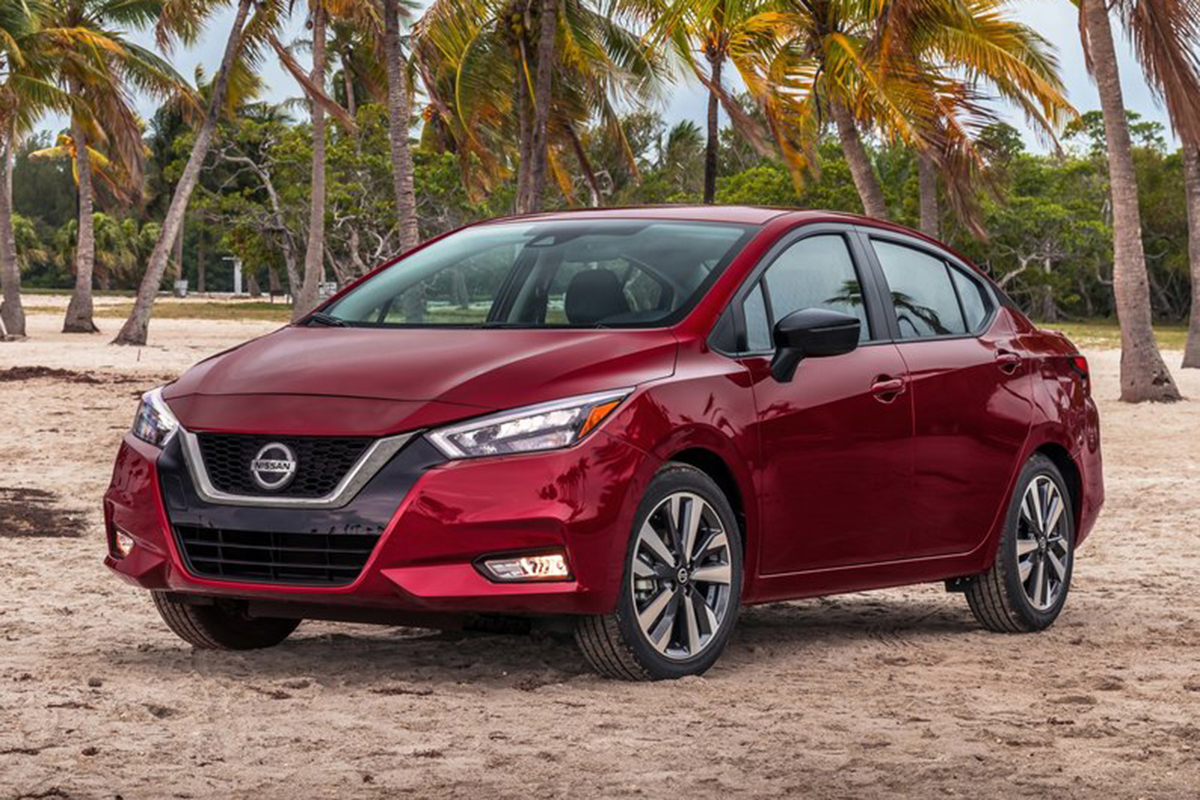 The US-Spec Nissan Versa/Almera
So what can we expect from this new Nissan Almera?
2021 Nissan Almera: Exterior
When it was released, the fourth-gen Almera was well received. It looks much more modern than the current and previous versions, like the Nissan Almera 2014 for example, and it's better equipped too.
For starters, it already comes with a pair of sharp-looking LED headlamps, LED taillights, as well as LED daytime running lamps. The front end also comes with Nissan's signature V-motion grille, and the roofline is much sleeker than before.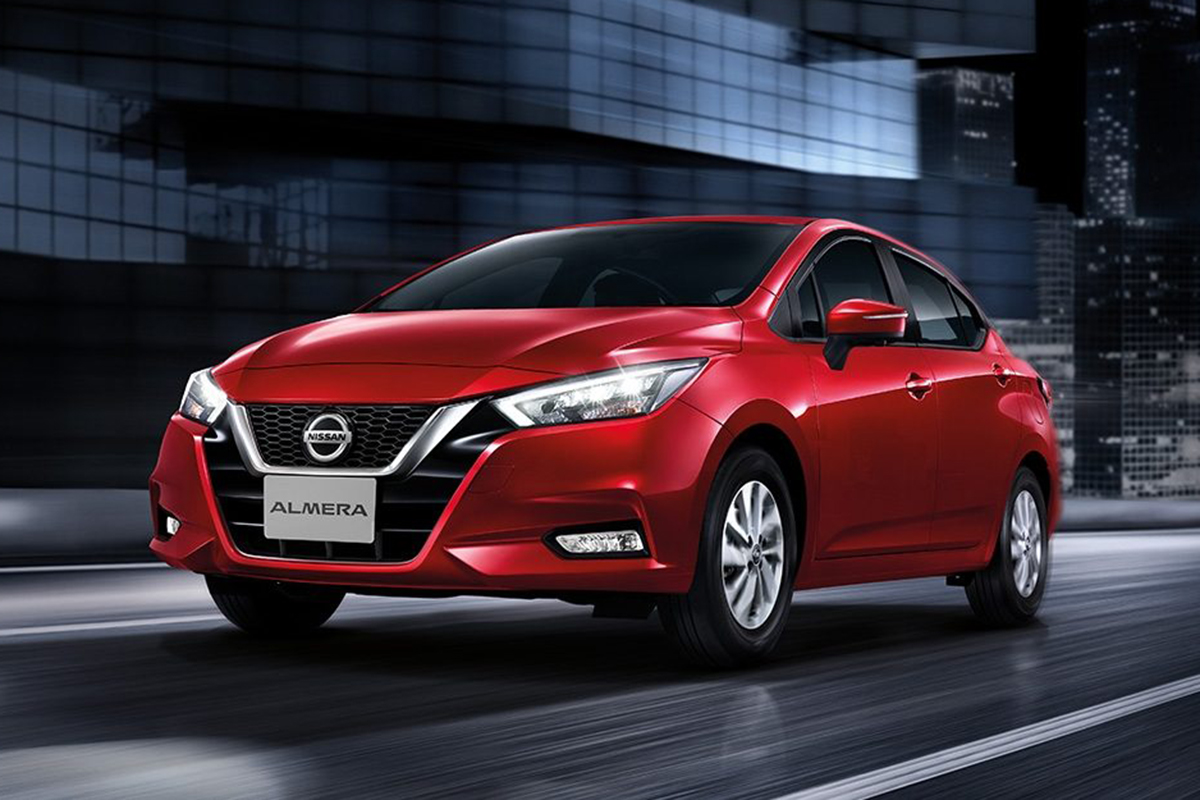 The Thai-spec 4th-gen Nissan Almera
Apart from the better looks and exterior equipment, the new 2021 Nissan Almera is also larger. It is 4,495 mm long, 1,740 mm wide, and 1,460 mm in height. That means that it is 45 mm wider, and 39 mm longer than the third-gen version. This might translate to better interior and cargo space.
The rear end of the Nissan Versa/Almera
>>> Related: 2020 Nissan Almera vs Toyota Vios Comparison: Spec Sheet Battle
2021 Nissan Almera: Interior
Just like the exterior, the interior of the fourth-gen Almera gets a makeover as well. Gone is the predominantly beige interior of the old one, and in its place is a more modern, black and white colored dashboard and seats.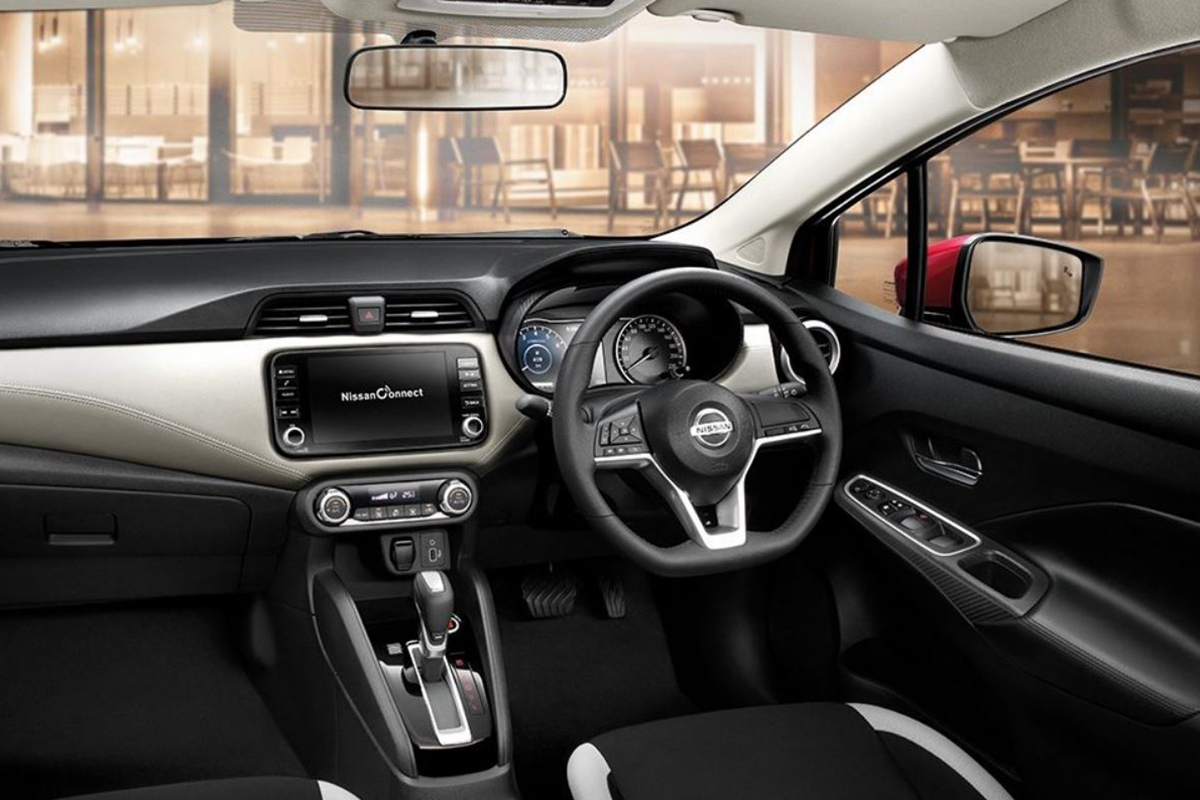 Inside the Thai-spec 2021 Nissan Almera
The new Almera also gains a new flat-bottomed steering wheel, as well as a new eight-inch touchscreen. The said headunit now comes with voice recognition, as well as an offline navigation system. The analog gauge cluster was also ditched in favor of a seven-inch digital one.  Lastly, the round cluster of AC controls were also replaced by more conventional, but neater looking AC controls.
>>> Related: Which 2020 Nissan Almera variant should you buy? [Comparison Guide]
2021 Nissan Almera: Engine and Performance
Overall, the 2021 Almera gets three engine options, all of which were co-developed by Renault and Nissan. The most interesting one is the 1.0-liter inline-3 turbo, which could make up to 100 horsepower and 152 Nm of torque. This engine is then paired to a continuously variable transmission and power is sent to the front.
Of note, the aforementioned powerplant is the only engine available for the Thai-market. As such, there's a chance that the future Philippine-spec 2021 Almera might be getting this engine as well.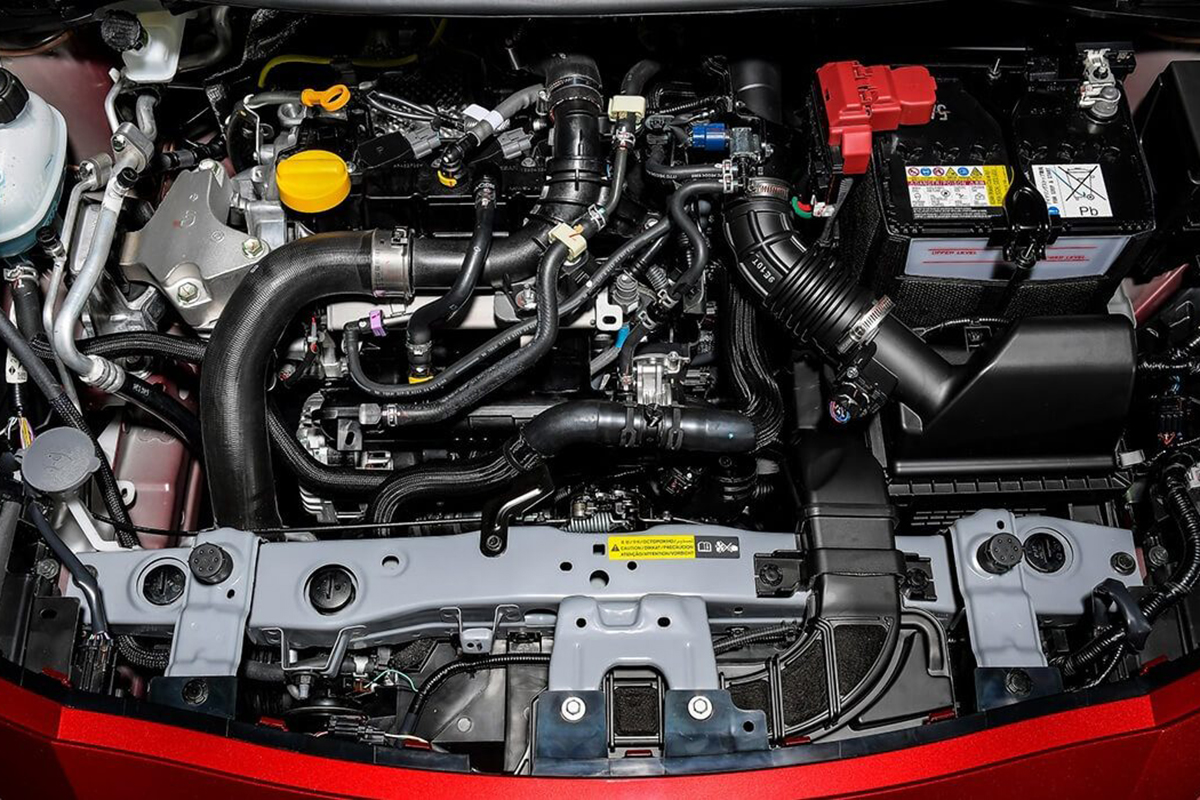 The Thai-spec 2021 Almera's 1.0-liter turbocharged inline-3 gasoline engine
However, there are other engines for the 4th-gen Almera in other markets. There's a 1.5-liter inline-4, and a 1.6-liter inline-4. The latter is the same powerplant available on the current PH-spec Almera, and it can make up to 98 horsepower and 134 Nm of torque. It's paired to a four-speed automatic gearbox, or a five-speed manual.
The other one is a 1.6-liter inline-4 that can produce up to 118 horsepower and 158 Nm of torque. It's currently found on the Nissan Kicks.
>>> Related: List of Nissan Almera for sale on Philkotse.com
2021 Nissan Almera: Safety
For safety, the new Almera definitely gets serious. The top-variant in the Thai-spec lineup comes equipped with six airbags, anti-lock braking with electronic brake distribution, among others.
The icing on the cake for the new Almera however, is that it's now equipped with the Nissan Intelligent Mobility safety suite. This means that it comes with an around-view monitor with a moving object detection system, rear cross-traffic alert, forward collision warning with automatic emergency braking, blind-spot warning, as well as hill start assist.
2021 Nissan Almera: Final Thoughts
We are optimistic that the new Almera will eventually make its way to the Philippines. Our market sources cars that are built/sold in Thailand after all. Also, the Honda City, one of the Almera's rivals, is already here in the Philippines. That said, Nissan Philippines might want to catch up.
Interestingly enough though, the Thai-spec City, like the Thai-spec Almera both have turbocharged engines. However, the PH-spec version of the new Honda City is not offered with a turbo engine. That said, Nissan might do well to introduce the turbocharged fourth-gen Almera locally as that might sway more buyers to the said model.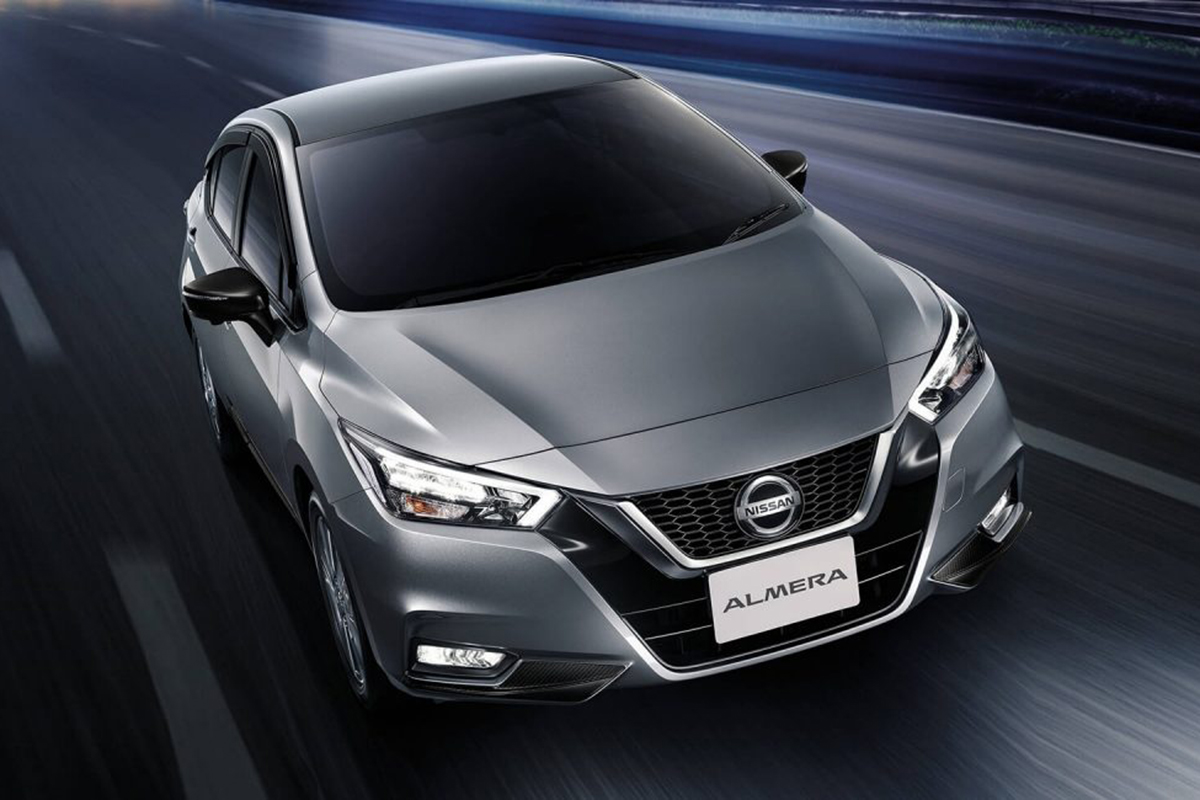 The Thai-spec 2021 Almera with the optional accessory package
Also, the more powerful 1.6-liter version is also a good option. It's definitely less complex than the turbocharged three-cylinder mill, so it might lessen production costs. It's also a bit more powerful than the 1.0-liter inline-3 turbo engine. Note however that production streamlining is a thing, so there's still a high chance that the future PH-spec will indeed get a turbo.
>>> Related: NISSAN ALMERA 2013 FOR SALE
2021 Nissan Almera: Expected Price
Currently, the Thai-spec fourth-gen Almera's price ranges from 499,000 Baht to 639,000 Baht. That's a range of Php 794,245 to Php 1,017,079.
Note that these figures don't take into account taxes, logistics costs, etc. As such, we can expect the upcoming PH-spec Almera to be priced a bit higher than that.
For more automotive news, car reviews, and tips on car care and maintenance, keep reading here on Philkotse.com.
Know more about Nissan Almera 2021

<p>The <strong>Nissan Almera</strong> is a sedan known for its reliable performance on the road and affordability. Though categorized as a subcompact vehicle, it offers a surprisingly spacious cabin, wide cargo compartment, and fitted with one of the strongest air conditioning systems in its class. Its nameplate has been used by the Japanese car brand since 1995 as a sedan with a compact configuration. And only in 2011 when Nissan introduced the model&#39;s subcompact configuration as standard&nbsp;for numerous markets including the Philippines.</p>

Cesar G.B. Miguel
Author