This is refreshed 2020 Nissan Kicks and it kicks ass with battery power.
Finally, the 2020 Nissan Kicks e-Power debuts despite being delayed due to the COVID-19 outbreak. According to Chobrod.com, it was originally scheduled to be launched on March 19 in Thailand, but now we get to see what the latest version of this Nissan crossover can offer.
[All-New NISSAN KICKS e-POWER] Official live - NissanThailand
2020 Nissan Kicks: Compact but sharp
On the outside, starting from the front of the Kicks, the first thing you'll notice is a larger V-motion grille than before, as well as a pair of slimmer headlights.
The bumper is also much more aggressive than the previous version, and it also comes with a pair of fog lamps that are housed in what one could easily mistake for air-intakes.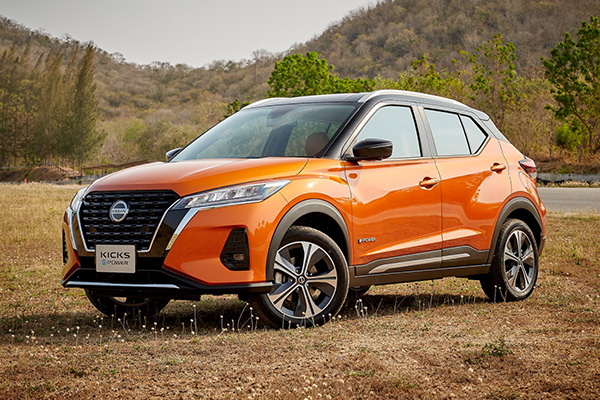 The new 2020 Nissan Kicks looks similar to the U.S. spec Kicks
Towards its sides, you'll quickly notice the blacked-out C-pillars, which provides it with a floating roof look, as well as a rear diffuser for the rear end.
>>> Related: Are there possibilities for us to see the Nissan Kicks in ASEAN soon?
2020 Nissan Kick's e-Power System
Already in use on the Nissan Note and Nissan Serena, the e-Power System isn't your run of the mill hybrid powertrain. This is due to the fact that its combustion engine, instead of working in tandem with an electric motor, the e-Power system uses it to charge its batteries instead.
In the case of the new 2020 Kicks, it uses a 1.2-liter three-cylinder gasoline engine that makes 79 horsepower, which then charges up a 1.5kWh battery to power the EM57 electric motor.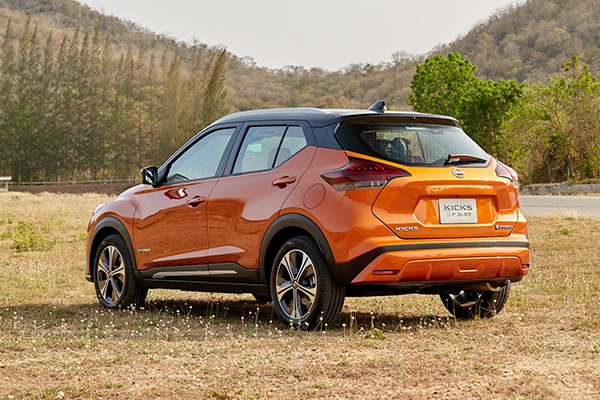 Here's the rear-end of the new Nissan Kicks e-Power
The said electric motor can make up to 127 horsepower and 254 Nm of torque, powering the front wheels exclusively. In short, it's an EV that doesn't need to be plugged in order to charge.
2020 Nissan Kicks: Other markets and competitors
The all-new Nissan Kicks will be launched in other markets like in Malaysia. As for the Philippines, there's no word yet on that but considering the Hyundai Kona, Subaru XV, Ford Ecosport, and the Geely Coolray is doing quite well here, Nissan would do well to introduce this new crossover to the country.
>>> Related: Nissan SUV Philippines: List of all models, price & brief review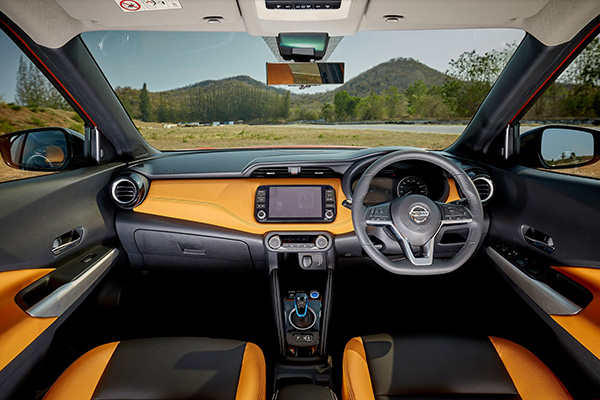 A quick look at the two-tone cabin
We still have the Nissan Juke, though, but think of it this way: what if this new Nissan Kicks replaced the Nissan Juke since there isn't any news about the Philippines getting the new, second-generation Juke in the first place?
For more news on the latest car releases, keep reading here on Philkotse.com.
Know more about Nissan

<p>Looking for a convenient way to browse Nissan automobiles online? Philkotse.com offers the widest selection of available Nissan cars in the Philippines today. You may also enjoy exciting promos and deals, as well as get the most updated Nissan price list in the Philippines today. Also, know the latest news, reviews, and information about your favorite Nissan vehicle.</p>

Cesar G.B. Miguel
Author