What a complete 180. Here's a full, in-depth review of the newest Nissan offering.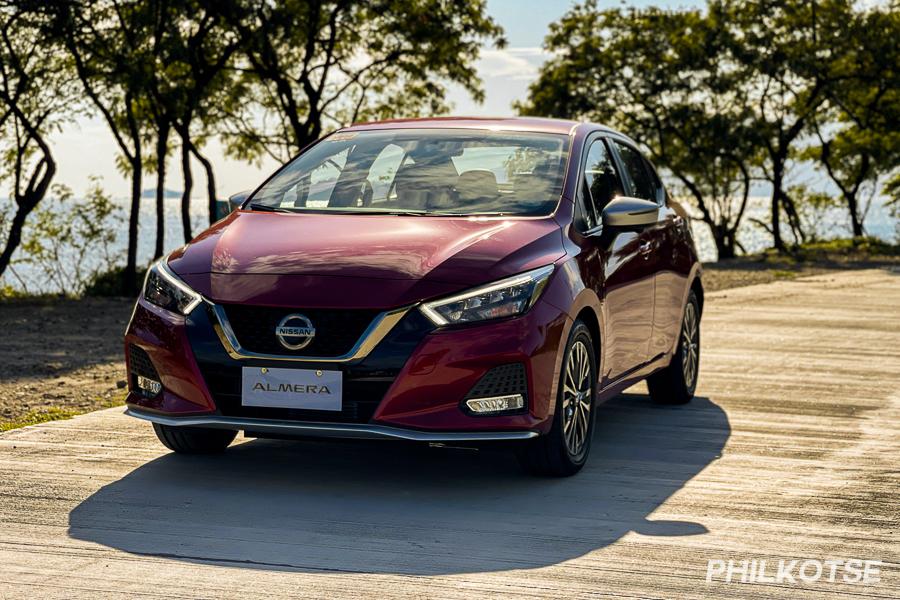 In this review...
Is it worth the wait?

Exterior

Interior

Tech & Safety

Engine & Performance

Fuel Efficiency

Verdict

Variants and Price

Color Options

Specs
2022 Nissan Almera Review: Is it worth the wait?
Exhilarating to drive, a fun runabout, a pocket rocket – a lot of things can be said about the outgoing third-generation Nissan Almera but none of those things can be found on the first phrases I dropped for this story.

Truth be told, I have never been excited to review a subcompact sedan, more so, the Nissan Almera. The nameplate has always struck me as a practical choice among small car buyers, having one of the biggest interior spaces wrapped in a non-emphatic styling. It was a so-so model, some would say. Well, that's until today.
2022 Nissan Almera: Turbohan All the Way | Philkotse Quick Look
With the all-new Almera now on our shores, albeit a bit late, it's time for a full Nissan Almera VL N-Sport review. At this point, let me spoil the party – it's a full reversal of what you and I currently know about the nameplate, for better or for worse.
Overall exterior & Interior design, build quality, form vs function

Number of safety & tech features, consistency during usage

Power delivery, acceleration, transmission, suspension, handling

Overall Ride Comfort, Space, Storage Areas

Sticker price vs overall package
2022 Nissan Almera Exterior Review: Spotless
By looks alone, I'd be starting this review with a high note and praises for the small Nissan sedan. The new Almera is a huge departure from its predecessor, now donning a sharp styling as opposed to its previous typical and boring design.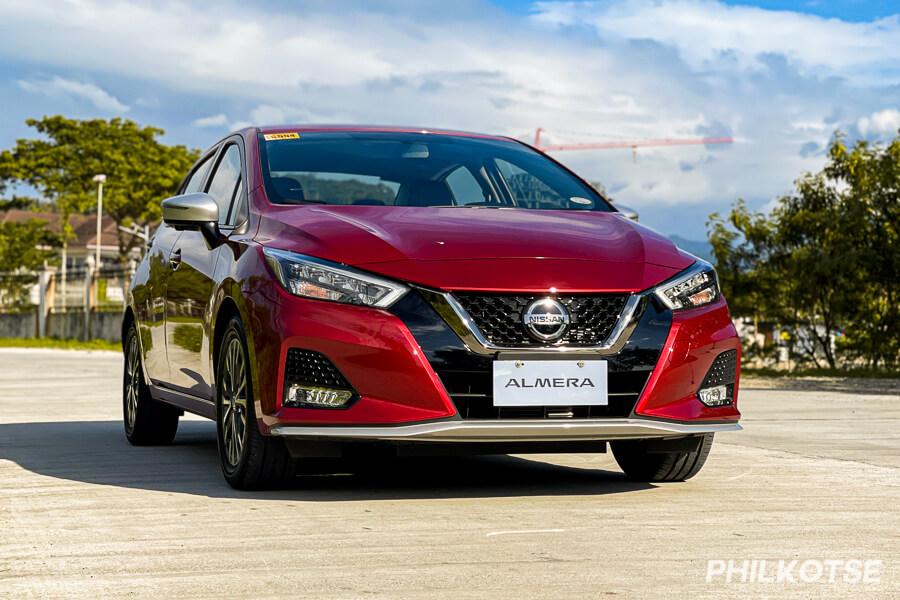 The all-new 2022 Nissan Almera
In the photos, the 2022 Almera looked great; in the metal, it arrives with a statement that abhors every other small sedan in the market today. It's that good. Bonus points for looking a lot like the Nissan Skyline in Japan, ergo, the Nissan GT-R, but that's just me.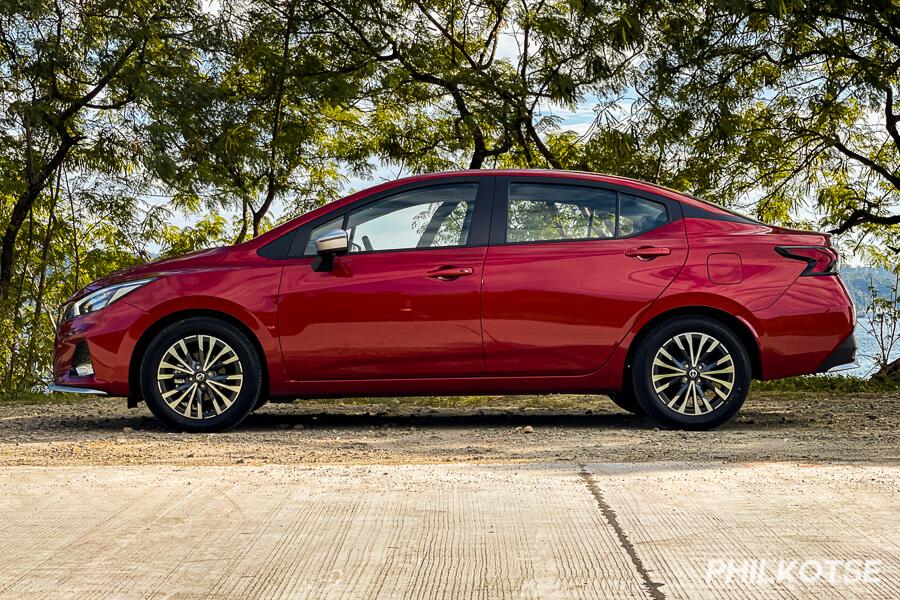 The new Almera from the side
Despite adopting LED headlight and taillight design ethos from the Nissan Terra, the Almera has a character of its own. However, my adoration's amplified with its side profile, which comes with an interesting detail by the C-pillar, highlighting the sedan's sleek form. Even without the N-Sport exclusive additions like the front and rear bumpers, along with the N-Sport exclusive wheels and satin chrome mirror caps, the Almera in its base styling can hold on its own.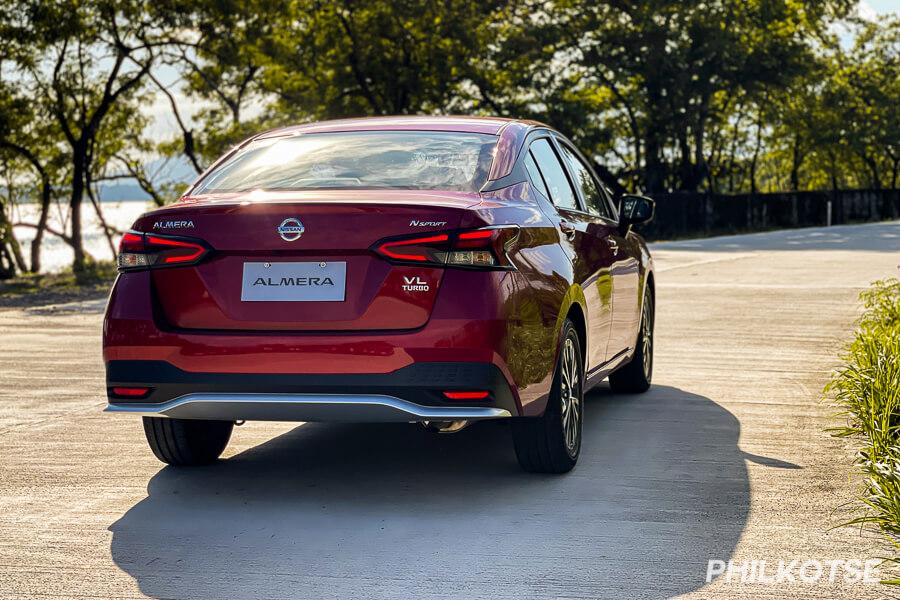 It's a well-proportioned car
I usually am picky when it comes to design, even complaining about automakers going over the top. In this case, I couldn't find any gripe. The 2022 Almera couldn't have been penned any better than its current form.
YOU MAY WANT TO READ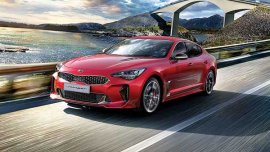 Model Price Philippines
₱ 3,235,000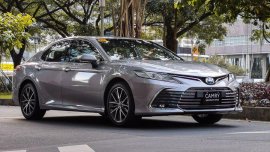 Model Price Philippines
₱ 2,402,000 - ₱ 2,417,000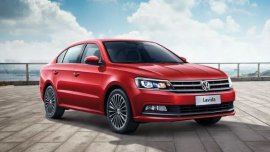 Model Price Philippines
₱ 1,251,000
2022 Nissan Almera Interior Review: Safe yet thoughtful
Inside, Nissan went for a safe approach to design. Even with the white accents that come with the VL N-Sport, the execution is clean and thoughtful. There's an airy feeling in the cabin, brought by the lack of a center console box a.k.a. right elbow rest (hence no rear A/C vents). The leather feels nice, too, if not a tad stiff to my liking.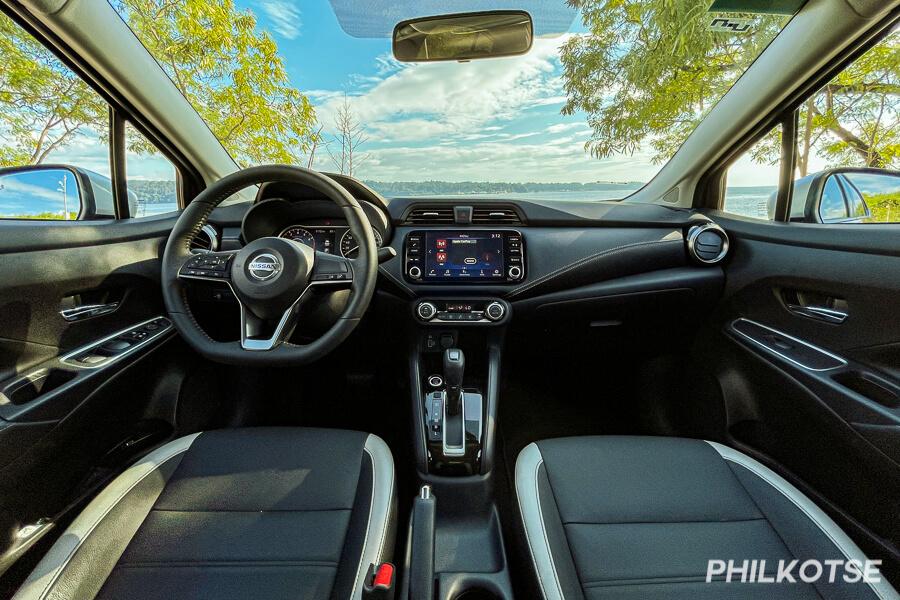 The 2022 Almera VL N-Sport's cockpit
Inevitable cheap plastics notwithstanding, the Almera's interior feels a lot more modern than before. The two digital screens certainly do the trick, along with the rotary HVAC knobs that return a premium tick to every adjustment. I also appreciate the fact that there are fewer piano black plastics in the cabin to catch all the unwanted fingerprints and scratches.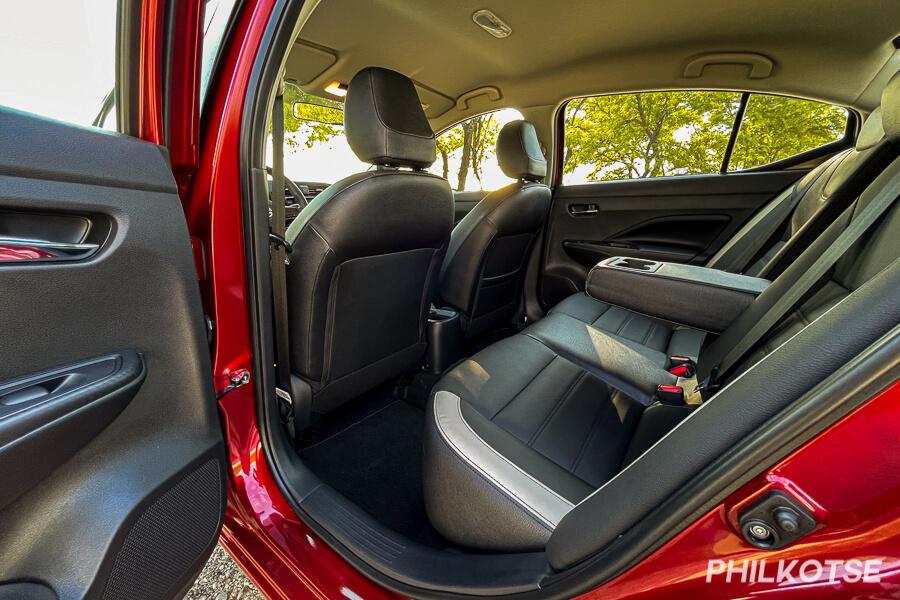 You can fold the rear seats for more cargo space
However, a thing can be said about the Almera's creature space, especially for the second row. While this wasn't an issue before, the new one feels more cramped than the previous model, especially with the headroom. Don't get me wrong – the rear is still notable in its class and can still accommodate three average-sized humans snugly upon folding the foldable center armrest with cupholders, but taller individuals above 5'8" might find the headspace limiting.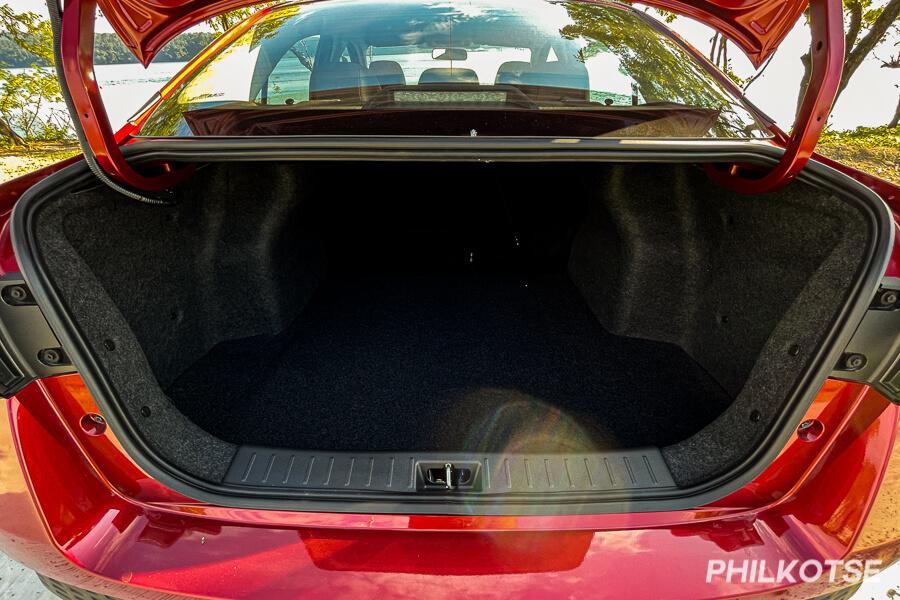 This Nissan sedan's trunk though, is already sizable
Good thing the trunk size decrease was only marginal, plus there's the fact that the seat backrests can be folded to allow longer cargo. I just wish that this feature isn't limited to the top-spec Nissan Almera VL N-Sport.
2022 Nissan Almera: Tech & Safety Review
As the company that offers high-tech features at a relatively affordable price point, Nissan employs its proprietary Nissan Intelligent Mobility on the Almera for the first time. The package includes blind-spot detection and an around-view monitor with object detection; the latter's a nifty feature to have on a daily basis. Its 8-inch infotainment system also has one of the best-looking graphics on modern econo-cars, amplified with the presence of Apple CarPlay. Sorry, no Android Auto here.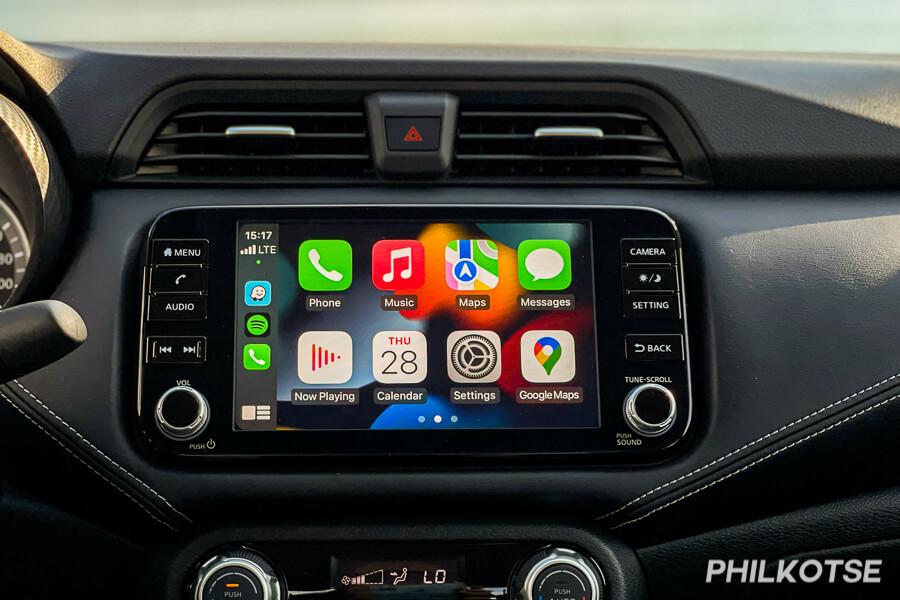 The Nissan Almera's eight-inch touchscreen headunit
However, there were a few trade-offs that I couldn't give a pass. The Almera VL N-Sport, even with its seven-digit price tag, doesn't come with speed-sensing door locks and cruise control. The former puzzles me as the car automatically locks as you walk away from it; so it's surprising that it cannot lock itself as soon as it starts moving.

Also, honestly, I would have traded blind-spot monitoring for cruise control, which is a convenient feature to have for those who frequent highways.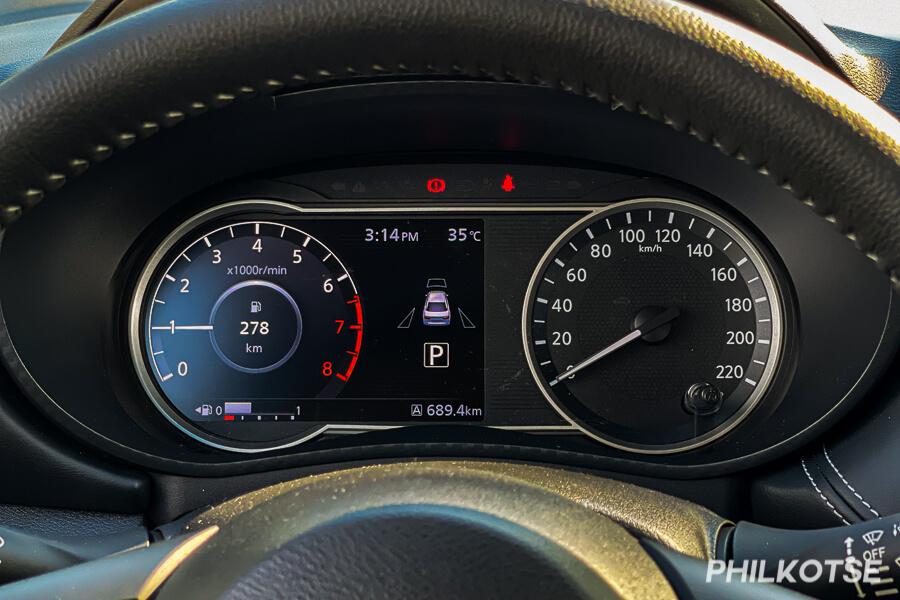 A closer look at its gauge cluster. The analog portion is the one on the right
For passive security and safety, the Almera has got you covered with six airbags, ABS with EBD and brake assist, vehicle dynamic control (traction control + stability control), alarm, and immobilizer.
2022 Nissan Almera: Engine & Performance Review
Remember the first phrases I mentioned here? Well, those were the exact words I'd use to describe how the new-generation Almera drives. Now powered by a turbocharged 1.0-liter inline-three engine, the total power output is just 99hp and 152Nm of torque fed by 95 octane fuel.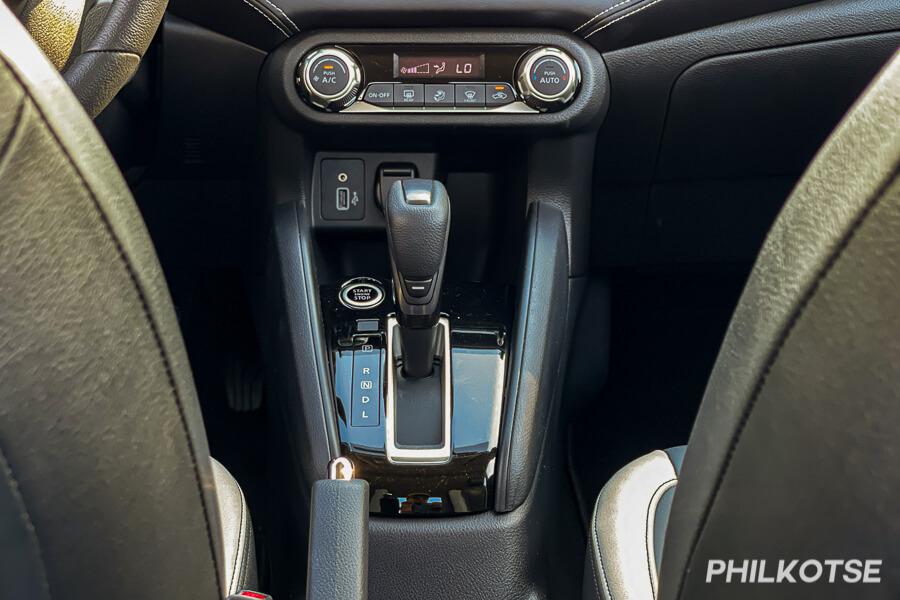 The Almera's center console with the gear shift lever and HVAC controls in view
Sure, you can argue that these numbers are less than what the Vios 1.5 or the City produce, but the Almera's turbochargers made a huge difference. Night and day, even. With force induction in play, torque came in early in the rev-happy range, providing a satisfying, effortless pull at the right time. More importantly, Nissan's Xtronic CVT (made by JATCO) did a good job in finding the right ratio at varying inputs, almost eliminating droning; almost, but not totally. Partnered with the Almera's quick-witted handling, this whole setup made the drive feel zippy within the city and addictingly competitive on the highway.
If not for the JATCO CVT's tarnished history, this would have been a flawless combination. But it is what it is, and only time will tell whether JATCO really has fixed the reliability issues of its CVTs.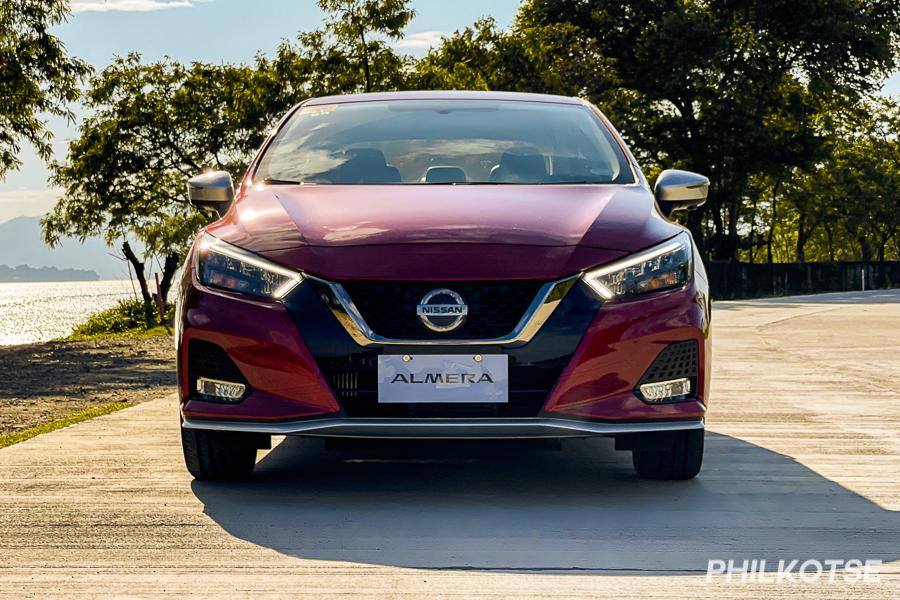 It looks sporty, but its still an affordable mass market, sedan
That said, a huge chunk of Nissan's cost-saving measures were actually felt when you're driving. NVH insulation needed a lot of help, to the point that I had to look at the rear a number of times to make sure that all windows are closed. The standard-issue Bridgestone Ecopia tires made loud noises on the highway, resonating inside the cabin to nobody's pleasure, I reckon. Even when idling, the nuances of the odd-firing cylinders were apparent in the cabin, with vibrations narrowly shielded from the driver.

Redemption comes from the Almera's suspension; it was as expected from a low-slung sedan, able to absorb reasonable impacts without compromising body roll. That's a plus.
2022 Nissan Almera: Fuel Efficiency
There's a common notion that fuel efficiency suffers when a turbocharger is attached on a small displacement engine. While that may be true for some, people tend to forget that weight and gearing affect these numbers a lot. Of note, the Almera VL N-Sport is the lightest among the top-spec, kitted-out sedans these days, such as the Honda City RS and Toyota Vios GR-S, with the Nissan tipping the scales at 1,103 kilograms.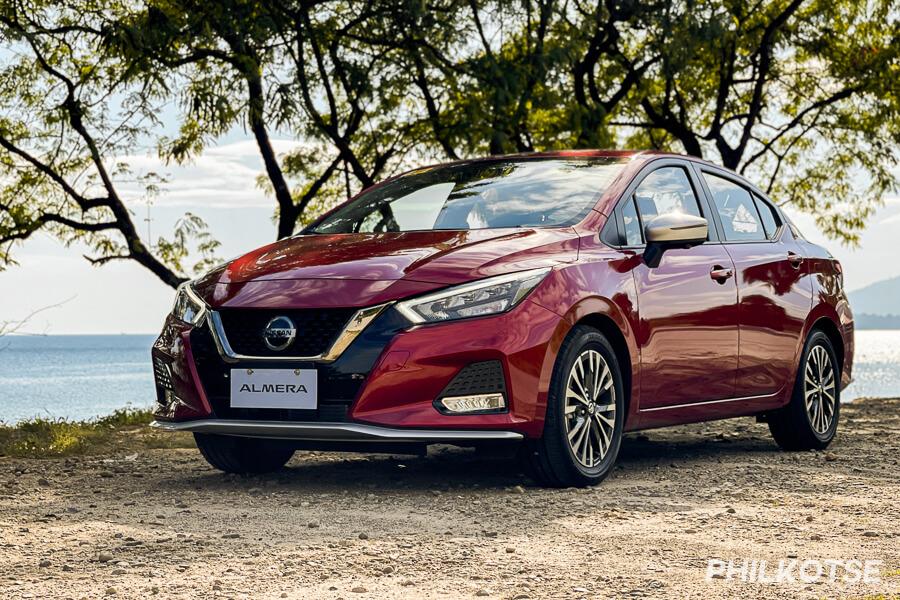 The Almera is one of the lighter sedans in its segment
That said, the Almera returned a noteworthy fuel economy reading during my test runs. After 20 minutes of driving and covering over 30 kilometers at an average speed of 90 km/h, I was able to get 23.4 km/l. The test was done with only myself onboard plus minimal cargo.

For a car of this size and weight, and the fact that it's actually fun-to-drive, that was mighty impressive. The last time I saw those numbers were from dull city dwellers. I just wish that the Almera was just as conservative in the city as it registered 6.5 to 9.5 km/l, depending on the traffic.
2022 Nissan Almera Review: Verdict
The 2022 Nissan Almera is nowhere near perfect, as you should have realized by now. Noise and harshness insulation was disappointing, plus the omissions on features will raise some eyebrows for understandable reasons. More importantly, the top-spec Almera VL N-Sport now stands as the most expensive subcompact sedan among mainstream brands today, selling for P1,098,000. As far as Nissan Philippines pricing is concerned, this fact may leave a bad taste in the mouth of some.

But if you're looking for a sporty-looking sedan that's as sporty to drive, and doubles as a thrifty highway cruiser, the Almera should be on top of your list. Trust me, it's a complete 180 of whatever your notion is about the nameplate, and driving one should be more than enough for you to consider Nissan's newest offering in the market.

Get to know the latest cars through in-depth reviews, only here on Philkotse.com.
2022 Nissan Almera: Variants and Price
| | |
| --- | --- |
| Nissan Almera Variants | Price |
| Almera EL 1.0 Turbo MT | Php 728,000 |
| Almera VE 1.0 Turbo MT | Php 938,000 |
| Almera VE 1.0 Turbo CVT | Php 998,000 |
| Almera VL 1.0 Turbo N-Sport CVT | Php 1,098,000 |
2022 Nissan Almera: Color Options
Nissan Almera Color Options
Cayenne Red, Premium Corona Orange, Pearl White, Gun Metallic, Brilliant Silver, Galaxy Black
2022 Nissan Almera: Specs
Overall

Make

Nissan Almera

Name

Almera VL N-Sport CVT

Body Type

4-door sedan

Dimensions and Weight

Length

4,530mm

Width

1,740mm

Height

1,460mm

Engine and Transmission

Type

1.0-liter turbocharged inline-3 gasoline

Max Power

99 horsepower

Max Torque

152 Nm

Transmission

Continuously Variable Transmission

Chassis and Suspension

Brakes (Front/rear)

Disc/Drum

Suspension (Front/rear)

MacPherson strut/Torsion beam

Wheels and Tires

16-inch alloy wheels

Exterior

LED Reflector type headlamps

LED daytime running lights

LED front fog lamps

Power folding side-mirrors

N-Sport trim pieces

Interior

Black Leather w/ contrast stitching

Push-to-start button

60:40 folding rear seats

7-inch TFT meter with integrated driver assist display

8-inch touchscreen headunit with Apple CarPlay, Bluetooth, and USB connectivity

Single-zone automatic air-conditioning

Safety and Security

Six airbags

Anti-lock braking with electronic brake-force distribution

ISOFIX

Reverse camera and around view monitor

Forward Collision warning

Autonomous emergency braking

Blind-spot monitoring

Stability control

Hill-start assist

Rear-cross traffic alert

Alarm and engine immobilizer


Jacob Oliva
Author