Here's what a Spoon Honda Civic Type R FK8 would look like
Do you like the Spoon'ed version of the Civic Type R or the regular one?
The Honda Civic Type R FK8 is arguably the best and flashiest Civic ever built so far. Its first production version was unveiled at the 2017 Geneva Motor Show, and on April 3, 2017, the Honda Civic Type R FK8 bagged the record as the fastest front-wheel-drive car on the Nürburgring Nordschleife. Now, the Civic Type R FK8 is getting a Spoon treatment.
Honda Civic Type R: What will you get for P3-million
The front bumper mostly kept its design and contours. But if you look closely, the beam with the Honda badge on it has been removed. The closest idea we can get for this initiative is for better air intake – which means it will handle higher temperature operations.
You can further enhance the new Aero Front bumper by adding the Spoon FK8 aluminum radiator.
At the back, we can notice that the three exhaust pipes have been replaced by a Spoon N1 muffler kit which has now two exhaust pipes. In addition, the Spoon upgrade also comes with an Aero Rear Bumper with an option for a carbon-fiber-reinforced plastic or carbon lip.
>>> Related: Complete guide to the Honda Civic Type R in the Philippines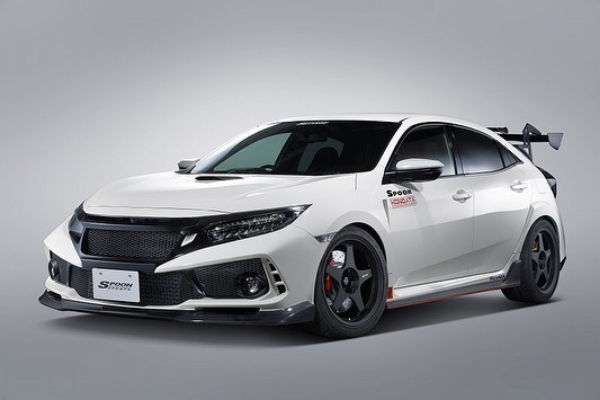 The best just got better with these Spoon upgrades
You can also get a carbon wing/spoiler to further enhance the downforce. Plus, the carbon wing goes well with the complete FK8 Aero Package, completing the carbon fiber aesthetics of your Type R.
Moreover, you can also get the classic Spoon SW388 five-spoke forged alloy wheels. It includes an 18-inch version with a 9.5-inch width and a 5x120 mm bolt pattern.
>>> Related: Meet the very track-oriented Honda Civic Type R TC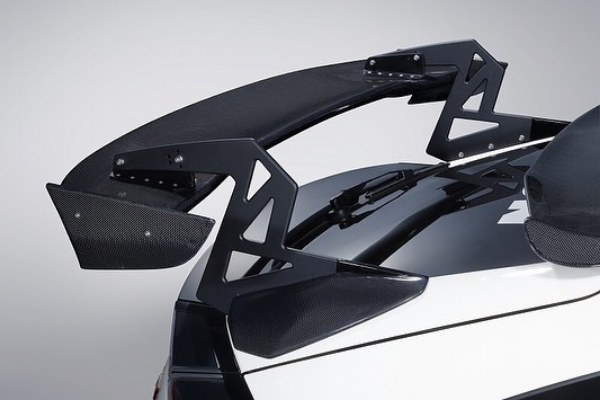 Spoon upgrade made the wing host a subtle design
To keep your Honda Civic Type R lightweight and comfortable, you can get the 5.7 kg Spoon Sports Carbon fiber seat ideal for racing and the road. It uses low rebound flexible polyurethane foam and a black spoon logo is embroidered on the seats.  
You can add Spoon Sports Brake Hoses that feature a dash 3 Teflon tube, a Spoon Clutch Save Hose, a Spoon brake pads (front and rear), and a Spoon Progressive Lowering Springs for a better overall driving feel. Lastly, keep your engine bay look flashy by adding a Spoon cylinder headcover which has a red or yellow color option – top it off with a Spoon oil filler cap.
The Spoon upgrades for the Honda Type R FK8 is most likely unavailable to grab in our local automotive shops. However, you can try contacting your local importers. It may take months before the parts arrive but at least you can get your hands on the Spoon upgrades exclusively.
>>> Related: Honda Civic Type R for sale on Philkotse.com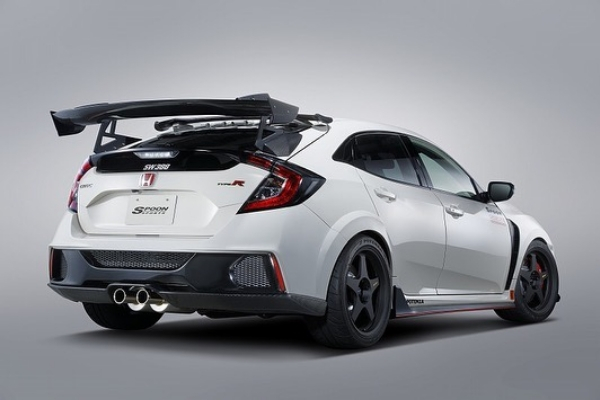 The addition of the carbon fiber upgrades made the Type R look sportier
Here at Philkotse.com, we value your interest in the automotive industry. You can visit our website to find out more.
Author

Rex found his passion for cars at a young age. He loves anything with an engine – which includes cars and planes. Right now, he is pleased to impart that passion for cars to a professional level under Philkotse.