If you want to start modifying your car, there are many things you can start on. One of the most recommended however is to upgrade your suspension system with coilovers.
1. Coilovers: Introduction
Whether you've just gotten your brand-new car, a somewhat new secondhand car, or have been driving a stock vehicle for quite some time now, the thought of modifications has probably crossed your mind. Although there are many ways to start customizing your car to your own tastes, one important aspect of car mods involves the suspension system.
Hold up and put down that angle grinder, because we aren't talking about cutting your springs or anything stupid like that. Instead, we're introducing you to a proper way to mod your suspension: by installing coilovers.
But before we even make recommendations, we'll help you get your head around the idea of coilover suspensions: what they are, how they work, and what they can do for your car as well as your driving experience.
2. Coilovers: What are they?
"Coilover" is actually a shortened form of "coil-over shock absorber", because that's precisely what it is. Coilovers are one device of car's suspension system that usually come in a set of four (one for each wheel), comprised of a spring wrapped around a damper unit.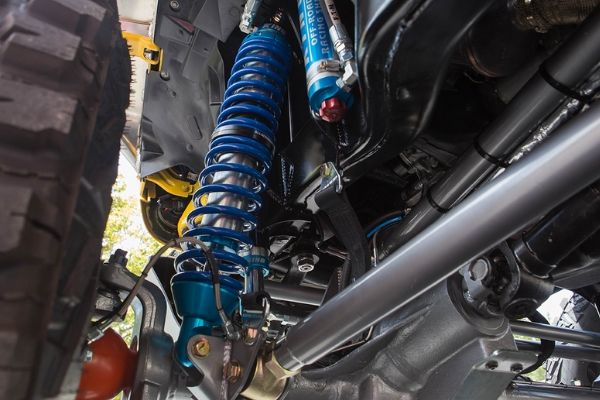 Off-road coilovers have insane amounts of travel, and most of them also have an oil reservoir
They work primarily around the principles of compression and rebound. Every time your car's unsprung weight moves, either through acceleration, deceleration, cornering, or road bumps, the piston located inside the damper moves inward, which compresses the fluid inside the chamber.
The resulting compression changes how the unsprung weight will go down on the wheel. When the compression has reached its limit, the piston moves back to its original position; this is what's called the rebound. You with us so far? Good.
Coilovers are used in a variety of vehicles, from road cars meant for simple daily driving, race cars used in drag racing, autocross and drifting, to off-road vehicles where the unsprung weight is greater. To keep this article simple, we're going to stick to the ones that you can install for road use, and the occasional spirited drives.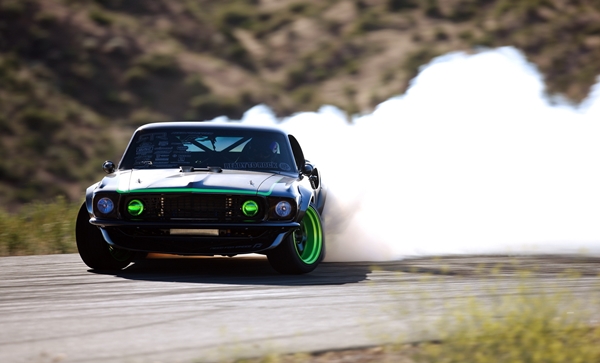 One crucial mod if you want to go drifting is a set of good coilovers
Coilovers can come in two kinds: there are the full coilovers, where the spring and the shock absorber are manufactured as a single unit. There are also slip-on coilovers where the springs and the dampers are sold separately and can be mixed and matched.
>>> Related: Leaf Spring vs Coil Spring Suspension: What are the differences?
3. Parts of a coilover
A coilover and its component parts.
Essentially, a coilover consists of a damper (shock absorber) surrounded by a coil spring. But to make you understand coilovers better, here's a breakdown of its individual parts.
Main Spring – Coilover springs are is one of the most important parts of a coilover unit. They support each wheel of a car, preventing the chassis from bottoming out. In most coilovers, the spring can be adjusted by turning the lock nut. In more expensive coilover kits, spring preload and shock stroke can be adjusted by another nut located further down, just on top of the lower casing.
Helper Spring – Holds the mainspring in place. Essentially a placeholder.
Locking collars – A nut used to preload the spring.
Upper spring seat – Cradles the top of the spring and cushions the energy coming from bumps. It also provides a snug fitment for the spring. As this part takes the brunt of abuse, it will need to be periodically inspected from time to time and replaced if necessary.
Lower spring seat – Just like the upper spring seat, this holds the spring in place and cushions the energy from bumps. Also needs regular inspection and replacement.
Camber plate – Otherwise known as caster-camber plates, it provides the camber angle of the tire. Most high-end coilovers will come with these.
Dust cover – Protects the shock absorber from dust, specifically its damper seals.
Lower mount – Affixes the lower portion of the coilover to the control arm.
Damping piston – A component of the shock absorber, this part interacts with the shock cartridge.
Shock cartridge – A circular component that has holes in it to allow oil to pass in and out. The sizes of the holes determine the force on the rebound and recoil.
Shock housing – An external component of the shock absorber which holds oil and surrounds the damper.
4. So why install coilovers?
Installing coilovers brings several benefits. While there may be trade-offs, these are mostly outweighed by the advantages.
Philkotse.com would like to stress that coilovers should be a priority along with tires, then brakes and then safety gear; this is especially true if you plan to squeeze out more power from your car through modifications. Installing a turbocharger or a supercharger first may provide more horsepower and torque, but the stock suspension might not be able to handle that output, messing with the car's driving dynamics and making it difficult, if not impossible, to handle safely.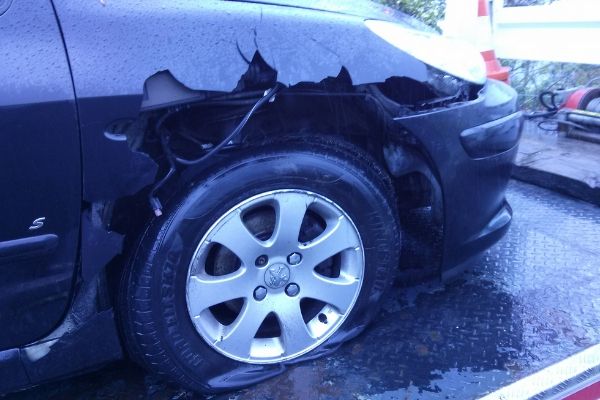 Damage caused by suspension failure where the stock suspension broke, causing the wheel to smash into the wheel well
Advantages of using coilovers
You can adjust roll stiffness by using springs with higher spring rates; this lessens body roll, which would otherwise increase wheel travel. In some cars, body roll affects the camber while cornering, disrupting the suspension and wheel geometry.
Many adjustable coilovers will have threaded bottom brackets and spring seats that allow the car to be lowered. You can also preload the coils through the adjuster nuts on the bottom mount. Preloading the coils enables lower or higher ride height. A lower ride height benefits the car's handling, making it much more stable on account of the reduced weight transfer and lower center of gravity. This means your car's tires are more evenly loaded, resulting in better weight distribution. This also improves acceleration (less dip and squat), cornering and braking due to having more grip. Plus, less air will travel below your car, making it more aerodynamic.
Compression and rebound stiffness can be changed through adjustable shock absorbers. There are dampers that can be adjusted for compression, for a rebound, or both.
You can also alter and maintain your car's suspension geometry i.e. its camber, by fiddling with the adjustable top mounts (if those are available with the coilover kits you bought). Camber has an effect on your car's driving dynamics, and manufacturers leave a slightly negative camber on the rear axle as standard, to help in high-speed cornering. For more details, you can check out our article discussing about camber in more detail. In drifting where negative camber for the front wheels is crucial, coilovers are necessary. Why? The negative camber lessens the contact patch on the lead (front) wheel. Coilovers enable the camber to be adjusted through the camber plates installed on the top of the coilover strut.
Lowered cars look great and give the impression of performance, at the very least. A great-looking car earns more street cred.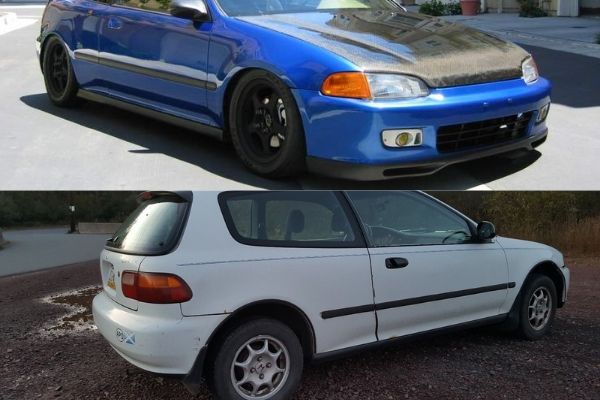 A Honda Civic EG hatchback modified with coilovers on top, and a stock one below
Disadvantages of coilovers 
Their adjustable and robust characteristics make coilovers more expensive than lowering springs.
Despite coming as a single piece, coilovers take up more space. Improperly-sized or mounted coilovers can even chew through your tire's sidewalls rub against other components like the sway bar. To avoid these, be sure to check the size of the coilover you're buying.
Expect some trial and error when adjusting your car's ride height through coilovers.
Using springs with very high rebound rates will make for an uncomfortably stiff ride.
Cars with lower ride heights generally perform bad on unpaved and rough roads.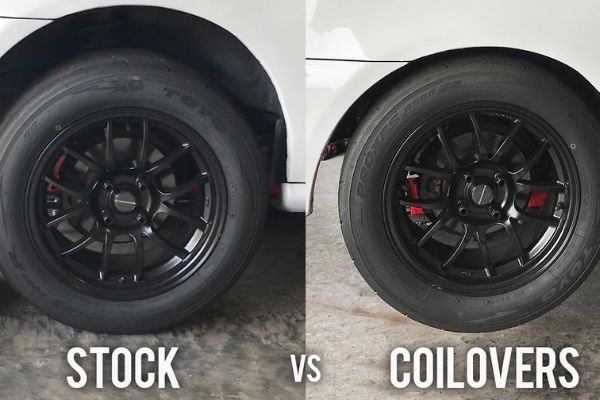 Another comparison of a car with stock suspension and ride height vs one with coilovers
>>> Check out: Coilovers or Springs - Which is the best to lower your ride?
5. What to look for in a coilover?
While there are many cheap brands out there that will make your car look good by lowering its ride height, high-quality coilovers will have several characteristics that you must look for. Note that these characteristics will tend to drive up the price. But trust us, great coilovers are some of the modifications that you won't regret dishing out money for.
The ability to adjust height without altering spring compression
The ability to adjust height without altering suspension travel
Adjustable damping
A durable dust guard
6. Recommendations
As many car enthusiasts and tuners have said throughout the years, choosing the right coilovers is like choosing the right shoe; you wouldn't wear a pair of Doc Martens if you plan on playing basketball, would you? Here are our recommended coilover kits, gathered from different brands and covering different budget ranges. Be aware that prices will vary depending on the car model you own, and some of these might even need to be imported.
Recommended

What need to know

Price range

BC Coilovers

Really expensive, but come with a full range of adjustability and is known to take a beating.

The DS series is one of the best coilover kits money can buy.

$600 – $2,500

TEIN Street Basis Z

Basic but still good quality. Made in China

$450 – $470

OHLINS

Made out of forged duralumin, these are super lightweight and are very adjustable. Really expensive, though.

Coilovers from Ohlins are also great if you plan on racing high-performance cars on a regular basis

₱69,000 – ₱138,833

Megan Racing Street Series

Great for both the track and the street

$1,399 - $1,599

Emotion Coilovers

Affordable and reliable. Works great for daily driving and weekend racing

₱45,000
>>> Tips for you: Top 3 Tips on Getting the Best Deals on Car Accessories in Banawe Street.
7. Coilovers: Conclusion
Are you excited to buy your first set of coilovers? Like most car components, the price will usually reflect what the part is capable of. There are really cheap coilovers on eBay, but those are of dubious quality and might even end up making your car more uncomfortable (or even dangerous) to ride.
When in doubt, try to contact the coilover's manufacturer. If they can't answer your question satisfactorily, it indicates a lack of necessary research and development on their part. Also, be careful about choosing the right coilovers for your car's make and model. Again, consult the manufacturer or the retailer for that detail.
Installing coilovers on your car can be a bit tricky, but it can be done at home with a good set of tools. With proper installation, coilovers can definitely improve your car's looks and performance.   


Cesar G.B. Miguel
Author