If you want your car bulky and strong to endure the off roads, here are 4 of the best off-road cars available in the Philippines.
The hype for off-road vehicles has been with car enthusiasts from all over the world. From car manufacturers to the distribution process, off-road vehicle-lovers have a knack for knowing what's hot and what's not.
With all the fancy new upgrades, tech and GPS utilization that seems to make up the contemporary off-road vehicles scene, the criteria for listing down these chart-topping vehicles won't just be about the modern add-ons. This will also involve the power, terrain adjustability and durability of each vehicle.
So, what are the beefiest off-road cars in the Philippines? Philkotse.com has compiled a list for your reference!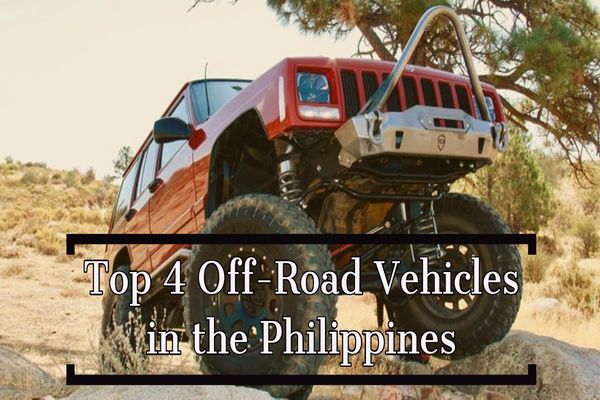 ​
Do you want your car strong enough to endure the off-roads? Here are 4 of the best choices available in the Philippines
1. The Toyota Land Cruiser
The Toyota Land Cruiser Series is a family line of heavy-built vehicles. They belong to the SUV and off-road vehicle class. This is one of Toyota's longest-running series of manufactured vehicles and it doesn't fail expectations even with its earlier models. This particular line of vehicles started in 1951 and the production of contemporary models still continues today for the Toyota Land Cruiser 2018.
For a more budget-friendly option but still has the flexibility and toughness of an off-roader, you may want to consider the Toyota Land Cruiser Prado 2010 and the like.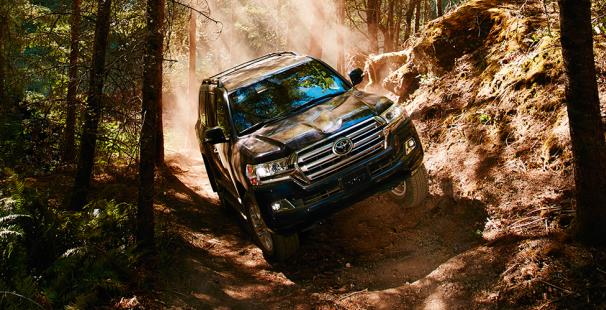 This bulky vehicle is an AWD or all-wheel drive and is assumed to be the biggest among all the land cruiser series.
Starting from the vehicle's interior, it definitely tells how much its worth:
The design is luxury with a touch of sophistication. Since it's designed for a classy off-roader, it still has additional rugged accents that imply the off-road experience.
Just by the way the new dashboard design showcases the steering wheel will leave you wanting an immediate test-drive.
There are also luxury seats trimmed with leather for a rich feel.
The wireless connectivity for entertainment on-the-go has the quality second to none.
The moonroof is also notable along with multi-infotainment touchscreen display that adds to the car's functional design.
Deep under the luxurious seats is an efficient power and fuel consumption designed to bring the best out of every spend on gas.
It also has a DOHC Euro 4-compliant 4.5-liter V8 D-4D engine. This means the Land Cruise can attain 232 hp at 3,2000rpm. This is "fast and powerful" in words.
Did we mention it has state-of-the-art safety features?
A highly-responsive blind spot detection system for unlikeable accidents.
It also has turn assist for those tight curves that seem to want to scratch your car. Along with hill-start assist control for that off-road thrill.
SRS Airbags that activates almost in the blink of an eye.
Learn more about this vehicle via our Toyota Land Cruiser 2018 review.
2. Chevrolet Trailblazer
The Chevrolet Trailblazer is a middle-sized vehicle classified as an SUV. It built its reputation upon the quality and practicality of the American brand's name. Its also recognized for ease of drivability and performance. The front face has the dual-port signature grille which carries the brand logo.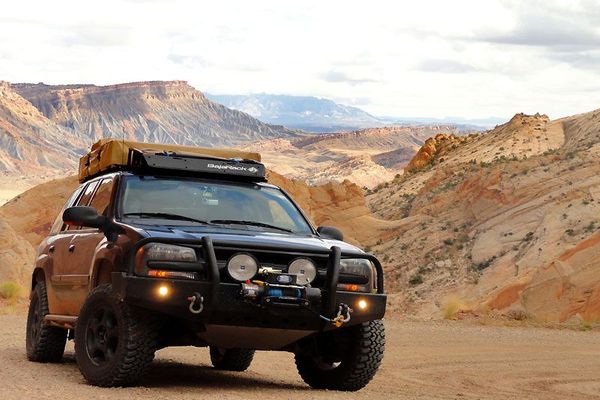 An off-road car that is strong enough to accommodate at least 7 passengers comfortably
What's in store inside the Chevrolet Trailblazer cabin?
The trailblazer can accommodate up to 7 people comfortably. The seats can also be either leather or cloth-covered depending on the client's preferred variant.
It also has Bluetooth connectivity that's made to be compatible with any smartphone as well as Siri Eyes Free.
For entertainment, it's also installed with the latest Chevrolet MyLink System all loaded in an 8-inch touchscreen system.
It can also play music and movies through the lavishing speaker set-up.
What makes the Chevrolet Trailblazer a true trail-blazer?
It encases a choice 2.5 and 2.8 diesel engine crafted perfectly to a 6-speed transmission. Preference of manual or automatic transmission can vary depending on buyer's preference.
The 2.5L engine is capable of 163 hp and torque of 380 Nm while the 2.8 engine can burst out 200 hp and an overwhelming torque of 500 Nm.
Even though it's mid-sized, it packs huge safety features:
The trailblazer boasts both front and passenger airbags.
It also has an Anti-lock Braking System with EBD to avoid losing brakes while driving.
Hill Descent Control and Hill Start Assist also work systematically with each other.
In the Philippines, the Trailblazer is said to go head-to-head with the iconic Toyota Fortuner. You can look through our Fortuner vs Trailblazer comparison review to gain more insight into this spec battle.
3. Mitsubishi Montero Sport
The Mitsubishi Montero Sport is one of the most popular models in the Philippines. It initially gained popularity as a top choice as a family car but that didn't last long. It soon showed car owners how reliable it could be on and off the road. The line up is now at its 3rd Generation with a re-designed ''Dynamic Grille'' which the line-up carries.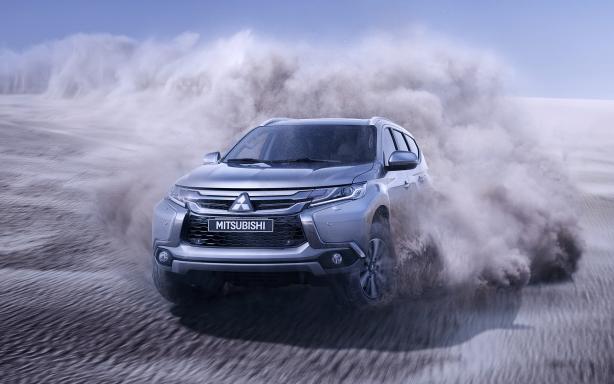 Comes with added details of chrome linings wrapped around the massive air intakes and reaches unto the fog lamps
Taking a peek inside the Mitsubishi Montero Sport:
It's equipped with the cutting-edge variants of car seat that's also leather-wrapped for that expensive feel.
Entertainment is also served well by the 6.75-inch screen. It's designed to be wide enough to view any type of media file.
What's under the hood of this dynamic monster?
The Montero sport is equipped with a brand new 2.4L 4-cylinder DOHC 16V MIVEC VG power engine. MIVEC means Mitsubishi Innovative Valve timing Electronic Control system; this aims to produce higher power while keeping fuel at low consumption.
The Mitsubishi Montero Sport's Safety Features are as follows:
An all-viewing Blind Spot Warning system which reduces the chances of accidents.
It also has 8 SRS airbags for superior safety.
It's also equipped with both Hill Descent Control and Hill Start Assist for better traction.
4. Toyota Hilux
Historically the name was Hi-Lux but modernized as HiLux. The model is carried and marketed by Toyota and is a light commercial vehicle. A lot of these models were modified by owners as pick up trucks and some were made to be cabs.
The current Toyota Hilux is at its 8th generation among its divine line of trucks. The newest addition to the Hilux family is re-designed with added luxury and an engine with more kick. According to the latest price list of the Toyota Hilux, you can own a base variant at P814,000, while the top-spec Hilux Conquest will cost you P1,777,000.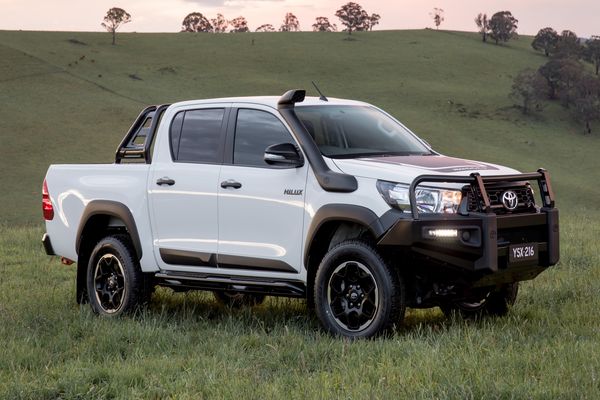 The body displays a sleeker but sturdy build that showcases its ability to tread on any diverse terrain.
Looking into the Toyota Hilux's Cabin:
The model gives a sure and secure seat to 5 people while offering two great front seats. These have wider shoulder and head support for a more comfortable cruise.
There's also more room at the back for passengers with long limbs because of the armrest at the center and wider knee room.
A 6.5 capacitive touch display is installed with Navigation options as well.
The Toyota Hilux's performance is defined by these features:
Toyota motor Philippines offered us with an option of either a 2.4 or a 2.8 L 4-cylinder VN Turbo intercooler engine.
This is available with the 6-speed transmission; either manual or automatic
The model offers performance and acceleration like no other.
Its safety features include the following state-of-the-art installations:
Its installed with highly-responsive airbags.
It also has a vehicle immobilizer.
A loud and sensitive alarm designed to prevent auto theft incidents.
Follow us to get more useful advice on car buying in the Philippines!


Hanna Sanchez
Author