In Celebration of the 2019 Toyota Vios Racing Festival, we feature an unlikely Toyota Vios Autocross Racer. AK Lavapie shows us how to have a Toyota Vios modified in the Philippines.
Where do you draw the line between following your dreams and keeping it real? For AK Lavapie, those two things can never be apart from each other.
Over the weekend, Toyota Motors Philippines graciously invited Philkotse.com to the final leg of the 2019 Toyota Vios Racing Festival at the Clark International Speedway, and we were fortunate to find this Vios driver who lives and breathes speed all day, every day.
What's hot at Toyota Vios Racing Festival 2019???
According to AK, "You can drive any car for autocross, as long as you keep good hand-eye coordination, as well as learning from the experts and watching video tutorials". He says that he chose the Toyota Vios not just for its performance, but for its reliability as well.
The Toyota Vios is one of the Toyota's best selling vehicles of all time in the Philippines. With its 1.5-liter engine, it strikes a balance between performance, fuel economy and handling. I really can't blame AK for making it his weapon of choice, the Vios being known for its bulletproof engines and ready parts availability. AK knows that the difference between living the daily working life and surviving it are two different things.
>>> Related: 5 reason why Toyota Vios is one of the best-selling car in the Philippines
When it comes to his racing Vios, however, it all boils down to one thing. "It's all about managing one's time," he postulates, as I admire his race-prepped Toyota Vios. "If you really have passion and love what you do, you will always have time for anything."
His Toyota Vios 2014 1.5G with the 1NZ-FE engine makes 109 hp and 141 Nm of torque. Now that doesn't sound much, but with the additional application when getting his Toyota Vios modified in the Philippines, the engine makes use of every ounce of power to push those front wheels over the asphalt.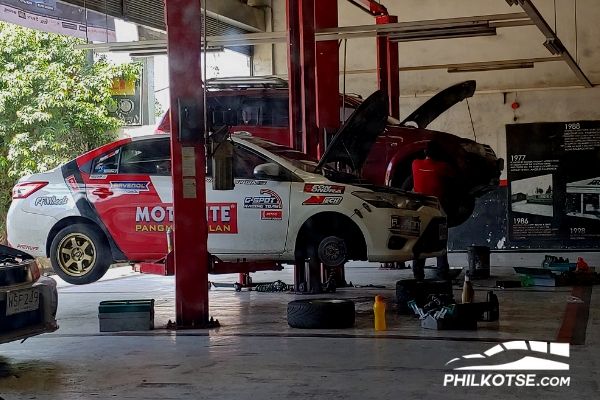 Making sure the car is in tip-top shape is important before racing 
Helping him put the power to the ground with his stock engine are simple add-ons such as an oil oooler to help the Ravenol fully synthetic oil work its magic, a sandwich plate, throttle body spacers from CRABS Garage, a bespoke Motolite battery and fabricated grounding kits from Auto7Stop. The guy knows his stuff, well aware that keeping the engine happy under intense pressure is important to ensure it runs its best.
Ak says that you're only ever dealt a single deck of cards in your lifetime, and that "you have to make the best of everything you were given". His day job as an IT professional fuels his car-racing itch, as well as provides for his family's needs. That he is able to indulge in his passion alongside earning a living is a win in my book.
I came across AK at the pit stop with his Toyota Vios, just waiting for the gates to open like a stallion itching to get started. "Preparation is important for every race," AK tells me. "I do my work whenever I can and then prepare the car during the daytime for events at MOTECH, and use Keon Sondra lights to see better, then go every weekend to race".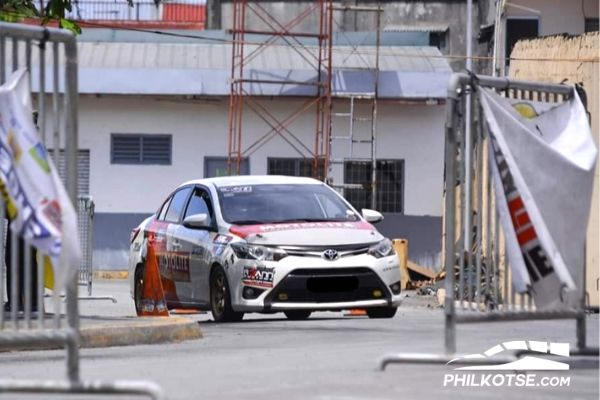 Time management is important in both life and the track
>>> Also check: Car of the Week | Subaru Legacy BG5 "Project Baru".
Making sure the engine breathes well are 4-1 long-throw headers with bespoke stainless steel pipings from the engine, all the way to the Axleback Straightpipe exhaust from Freemuff Performance. Again much like life, racing is his way of breathing freely.
"I work as an IT security analyst for a top consulting firm in the Philippines. It is a high-stress, demanding job, and racing is there to help me vent out stress on the weekends and be with friends," AK says. "Without my day job, I wouldn't be able to provide for my racing and my family. I need my job to live, but my racing to SURVIVE".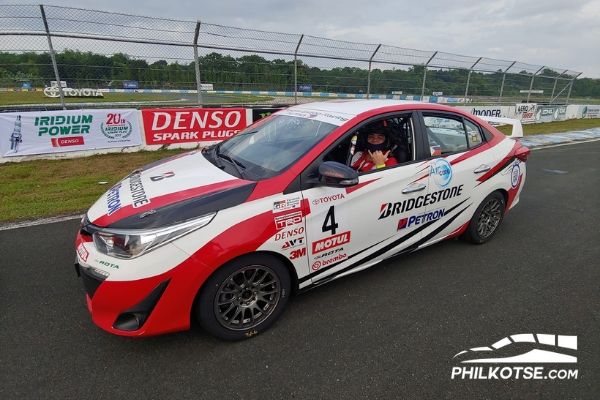 Staying straight and true is important in autocross racing
The suspension is where most car owners consider when having their Toyota Vios modified in the Philippines. K-Sport coil overs from HazardBoy, Ultra Racing strut bars from KM20, a rigid collar setup care of Patch Power and rear upper strut and anti-roll bars from G-Spot Racing, all these keep his car planted and straight as he tackles the most difficult of chicanes.
Keeping straight in life as well as one's integrity is key to AK's success. "You can't just wake up one day and decide to race and be successful at it. It requires knowing the rules, knowing how to handle your car; if you don't, not only do you put yourself at risk but others as well." No truer words were ever spoken.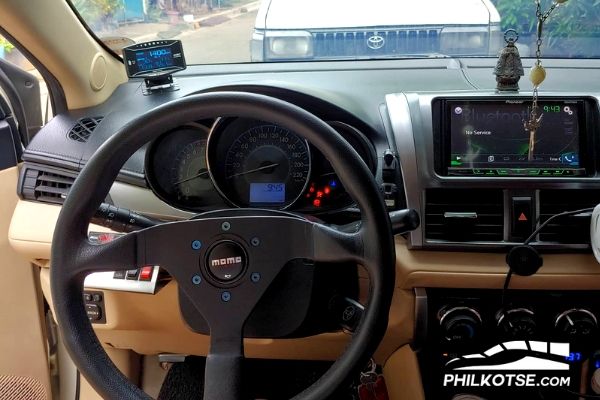 The interior stays fully functional and ready for the daily grind
It doesn't matter how much power you push from the engine or how compliant your car stays on the track (care of the suspension) if you do not have the proper wheels. AK attacks the autocross course with 15-inch golden Rota Grid 3 with Rota elevated center caps and RAYS Duranuts, all supplied by RF Wheels.
These glorious alloys are shod with slick 195/50/r15 Federal RS-R tires in front and Federal EVO595 195/55/r15 at the rear. He knows for a fact that the great equalizer in racing events is a set of good tires, and scrimping out on these make the difference between winning and losing.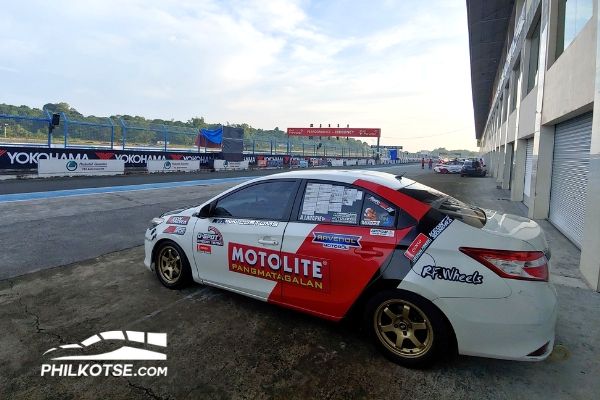 The Toyota Vios offers superb balance and reliability, making it the perfect platform for racing
>>> Update the Toyota Vios Philippines price right here!
We come to my favorite part of the car, one that truly embodies AK Lavapie as a winner both on and off the track: the cabin. As a racing unit, AK's Vios would be expected to have an interior that's practically uninhabitable, with just a roll cage and racing seats being the closest thing to amenities.
I couldn't have been more wrong, as I've found that he has retained the Toyota's stock interior. Ask any other race car driver for a ride and they might decline on account of the aforementioned interior mods. Not AK. Even with his sense of competition, he still values family and friends, making sure that his Vios is still very much hospitable for anyone who wants to come aboard.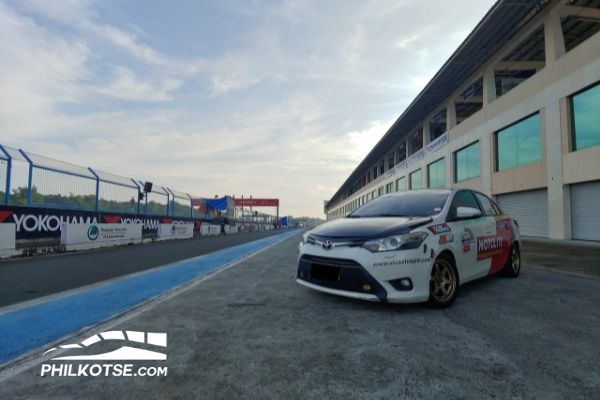 For AK, the smell of burning rubber and the sight of the endless tarmac can cure any stress
He is proud of the fact that he's still able to use his Vios as a daily driver, bringing it to work, and driving his loved ones around. The few modifications he has made are there to simply help his driving, such as CAG OBD2 Display from Rocket Parts, NRG steering hub from Manibela Boy with MOMO Monte Carlo steering wheel, plus a throttle controller with Apexi auto timers.
Thankfully, the mods don't affect the car's comfort and drivability. "I've kept the A/C system intact because simply, it gets hot!" AK says. "Part of the experience of driving is sharing your ride with others. Many dream of modifying the car their own, but I still think of my car as a reflection of my life and personality: race on the weekends, and work FOR the weekends."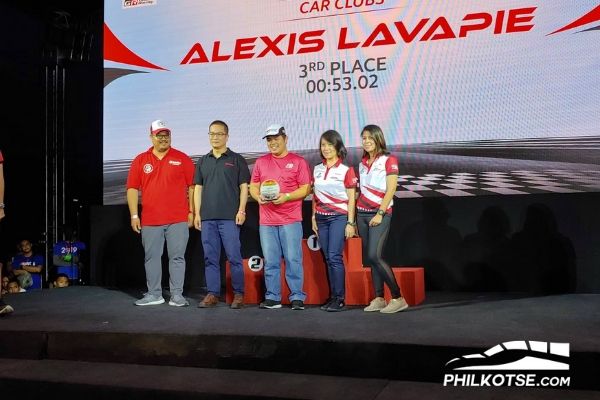 AK wins in both racing and in life
Proof of AK's commitment and passion are the track mark patterns from his Federal RS-R tattooed on his right forearm. "This was from the time I first won the overall title at the FlatOut Racing series in 2018. It was my first time on a circuit track and I wanted to commemorate that life achievement with a tattoo." He may have won countless podium finishes and championships since then, but he will never forget that moment.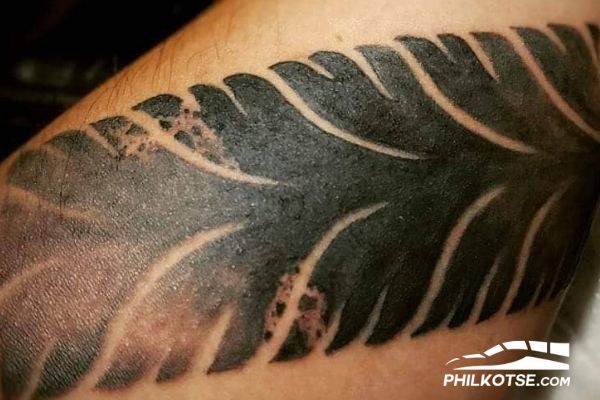 AK tattooed his winning tires on his forearm. BOSS!
>>> Another article: Car of the Week | A modified 1999 Nissan Silvia S15.
As I say thanks to AK, I asked him where his pit crew was. He replies, "I am on my own here at Clark. I drove with the car I'm racing, and there are some guys here who are willing to help me out as much as they can."
True enough, they were tirelessly fixing the same car that he drove 150km from home to race across the Autocross course and will be driving back later at the day's close. I wished him good luck at the event and asked him for a few tips that he can give aspiring racers.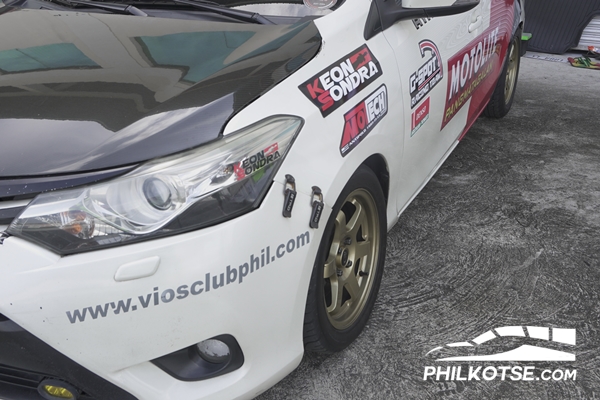 "Research the course you will be racing, also know your car..."
AK answered, "Research the course you will be racing. Also, know your car; just because you think it is the best, you would race it against cars that are classes above it. You have to know the car's limits and abilities, racing at a class that you know you can showcase your best. You have Honda Civics and (other) lighter, more powerful cars that you can race against, but that requires a lot of modifications, and I wouldn't want to change my car just to win."
In life, you have your dreams ahead of you and the heroes to look up to. You might go overboard with competing and reaching your dreams, but at the end of the day, it can consume you and change who you are if you're not careful. AK strikes the balance between reaching for his dreams and maintaining his identity, both on the track and off it.
>>> Refer to our Toyota Vios for sale section to find yourself the best local deals.
---
AK would like to thank
#GSpotRacingTeam

#GLSAutoPartsAccessoriesAndService

#BSBJunroseAutoPartsCorp

#FremuffPerformanceExhausts

#GaraheAutoworkz

#DadudzAutoworks

#MKTruckingServices

#VillaArdinEventsPlace

#AutoTechnoMotorsports

#ProjectAutoparts

#DonzFenderRollService

#NaughtyCarwash

#CeramikUltraHeatRejectionTints

#Motolite

#RyannCustoms

#RavenolPH

#KeonSondra

#Denso

#MovNCool

#RFWheels

#Indonyaki

#SwooshBars

#ManibelaBoy

#KSpeedstars

#MotechAntipolo

#Stage21BodyKits


Roy Robles
Author