Toyota Vios is the Philippine Market's best selling vehicle. Let's take a look at the latest generation of this car in the Toyota Vios 2020 Philippines review. Keep reading!
In this review...
Introduction

Exterior

Interior

Engine & Performance

Safety Features

Price & Variant

Specifications

FAQs

Conclusion
1. Toyota Vios 2020 Philippines Review: Introduction
The word ubiquitous is defined as "present, appearing, or found everywhere". If it were a dictionary entry, you'd probably find a picture of the Toyota Vios right next to it. The best-selling car in the Philippines is "present, appearing, or found everywhere" for a very good reason: it offers the best balance between practicality, performance, looks, and value.
2020 Toyota Vios Facelift: Leveling up – First Look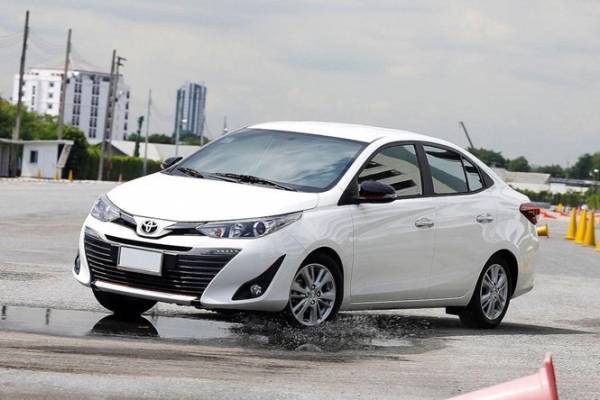 The Toyota Vios is practically peerless in both sales figures and actual performance
Will the 2020 Toyota Vios carry that torch of ubiquity like its predecessors? Let's find out by reading the Toyota Vios 2020 Philippines review provided by Philkotse.com's car experts.
2. Toyota Vios 2020 Exterior
Every iteration of the Vios has been a car of its time, and you'll know it has made its mark in a particular culture when a car has earned a nickname. Although every generation of the car has one, the jury is still out on this car. The Toyota Vios 2020 exterior design has turned quite a few heads, though. For better or for worse, it sheds the older one's sharp lines for more curves.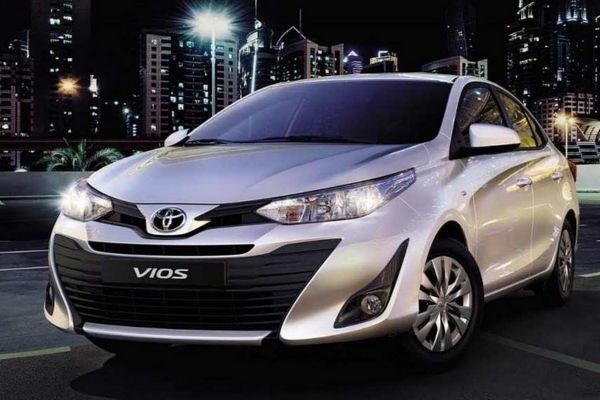 Many were doubtful when the new Toyota Vios was first unveiled. Not anymore
The headlamps now sweep back toward the front fenders, and the pair of tail lamps do likewise at the rear. The front chin now has a larger air dam, eschewing the upside-down frown on the previous model for a grille that has a hint of a smile.
My gripe with this current design language is that it lacks the cohesiveness of the previous model; this time around, it's as if Toyota took design elements from the past model and stretched the lines on Photoshop just to make it look different.
I don't usually harp against a particular design, but this is the Vios we're talking about, and you can't expect the new face to meet with universal approval right away. As I'm typing this, there is an entire fleet of Toyota Vios 2020 units outside my window, and an increasing number of people are indicating their approval. You could say that the Toyota Vios is the iPhone of local cars. That Vios Prime body kit looks really tight, though.
>>> Another good subcompact car from Toyota is the Toyota Yaris 2015, check it out! 
YOU MAY WANT TO READ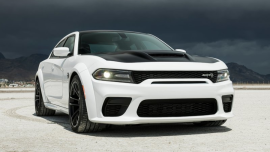 Model Price Philippines
₱ 4,990,000 - ₱ 7,990,000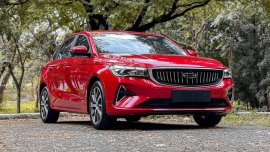 Model Price Philippines
₱ 753,000 - ₱ 999,000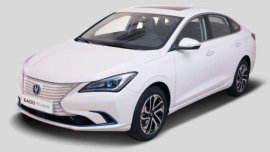 Model Price Philippines
Price available upon request
3. Toyota Vios 2020 Review: Interior
Inside is where the magic is. I've always been a sucker for a car's interior design, so much so that I feel it holds more weight than a car's exterior. The 2020 Toyota Vios interior is where you spend most of your time after all, and for me, the 2020 Vios takes the proverbial cake.
The Vios takes the steering wheel and shifter from the previous generation Corolla Altis, which I happen to love. The leather-wrapped tiller has a rather compact diameter while being meaty, molding to my hands just right. Don't expect a lot of soft-touch plastics, as there isn't much, if at all.
The old stitched look makes a comeback in the 2020 Toyota Vios, but it all feels very 2013;  I remember as it was the same time the Galaxy Note 3 was released. It looks good to look at, although it feels somewhat rough to the touch.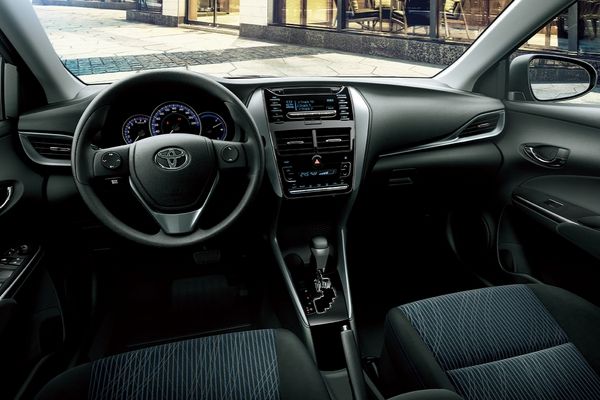 The redesigned interior offers a fresh take on what a small car should be
Space is quite adequate too, although the rear seats can barely fit three well-fed car journalists sitting abreast. Controls and switches are logically placed as well, and the nicely padded armrest is a welcome addition. The Vios had always delivered on this front, and the latest iteration doesn't disappoint. The cabin's all-black motif is a nice touch, too.
>>> Check out for Toyota Vios comparison with other cars:
4. Toyota Vios 2020 Review: Engine and Performance
Motivating the Toyota Vios are carryover engines from the previous generation. One major change is in the 1.5-liter engine, as it now features multiple drive modes and plastic paddle shifters mounted on the steering wheel for more control. With 106 HP and 140 Nm of torque on tap, the CVT utilizes every available ounce of power within the rev range efficiently.
While the set-up isn't exactly earth-shaking, it's still quite adequate to pull the Vios' weight around. The electronic throttle body, controlled by the drive-by-wire computer sets the acceleration to the leisure mode by default, which means there's a split-second "delay" that most people mistake for a defect. The CVT and drive-by-wire combo was actually meant to behave this way, to encourage economical driving.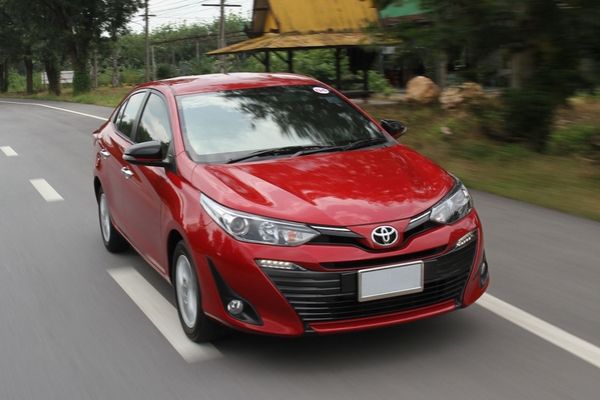 With Dual VVT-i engine technology, the Toyota Vios offers the perfect balance of power and efficiency
Did I mention that the Toyota Vios 2020 now has an active drive mode selection? Toyota listens to its clients, knowing they want to power on demand, even on Econo cars. One way to compensate for the so-called acceleration lag is by switching between Normal, Eco and Sport modes; it doesn't add any power really, but simply changes the accelerator's characteristics, yet you can feel the result by the seat of your pants.
Driving the car sensibly nets you 8-9 km/l in our terrible gridlock traffic, which isn't too bad, all things considered.
>>> Related: Which Toyota Vios should you buy? [Philkotse Guide]
5. Toyota Vios 2020 Philippines Review: Safety
Here comes the game-changer on the 2020 Toyota Vios. While most cars in this class are content with offering entry-level safety features, the manufacturer values its clients so much that it introduced a plethora of safety-related perks across the board of Toyota cars.
You heard that right; I actually had to do a double-take on the provided brochure from Toyota Philippines, but even the base model has, get this: seven airbags, Stability Control, and Hill Start Assist, apart from the standard antilock brakes, electronic brakeforce distribution and seatbelts with ISOFIX anchors. 

(Editor's note: At the time of the article's publication, the Vios offered seven airbags as a standard feature across the range. With the launch of the XLE variant last November 6 offering only three airbags, Toyota Philippines has announced that future units of the lower Vios variants such as the base and J will follow suit. All other safety features mentioned in this article will be retained for the 2020 model year.)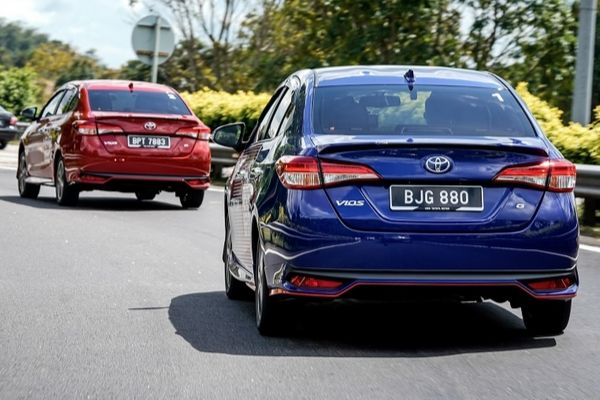 The Vios stands as the vanguard of subcompact car safety
Hill-start assist applies the foot brakes for a few seconds, preventing the car from rolling backward on an incline and giving you enough time to engage first gear with ease. Electronic stability control minimizes the loss of your car's traction, especially when maneuvering in wet conditions.
These features are typically found in more premium car models, but Toyota has managed to equip the Vios with them, including the base trim! And here I was, wondering why the Vios is the Philippines' best-selling car. After experiencing it…#IWantIt
6. Toyota Vios 2020 Philippines Price & Variant
| Model | Price |
| --- | --- |
| Toyota Vios 1.3 Base MT price | P662,000 |
| Toyota Vios 1.3 E CVT price | P881,000 |
| Toyota Vios 1.3 E MT price | P831,000 |
| Toyota Vios 1.3 E Prime CVT price | P936,000 |
| Toyota Vios 1.3 E Prime MT price | P886,000 |
| Toyota Vios 1.3 J MT price | P688,000 |
| Toyota Vios 1.3 XE | P738,000 |
| Toyota Vios 1.5 G CVT price | P1,043,000 |
| Toyota Vios 1.5 G CVT White Pearl price | P1,058,000 |
| Toyota Vios 1.5 G MT price | P984,000 |
| Toyota Vios 1.5 G MT White Pearl price | P999,000 |
| Toyota Vios 1.5 G Prime CVT price | P1,098,000 |
| Toyota Vios 1.5 G Prime CVT White Pearl price | P1,113,000 |
>>> Refer to our Toyota Vios cars for sale to get the details on monthly payments
7. Toyota Vios 2020 Specs
Engine & Performance

Engine

1.5 L Dual VVT-i Engine, In-Line 4-Cylinder 16 Valve

Displacement (liters)

1496 cc.

Horsepower

106 Hp

Torque

140 Nm

Power train

CVT

Drive train

Fuel

Gasoline

Suspension

Front

MacPherson Strut Type with Coil Spring

Back

Torsion Beam

Brake

Front

Ventilated Discs

Back

Disc

Tire size

R16

Dimensions

Length

4,425mm

Width

1,730mm

Height

1,475mm

Wheel base

2,550mm

Safety and security

Dual Airbags

Yes

Side Airbags

Yes

Curtain Airbags

Yes

Knee Airbags

Yes

3-pt. ELR Seatbelts

Yes

Vehicle Stability Control

Yes

Hill Start Assist

Yes

ABS

Yes

EBD

Yes

Interior and Comfort features

Automatic AC

Yes

Head unit

Yes

Bluetooth

Yes

Weblink

Yes

USB connectivity

Yes

Push Start

Yes

Smart Entry systems

Yes

Steering wheel controls

Yes

Paddle shifter

Yes

Audio controls

Yes

Wireless door lock

Yes

Speed-sensing locks

Yes

Exterior features

Headlamps

Halogen projector

Daylight running lights

LEDs

Fog lamp

Yes

Third brake light

Yes
>>> Find your nearest Toyota dealerships right here!
8. Toyota Vios 2020: Frequently Asked Questions
Q: Is the Toyota Vios locally made?
Yes, the Vios is produced at a Toyota factory in Santa Rosa, Laguna.
Q: What is the average fuel comsumption of the Toyota Vios?
It averages around 22 km/l, considering Manila's heavy traffic.
Q: Are there any differences between the Toyota Vios' variants in terms of dimensions?
All of the variants are 4,425mm long, 1,730mm wide, and 1,475mm in height. The same goes for the entire variant lineup's wheelbase that measures 2,550mm long.
Q: What are the alternatives to the Toyota Vios in the Philippines?
There are five alternatives to the Toyota Vios for you to consider as follows: MG 5 (Php 658,888 – Php 938,888), Hyundai Reina (Php 663,000 – Php 713,000), Kia Soluto (Php 665,000 – Php 755,000), Mitsubishi Mirage G4 (Php 735,000 – Php 869,000), Chevrolet Sail (Php 791,888 – Php 817,888)
9. Toyota Vios 2020 Philippines Review: Conclusion
The Toyota Vios is an embarrassment of riches in the subcompact sedan segment, and I mean that in a good way; it offers more than its fair share of features than anyone can shake a stick at. It already is the best-selling car overall, so Toyota would still be forgiven even if they just simply rested on their laurels and banked on reputation alone, giving the Vios just a minor refresh every few years or so.
But that would have been a cop-out, at the very least. The tenets of Kaizen, or the philosophy of continuous improvement, has always been Toyota's way. 2020 Toyota Vios neither keeps up with the pack nor leads it; it utterly dominates, leaving the rest to fight over scraps.
After this Toyota Vios 2020 review in the Philippines, you'll realize that the Vios serves as a lesson to the car industry that you can always strive for better and more, but the key is in the execution and how you value your clients.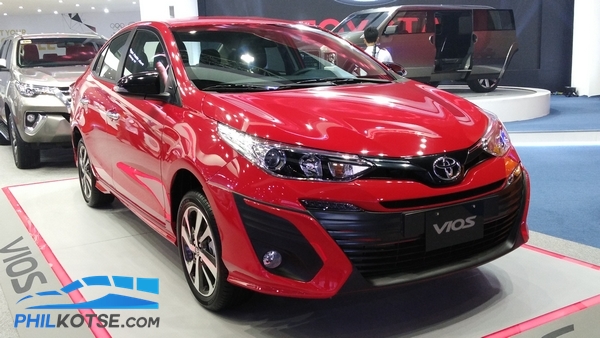 There is no stopping the Vios, now that it has an all-new model
Do you now want a Vios as much as I do? We have more for you to choose so visit our best cars for sale for widening your choice. And remember to follow Philkotse.com for more news and reviews about the local car industry. Leave a comment down below to join in on the conversation!


Roy Robles
Author