Can this feature-packed 7-seater be the next ideal Filipino family vehicle?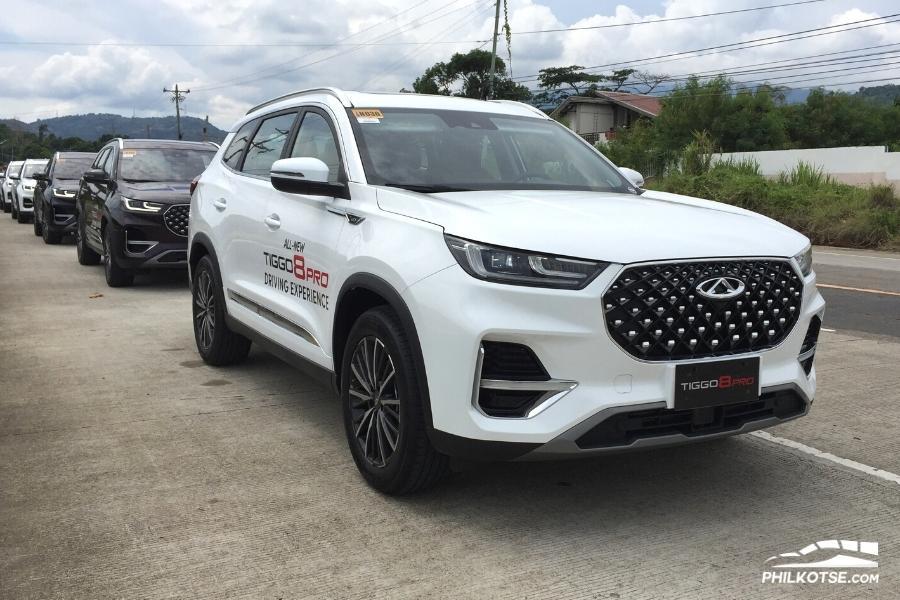 In this review...
Introduction

Exterior

Interior

Tech & Safety

Engine & Performance

Initial Verdict
2022 Chery Tiggo 8 Pro Quick Drive: Introduction
Chery Auto Philippines has high ambitions for its all-new Tiggo 8 Pro, saying that it can compete closely against proven 7-seater SUVs in the market such as the Toyota Fortuner and Mitsubishi Montero Sport. The new midsize crossover is coming in strong with a wide array of features and improved driving capabilities.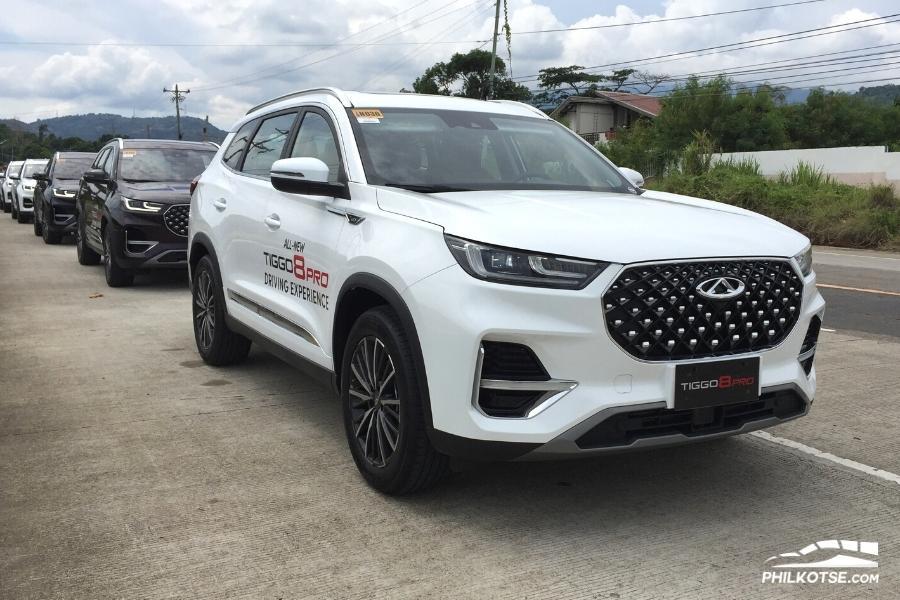 Chery Tiggo 8 Pro
The automaker invited Philkotse.com to take the Tiggo 8 Pro for a spin from Subic in Zambales to Mount Samat in Bataan and back. With this, we can see for ourselves how competitive the crossover can be. Read on our Chery Tiggo 8 Pro Quick Drive review to know our experience with the all-new model and see whether it can live up to its expectations.

2022 Chery Tiggo 8 Pro Quick Drive: Exterior Review
Considering how well the new design of the Tiggo 7 Pro was received when it was launched in January 2021, one can expect that car buyers will be enticed by the Tiggo 8 Pro as well. Exterior-wise, the all-new Chery Tiggo 8 Pro features a premium-looking design that is highlighted by the galaxy-inspired grille.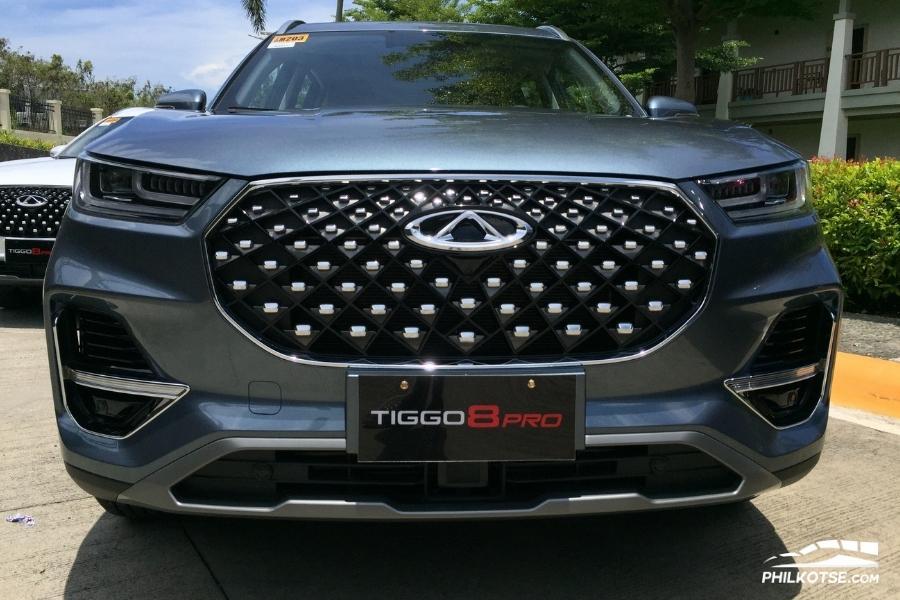 Galaxy-inspired grille
If the new grille looks familiar, it is similar to the ones on other Tiggo Pro models in Chery's local lineup including the Tiggo 7 Pro and Tiggo 2 Pro. This is surrounded by LED projector headlights and daytime running lights (DRLs) that look dazzling on the road.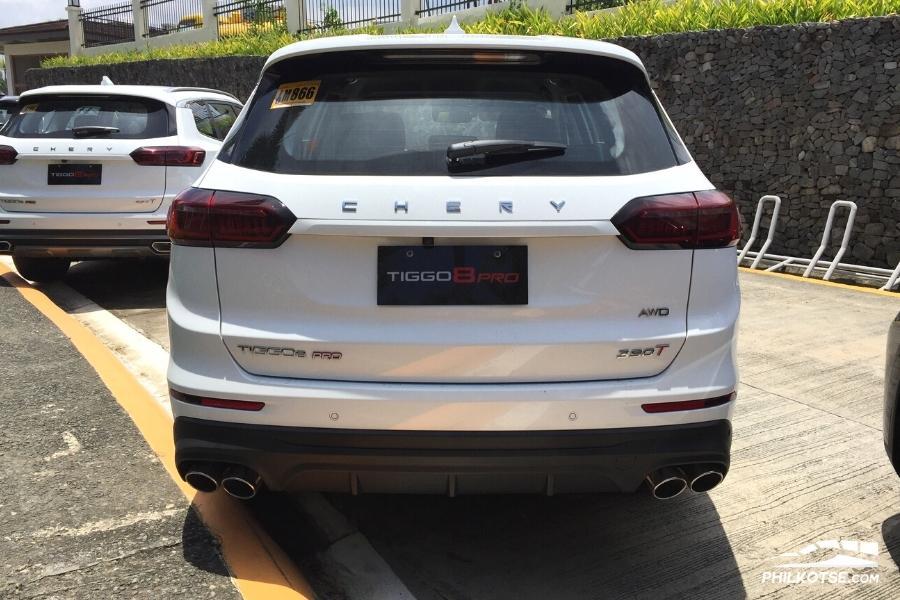 The Tiggo 8 Pro 2.0T gets quad exhaust tips
On the sides, the vehicle comes with 18-inch alloy wheels along with neat character lines. We dig the wheel design as the finish isn't too aggressive, which helps enhance its premium-looking appearance. And at the back, it comes with twin exhaust outlets and the 'CHERY' name in between the taillights.
YOU MAY WANT TO READ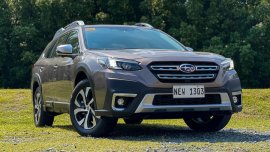 Model Price Philippines
₱ 2,480,000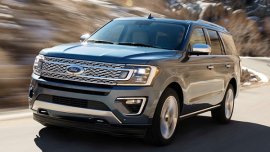 Model Price Philippines
₱ 4,479,000 - ₱ 4,612,000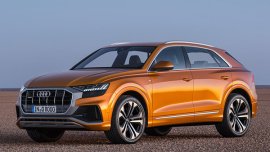 Model Price Philippines
Price available upon request
2022 Chery Tiggo 8 Pro Quick Drive: Interior Review
We got to drive the base Tiggo 8 Pro 1.6T variant which arguably comes with the better-looking interior as compared to the ones in the higher-end variants, namely the Tiggo 8 Pro 2.0T and Tiggo 8 Pro PHEV. The 1.6T has a black and brown interior theme that looks unmistakably sophisticated.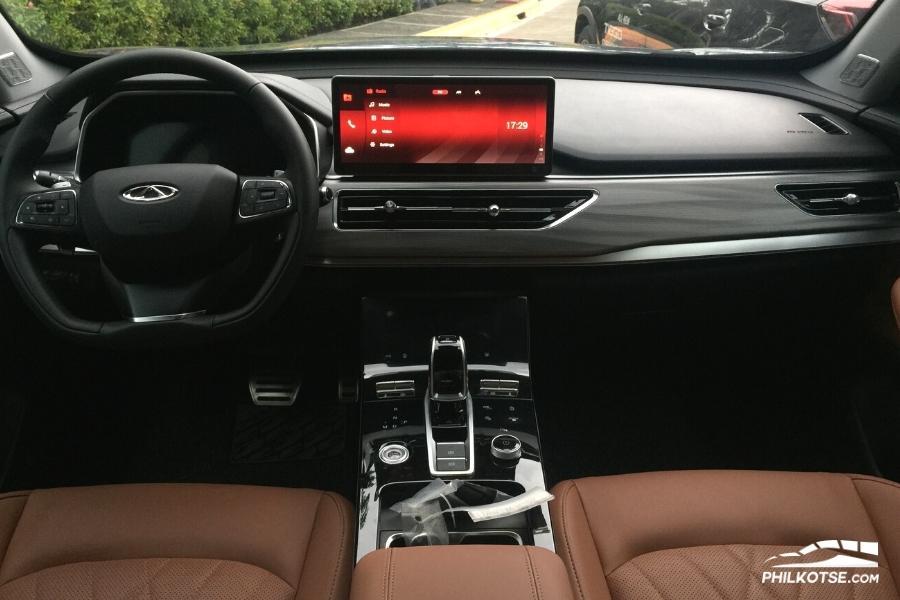 Black and brown interior theme
Finding the ideal driving position wasn't difficult thanks to the Tiggo 8 Pro's 6-way electrically adjustable seats. Moreover, the front seats are equipped with a cooling function that can be used during summertime in the country. Meanwhile, rear passengers get to benefit from rear aircon vents.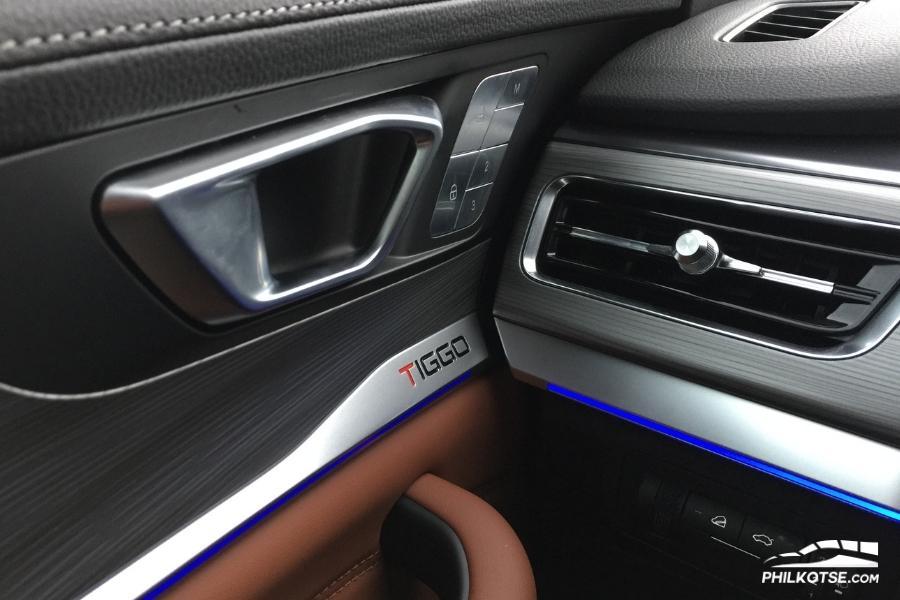 Tiggo badges can be seen in the cabin
While driving the vehicle, the seat does a great job of keeping the driver in place even during high-speed cornering. The front seats get a headrest adjustment feature to offer a more relaxed sitting position, while the dashboard features multicolor ambient lighting that helps bring up the mood of passengers.
2022 Chery Tiggo 8 Pro Quick Drive: Tech & Safety Review
Sitting on the dashboard of the Tiggo 8 Pro 1.6T is a 12.3-inch infotainment touchscreen with Apple CarPlay and Bluetooth. This system is paired with eight speakers which we enjoyed on the quick drive to Mount Samat and back to Subic. A wireless charger is also made available, an important feature for those who are always on the go.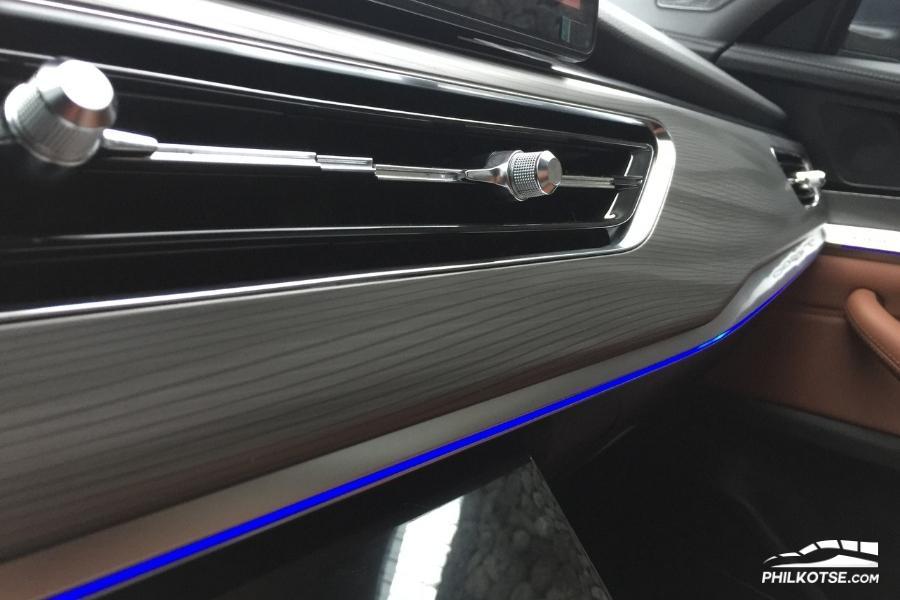 The T8 Pro is equipped with ambient lighting
Aside from all the competitive features said so far, the midsize crossover's advanced driver assistance system (ADAS) is perhaps the most significant for its price. It performed adequately during the drive, providing both audible and visual warnings that can be seen on the 7-inch LCD instrument cluster.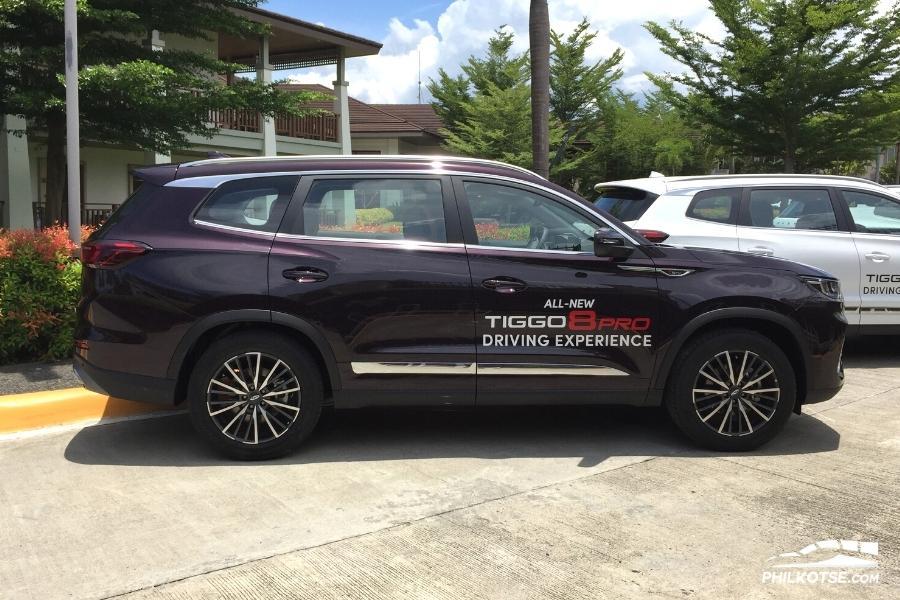 The ADAS can keep Filipino families safe on their trips
Among the eight features in the ADAS are Adaptive Cruise Control (ACC), Lane Keeping Assistance (LKA), Lane Departure Warning (LDW), Front Collision Warning (FCW), and Blind Spot Detection. Other interesting safety features include six airbags and a 360-degree camera as standard.
2022 Chery Tiggo 8 Pro Quick Drive: Engine & Performance
As said earlier, the unit we drove was the Chery Tiggo 8 Pro 1.6T, which has a 1.6-liter TGDI (turbocharged gasoline direct injection) engine good for 195 horsepower and 290 Nm of torque. It is connected to a 7-speed dual-clutch transmission (DCT).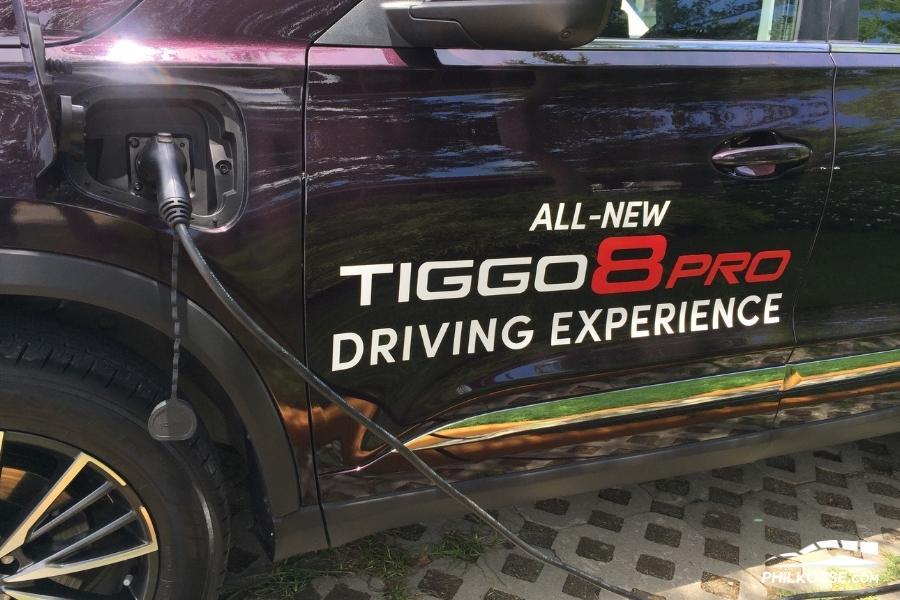 The Chery Tiggo 8 Pro is available with an eco-friendly option
We observed a slight delay in terms of throttle response on account of turbo lag, so drivers will need to plan their overtakes ahead of time. But the higher-end Tiggo 8 Pro 2.0T offers a more potent powertrain for those who might need it. Meanwhile, the Tiggo 8 Pro PHEV is capable of reaching between 80 to 90 kilometers solely on EV mode, with a full charge costing just around Php 173.
The handling and stability of the vehicle are impressive enough to make us feel confident to drive enthusiastically whether going downhill or tackling corners at high speeds. The Tiggo 8 Pro has two independent suspension setups for the front and the rear that manage to keep the wheels planted on the ground and reduce body roll.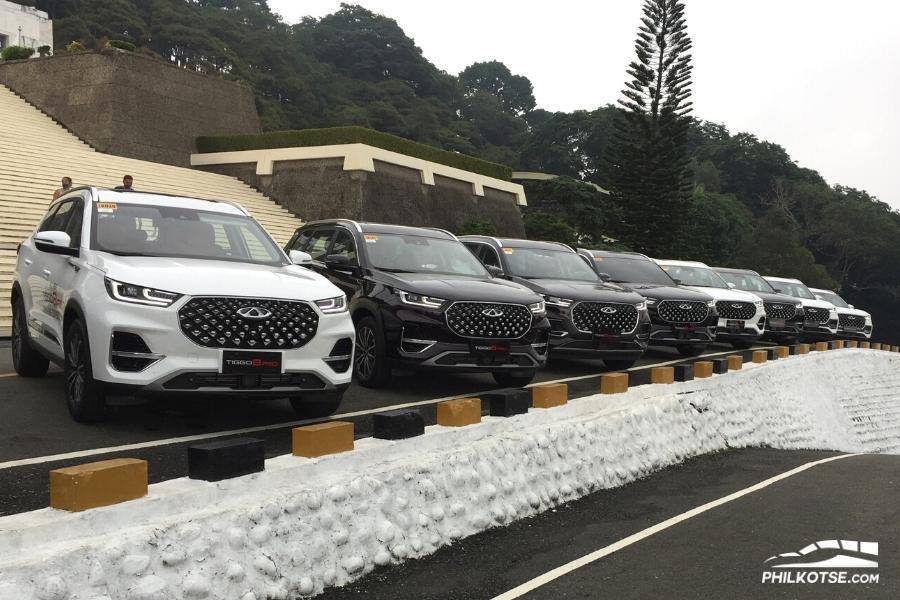 The drive up to Mount Samat was fun even with the smaller 1.6T engine
Although fuel efficiency figures are still up in the air as we only had the Tiggo 8 Pro on a quick drive, it comes with two drive modes that allow owners a degree of flexibility. Eco mode provides amusingly nimble steering feel and climbs through the gears faster for improved efficiency, while Sport mode tightens the steering wheel and keeps the gears low for more spirited drives.
2022 Chery Tiggo 8 Pro Quick Drive: Initial Verdict
Despite its size, the Chery Tiggo 8 Pro is one fun midsize crossover to drive thanks to the improvements the automaker introduced over the non-Pro Tiggo 8 model. Plus, it is equipped with many safety bits under its ADAS which is unique for its price point.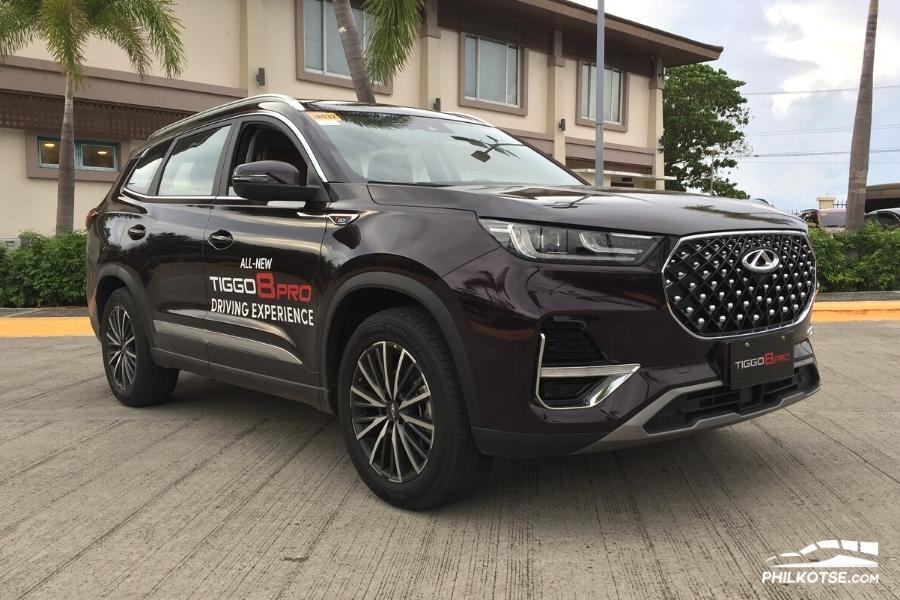 It is geared to achieve big things
At an entry-level price of Php 1,645,000, Filipino car buyers can already own a feature-loaded and premium-looking 7-seater midsize crossover that is poised to become a strong competitor in its market once it goes on sale. As a veritable cherry on top, Chery Auto Philippines will also offer the Premium Preserv aftersales program that includes a 7-year warranty on the engine on top of a 7-year general warranty, plus 3-year free PMS and roadside assistance.
Here at Philkotse.com, we cover the latest cars in the market.


Rex Sanchez
Author