For the 1st episode of our Car of the Week series, we feature a 90s Subaru Legacy BG5. The owner tells us a story that love can sometimes come from places where you never expect.
They say that your soulmate, the love of your life, comes when you least expect it. That rings especially true for our  Philkotse.com fan car of the week, courtesy of Arjay Palma Grana and his late 90s Subaru Legacy BG5 station wagon.
Some car fans may lust over their own dream cars with posters and pictures on their Instagram accounts, but until you get to see the apple of your eye in the metal, you've never really known love.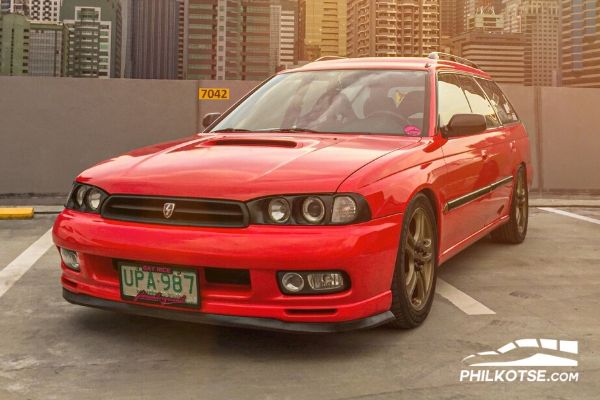 Some car models are so much better looking in the metal
Over the years he's owned the Subaru Legacy BG5, Arjay has learned so much about building cars. He started with a dream of having his own car, and with a little love and patience, he was finally able to arrive at his current setup, making new friends and relationships along the way.
If you ever meet this guy at any of the major car club meets, you'll find him to be one of the most humble and accommodating guys out there, and he'll only be too happy to show you his pride and joy.
The second-generation Subaru Legacy was first sold from 1993 to 1999, offered in both a sedan (BD) version and the beautiful specimen we have today, the BG5 station wagon. Believe it or not, there was a time when an SUV was a less-than-ideal choice, due to its lack of refinement and poor fuel efficiency. 
Station wagons were the weapon of choice for families who wished to bring their kin out of town with a weekend's worth of luggage, and Subaru led the charge. Designed by Olivier Boulay, the French designer who penned the now-iconic and luxurious Maybach 57 and 62 limousines, the Legacy truly stands out from all Subarus that came before it or since.
The taillight cluster was patterned after Subaru's legendary SVX car of the early 90s. You can definitely see that this particular Legacy BG5 really stands out even today, with its European styling sensibilities and Japanese engineering.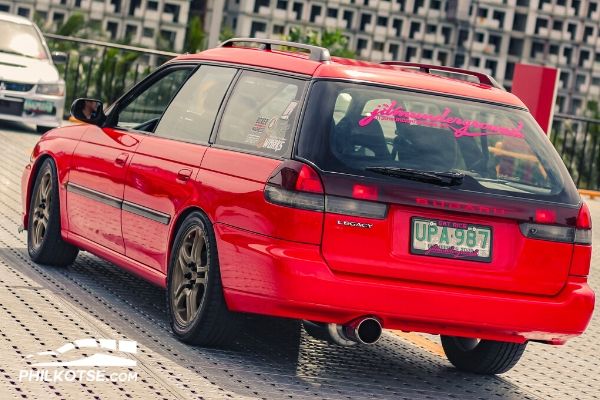 The Subaru Legacy BG5 features a taillamp cluster similar to the Subaru SVX
But a Subaru Legacy BG5 wasn't originally on Arjay's sights; he had always wanted a Toyota Corolla AE92, lovingly known as the "small body" Corolla. He's been dreaming of getting that particular model for years, but as fate would have it, his mom's colleague at work was selling a particular Subaru wagon that piqued his interest.
Upon meeting the seller, he was shocked to see a barely used, late 90s Legacy BG5. He was apprehensive at first, because of the stigma behind buying cars from lesser-known brands. With the encouragement of his friends and family and after doing research, he took a leap of faith. In an instant, Arjay was now a part of the Cult of Subaru.
>>> Refer to our Subaru for sale section to find yourself the best Subaru car deals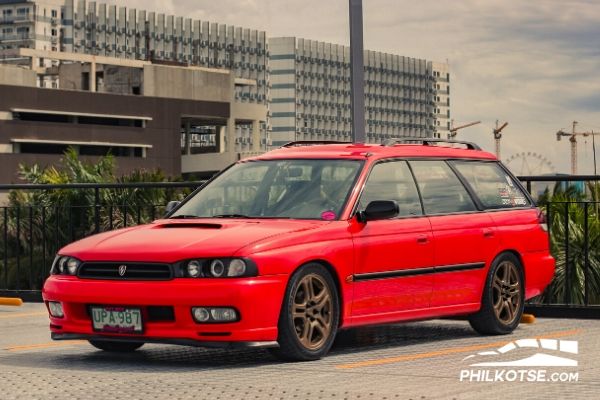 I think getting this over the Corolla AE92 was a good choice
After putting the car through regular maintenance, he got bit by the tuning bug straight away. And why not? The Subaru Legacy BG5 station wagon just begging to be tuned. In its stock form, it makes a respectable 135 hp from its single overhead cam EJ20 engine.
It has a fully independent suspension, fitting enough as the Legacy has its roots firmly planted in Subaru's World Rally Car racing heritage. Arjay wanted his Subaru Legacy BG5 to look good while still maintaining its drivability.
>>> Also check: Car modifications in the Philippines: What do you make of this?
The modifications to his car include cosmetic upgrades like bucket racing seats culled from an early 90s Subaru Impreza GC8, front bumper, fog lamps, and hood with scoop that comes from a period-accurate Subaru Legacy GT.
Adding to the badass look, Arjay opted for Moretti-style headlamps, projector types enclosed in a blacked-out housing. He also took the 17-inch rims from a 2002 Subaru Impreza WRX, complementing the uniquely Subaru look.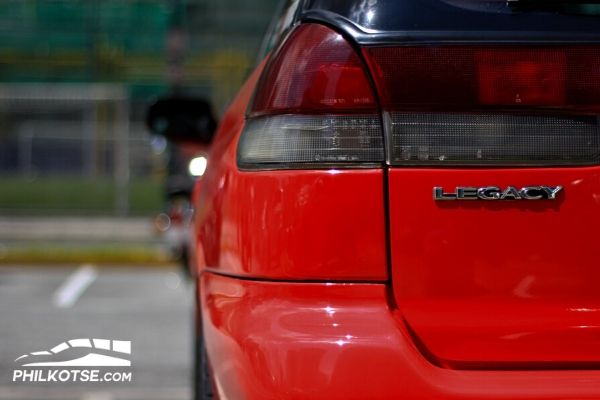 Cosmetic upgrades with period correct parts scores pure JDM points
The stock engine remains untouched, but he's made sure the Subaru Legacy BG5 is fun to drive and ready for further performance modifications, with installing suspension mods like an STI strut bar, adjustable Tein coil-overs, and a particularly hard-to-find STI Genome Exhaust for that extra oomph.
Arjay says he plans even more performance modification, but he doesn't want to go overboard. For now, he enjoys his Subaru Legacy BG5 as much as he can - until he can find a twin-turbo DOHC EJ25, that is.
What can we take away from all this? You always have that one goal or dream, whether its something (or someone) you want to have in your life. But at the end of the day, life puts you on a detour, dealing you a hand that turns out to be better than anything you could have ever imagined.
Arjay just wanted a simple Toyota Corolla for sale, but as circumstances would have it, an opportunity arose when life took him on a different turn. As you shuffle through the cards of life, you might find that the one really meant for you, is something you've never even thought of before. That's love right there.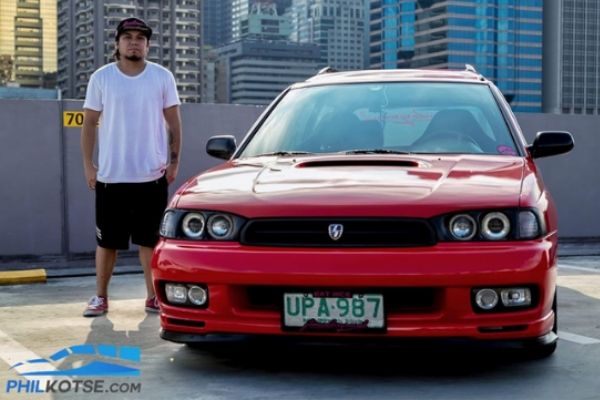 Arjay is accommodating enough to answer even the peskiest car journalist's questions
Special thanks to Arjay Palma Grana of car clubs SneakyMods and the Legends of the Nineties for being generous and sharing the car's story with Philkotse.com.
If you want to purchase a vehicle and start your own car story, it's super easy. All you have to do is browse through our car for sale section. We have comprehensive listings of any car you might be looking for, no matter your budget.
Just send us a message or leave a comment down below, and we'll be in touch! You can also send me a message at leroy.robles@philkotse.com so your car gets featured on our website!

Know more about Subaru Legacy 2023

The Subaru Legacy is a series of premium and sporty midsize sedan built with the legendary Japanese carmaker's acclaimed handling and consistent performance. It features a sleek exterior designed with engineered gorgeous lines, aerodynamically-modified edges, and a mighty stance. Inside, it boasts a luxurious cabin packed with luxurious amenities drivers and passengers will surely adore. The Subaru Legacy is offered in seven exciting variants: the Subaru Legacy 2.5i, the Subaru Legacy 2.5i Limited, the Subaru Legacy 2.5i Special Edition, the Subaru Legacy2.5iGT Limited, the Subaru Legacy 2.5GT spec. B, the Subaru Legacy 3.0R, and the Subaru Legacy 3.0R Limited. It comes in Satin White Pearl, Quartz Silver Metallic, Seacrest Green Metallic, Newport Blue Pearl, Ruby Red Pearl, Deep Bronze Metallic, Diamond Gray Metallic, and Obsidian Black.

Roy Robles
Author