The Nissan Silvia S15 is Nissan's swansong for the venerable and legendary S line of the speed machines and the owner is more than happy to share with us his ride.
What we have here is a car that dreams are made of. I'm sure you've hung up a picture of this on the wall of your room as a kid; it will be the last thing you ever see before you fall asleep and is the first when you wake up.
You imagine driving it in your sleep, you have the wallpaper on your phone or desktop computer, and every day you fantasize about owning that dream car one day; that's what it's all about, right?
Ryan Figueroa of RF Wheels tells me that a 1999 Nissan Silvia S15 Spec S has always been his dream car, and it's just absolutely breathtaking. Let's check it out with Philkotse.com.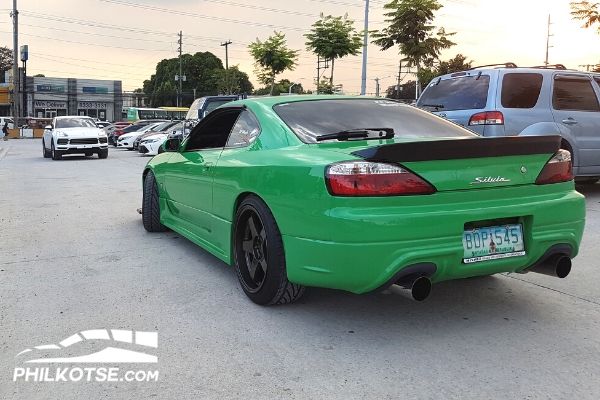 Getting to drive your dream car every day is a #lifegoal
Unlike other people's treasured possessions, his green machine isn't locked up in some garage or showroom but can actually be seen tearing up the streets east of the metro as he heads over to another business meeting, product delivery, or simply picking up the wife and kids.
If you expect Ryan to be one of those toxic car culture guys who gloat over having one of the best cars in any lineup, you couldn't be more wrong; he's one of the most accommodating and friendliest guys you'll ever come across, very generous in sharing his car knowledge, his ride as well as tips and expert advice on wheels,.
>>> Related: Check out Nissan Silvia 2017 for sale here.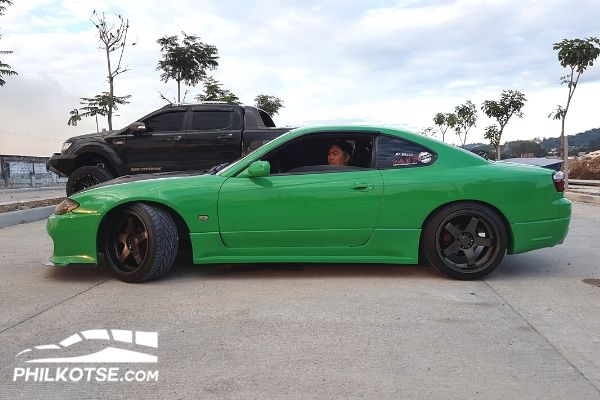 The Nissan S15 is the last in the series of legendary "S" Cars
The Nissan Silvia S15, internationally known as the Nissan 200SX, was the last model in a long line of S cars dating back to 1964. Its formula of a two-door, light-bodied, low-slung, rear-wheel-drive front-engined madness is the archetype of modern drift culture; more often than not you, you will see more than one example of these cars in track meets and drift events.
Here's a fun fact: the preceding S14 model was briefly sold in the Philippines from 1997 to 1998, with Nissan bringing in 200 units of the automatic transmission variant. It went for the princely sum of PhP1.15 Million back then, which in today's money seems to be a steal for such a car.
Unfortunately for us, Nissan Philippines never repeated the same temporary insanity they had in 1997. I mean, they wouldn't want to be rich from that much sales bringing in a fun car, would they?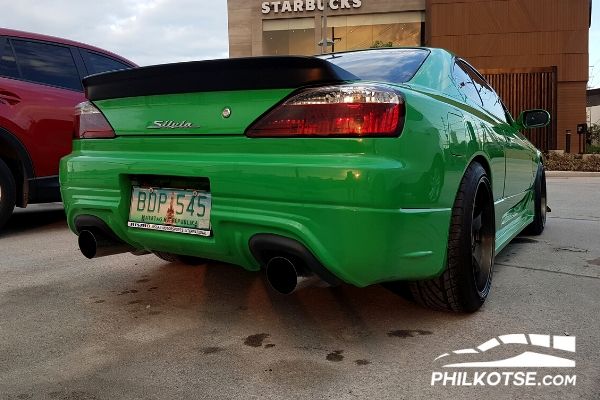 The formula of two doors, lightweight and rear-wheel drive makes this a capable track and drift monster
This Silvia is the last generation of the S series of cars from Nissan. Knowing the S15 was their swan song for the venerable model line, Nissan brought out all the stops. The car was launched in 1999 to much fanfare, featuring styling never before seen on Japanese cars of the era. 
Tuning company Autech even created a kit for it to resemble a Ferrari 456, and I have to say, I think I'm leaning more towards the Silvia. To this day, its sleek body lines can still put most modern cars to shame.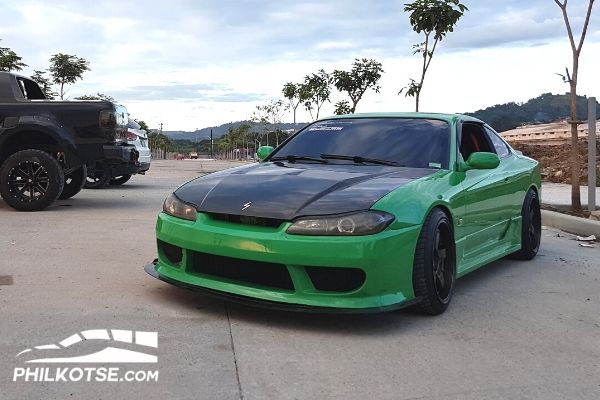 If keeping your car driveable in spite of the mods is the holy grail for tuners, you have the grail right here
Ryan's Silvia S15 features a tasteful body kit, which builds on the S15's already beautiful body lines. He added a carbon fiber hood to save front-end weight and, let's be honest, just makes the car look so much better by adding contrast to the glorious green body.
It also has a carbon fiber diffuser that cuts through the air at high-speed, topped off by a subtle but effective rear duck-tail spoiler.
Propping the car up are lightweight 18-inch ROTA P45R2 wheels shod in slick Nitto Neogen rubbers and lowered by Tein coil-overs. Most cars lower their vehicles to look cool, rendering them undrivable in the process, but with Ryan's modifications and the more than sporting nature of the S15, he doesn't worry much about the suspension bottoming over.
>>> Also check: Car of the Week | Subaru Legacy BG5 "Project Baru"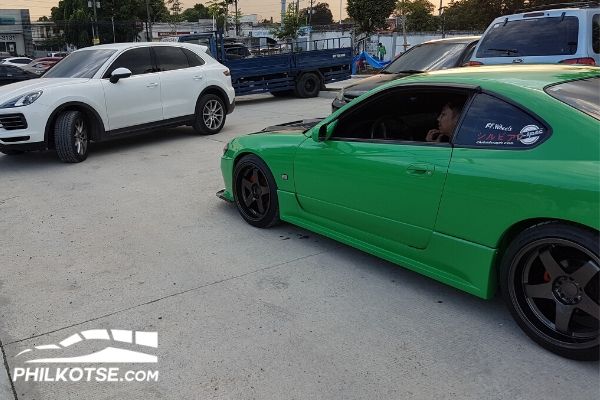 The Nissan S15's design is timeless and even embarrasses more modern cars
Inside Ryan's Nissan S15, he opted to keep the stock seats, and why not? After all, the Nissan Silvia for sale is no souped-up econobox, but a full-fledged sports car. The stock bucket seats are plush and supportive enough, with full-grain leather and red accent stitching.
Unlike on supposed performance cars today, you need not penalize yourself with hard interior plastics as the Nissan S15 interior, like the dashboard, door panels and carpets feature full-on leather and soft-touch materials. This is after all the S series' swan song, so why hold back?
There are some carbon fiber bits and pieces in places such as the center console that further enhance the look and feel of the vehicle. Ryan even installed a four-point roll cage at the back, because why not?
The S15 was meant to be a two-seater through and through, and despite the roll cage, he can still fit in a significant amount of luggage in the back. You really can have your cake and eat it too, you know?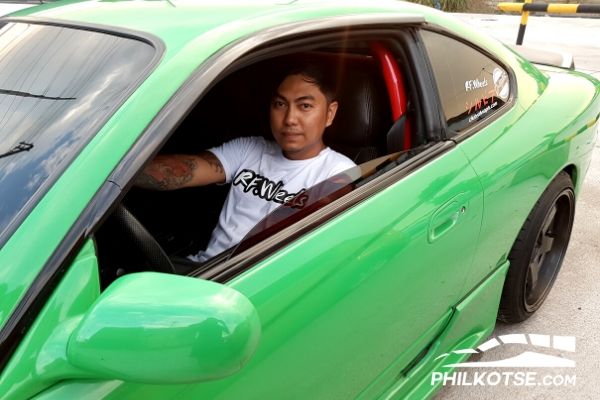 Ryan stays humble despite the monster he drives.
Performance-wise, the Nissan Silvia S15 is powered by the venerable, naturally-aspirated 2-liter SR20DE engine that's longitudinally-mounted and powers the rear wheels. The powerplant supposedly makes 145 hp and 179 Nm of torque in stock form.
>>> Check out our Nissan cars for sale section for affordable Nissan models in the Philippines
Thanks to a number of modifications like proper tuning, increased compression ratio and more aggressive camshafts, a more free-flowing intake and exhaust courtesy of an HKS intake kit and Blitz twin exhaust system, the engine blows past that number to more or less reach the 200 hp mark.
A heavy-duty racing Cusco strut bar mounted on the strut towers keeps the car even more stable on corners, while aftermarket big brake kits keep the insanity at bay. He also appreciates rowing through his own gears and keeping the manual transmission alive with a five-speed shifter.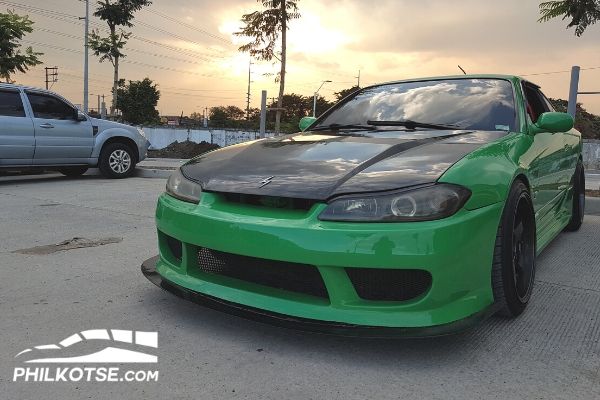 If you don't dream big you will never get what you want
Silvia S15 is Ryan's daily driver, and he takes it wherever he goes as much as possible. As the owner of popular aftermarket tire and wheel shop RF Wheels, Ryan has used the S15 for deliveries as well.
It isn't every day that you get to drive your dream car, Ryan says, and he feels blessed knowing that a JDM legend sits in his garage, waiting for him to drive off to another busy day.
You're just a few clicks away from owning your very own dream car! Here at Philkotse.com, we have an extensive lineup of cars both new and pre-owned. You'll never know when one of them will be your next dream car, so head over to our cars for sale page and check out all our listings from our trusted dealers.
If you want to have your car featured on our Car Of the Week segment, drop me a line in the comments section below or send me an email at leroy.robles@philkotse.com so we can feature your ride!


Roy Robles
Author