Randell never thought of loving his company-issued car, but 13 years down the line and he is just enamored with it! Find out why he isn't the only one and why I envy him and his car!
When does less become so much more? Many people dream of having the chance to restore (and probably enhance) legendary 90s offerings; drifting A32 Cefiros, converting their hotdog-style Lancers to AWD Evos, and of course, replicating the insane 90s-era Honda Civic Type R by dropping a B16 into the engine bay, or simply souping up a Civic SiR.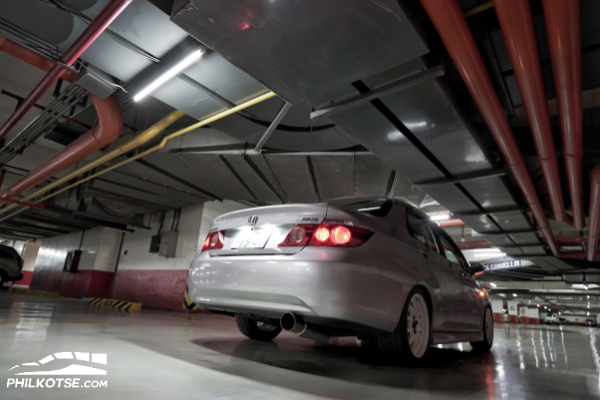 In a few year's time, our kids will look back at this as the car that broke free from the 90s
JDM enthusiasts, however, would rarely consider the Honda City 2003-2008, much less give it a second look; truth be told, it would be their loss. The GD Honda City was one of the most versatile, agile, and fuel-efficient cars ever (apart from being fun to drive), and my experience one lazy Thursday afternoon at an Ortigas parking lot basement proved just that.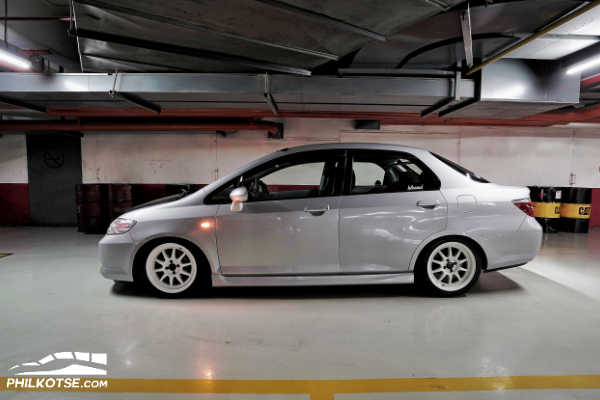 I don't get what others don't see in this car. It's beautiful!
>>> Related: What does it exactly mean when a car's called JDM?
History
The Honda City GD was first introduced in the Philippines back in 2003. It was a sharp departure from the design of the previous SX8 City; gone were the boxy, angular looks that may have enamored your titos and titas in the 90s but just had to go with the arrival of the new millennium.
I remember seeing one outside my high school before, and right away I thought to myself that we were definitely living in the future. While most people dismissed the GD City for its looks, I believe it ushered in a new era in car design, as there was definitely nothing like it before or since!
>>> Latest updates on upcoming Honda cars can be found in our Complete guide to the Honda Philippines' local lineup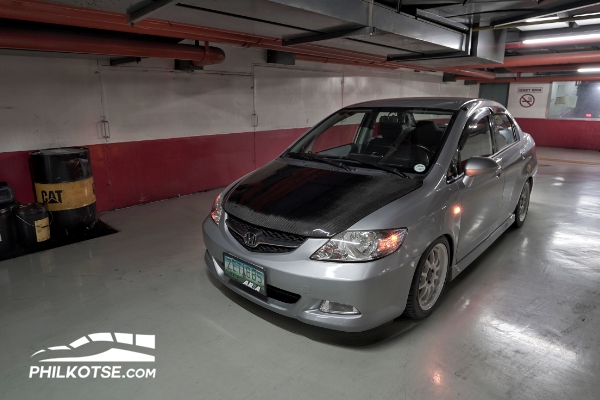 This mid-cycle refresh replaced the older more polarizing design of Honda City
The pre-facelift design entailed a short hood and a long deck, a look that pundits often criticized as resembling a bug. With the car's globby pod eyes upfront and sharp chin, I don't blame them for thinking that way. Honda's arm was probably twisted to make some changes, as the City eventually received a mid-cycle refresh quickly in 2005, with Honda's arm probably being twisted to make some changes, though personally I would go for the previous design.
The large and tall door panels open wide for easy ingress and egress, while the back features a large boot, which I believe was one of the biggest sources of criticism lobbed against this amazing car. Again, beauty is relative, but why do most cars these days follow in the GD City's design philosophy?
>>> Other "car of the week":
Small car for the big boys
Honda had the Asian market in mind when it designed the GD City. It was small and nimble, but had a lot of tricks up its sleeve that enabled it to fit up to five people comfortably inside. Along with its Honda Jazz stablemate, the City introduced the ULT (Ultra, Long and Tall) the precursor to the Magic Seats in use today.
Honda probably dropped the original moniker and went for "Magic Seats", as "utility, long and tall" just sounds like a tongue twister. Whatever they're called however, the seats can be adjusted into a variety of configurations to accommodate both passengers and cargo. Interestingly, this feature of the GD City wasn't carried over to future models.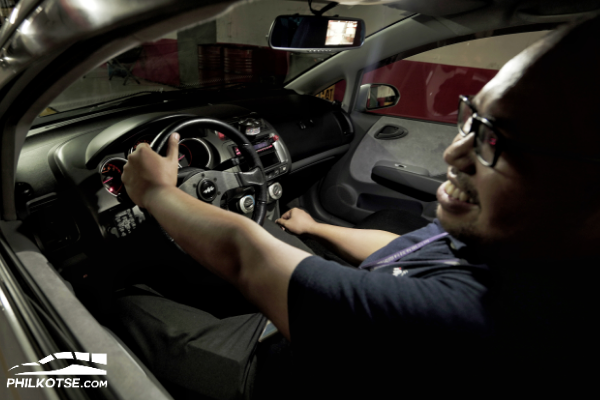 Even with a height hovering around six feet, Randall sits in absolute comfort inside
Space and visibility inside are excellent, especially for the driver which matters the most. The GD City had a unique window design that split the A-pillar, eradicating blind spots. It also had side mirrors mounted on the door panel, improving inside visibility even more.
The high-ceiling cabin can fit even the tallest of drivers and passengers. Both the owner and myself hover around six feet in height, yet we never really noticed our noggins hitting the ceiling while driving, of which I can't say the same where other similarly small cars are concerned.
Rear space is adequate as well, with the ginormous trunk able to fit a 12-inch subwoofer box while still providing ample space for other cargo!
Medical history
The owner, Randell Legaspi, takes pride in his Honda City 2006 , and with a history that's quite interesting. He got the car from his previous company where he worked as a medical representative. Basically, they marketed pharmaceuticals to doctors around the country. And in order to do that, having a practical, fuel-efficient car is a must.
Since leaving that line of work, Randell has already fallen for his daily steed so hard, he decided to take it with him. It has since clocked around 200,000 kms on the odometer, and the changes he's made to the car since becoming a free agent have been both tasteful and purposeful.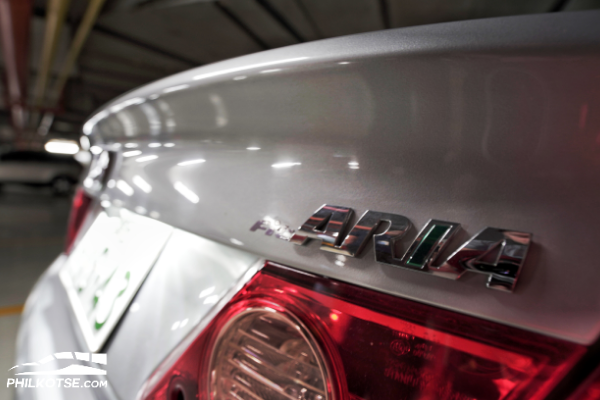 The Honda City is known as the Fit Aria in Japan
The outside sports the most obvious additions, with a full carbon fiber hood. There are also numerous JDM items like Fit pre-MMC sideskirts, a Fit Aria emblem (the City was known as the Fit Aria in its home country of Japan), amber clearance lights, Stanley glass foglight case, Fit Aria Flat door visors, and power-retractable side mirrors. Finally, there's an aftermarket free-flow muffler and tailpipe leading to a cat-back exhaust system.
The details were painstakingly designed to be accurate for the City's period and country of origin. After all, this car was a JDM exclusive at one point.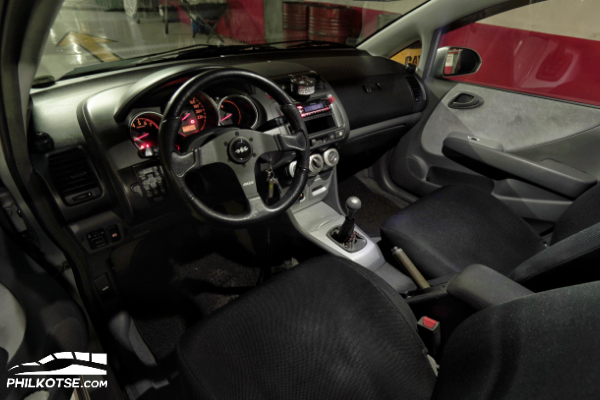 The interior still looks very modern, despite being more than a decade old
>>> Tips for you: [Philkotse guide] Which is better: Sleeper or exterior modifications?
Inside, there are even more substantial upgrades that make Randell's car even more fun to drive. The stock tiller has been replaced by a Momo Race Dragsters steering wheel. More JDM bits can be found, such as an HKB Sports Japan Hub Kit, the armrest/center console which is a necessity in my opinion, map lights from the JDM version, a power retractable mechanism for the side mirrors, a fog light switch, and an aftermarket C-pillar that aids in suspension and handling.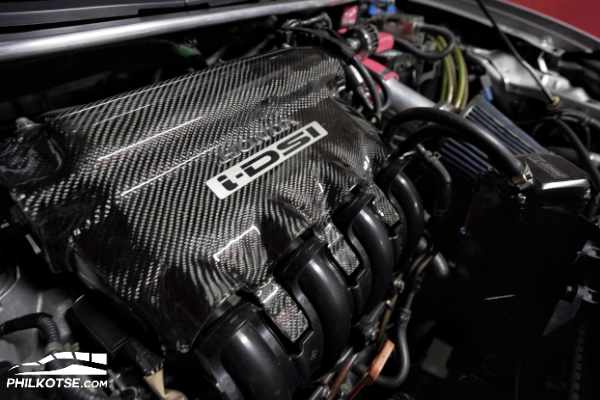 Yes, sir, that is real Carbon Fiber right there
Meanwhile, the in-car entertainment set-up is relatively simpler, consisting of just a Pioneer head unit controlling Ryan Audio 6.5 speakers with tweeters for the front and Pioneer 6x9 speakers at the back, tied together by the a/d/s 12-inch subwoofer in the trunk.
>>> You might want to know: Customizing the car audio system: 7 tips for Filipino drivers
Driving ain't No Thang
Randell gave me the privilege of driving his 2006 Honda City and I have to say, it really felt like home. You see, I own a Honda Civic from the same time period, and everything about the City echoes its bigger brother.
From the start-up manners, the clutch engagement, even the action of the accelerator and how it is physically linked to a manual throttle body, the sheer enjoyment of handling the GD City really beats drive-by-wire technology. Its electronic-assisted power steering makes the car a cinch to maneuver in tight parking spaces.
However, the ride height means that you have to look out for large speed bumps, or you'll end up scraping the underside! Randall has factored this in as a fact of life for lowered cars, and takes it in stride like a pro.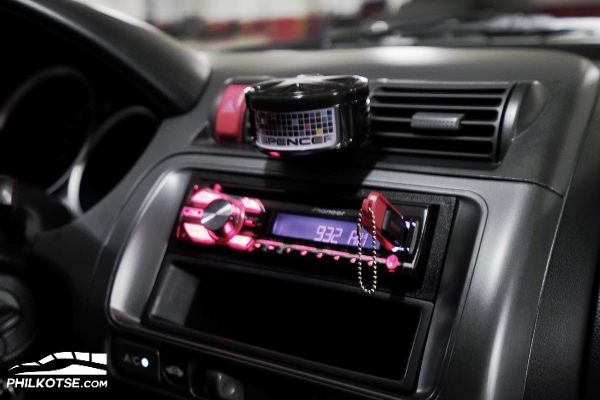 A simple Pioneer head unit powers and controls the amazing sound system
As far as the suspension is concerned, apart from the BC Racing Coilovers with 10/8 dampening that lower the vehicle, other upgrades includea set of 16x7 Rota GT3 alloy wheels with a +40 offset. These are shod in 205/45/R16 Achilles ATR Sport wheels. Further bracing down the suspension, as I mentioned earlier, is that aftermarket C-pillar in the cabin and a TRE front upper strut bar. I didn't push the vehicle while I drove it, but I nevertheless noticed that it did stay planted even during sharp turns.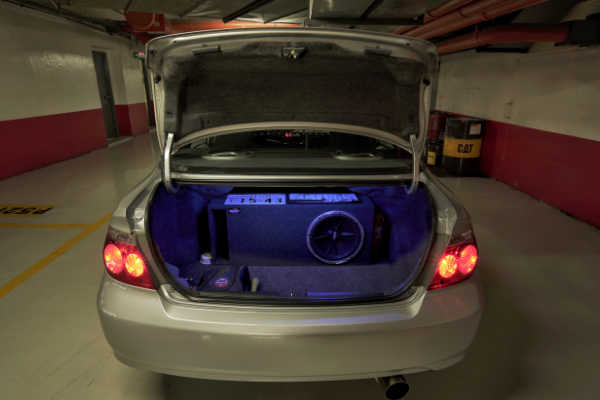 The rear is so cavernous, it still has room even after fitting a subwoofer inside
Powering his 2006 GD City is the ever-reliable L13A i-DSI SOHC inline-4 engine. In stock form, it makes 81 hp at 5,700 RPM and 116 Nm of pulling power coming in at a ridiculously low 2,800 RPM. With that much torque available that early in the rev range, it wasn't hard to lug this car around especially in heavy traffic.
Randell is proud of the stellar fuel economy his Honda City is capable of; imagine 12 km/l in heavy city driving, which you would only otherwise achieve by going into mini hatchback territory.
>>> Useful tips on car modification: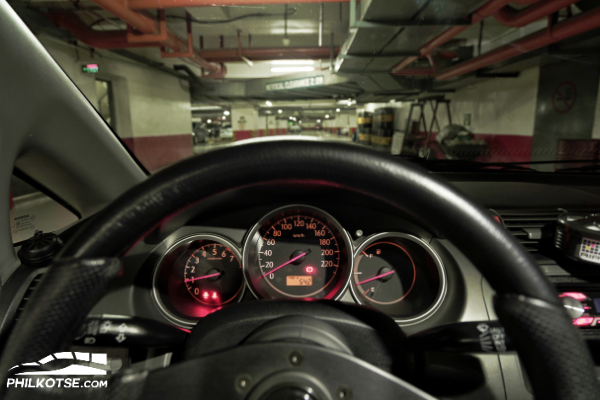 Visibility is top-notch and blind spots are nonexistent, thanks to that unique A-pillar window
The engine bay has received its fair share of modifications as well. Breathing air into the engine chamber is a Simota short ram intake that takes a larger amount of air to flow out into TRE 4-1 Headers. A D1 Spec oil catch can aids in keeping engine oil away from the combustion chamber which, mind you, has eight spark plugs all in all; that's four more than the standard number of sparkies in a four-cylinder engine.

Randell also replaced the stock plastic engine cover with one made of carbon fiber, acccompanied by a Skunk2 Battery Tie Down and Skunk2 Brake and Clutch Reservoir Socks. Aftermarket grounding kits round off the look, and I have to say that this is one of the cleanest-looking engines I've encountered.
>>> Click here to read Honda City reviews from Philkotse's experts
Honda City 1.3 2006 
Overall

Variant

Honda City 1.3 2006
Sedan

Price when new

PHP 529,000 - PHP 745,000

Price range now

PHP 250,000 - PHP 350,000

Dimensions

Length

4,310mm

Width

1690mm

Height

1500mm

Wheelbase

2450mm

Weight

1040 kg

Number of seats

5

Engine and performance

Engine

L13A i-DSI 1.3 SOHC 16V I4

Fuel capacity

42 liters

Five-speed Manual

Stock Max power

81hp @ 5,700 RPM

Stock Max Torque

116Nm @ 2,800 RPM

Average Fuel Economy

12-13 km/l (city)

Modifications

Engine bay: Simota Short Ram Intake TRE Front Upper Strut Bar TRE 4-1 Headers D1 Spec Oil Catch Can Carbon Fiber Engine Cover Skunk 2 Battery Tie Down Skunk 2 Brake and Clutch Reservoir Socks Aftermarket Grounding Kit

Exterior: Carbon Fiber Hood JDM Fit Pre-MMC Sideskirts JDM Fit Aria Emblem JDM Amber Clearance Lights JDM Stanley Glass Foglight Case JDM Fit Aria Flat Door Visors JDM Retract Side Mirrors (Non-Signal) Aftermarket Freeflow Muffler + Tailpipe|Catback INTERIOR: Momo Race Dragster HKB Sports Japan Hub Kit JDM Armrest/Center Console JDM Map lights JDM Side Mirror Switch with Retract JDM Foglight Switch Aftermarket C-Pillar Bar

Wheels & Suspension: Rota GT3 16x7 et 40 Achilles ATR Sport 205/45/R16 BC Racing Coilovers 10/8 with Dampening Adjustment

Entertainment: Pioneer Head Unit Ryan Audio 6.5 Speakers + Tweeters (Front) Pioneer 6x9 Speakers (Rear) a/d/s 12" Subwoofer
>>> Update the latest Honda City Philippines price
He isn't the only one
Randell is an active member of Club GD Aria, a group made up exclusively of Honda GD City car owners. They help each other out with tips and tricks, as well as sources for parts and labor for their beloved Honda City GD.
I asked him if I could join his amazing crew, if I ever fall into the temptation of getting my own GD City, and he welcomed me with open arms. Randell invites everyone who shares his passion and love for the Honda City to join in as well, and have fun!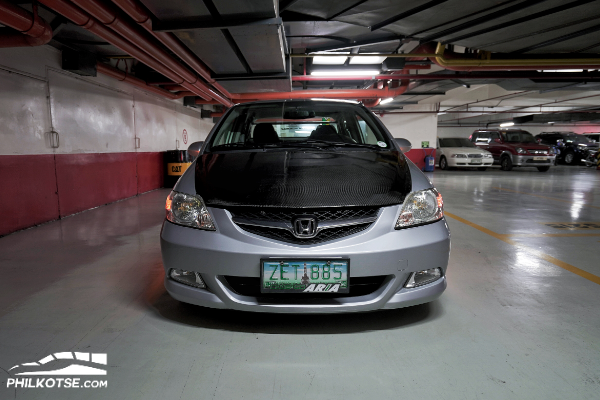 Thanks to its radical design, the Honda City still looks the part of a modern car 
At the end of the shoot, I was left starstruck; in a way, the Honda City was my earliest dream car, after that day seeing one at the school gates. It may be quirky, with looks that are quite polarizing, but I'm on the side that sees the GD City's virtues. Randall has a winner on his hands, and he damn well knows it
>>> Find yourself best Honda vehicle in our Honda for sale section.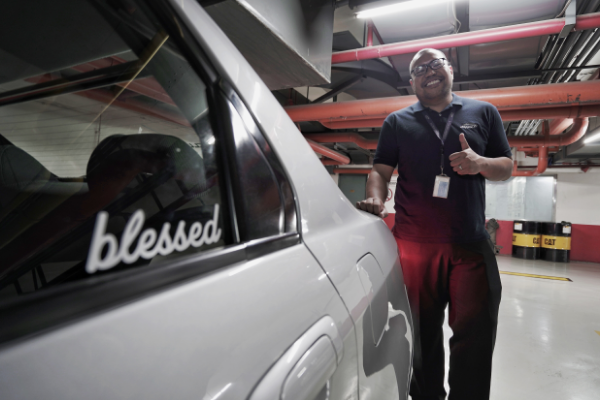 Randall truly feels blessed with his 2006 Honda City
If you have a car you want us to feature at Philkotse.com dont' hesitate to leave a comment below to send me a message!

Know more about Honda City 2023

The 2024 Honda City is a subcompact sedan. In the Philippine market, its four variants are City E, City S, City V, and City RS—the prices for these range from Php 973,000 to Php 1,128,000.
Size-wise, the refreshed City for 2024 is 4,580mm long, 1,748mm wide, and 1,467mm in height. The RS trim is a bit longer at 4,589mm. All trims then get a wheelbase length of 2,600mm and a ground clearance of 134mm.
Under its hood is a 1.5-liter inline-4 gasoline engine capable of making up to 119 horsepower and 145 Nm of torque. Power is then sent to its front wheels via a continuously variable transmission (CVT).
Locally, the Honda City competes against the Toyota Vios, Mitsubishi Mirage G4, Mazda3, Nissan Almera, Hyundai Accent, MG 5, etc.


Roy Robles
Author