Modulo has blessed the all-new 2020 Honda City with some go-fast bits from Honda Accessories. Check out how it looks and how much it will be for when it arrives on our shores. Take my money, Honda please!!
Just when you think you knew everything about the recently revealed all-new Honda City 2020 with all its Turbo goodness, Honda hits back at you with something special.
Apart from the existing variants of the City such as the Honda City S, V, SV and RS, you can now spruce your Honda City up even more with some go-fast bits from Honda Accessories Shop, Modulo.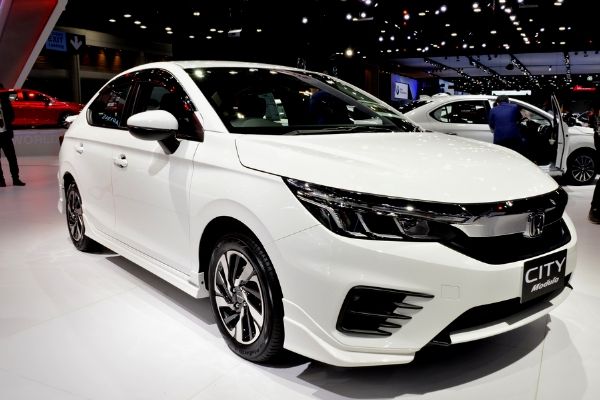 Honda Surprises everyone with the availability of Original Honda Accessories Parts!
For the uninitiated, Modulo is pretty much like Mugen but offers a different set of kit and is generally cheaper. Mugen offers you its own special body kits, and other bits and is mostly based in Japan while Modulo is sourced out of Thailand. No matter because Modulo kits are still pretty amazing and are unique enough to be collectible and cool at the same time.
>>> Check out: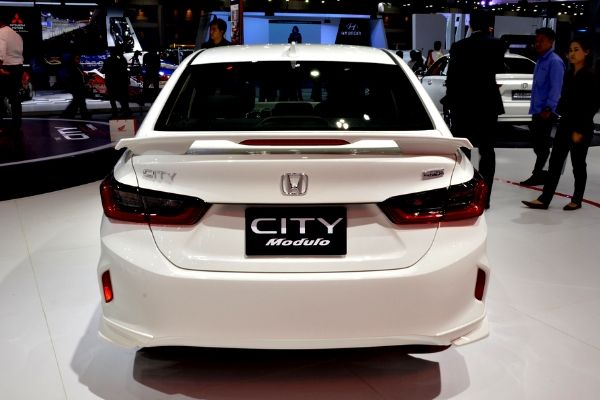 You can have that wing separately without purchasing the package!
The package not only includes exterior kits but also packages for the interior of the Honda City 2020. The prices are in Thai Baht, but if current pricing for models are any indication they shouldn't be that far off from local pricing. Here are the packages and the kit included with each one:
Modulo package

Included Bits

Approx price in Php

(as of 29/11/2019)

Modulo Aero

Front Under Spoilers - To be attached on the bottom part of the bumper; Rear Under Spoilers - To be attached on the bottom part of the OE bumper;

Php 26,084.35

Modulo Aero RS

Everything included with the Modulo Aero Package with side skirts

Php 30,099.73

Modulo Aero Sport

Everything included with the Modulo Aero RS Package with low profile wing-type spoiler with brake light

Php 39,516.40
These Aero packages come strictly in those tiers however if you do so choose there are some Modulo items you can get individually and their respective approximate prices (as of 29/11/2019)
Modulo Wing Type Trunk Spoiler – Php 13,705.31
Modulo Sport Pedals – Php 2,186.12
Modulo Side Step Garnish with LED – Php 7,399.67
15-inch Modulo Wheels – Php 6,054.28/piece
Modulo LED Fog Lights – Php 9,251.41
Modulo Drive Recorder (Dash Camera) – Php 6,475.99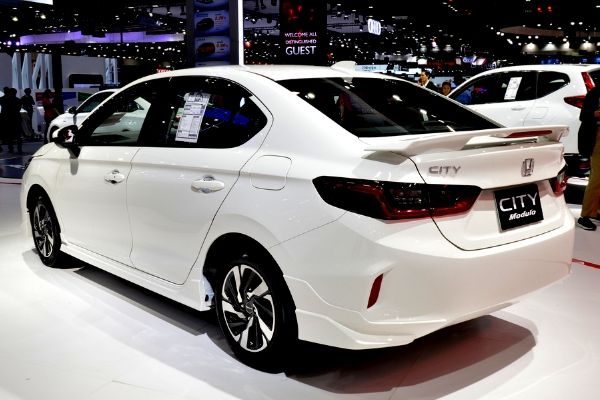 Getting original Honda Parts from Japan is difficult but Modulo aims to solve that problem
These bits won't make you go faster but you sure will look so much cooler with these authentic Modulo Parts. The All-New 2020 Honda City comes with a 1.0L 3-cylinder DOHC turbocharged VTEC engine, that's good for 120 hp @ 5,500 RPM and 173 Nm of torque at 2,250 RPM.
This is the same engine found in the Euro-Spec Honda Civic SR. This makes me excited to try out this All-New City, even more so than the frumpy looking Honda Jazz 2020.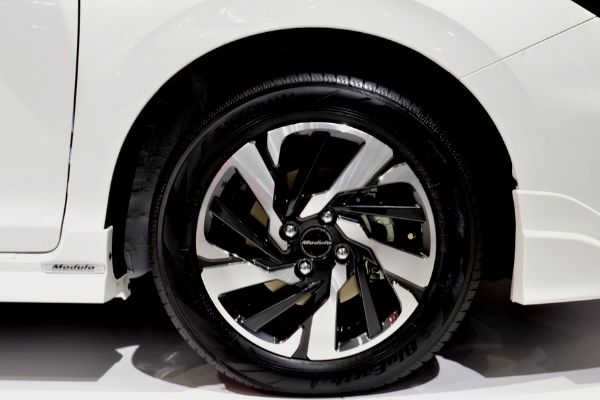 Stylish 15 inch modulo mags up the ante even further
Honda Thailand will be releasing the City right on Christmas eve with a Philippine release expected in early 2020. When it does reaches our shores, you can expect Philkotse.com to be there to cover everything about it and myself to test drive it!
So stay tuned and follow us for more news, reviews, and insights on Philippine motoring and everything about the car culture. Latest updates on upcoming Honda cars can be found in our Complete guide to the Honda Philippines' local lineup.

Know more about Honda City 2023

The 2024 Honda City is a subcompact sedan. In the Philippine market, its four variants are City E, City S, City V, and City RS—the prices for these range from Php 973,000 to Php 1,128,000.
Size-wise, the refreshed City for 2024 is 4,580mm long, 1,748mm wide, and 1,467mm in height. The RS trim is a bit longer at 4,589mm. All trims then get a wheelbase length of 2,600mm and a ground clearance of 134mm.
Under its hood is a 1.5-liter inline-4 gasoline engine capable of making up to 119 horsepower and 145 Nm of torque. Power is then sent to its front wheels via a continuously variable transmission (CVT).
Locally, the Honda City competes against the Toyota Vios, Mitsubishi Mirage G4, Mazda3, Nissan Almera, Hyundai Accent, MG 5, etc.


Roy Robles
Author