At this year's SEMA Show, Ford displays the Mustang Lithium Prototype. It has 900 horsepower which is great but it also has a feature that many car guys would want to be more common on EVs. A stick-shift tranny.
While the world holds its breath for the Mustang-inspired EV crossover, Ford gave us one hell of a preview at this year's 2019 SEMA Show. This one, however, is an actual muscle car called the Mustang Lithium prototype. As its name suggests, aff of its power is derived from electricity.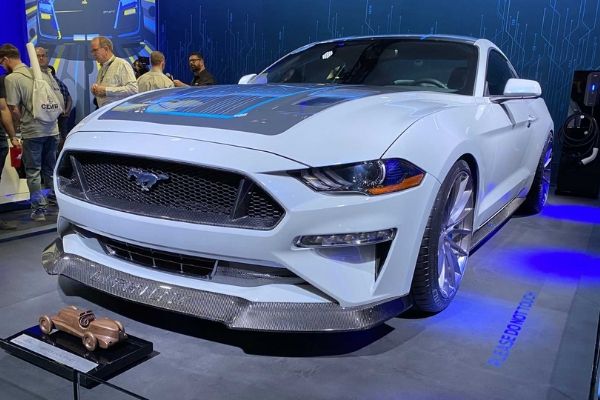 Ford also gave the Mustang Lithium Prototype a cool body kit, with even cooler blue decals
>>> Check out: Ford and Volkswagen to work together in building EVs and many other vehicles.
1. Ford Mustang Lithium Prototype: Better than you think
Before you scream "Sacrilege!", this electric Mustang can give its gasoline-powered sibling a fight. Its capable of generating 900 horsepower and an astounding 1,355 Nm of torque. Unlike most EVs, the Lithium comes with six-speed manual transmission.
In order to come up with this impressive one-off beast, Ford turned to automotive supplier Webasto, which supplied an 800-volt battery (similar to the Porsche Taycan) capable of supplying approximately one megawatt of power, double the amount produced by normal electric cars today, and enough to power 164 homes. Jumping Jupiter!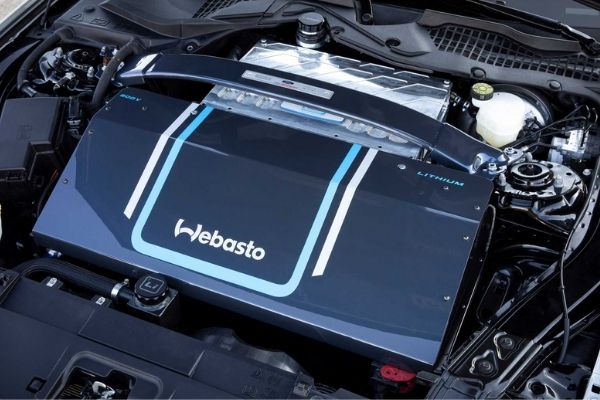 "Unlimiteddd powwweerrrr" - Darth Sidious, Revenge of the Sith
Instead of the usual V8, the heavy lifting is handled by a Phi-Power dual-core electric motor along with dual power inverters. The motor is a single unit, which helps to lessen heat and generate more ussable power.
>>> Curious about the latest Ford Mustang? Click here to read Ford Mustang 2020 review.
2. Ford Mustang Lithium Prototype: It has a freaking manual!
What caught the attention of many skeptical car enthusiasts is the Getrag MT82 five-speed manual gearbox capable of handling the Mustang Lithium Prototype's 1,356 Nm of torque.
Having a stick shift boils down to one very important thing; making EVs fun. The added weight does make the EV Mustang slower, but that's beside the point, since the transmission can enable it to make peak power all the time!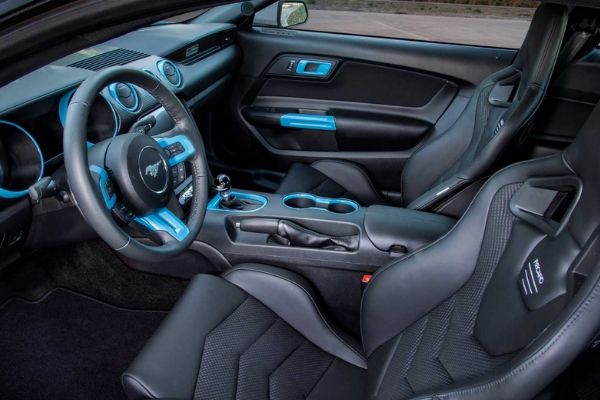 Yep, only a pair of Recaros will be able to keep you from bouncing around when driving this thing
To complement all that horsepower, Ford gave the Mustang Lithium Prototype a lowered suspension, a beefy strut tower brace, a fancy body kit with carbon fiber, a Super 8.8 Torsen differential, and six-piston Brembos brakes which are the same ones found on the Shelby GT350.
As an EV, the Lithium is anything but boring. And if ever Ford decides to actually greenlight the Mustang Lithium Prototype for mass production, well, let's just say that more people will be attracted to the idea of buying and driving electric vehicles.
>>> Click here to have the best price of Ford Mustang in the Philippines.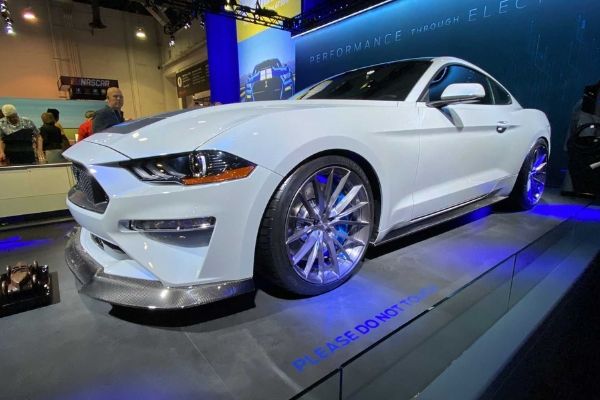 A lot of car guys wish that automakers will make EVs as fun as this.
For more automotive news, keep reading Philkotse.com.

Know more about Ford Mustang 2022

Arguably the most popular vehicle from the Blue Oval company, the Ford Mustang is one powerful coupe that is competing in the market with its sixth-gen model. Ford Mustang 2022 Price Philippines from Php 2,948,000 to Php 7,760,000, depending on the variant. Speaking of variants, the Mustang comes with four variants in the Philippines, namely the 2.3L EcoBoost, 5.0L GT Fastback, 5.0L GT Convertible, and Shelby GT500. The base Mustang uses a 2.3-liter EcoBoost inline-4 engine that makes 310 hp and 475 Nm of torque, while the GT variants are powered by a 5.0-liter Ti-VCT V8 engine that generates 460 hp and 569 Nm of torque. As for the top-spec Shelby GT500, it boasts a 5.2-liter supercharged V8 engine that churns out 760 hp and 847 Nm of torque. Only the Shelby GT500 utilizes a 7-speed Tremec dual-clutch transmission, while the rest offer a 10-speed SelectShift automatic transmission.
In terms of dimensions, this American sports car has a length of 4,788 mm, a width of 2,081 mm, and a height of 1,395 mm. Additionally, it comes with a wheelbase length of 2,721 mm and a ground clearance rated at 137 mm. The Mustang is competing in the local market against the likes of the Chevrolet Camaro, Dodge Challenger, and Nissan 370Z.

Cesar G.B. Miguel
Author