Ford and Volkswagen have confirmed their partnership to develop electric vehicles and a lot of other new vehicles.
Ford and Volkswagen tie-up: How it started
Large car manufacturers working together or even forming alliances as you know are actually nothing new and there are multiple reasons as to why they do this. Sometimes it's about cost-saving by sharing technologies and even manufacturing plants, sometimes the two parties have a mutual stake of each other's company, etc.
In recent times, more and more car manufacturers are seen working together mainly due to the fact that even in the ever-growing popularity of alternative car fuel sources, the future of cars and transportation itself is still as murky as ever.
There are new technologies just popping up left and right like autonomous driving, new high-tech safety systems, and electric-powered vehicles and many of these technologies are quite expensive to develop.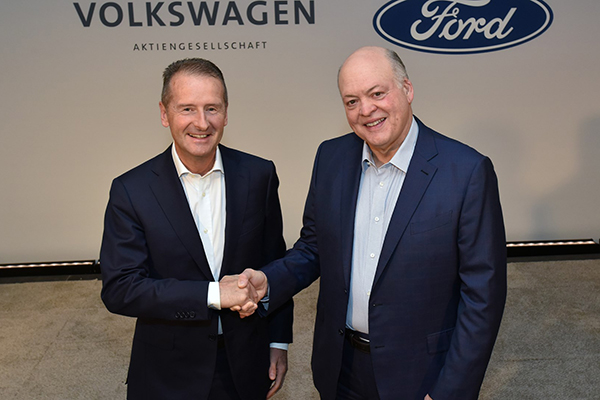 Volkswagen CEO Herbert Deiss and Ford CEO Jim Hackett at a conference in New York
Case and point are Ford and Volkswagen who has just been recently confirmed to jointly develop and manufacture several exciting new vehicles and technologies.
Now way back in January, the American Ford and the German Volkswagen had been in talks in order to set the grounds on a partnership for them to make commercial vehicles and of course, electric and autonomous transport.
A few days ago on July 12, 2019, Ford's Jim Hackett and Volkswagen's Herbert Diess, the said companies' respective CEOs had a press conference together in New York and they shared to the public their future plans regarding autonomous and electric vehicles and many others including import variants of the Ford Ranger and the Transit Van.
Moreover, there are reports that their discussions and further details on the said tie-up will be finalized come July.
Ford and Volkswagen CEOs Agree Partnership Has Been Beneficial
>>> Also check out: Volkswagen looking to form a partnership with Ford to develop a next-gen pick-up truck
Ford and Volkswagen tie-up: What does this entail for both companies?
While they will indeed be allied and will work together, it is confirmed that mutual ownerships stakes are out of the question. What they did confirm though is the development of an entirely new Ford Ranger which will undoubtedly be related to the next Volkswagen Amarok pick-up truck.
Volkswagen is also set to rebadge the ever-popular and very large commercial vehicle, the Ford Transit into the VW Transporter which the German company has sought to make into a van capable of running around and maneuvering on inner-city roads.
While the two companies didn't reveal how much they would save on this venture, they did share that the all-new Amarok will be distributed in non-US markets like in Europe, South Africa, and in South America. The rebadged Ford Transit will also be sold in Europe by VW.
Another crucial point to their alliance is that Ford will be using VW's MEB architecture to build fully Volkswagen electric-powered vehicles. In addition to that, they are also planning to make an all-new EV for the European market.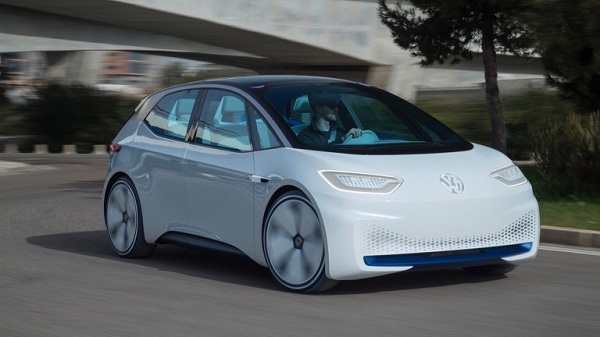 Volkswagen ID.3 2020: The brand's first-ever fully electric vehicle
The second, exciting technology that Ford and Volkswagen will work together on is Argo AI. Each company will have a stake in the said technology and will inevitably make it their joint subsidiary.
The first vehicle that is set to be equipped to have the Argo AI autonomous driving tech will be a medium-sized commercial vehicle which is set to be distributed worldwide.
As you may already know, there are already commercial vehicles operating in Europe that has autonomous driving tech albeit on a small scale and one such company that provides these is Einride with the driverless. truck.
In comparison to Einride, Ford and VW are set on making their future technologies available on a much larger scale. Both companies are set to start working together on this Argo AI in  2022.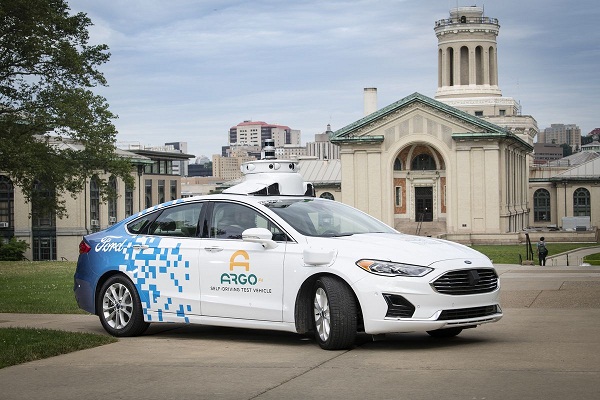 Volkswagen had already invested quite a lot into Argo AI 
While details on the tie-up are numerous, information on the said cars that will come out of this alliance is still a little bit thin on the internet so we just have to wait and see. Also please, Ford-VW, bring more of your commercial vehicle line-up here in the Philippines.
For more news, reviews, price-lists and more, please keep reading here at Philkotse.com.

Know more about Ford

As of 2023, Ford Philippines has a total of 10 models. This includes the Ford EcoSport subcompact crossover, the Territory compact crossover, the Explorer midsize crossover, the Everest midsize SUV, the Expedition fullsize suv, the Ranger and Ranger Raptor midsize pickup trucks, the F-150 fullsize pickup truck, the Transit van, and the Mustang sports coupe.
Besides the updated Ford price list Philippines 2023, Philkotse also hosts a list of the hottest car promos for the said brand. This includes low monthly payment promos, low downpayment promos, and cash discount promos.

Cesar G.B. Miguel
Author