Einride, a Swedish transport company was recently permitted to have their autonomous, electric powered trucks: Einride T-log & T-pod to operate on public roads.
In Jonkoping, a city in southern Sweden, great strides have been made in the transportation and logistics industry as Einride's together with their customer; DB Schenker becomes the world's first provider and user of a driverless truck that has been permitted for daily delivery duties on Sweden's public roads.
The Einride CEO Robert Falck is already in talks with other commercial entities in order for them to increase their production and to deliver orders. Einride, which is actually a start-up company even considers working together with a large truck making companies in the future.
>>> Related post: Your Domino's pizza to be delivered via driverless car soon
Mr. Falck, who once worked for Volvo says that gaining permission for their autonomous trucks to operate on public roads is a major stepping stone to involve autonomous technology in commercial uses. He then added that since Einride is primarily a software company, partnering up with a manufacturing entity is an important component for their future operations.
Einride - Future of transport
Investors for Einride now include former CEO of Mitsubishi Fuso Truck and Bus and they are also trying to bring in additional investors through a large fundraising event which had already raised about 10 million dollars.
As many of us might have noticed, it is a current trend in the automotive industry to reduce the cost of developing autonomous tech and electric powered vehicles through partnerships and alliances such as how Ford is interested in another start-up; Rivian for their electric powered pick-up trucks.
Also of note are Tesla and Apple who are also working to develop their own respective autonomous vehicles. With Tesla focusing on passenger cars and Apple with autonomous shuttle service.
Einride T-Pod and T-Log
As for the truck itself, it is a massive, cabin-less, futuristic looking, 26-ton beast guided by cameras, 3d sensors and radars which provides it with an amazing 360-degree awareness of its immediate proximal space. It also uses NVIDIA's autonomous driving platform and it is always online thru a 5g network.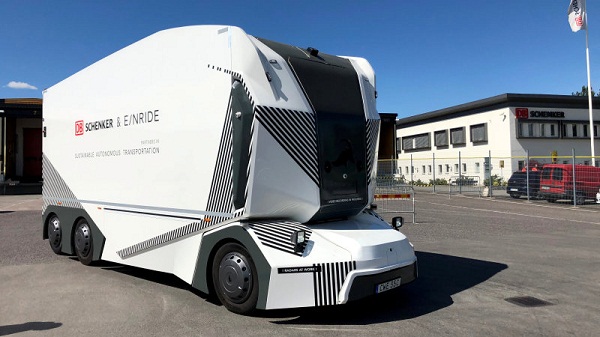 T-pod is equipped with a lot of cameras, a radar system and so is aware of its surroundings
Thanks to being cabin-less, the T-Pod saves a lot of weight, as such it can reduce freight operating costs by almost 60% in comparison to a conventional truck that has a diesel engine and a driver.
Despite being able to drive itself, the T-Pod truck is at all times monitored by a person and that person can take the reins and control the truck if the need is warranted.
According to the latest car news, the T-Pod has a driving range of 200 kilometers or 124 miles and can reach up to 85 km/h. During its testing phase, it only travelled a 300-meter route. That route though has a lot of tight turns and actually had traffic on it. Suffice to say, the T-Pod performed admirably during this phase.
Now with the Swedish government allowing the T-Pod on short trips on public roads, it functions to take good to and fro from a warehouse and terminal in Jonkoping's industrial center. With its current duties, the truck is only sped up to 5 km/h.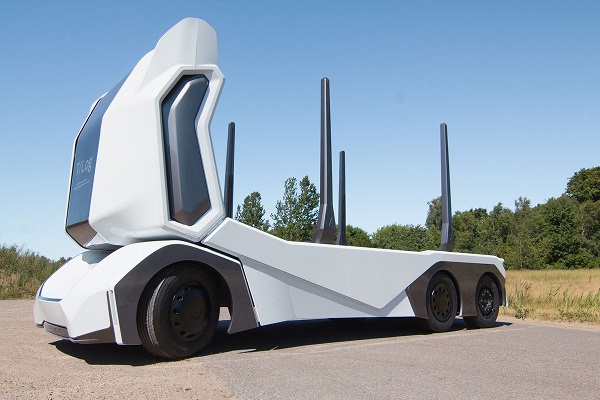 The "T-Log" is another variant of the T-Pod which is equipped to transport logs
Future Plans for Einride
Next year, Falck says they intend to apply for more permits for the T-Pod to operate on public roads. They are even planning to expand their reach to the United States.
US businesses rely a lot on trucking to move around goods, as such, companies like Einride with their impressive autonomous cargo trucks might just make a hit there.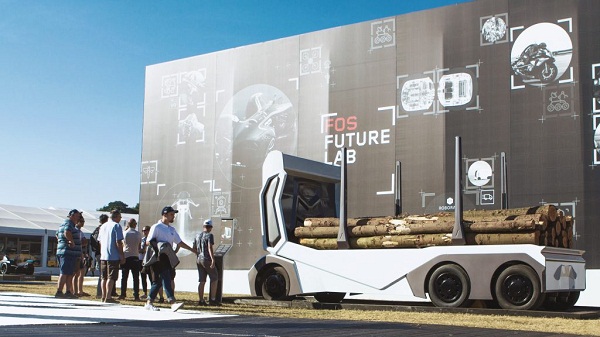 Einride aims to expand its reach to the US market
For more automotive news, please keep reading here in Philkotse.com. 


Cesar G.B. Miguel
Author