You can make a tough truck look and feel even tougher.
The Ford Ranger is a solid contender in the midsize pickup segment, with a combination of looks, capability, and performance that lets you tackle your to-do list with ease.
The Ranger's rugged exterior is matched by an interior that offers space and comfort as you breeze through your tasks, whether its delivering supplies or bringing your favorite toys for the weekend.
Admit it: you won't be satisfied with just an all-stock Ranger in your garage
However, a carmaker can't possibly account for billions of individual preferences across the globe for a particular model, and you'll eventually be toying with the idea of sprucing up your all-stock rig.
As imposing as your Ford Ranger already is, there are ways to make it even more of a standout, to reflect your individual tastes or make it more suitable for a specific purpose you have in mind.
The New 2019 Ford Ranger: Walkaround | Ranger | Ford
1. Ford Ranger modified: Wheels and tires
As the primary point of contact with the road, the wheels and tires are responsible for your Ranger's traction and handling.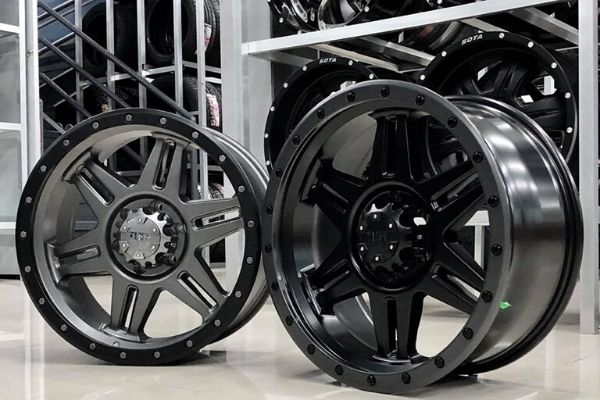 Make sure that only genuine wheels go into your Ranger (Image: Tuff A.T. Wheels Philippines)
They also carry the entire weight of the vehicle, from the cargo and passengers to the weight of the fluids and various components that make the Ranger run.
2. Ford Ranger modified: Grille
The grille is an integral part of the truck's fascia or face. More than just a showcase of chrome or blacked-out goodness, the grille ensures that the engine gets enough air for both combustion and cooling.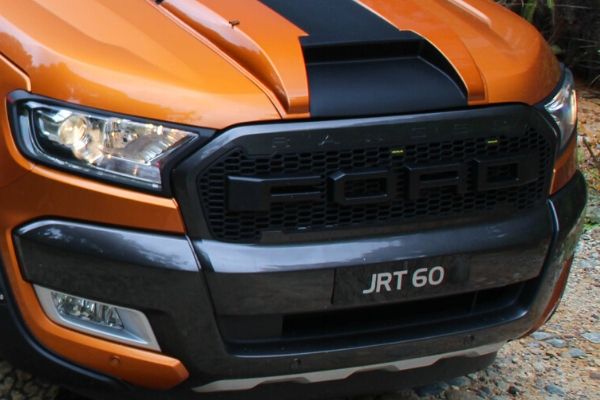 A Ranger Raptor grille could work for starters
With the loads that the Ranger has to contend with, it's important that any replacement grille still approaches (or even exceeds) the original's functionality, apart from enhancing the truck's appearance. 
>>> Related: Which 2020 Ford Ranger should you buy? [Philkotse Guide]
3. Ford Ranger modified: Flare extensions
The Ranger sports a set of flares in its design that conveys muscle, but those are not going to look good with dings and scratches.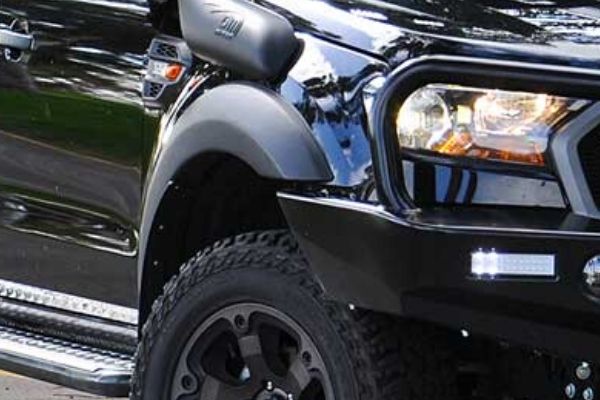 Protect your Ranger's bodywork by bolting on a set of flare extensions
Flare extensions are made of plastic, to shield the bodywork from damage caused by scraping against rocks, trees, even other vehicles. The tradeoff is that it adds to the Ranger's width, which could prove tricky when parking in rather tight spaces.
>>> Related: Ford Ranger accessories Philippines: Should I add one and what to buy?
4. Ford Ranger modified: Lift kits
The 232-mm ground clearance on the Ranger is impressive enough, but if you want to take on some serious terrain, installing a lift kit may not be such a bad idea.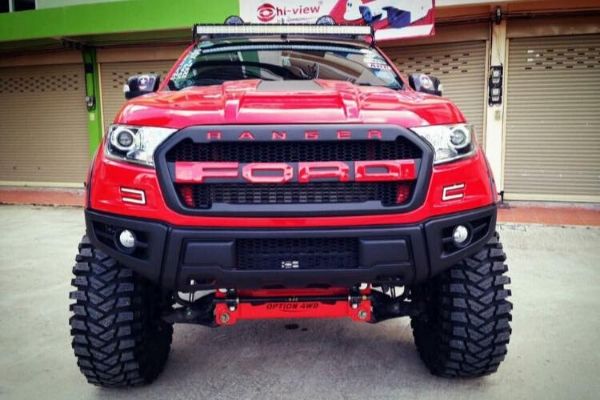 A lift kit brings more attitude to your Ranger (Image: Option 4WD)
You'll be able to fit bigger wheels and tires and increase the truck's towing and payload capacity, apart from making your Ranger just a little bit more imposing.
>>> Related: Car modifications in the Philippines: What do you make of this?
5. Ford Ranger modified: Front bumpers or nudge bars
The plastic bumpers on your Ranger are there to save weight, but they're not going to look good with a dent. An aftermarket steel bumper defends your Ranger on rough outings (or rush hour drives along EDSA).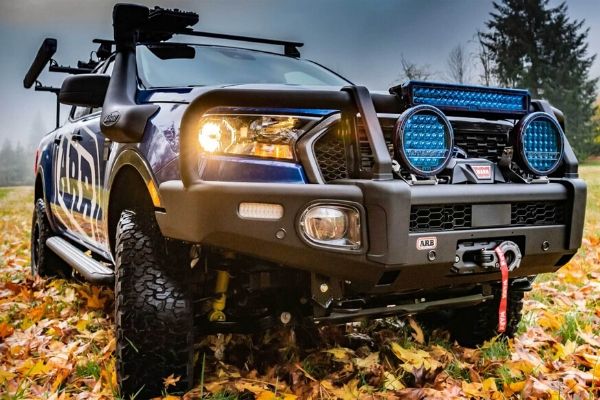 Trails (and traffic) won't be a problem with this on your 12 o'clock (Image: ARB)
If you're not too sold on the idea of replacing the stock bumper, you can add a nudge bar instead underneath. It's less conspicuous yet equally useful in terms of protection. 
>>> Related: 
6. Ford Ranger modified: Tonneau covers
The open nature of a pickup's cargo bed exposes cargo to all sorts of unpredictable situations.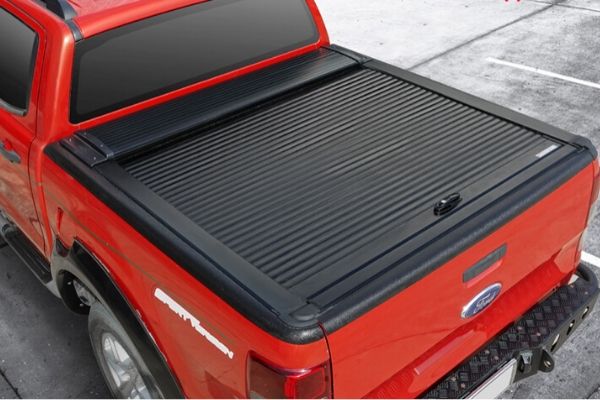 Keep your smaller cargo safe with a lockable tonneau cover (Image: Carryboy)
A tonneau cover secures relatively smaller cargo such as equipment and tools against the elements, theft, and damage. The cover can also streamline the Ranger's aerodynamics, improving fuel efficiency, especially at high speeds.
7. Ford Ranger modified: Tailgate damper
Pickup tailgates have been engineered to withstand repeated opening and closing, but it will wear down eventually.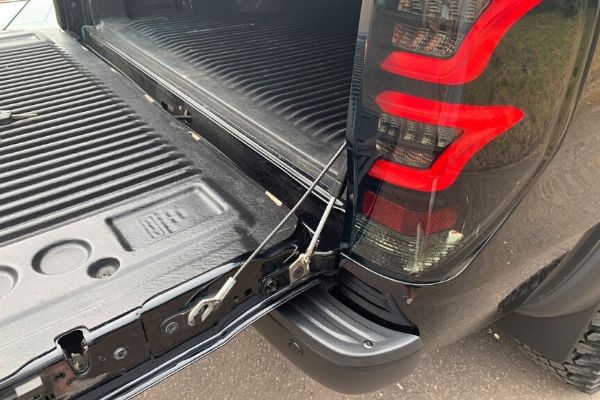 Adding a damper extends your tailgate's lifespan against wear and tear (Image: XO Customs)
A tailgate damper prevents the tailgate from swinging open, regulating its movement in a controlled fashion and extending its lifespan, apart from making it less noisy.
Need more tips to turn stock into sensational? Find out more at Philkotse.com.
Know more about Ford Ranger 2021

<p>The Ford Ranger received numerous facets and practicality and is one of the long-running in the segment of pickup trucks. Still, it has changed a lot in recent years, and today, it is equipped with proper SUV features, truck muscularity, spacious cabin, car drivability, and the like.</p> <p>The sport-themed oriented urban truck was intended for the buyer&#39;s active lifestyle. Hence, the Blue Oval Company&#39;s midsize pickup truck is also utilized as a lifestyle &#39;weekend&#39; SUV aside from being just a pickup car. Its robust and multi-talented platform is common for both Ford Ranger and <a href="https://philkotse.com/ford-everest-price-philippines" title="Ford Everest Philkotse Car Guide">Everest</a>, the latter is considered one of the leading SUVs in its respective segment.</p> <p>Powering the Ford Ranger is either a 2.5-litre or&nbsp;3.0-litre Dura TORQ TCDi diesel engines that supply high values of power and torque as well as better mileage. It also features enough room and additional space at the back for either business or personal purposes.</p> <p>The double cabin pickup truck comes with on-road agility, together with its competent handling and reasonable off-roading capability with a 4x4 mechanism. Moreover, the midsize pickup truck&nbsp;features top-class safety features and competes with the types of <a href="https://philkotse.com/isuzu-d-max-price-philippines" title="Isuzu D-Max Philkotse Car Guide">Isuzu D-Max</a>, <a href="https://philkotse.com/toyota-hilux-price-philippines" title="Toyota Hilux Philkotse Car Guide">Toyota Hilux</a>, <a href="https://philkotse.com/chevrolet-colorado-price-philippines" title="Chevrolet Colorado Philkotse Car Guide">Chevrolet Colorado</a> and, <a href="https://philkotse.com/mitsubishi-strada-price-philippines" title="Mitsubishi Strada Philkotse Car Guide">Mitsubishi Strada</a>.</p>

Joseph Paolo Estabillo
Author