Modifying our car is one of our simple joys as a car enthusiast in life.
For most car enthusiasts, modifying their newly bought car is probably the first thing that comes to mind. Whether it would be performance or cosmetic enhancement, the modifying game is inevitable for them.
Honda is one of the most famous car brands that are heavily modified around the world – particularly speaking the Honda Civic for young adults. Hondas can be a good car brand to start with due to the wide availability of its aftermarket car parts around the world.
So today, we are going to talk about modifying and upgrading one of Honda's hatchback in its Philippine lineup, the Honda Brio.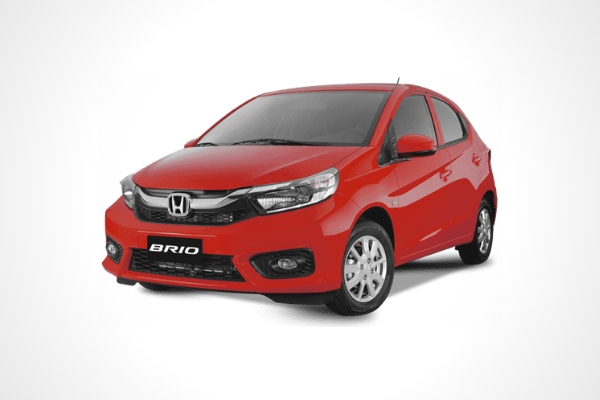 A stock Honda Brio that has a local price that starts at Php 598,000
Modifying a hatchback can really be rough at times since these body types were meant for practicality and space. But if it is done right, hatchbacks could look sporty and sleek. Kind of like a sports rally car look that will take on any type of road condition.
Before starting to work on your Brio, you might want first to change its oil and do all of its maintenance checks so that you won't encounter too many problems as modifying a car can really be a challenge for some – especially if it is damage-prone.
For that, let's take a look at the things you can work on in order to modify or upgrade your Honda Brio so you could take your entry-level hatchback on the streets with finesse.
>>> Related: Which Honda Brio should you buy? [Philkotse Guide]
2019 Honda Brio Review Philippines: How do you like its new look? Philkotse
Modified Honda Brio: Exhaust
Needless to say, an exhaust is probably the most commonly used modification. Installing an aftermarket exhaust to your Brio will not only give it a better sounding noise, but also help free up some of the gases in your Brio's engine which results in more efficient engine operation and more power.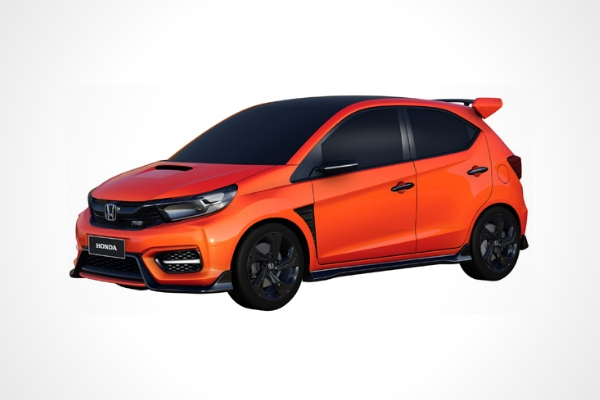 The Honda Brio Small RS
As tempting as dual exhaust pipes may sound like, just don't even think about it. Dual exhaust pipes are a trend that if done wrong, could make your Brio look like a try-hard. Go for a single pipe even though generally dual twin pipes give better engine efficiency. A Php 3,000 aftermarket exhaust is a good price point to start.
>>> Related: Best project cars for beginners in the Philippines
Modified Honda Brio: Interior
This would be a question you need to answer yourself, are you going to use your Honda Brio for your everyday drive or for your performance road trips?
If for your daily drive, then keep its back seats and install bucket seats to the driver and front passenger seats. If for your performance road trips, then remove its back seats and install a roll cage. A roll cage can look really good on a hatchback due to its generous interior space that lets roll cages be installed around freely.
Removing some of your Brio's seats can reduce weight which results in a better power-to-weight ratio. If done right, then your Brio could look like an expensive rally hatchback.
Take a look at the Subaru Impreza WRX STI hatchback that the famous Ken Block usually drifts around, the roll cage in that car instantly gave the car an aggressive-looking interior.
Modified Honda Brio: Spoiler
Not everyone is a fan of spoilers or rear wings, especially on a hatchback. But to tell you honestly, it gives a distinctive look that instantly sets your hatchback apart from all of the common and practical hatchbacks we see on the road. It provides good aesthetics and better downforce.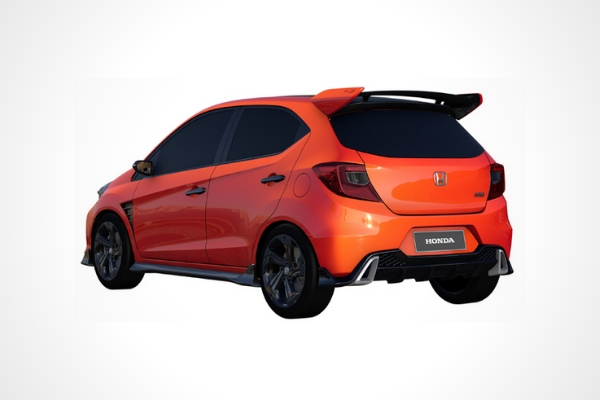 The Honda Brio Small RS at the back
Look for a spoiler with a subtle design that can be installed on top of your Brio. Installing large spoilers that are attached at the bottom side of the Brio's rear fascia and run all the way up at the top can make it look like it's carrying a heavy load that your Brio can't pull.
Prices can vary but a Php 4,500 spoiler can be a good starting price point if you want at least a decent looking one.
>>> Related: Modified Honda City: Tips & tricks to upgrade the small sedan
Modified Honda Brio: Engine and Performance
Engine chip tuning is a great mod to add to your Brio. It is basically installing a new software to your Brio's ECU that results in increased horsepower and torque, faster acceleration, improved fuel efficiency, and better emission.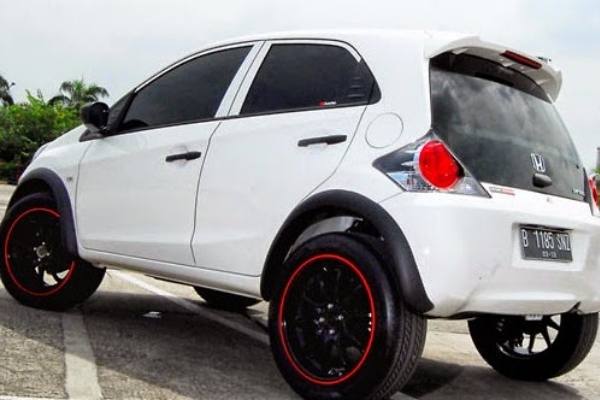 Do you fancy a higher suspension and bigger wheels? [Source: motifhot.blogspot.com]
Other performance upgrades include the installation of a better suspension system that will provide steering stability and better handling. It can be a bit pricey though so you might want to prioritize this the last if you are on a budget.
You can also upgrade your Brio's braking system for better stopping power and improving your Brio's overall performance.
>>> Related: Car tuning for improved performance: Yay or Nay?
Modified Honda Brio: Paint Job
The thing that stands out in the Honda Brio is the fact that it could pull off most color options. So it is up to you to decide which color do you think best suits your hatchback. You might want to refrain from using orange though since it is the color option that is commonly used in a stock Brio.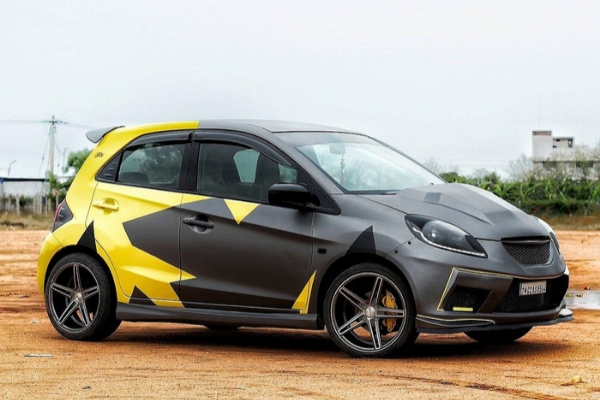 Gunmetal Gray + Gloss Yellow Wrap by Knight Auto Customizer [Source: news.maxabout.com}
To compliment your color option, paint your Brio's hood with black. This will balance the overall look of your Brio, especially if you chose a bright paint job. If you have extra cash, then choose a carbon fiber hood. It will not only make your Brio look good, but also shed off some weight.
>>> Related: Every motorist need to know these things before deciding on a paint job
Modified Honda Brio: Wheels and Tires
There are a lot of benefits to upgrading your wheels and tires. It will not only give you a sportier and distinctive look but also provide more traction that will help you in tight turns. Plus, it will quicken your Brio's 0 to 100 km/h substantially.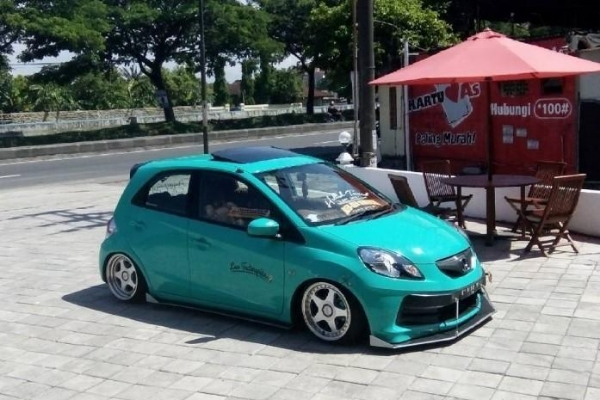 Reppin' for the low life [Source: APKpure.com]
The factory Honda Brio runs on either a 175/65 R14 or 185/55 R15 tires depending on your trim level so you can start with those specs when looking for aftermarket wheels and tires.
For this hatchback, a black, white, or gold wheel suit it best. Base your choice from your paint job to make it as cohesive as possible.
Modified Honda Brio: Conclusion
Since the Brio is Honda's entry-level vehicle in the Philippines, adding mods and upgrading its features sound just right. With the proper and delicate way of upgrading your Brio, it could make your affordable hatchback look a little bit more expensive. 
The key to upgrading your Honda Brio is to do it right and not overdo it. Consider a less aggressive take with it as a bit too much can make it look too extra. If the budget is tight, you can always consider a more affordable option and start climbing up little by little. 
Here at Philkotse.com, we value your interest in the automotive industry. You can visit our website to find out more.

Know more about Honda Brio 2023

The 2024 Honda Brio is the Japanese automaker's entry into the local hatchback segment. It is considered to be the small hatchback option with a price ranging from Php 735,000 to Php 863,000. The small hatchback is regarded as the entry-level vehicle of the Japanese carmaker. It is available in four variants, including a Black Top option for the top-of-the-line RS variant.
Under the hood, a 1.2-liter i-VTEC gasoline engine is standard across the range, delivering 89 hp and 110 Nm of torque. Depending on the variant, the engine can be paired to either a 5-speed manual or an Earth Dreams continuously variable transmission (CVT). The Brio Philippines offers dimensions that span 3,798 mm in length, 1,682 mm in width, and 1,487 mm in height. The RS trim gets is a bit longer at 3,811mm. Rivals in the hatchback segment include the Toyota Wigo, Kia Picanto, and Suzuki Swift.

Rex Sanchez
Author