To get a big rough picture of the traffic in EDSA, here's our EDSA traffic advisory mainly focusing on the aforementioned stretch of road as well as the tips to deal with traffic jam.
For those of you who are plying Epifanio de Los Santos Avenue or EDSA daily, we all know that it regularly sees heavy traffic, to the point that it has been practically called "Carmageddon". Here is the overview of traffic in EDSA to somehow help you avoid traffic peak times and make your daily commute just a little more bearable.
For those who live in outlying areas and are just passing through Metro Manila, this article from Philkotse.com will also help you wrap your head around the prevailing traffic situation on the thoroughfare, as well as the rules and regulations you need to be aware of.
1. The EDSA Traffic Situation
Overview of traffic in EDSA
More than 360,000 vehicles use EDSA on a daily basis. That number includes almost 250,000 cars, 69,400 motorcycles, 20,000 taxis, 8,800 trucks, 7,200 utility vehicles, and 12,000 buses, among others.
According to figures cited by the Metropolitan Manila Development Authority (MMDA) back in 2017, a total of 7,500 vehicles pass through EDSA every hour. That number is beyond the road's official capacity of 6,000 vehicles per hour. And with new car models introduced this year, that figure has likely risen even more.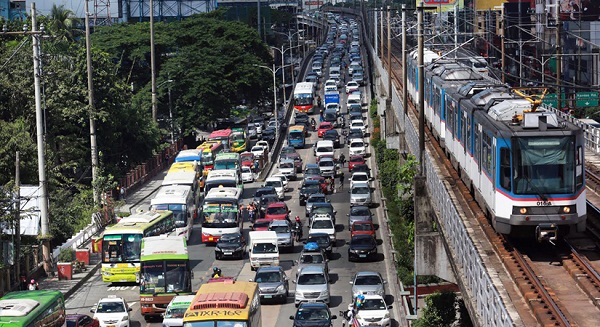 That number of vehicles plying EDSA daily has likely grown by now 
Daily Peak and off-peak times
As observed by Philkotse and other online sources, there are two primary peak times for EDSA: from 6 am to 9 am, and 5 pm to 9 pm on weekdays, but these hours occasionally change depending on several factors.
Road repairs, vehicle mishaps, events, holidays and even heavy rains can slow down traffic or bring it to a standstill in some areas. Then you have the weekends where there are typically more people on the streets since there is no number coding being enforced.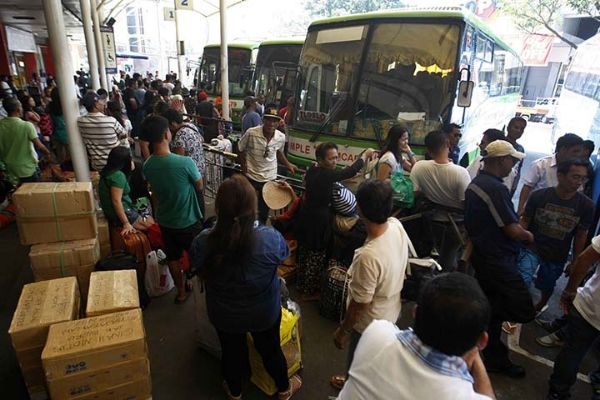 Cubao hosts a number of provincial bus terminals
Note also that there are specific areas along EDSA where the traffic can become particularly bad, regardless of the time of day. Some of them are:
Balintawak to EDSA exit and entry points along NLEX
Congressional Ave./Roosevelt Ave./EDSA intersection
North Avenue 
From Kamuning Flyover to Camp Crame (southbound lane)
From Ortigas Avenue intersection to SM Megamall
MRT 3 Shaw Boulevard Station and intersection 
Mandaluyong Guadalupe Bridge to Estrella 
Vicinity of SM Makati to Arnaiz Avenue intersection 
EDSA-Roxas Blvd intersection to EDSA-D. Macapagal intersection
>>> You might like to read: 
2. EDSA traffic advisory: Estimated Travel Times (Times may vary)
These times were taken using Waze as of October 30, 2019, at 2 pm. These are the estimated travel times when driving a private vehicle, and they don't coincide with rush hours. Most of the travel routes along EDSA listed below cover a distance of fewer than 10 kilometers.
SM North to Eton Centris, MRT-3 Quezon Avenue Station - 8 to 14 minutes
MRT-3 Quezon Avenue Station to Araneta Center Cubao – 20 to 30 minutes
Araneta Center Cubao to PGA Cars EDSA – 13 to 22 minutes
Araneta Center to Ortigas Center – 22 to 28 minutes
Araneta Center Cubao to POEA Ortigas – 16 to 19 minutes
POEA Ortigas to SM Megamall – 20 to 26 minutes
SM Megamall to Ayala MRT Station – 21 minutes
Ayala MRT Station to SM Mall of Asia – 30 minutes
Farmers Market Cubao to SM Megamall – 30 minutes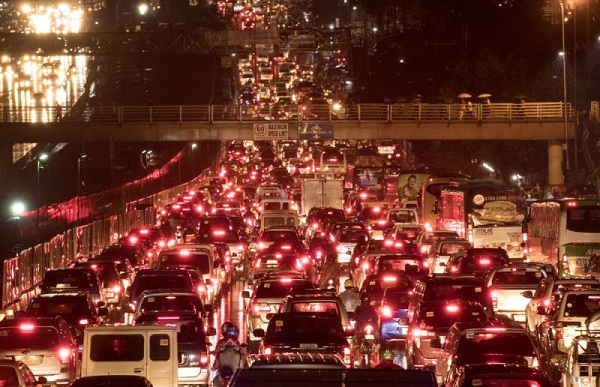 Traffic jams are especially worse at night when people are generally eager to get home
This list does not cover all the existing places located on, or can be accessed by going through EDSA; as such, it only serves as a reference. For more updated traffic reports, EDSA traffic statistics read the section below.
3. Live Traffic Update in EDSA
The most accurate live EDSA traffic updates are currently available to the public through the cooperation of the MMDA and News5's Interaksyon website, found here: http://mmdatraffic.interaksyon.com/line-view-edsa.php
You can also visit MMDA's Twitter page for more complete Edsa traffic update today, even those that are not monitored by their traffic cameras. They also have updates on vehicular accidents, on-going road repairs, weather updates that can hinder traffic, etc.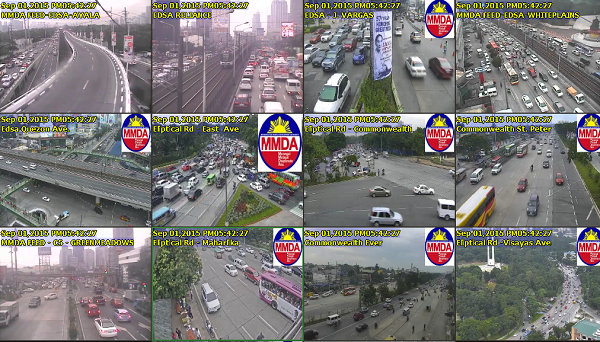 MMDA's traffic monitoring system is actually pretty advanced
4. EDSA traffic rules
The Unified Vehicular Volume Reduction Program
The Unified Vehicular Volume Reduction Program, otherwise known as the UVVRP or number coding scheme, was launched in 1995 as a traffic management measure. Since then, it has undergone changes in the years leading to 2003.
At present, the number coding scheme is being implemented along the entire length of EDSA, as well as major thoroughfares. As of November 2016, the UVVRP is currently enforced along EDSA with the following guidelines:
Plates ending on these numbers are covered by the coding number scheme on these days:
1 and 2 (Monday)
3 and 4 (Tuesday)
5 and 6 (Wednesday)
7 and 8 (Thursday)
9 and 0 (Friday) 
Note: As of March 2019, the Metro Manila Council has mandated the implementation of the number coding scheme throughout Metro Manila. This means that the coding scheme will be in effect on the entire EDSA from 7 am to 8 pm, no window hours. 
The fine for violating the coding scheme is P300, which must be paid within seven days, or else an alarm will appear whenever you renew your driver's license. Payment can be made at SM Payment and Bayad Centers. Motorcycles are still except from the coding scheme.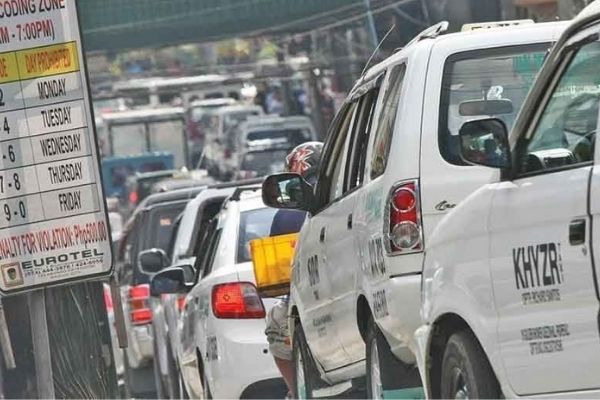 Do you think the coding scheme still helps?
The 60 kph speed limit on EDSA
MMDA Regulation No. 19-001, approved by the Metro Manila Council (and by extension the MMDA) stipulates a 60 kph speed limit for all motor vehicles traveling all circumferential and radial roads in Metro Manila, EDSA included. Meanwhile, trucks and buses are limited to a slower 50 kph. Violations are meted out with a P1,000 penalty.
>>> Read more:  MMDA to implement 60kph speed limit on EDSA
Prescribed Fines for Illegally Parked Motor Vehicles and Obstruction on Public Roads
The law makes it illegal to parking along the length of EDSA and other public roads. Any illegally-parked vehicle with the driver sitting inside, or even if they show up in the process of their vehicle being clamped or towed, earns a fine of  P1,000.
"Unattended Illegally-Parked" motor vehicles, defined as parked vehicles without the driver inside will be fined P2,000.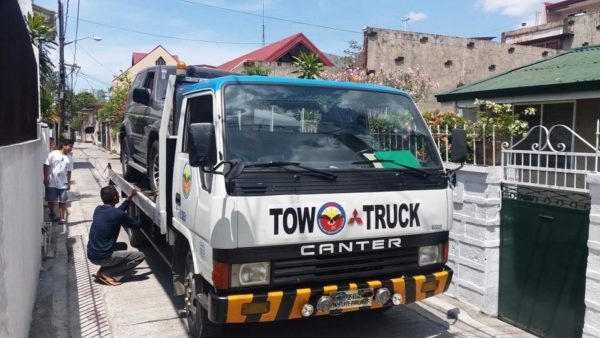 Even the MMDA Tow truck looks like it means business
Obstructing a road is also considered illegal, with violators fined P1,000. This penalty may be imposed on top of the fines for the violations listed above.
The MMDA is working on regulations to mitigate traffic other than the ones mentioned. One of them, MMDA Regulation No. 19-002 which revokes the business permits of bus and public utility vehicle terminals along EDSA, is gradually being implemented through trial runs since August. The MMDA tow truck looks like it means business. 
>>> Also check: Complete list of LTO fines and penalties in the Philippines
5. Tips to avoid losing your mind while driving through EDSA
Don't be an a-hole
While you might think that this will only benefit other people around you, letting your anger stemming from your impatience get the better of you increases your own stress levels, especially when driving through a stretch of EDSA.
This will result in elevated blood pressure and dire health consequences when experienced daily. Anger also brings plenty of headaches, especially now that elements of the PNP Highway Patrol Group are manning portions of EDSA.
One alternative would be to emulate the Zen-like tranquility of a monk; accept the world (including EDSA) as it is and treat your fellow road users as you would treat friends. Be patient and try to not cut off other drivers, and in the name of all things sacred, use your turn signals.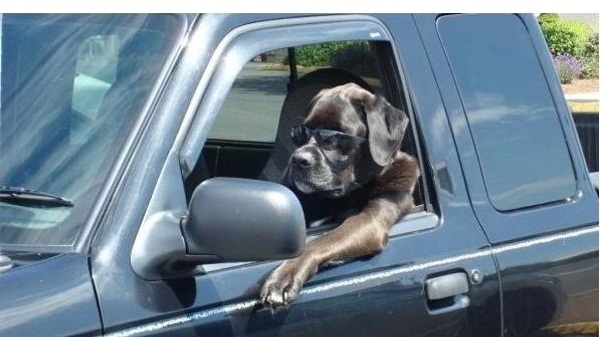 This is Mr. Bub. Be like him: cool, calm and patient
Audiobooks are your friends
In the digital age, there are things on the internet other than Facebook to keep you entertained. Being preoccupied with social media takes your attention from the road, what with all the text that you have to read or pictures and videos that catch your eye.
No matter how heavy the traffic is, it's a big no-no for people behind the wheel. If you can't stop yourself from reading the text, why not have someone else read it for you? Books now come in digital audio form that you can download on the cheap or free.
From "Thus Spoke Zarathustra" by Friedrich Nietzsche to the latest Wattpad offerings, there's an audiobook out there for you.
Also, podcasts are all the rage nowadays. They're also free, with many done by well-known celebrities and personalities covering a wide range of topics. 
>>> Worth to note:  5 tips to beat stress while stuck in a traffic jam in Manila
Treat yourself occasionally
EDSA is a busy road lined with equally busy but very interesting businesses. If you have the time, grab a bite from that fast-food drive-through just around the corner. You can also grab a scrumptious pastry or a cup of coffee. The sugar will help keep your energy up (just take care not to overdo it). Also, don't forget to drink water.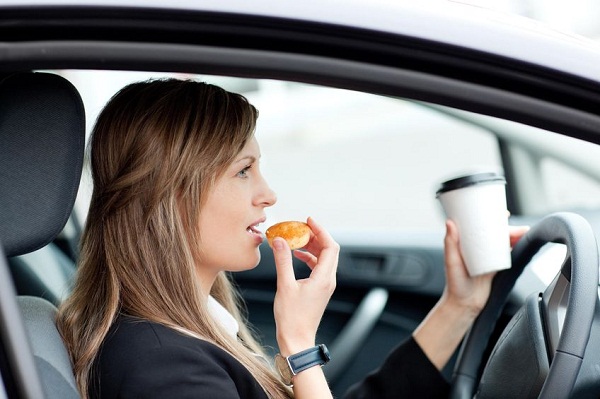 A dose of sugar can help keep your energy up
Listen to soothing music
This might be more on the subjective side (as there are people who can actually relax to the polyrhythmic beats of "Bleed" by Meshuggah), but music, in general, might help bring your stress levels down, especially while driving through EDSA during rush hours.
Do note though that Eurobeat, especially from that well-known racing anime, will make you feel and think like a racer (we kid on that last part).
Use Waze or other similar apps
As the expression goes, there are many ways to skin a cat (pardon the expression, animal lovers). There are also just as many ways to get to places in Metro Manila other than going through EDSA. If you're unfamiliar with the many side streets and back alleys which could serve as alternative routes, use navigation apps such as Waze or Google Maps.
Carpool with your coworkers or friends
Studies show that talking with friends can reduce your body's stress levels, so this might prove useful when taking on the aggravation of driving through EDSA. Interacting with friends increases oxytocin levels which diminish anxiety, and all the other bad stuff you'd rather not have while driving or while taking the bus.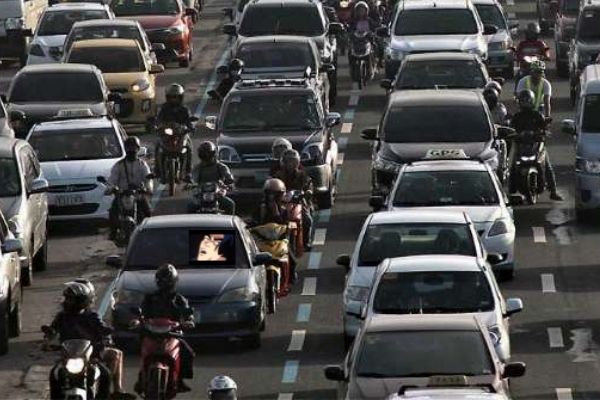 Poor Shingo. The ennui's getting to him.
>>> Click here for more useful driving tips & advice on Philkotse.com.


Cesar G.B. Miguel
Author