How can daily Filipino car users survive on their favorite day of the week?
Imagine this: You wake up in the morning happily, freshen up, eat your breakfast, take a good, thorough bath and wear your best long sleeves and suit because they might call a meeting and you want to make a good impression.
You spray your favorite perfume, say goodbye to your family, walk towards your car and sat comfortably on the driver's seat, telling yourself, "This is going to be a great day." Your wife steps out and follows you, with arms on her waist, frowning, and says, "Coding ka ngayon diba?"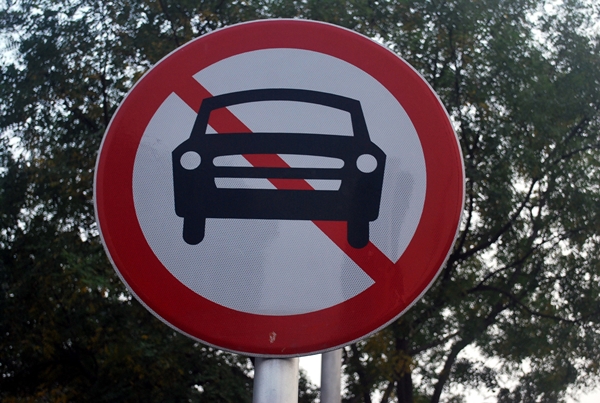 No car day, yay or nay?
Your smile turns into a pout. Horrified, you turn to your wife and she continues, "Monday, plate numbers ending in 1 & 2." You gulped as you get your things from the passenger seat and double-check your plate number, and yes, your car is indeed prohibited to go out. You sighed in disbelief, go back inside and made sure you have an extra shirt in your bag. Your great day now becomes a long day.
This is a creative scenario that best describes a daily car user during the day they dreaded to come every week – the day when their car is on coding. For a typical Filipino individual or family, who owns one car, this is quite a difficult day. However, if a person or family is in the upper-class, owning several vehicles, this won't be any problem.
In the Philippines, there are four things about the number coding that every car owner needs to remember to avoid a traffic violation.
>>> Also check out:
1. What is the Number Coding Scheme?
In order to alleviate traffic congestion, especially in Metropolitan areas, the Unified Vehicular Volume Reduction Program (normally known as Number coding) was first implemented in 1995, restricting private vehicles as well as PUVs from driving outside based on the last digit of their number plate. 
During years, there were some modifications to the MMDA number coding rules. And the latest updated terms are followed as: No vehicles with plate number ending 1 and 2, 3/4 for Tuesday, 5/6 for Wednesday, 7/8 for Thursday and 9/0 for Friday.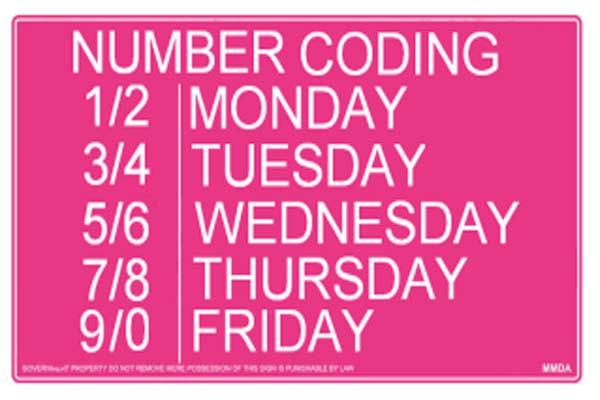 Number Coding Scheme in Metro Manila 
However, on special occasions such as Christmas or New Year when people are busier with their preparations for the holiday, MMDA usually approved for a number coding suspension scheme, valid only in a short time.  
2. Window Hours
People may totally hate this coding day, but there is some hope in the middle of chaos. There are some areas where they have 'window' hours where you can travel using your car. Window hours are from 10:00 AM to 3:00 PM daily in specific areas ONLY.
Pay attention! Some special roads are applied different coding hours in Manila. Please keep in mind that you can't still bring your vehicle in major roads stated in the photo below: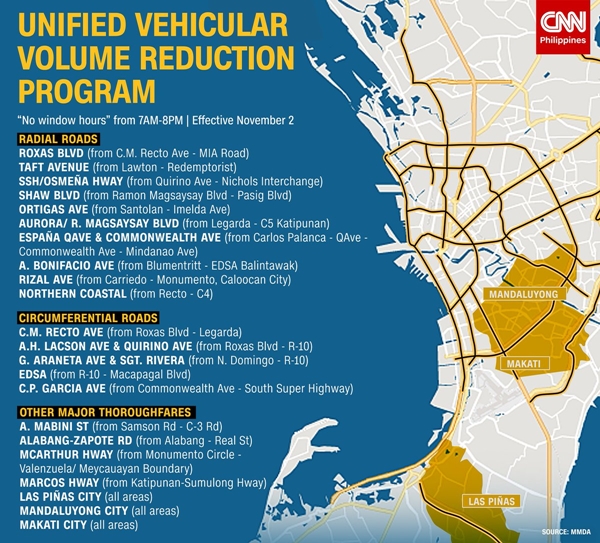 Image courtesy of CNN Philippines
3. Areas with Special Number Coding Scheme
There are also areas where aside from the MMDA number coding scheme, also has their extra localized number coding to further control the traffic.
Pasig City, which is located in the middle of major cities, have been pretty congested as vehicles go through its roads as a shortcut to reach other major cities. This is the main reason why they created the Special Odd-Even Scheme in some of their major roads to lessen the congestion. Please refer to the image below for the special Pasig number coding scheme: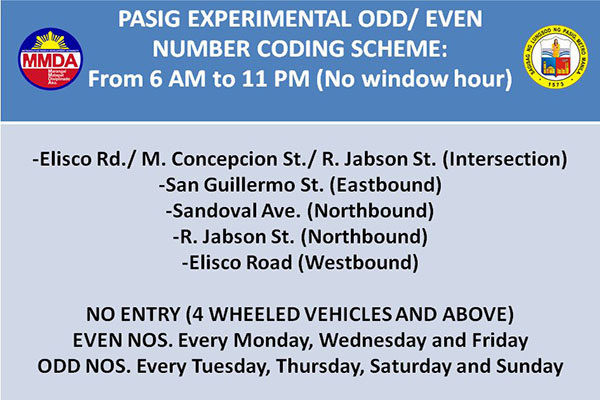 Special Odd-Even Scheme in some areas in Pasig City
Vehicles ending in odd number 1, 3, 5, 7 & 9 cannot pass through these roads every Tuesday, Thursday, and Saturday; while vehicles ending in even number 2, 4, 6, 8 & 0 are prohibited every Monday, Wednesday & Friday.
Following the normal MMDA scheme, but Makati number coding is without window hours, the same as other cities including Las Piñas and Mandaluyong.
Since October 1, 2016, the local municipality decided to start its own number coding in Paranaque, which resembled the same rules as car coding in Manila. Private vehicles are banned from using several major roads (detailed in the picture below) during the hours from 7:00 to 9:00 in the morning and 16:00 to 19:00 in the evening.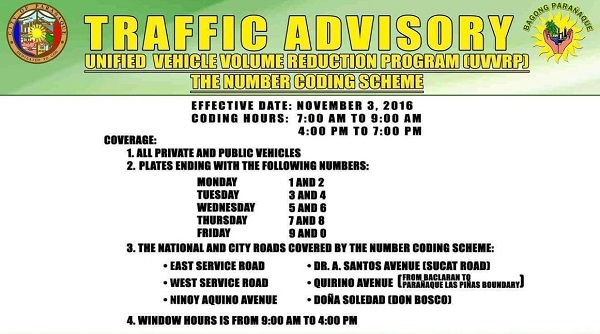 Number coding scheme in Paranaque
4. Areas without number coding
According to an FAQ on Number Coding and 'NO WINDOW HOURS' published by the Department of Transportation, there are areas where number coding is not implemented:
Marikina
Muntinlupa
Taguig, except for in C5,  East Service Road and Manuel L. Quezon

Number coding in Pasay complies with the expanded MMDA number coding, exempted for these following areas:  MIA Road, Airport Road, Sales Road, Ninoy Aquino Avenue, Domestic Road and some parts of Buendia
5. Number Coding in the Philippines: Survival Tips
If you are a daily car user, here are some tips on how you can survive your number coding day:
#1. Always bring your office clothes, a set of extra clothes and an umbrella
Funny as it may sound, but we all know the Philippines is a very tropical country and commuting in your office clothes is not really applicable all the time. Either it's too hot during summer, or too wet during the rainy season.
To make sure you don't compromise your dress-to-impress look for the day, travel first in your most comfortable and breathable clothes and change to your best office clothes once you arrive. It'll make you look and smell fresher. Umbrella will be your best friend to shield you from the sun and the rain.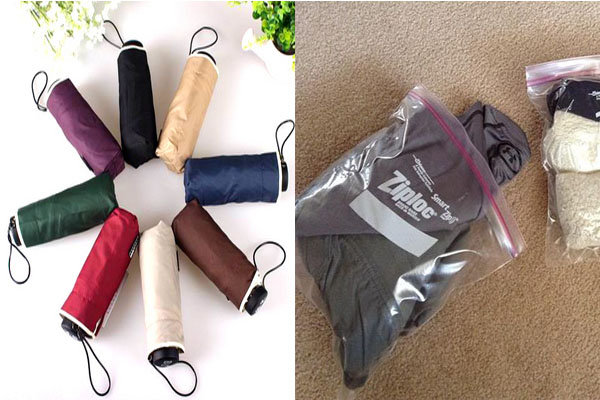 Always bring your office clothes, a set of extra clothes and an umbrella
#2. Leave the house early
Traffic in the Philippines is unbelievable. You have to make sure that on this special day when you have to go through both traffic and squeezing yourself in the bus or MRT to get to work on time, do a little sacrifice and wake up and leave the house extra early to avoid rush hour.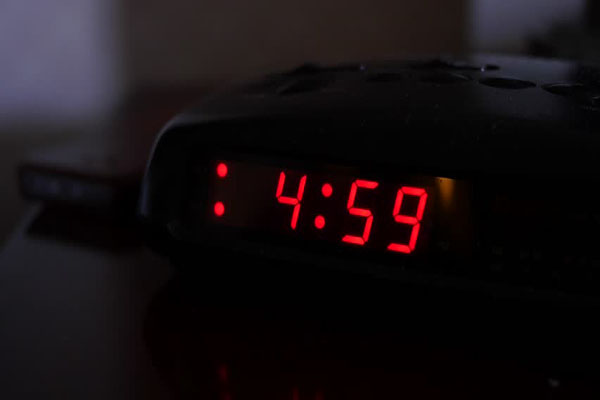 Leave the house extra early to avoid rush hour
#3. If commuting by bus, jeep or MRT isn't really your option, use ride-hailing apps
If you're running in late or you just can't stand the bus ride, jeepney and MRT/LRT experience, you can always opt to use the ride-hailing apps such as Grab. Yes, it may cost you ridiculously more, but if you are after the comfort of an air-conditioned, solo ride then you may totally ignore additional costs.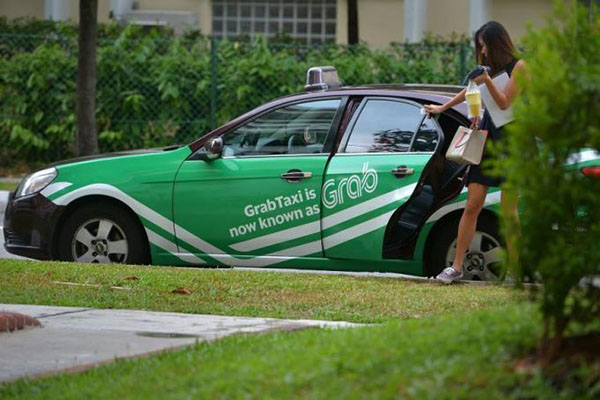 Opting to use ride-hailing apps is also a good idea when you are in a hurry
#4. Leave the office later than usual
Yes, you have left the house extra early today and you think you deserve to be under the sheets at an earlier time too. It's actually a lovely thought, however, it is not always possible to leave the office earlier than the designated clock out time. Well, unless you're willing to go under time, have some deductions or worse, get reprimanded.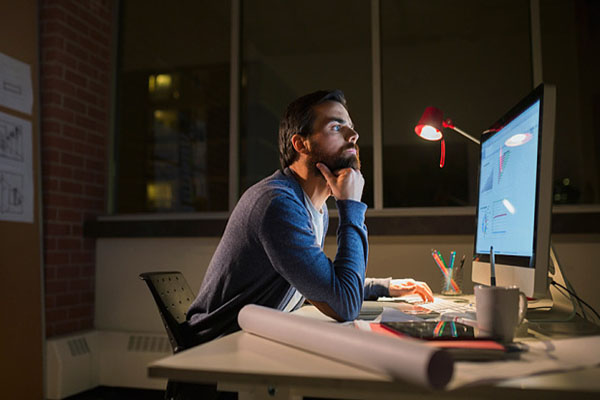 Leave the office later than usual to avoid traffic jam
This day is actually the perfect day to work late and earn extra cash from rendering overtime! You can finish all your pending reports or paper works, go home with lesser heat and no sun to endure, plus vehicles will be less congested. Post overtime, take time to go around the mall and get a decent dinner so when you arrive home, all you have to do is take a shower and doze off.
Indeed, going through a day without your car is difficult, but inevitable. What you can do instead is just take this time to see places within your vicinity that you're missing on your normal day riding your car. This way, you can discover new places, find interesting stuff and explore new tambayans that you could, later on, enjoy with your friends.
Hopefully, these tips shared by Philkotse.com experts today have helped you survive number coding days in the Philippines.


Ivy Kristia Padura
Author