For those first-timers going to Baguio City, here a guide on the number coding scheme in Baguio. Click here to read.
In Metro Manila, one program that the government has implemented to combat traffic congestion is the Unified Vehicular Volume Reduction Program or the UVVRP, or more commonly called the number coding scheme. This works by restricting certain vehicles from using major roads based on the final numbers on their license plate.
But did you know that other cities in the Philippines also have the number coding scheme? There's Dagupan, Cavite, Cabanatuan, and of course, Baguio.
1. Is there a number coding in Baguio City?
Baguio City is one of the places in the Philippines where a UVVRP or the number coding scheme is implemented due to being a major tourist destination.
During the summer, this city is a popular get-away due to the place's pleasantly cool weather, the culture, the incredible natural beauty surrounding the city, and of course, a great many unique food items that you can purchase for yourself or as pasalubong.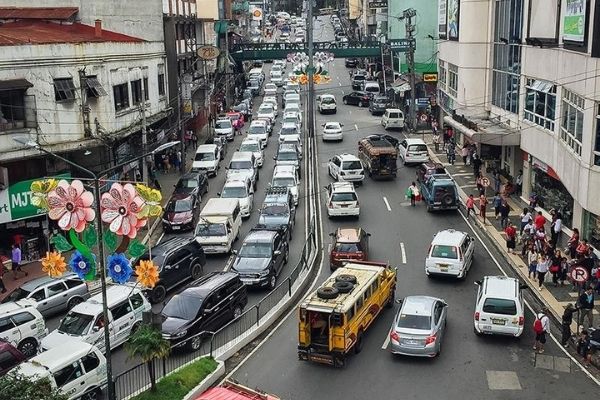 More people = more cars
While most visitors to Baguio have been known to travel by bus in the past, more and more people are using their own vehicles for comfort and privacy. Another reason to take your car up to Baguio city is it's also known for its curvy mountain roads.
As such, it's also a great destination for driving enthusiasts who want to enjoy the scenery or to test themselves or their car's mettle.
Also, more and more people have moved to Baguio as many have also considered the city as a prime location to retire. So, without a doubt, the City of Pines has also become overpopulated over the years.
There are a lot of reasons as to why traffic congestion is so bad here in the Philippines but we do know that one large reason for Baguio is the growing population. The more people equals more cars after all.
Because of this, traffic congestion in Baguio has become more of a problem as time goes by. Today, the sheer number of cars that ply along its roads has also begun to cause some organizations to say that the air quality of Baguio has been compromised.
As such, the Baguio city government has taken the necessary steps to take control of the traffic. For their implementation of the Baguio city's number coding scheme ordinance, it's a bit different though. Check out our guides for the number coding scheme in Manila and other parts of the country to know about the other coding schemes.
2. Implementation of number coding schemes: What time is coding in Baguio?
In the City of Baguio, the number coding scheme is active on weekdays only. All vehicles, depending on the last number on their license plates are prohibited from entering, running through, or operate within designated coding zones on a given weekday. The number coding hours in Baguio are from 7 a.m. to 7 p.m.
| | |
| --- | --- |
| Number Code | Day Prohibited |
| 1-2 | Monday |
| 3-4 | Tuesday |
| 5-6 | Wednesday |
| 7-8 | Thursday |
| 9-0 | Friday |
Note: For those vehicles who are still using temporary vehicle plates, the last number of their car's conduction sticker will be used for the plate number coding in Baguio.
3. What are the areas covered by the number coding in Baguio city?
The Number Coding Scheme is only implemented on roads within the designated areas where the aforementioned scheme is active.
To avoid incurring MMDA Traffic violations, vehicles that fall within a given day's prohibition can use these roads;
Naguilian Road from the junction of Bokawkan Road to the junction of Abanao Street
Abanao Street Extension to the junction of Yandoc Street
Yandoc Street
Legarda Road to the junction of Marcos Highway
Marcos Highway from the junction of Legarda Road to BGH Circle
Kennon Road from BGH Circle to the junction of Military Cut-Off Road
Military Cut Off Road to Military Circle
South Drive from Military Circle to Teacher's Camp Road
M. Roxas Road to Trancoville Bridge
Bokawkan Road (including part of Magsaysay Avenue below the Flyover) from the junction of La Trinidad Road and Trancoville Bridge to the junction of Naguilian Road
Note: The highlighted roads which function as the perimeter line of the number coding zone today are considered as a demarcation mark only and are outside the number coding zone.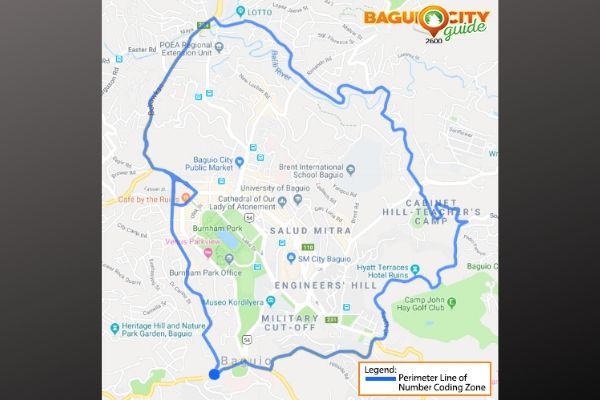 The Perimeter of the Baguio City coding zone [Source: Baguiocityguide.com]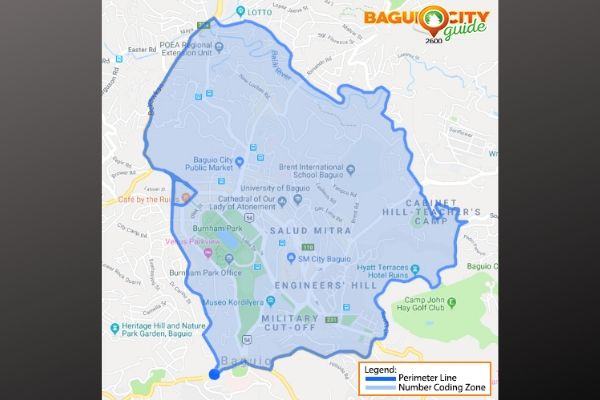 The places colored in light blue is the number coding zone [Source: Baguiocityguide.com]
>>> For your further reference: Driving in the Philippines: Google Maps have update for the coding day
4. Exemptions from the Baguio City Number coding scheme
Chartered mini-buses – These are vehicles used to visit Baguio City for the purpose of field trips or other similar excursions.
Government-owned vehicles with red plates. (Provides mobility for government officials in order for them to perform their functions)
Vehicles of the Philippine Postal Corporation
Armored Cars – Vehicles used by banks for transporting currency.
Emergency Motor Vehicles being used in cases of emergencies that pose danger to either life or limb.
Water delivery trucks used to assist in fire control.
Public utility service vehicles
LTO and LTFRB registered school bus services transporting pre-school, elementary, and high-school students from 6:00 AM to 9:00 AM. And from 2:00 PM to 6:00 PM.
Motor vehicles or chartered PUVs used by individuals who are participants of sanctioned activities such as conventions, conferences and assemblies. Note: Organizers of such events must issue participants with documents and necessary stickers as proof of their participation.
>>> Read more: 6 Main Impacts of Having a Number Coding System in Philippine Traffic
5. When and how is the Number Coding Scheme suspended?
The suspension of Baguio city number coding 2019 can only be made through an administrative order issued by the city mayor under these conditions:
The occurrence of large-scale public disturbances and/or natural calamities
The observance of major official celebrations or similar events that are sponsored or co-sponsored by the Baguio City Government (set within a specific period only)
6. Parking Ordinances
Vehicles that are prohibited from entering the number coding zone are likewise not allowed to park along roads included within the perimeter line from 7 a.m. to 7 p.m., Monday to Friday.
In connection to the above, there are several pay parking areas located in Baguio City where you can park your car legally. However, we urge tourists and the general public to be patient in looking and waiting for a spot to park especially on weekends and on holidays.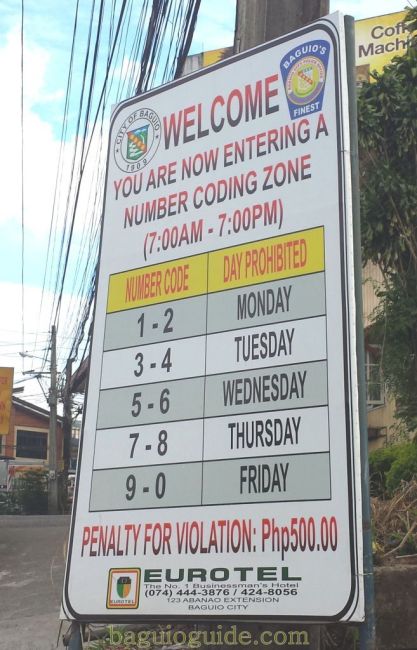 If you're in doubt, look around for these signs. [Source: Baguioguide.com]
For more tips and guides about anything related to cars, keep reading here on Philkotse.com.


Cesar G.B. Miguel
Author