Motorists will have options to use Google to map out color coding free routes.
Google Maps has made it possible for anyone to navigate a route, showing streets that aren't color-coded. Now, Google is teaming up with the MMDA to update the app with a host of upgrades that will take the user experience to new places.
I. Benefits of Google Maps' new update
One of the biggest problems when getting around the metro is the UVVRP (Unified Vehicular Volume Reduction Program), more commonly known as the number coding scheme and the different cities that have their own take on the regulation! Because of this, many motorists are forced to leave early and leave late, especially now that the window hours have been removed. 
The UVVRP or the number coding scheme ban both public and private vehicles from traveling and using the major roads
In response to this need, Google Maps have rolled out a new update for Manila drivers to survive in the Coding day, to ensure their compliance and reduce the likelihood of them committing a coding violation.
>>> You might like to read: 5 must-know tips to make better use of navigation car apps
1. Advantages of Google Maps' update
This is also seen to have an effect on the driving habits of those who reside in the metro as well. The updated Map is released by March 19. Here are some of the benefits that the new update can give to drivers:
Updated Google Maps will help motorists when to bring their cars, especially when going to unfamiliar areas.
It can help drivers avoid high traffic routes and just skirt them altogether.
Alternative routes mean more options for drivers, resulting in less stress.
Improved accuracy and better navigation, even on coding days.
The app can also show if there is no direct access to a color-coded area.
To use the app, just input the last number of the car's registration plate or conduction sticker, and it will plot out the best route without color-coding restrictions.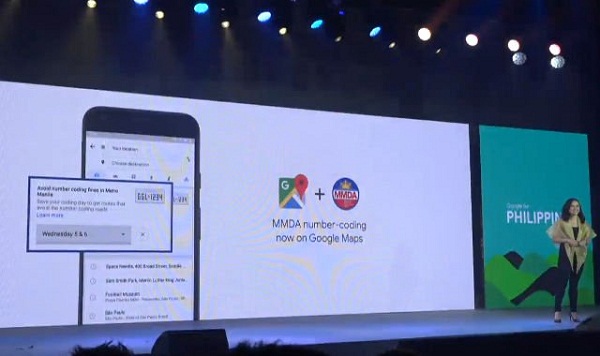 Google introduced a new update for Google Maps
2. Must-know things to consider when using this app
However, there are some things that motorists may need to watch out for when using this kind of Navigation apps
If certain streets are frequented, then vehicular traffic will inevitably be transferred to routes that do not have color-coding. That will be inevitable for most areas in the metro.
Points, where non-color-coded streets merge into color-coded ones, may prove problematic.
It would still be better to avoid rush hours when passing because these lanes are expected to be fully occupied during the morning and late afternoon.
Not all locations will be passable yet, as the system is continuously updated.
When utilizing Google Maps that will be modified for color-coded days, all these should be taken into consideration, so that users will be able to fully maximize the app.
II. List of streets that are not subject to the coding scheme
The following is a short list of streets that are not subject to the coding scheme (at the time of this writing) as well as those to avoid so that motorists can plan their routes accordingly
1. Roads without windows hours
These routes should be avoided from 7 a.m. to 8 p.m. The coding scheme applies to all affected cars on their assigned days, so take note of these areas if it happens to be your car's coding day.
C1 to C6 Circumferential roads
C-1 C.M. Recto Avenue - located in the city of Manila (Roxas Boulevard up to Legarda)
C-2 A.H. Lacson/Quirino Avenue - runs along Manila and is near University of Santo Tomas
(Roxas Boulevard up to R-10 road)
C-3 G. Araneta Avenue/Sgt. Rivera - located in Quezon City and near SM City Sta. Mesa (N. Domingo up to R-10 road)
C-4 EDSA (R-10 road to Macapagal Boulevard) - starts from Balintawak and ends at Macapagal Boulevard
C-5 Commonwealth Avenue up to South Super Highway (Quezon city to Makati CBD)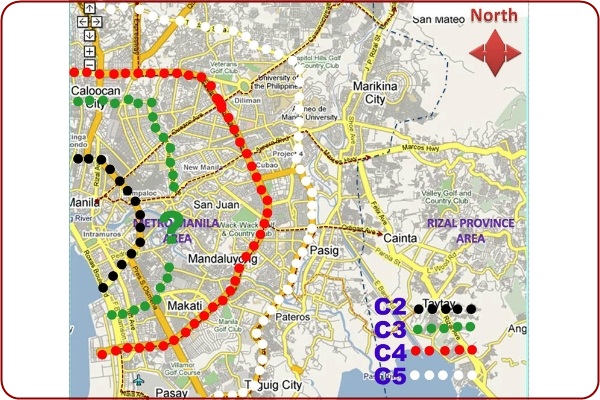 C2 to C5 Circumferential roads
R1 to R10 Radial Roads
R-1 Roxas Boulevard (CM Recto to MIA Road) - between Manila and Pasay City
R-2 Taft Avenue (Lawton to Redemptorist) - runs along the University Belt in Manila
R-3 South Superhighway (Quirino to Nichols Interchange) - a stretch of road in Manila that connects to South Super Highway in Makati
R-4 Shaw Boulevard (R. Magsaysay Blvd to Pasig Blvd) - found near the stretch of EDSA
R-5 Ortigas Avenue (Santolan to Imelda Avenue) - from C-5 Pasig until it terminates in the Greenhills and San Juan area
R-6 Aurora Boulevard/R Magsaysay Boulevard (R. Magsaysay to Legarda to C-5 Katipunan) - near Katipunan Avenue and Aurora Boulevard
R-7 Espana/Quezon Avenue/Commonwealth Avenue (from España, along with UST that reaches all the way to Fairview in Quezon City)
R-8 A. Bonifacio Avenue (Blumentritt to EDSA Balintawak) - runs from Sgt. Esguerra until the intersection of EDSA, Balintawak, NLEX
R-9 Rizal Avenue (Carriedo to Monumento) Manila, near Claro M. Recto
R-10 Northern Coastal (Recto to C-4) - starts in Manila and Roxas Boulevard, until Cavite proper
>>> Must read: 10 roads expected to get worse traffic in Metro Manila this 2019
2. Cities with no color coding in effect (check for updates)
The city of Marikina does not enforce the color-coding scheme.
Navotas, although Road R-10 has the coding scheme in effect.
Taguig, although nearby roads such as C5, East Service Road, and Manuel L. Quezon Avenue have the coding scheme in effect.
Parañaque, including San Antonio Avenue, Pres. Aguinaldo Street, and Dominique Savio Street; the rest have the coding scheme in effect.
Roads leading to the airport, such as Domestic Road and NAIAX, but double-check to be sure.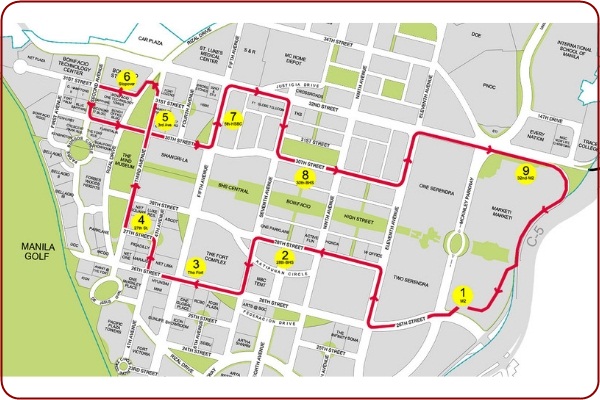 Taguig, although nearby roads such as C5, East Service Road, and Manuel L. Quezon Avenue have the coding scheme in effect
Motorists will surely benefit from using Google Maps that will be modified for color-coded days, and they can cross-reference all mentioned routes to confirm any changes. Navigational apps with improvements such as these represent the next wave that should help motorists manage their precious time on the road. 
>>> Click to get more useful tips and advice for safe driving


Norjan Ismail Abbas
Author