Halloween comes around, but you know what's scarier than ghosts and ghouls? Traffic! Click here to learn what are the causes of traffic in the Philippines.
While traffic in Metro Manila is nothing new and has been building up as early as the 90s, it has reached a peak in recent years. We've compiled several reasons explaining the traffic situation here in the Philippines, especially the causes of heavy traffic in Metro Manila, Cebu, Davao, and other urban areas.
I. Causes of traffic in the Philippines
1. The utter lack of quality infrastructure
One of the biggest causes of traffic congestion in the Philippines is the low quality of existing infrastructure such as roads, public transport terminals, and railways.
LRT and MRT, and public transport infrastructure
You might have heard about the recent issue with the LRT Line 2, which has temporarily shut down its first three westbound stations (Santolan, Katipunan and Anonas) following a fire that damaged one of the line's power transformers.
Around 200,000 commuters have been affected by the partial closure of the rail line, which runs from Santolan station in Marikina to Recto station in Manila.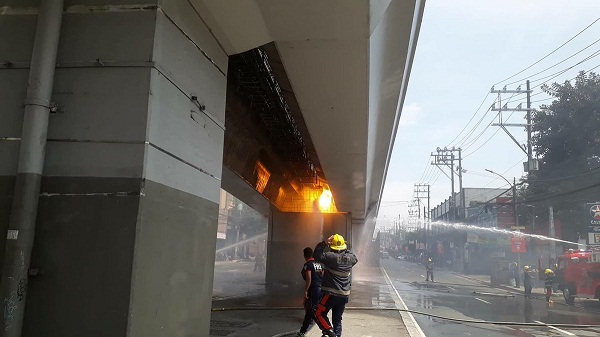 Fire and rail systems don't mix well
>>> Good news: LRT-2 to get three new stations by around 2023
While accidents like this do happen not only in the Philippines but in other countries as well, our abysmal repair times have compounded the problem. The DOTr initially projected a partial closure of nine months, eventually reducing the estimated downtime to three months.
In comparison, Japan made headlines back in 2013 by converting an above-ground section of a railway linking Shibuya and Daikanyama stations into a subway line in under four hours, using an army of 1,200 engineers.
The speed at which the conversion was made ensured no interruptions to the line's daily commute since it was done after the last train has gone, with the new rail ready in time for the first trip the very next day.

There's also the lack of actual rails. The LRT in general transports an estimated 1.3 million commuters a day, with its rails spanning only a total of 79 km, divided among four separate lines.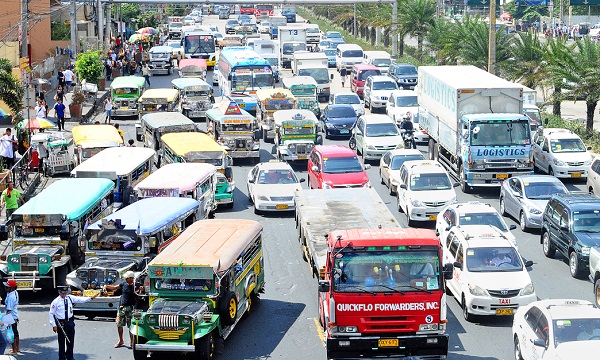 Jeepneys are also the cause of traffic congestion in the Philippines
While numerous expansion projects are already started, it's quite obvious that there are still not enough trains and tracks to ferry commuters in Metro Manila, and the fact becomes especially apparent when taking either the LRT or MRT during rush hour. Ever tried being a "commuter sandwich" or a "commuter in a can"? With the LRT and in the MRT, those are a daily reality.
Also, we can't help mention the thousands of jeepneys cause traffic in the Philippines right now. While not all of them are necessarily bad drivers, many do have a habit of stopping in the middle of the road to pick up or let off passengers. It gets worse if there are more than one of them who do it at any given time on a public road, resulting in a growing line of annoyed motorists waiting behind them for the road to clear up.
>>> Must read:
Poor roads, poor road network
Get this: some parts of the country don't have enough roads for vehicles, and it's getting worse by the month. In Metro Manila, the current ratio is at 1 km of road for every 424 vehicles. In Cebu, road expansions are costing the provincial government PhP 1.1B in losses daily.
There are 20 major intersections located on major highways in the province, and roundabouts were offered as a solution but they take time to construct and use up a lot of resources.
The irony is that while these projects are intended to add infrastructure which will ease traffic flow, they aggravate the situation by taking up space meant for vehicular traffic, combined with the increasing population in the region.
Authorities are now trying to fast-track these infrastructure projects, which will hopefully bring a measure of relief to all road users once they have been completed.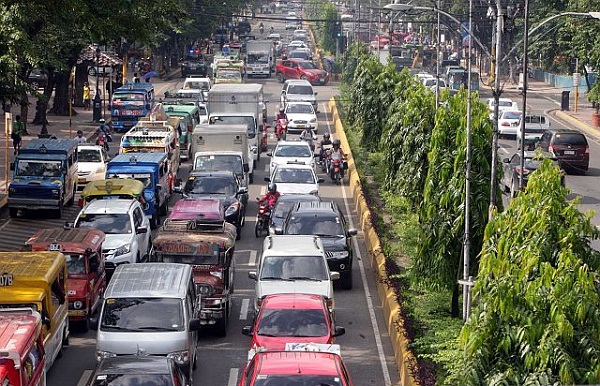 Morning traffic in Cebu
Other provinces don't have as bad a traffic situation, but that's because many roads are left undeveloped, which causes its own set of problems. One case in point is the road from Mampirao to Gibgos, in the province of Camarines Sur.
That area is already muddy in the summer, even more so during the wet months. While a few routes on the island have already been paved, there are still significant portions of dirt roads that are impassable in adverse weather conditions.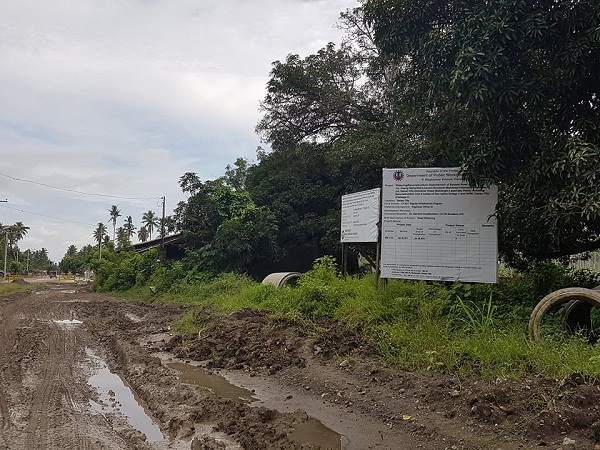 A very poor road in the province
In Metro Manila where roads are generally paved, related infrastructure like canals, ditches and sewage lines end up competing for space.
Luzon Ave in Quezon City, for example, has portions of it leading to Wiltor Heights and part of Bgy. Holy Spirit, QC; that portion is perpetually wet, which forces motorcycles, cars, and other vehicles to slow down to prevent splashing dirty water all over, resulting in slow-moving traffic.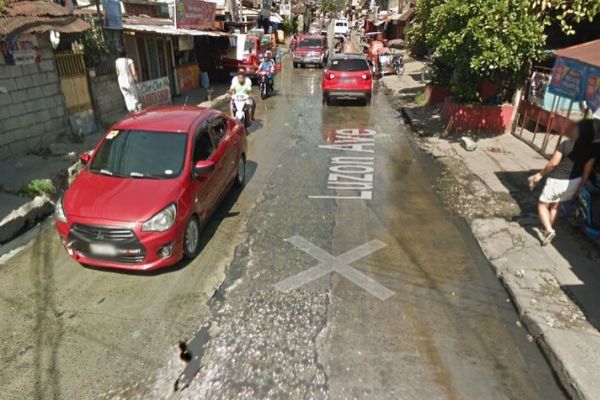 Luzon Ave tapers into this perpetually wet stretch. [Photo Source: Google Maps]
>>> Worth to note: Common choke points in Metro Manila and alternative routes to take
2. Urban Planning Problems
Metro Manila, Cebu, and even the relatively smaller city of Cagayan de Oro lacked foresight when it came to urban planning. The existing urban layout failed to take the sudden population growth into consideration, especially in areas that experience transient populations, or those who don't necessarily live there but work in the area on a daily basis.
Some cities do not seem to have any urban planning at all, erecting structures left and right with no rhyme or reason.
Urban area Expansion and population growth
Between the years 2000 and 2001, Metro Manila has experienced aggressive growth, as people from nearby provinces and outlying suburbs moved into the city to study, work or settle down.
Not surprising since the capital hosts facilities like schools, malls, and hospitals, as well as thousands of companies that provide jobs. Government offices are also mostly located in the city.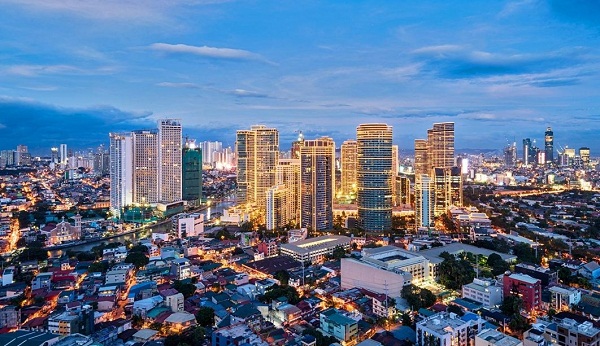 Metro Manila is one of the most population-dense cities in the world
By 2030, Metro Manila is projected to take on an additional six million people, with the current roads and public transport system hardly able to accommodate that number as it is.
>>> Click here to keep updated the latest traffic news in the Philippines
There are more cars now than ever before
There are more people who go to the city to work, and many of them are young professionals with plenty of disposable income for purchases such as cars. This is on top of the already sizeable number of long-time Metro Manila residents who themselves have cars of their own.
Arguably, models like the Toyota Wigo, the Mitsubishi Mirage, and the Toyota Vios are small and very affordable. These are the kind of vehicles that attract young professionals, and the subpar state of our mass transport system only serves as an incentive for more of them to purchase their own set of wheels, resulting in traffic.
For instance, 247,500 private vehicles pass through EDSA on a daily basis; that's significantly more than the number of buses, trucks, and motorcycles on that thoroughfare.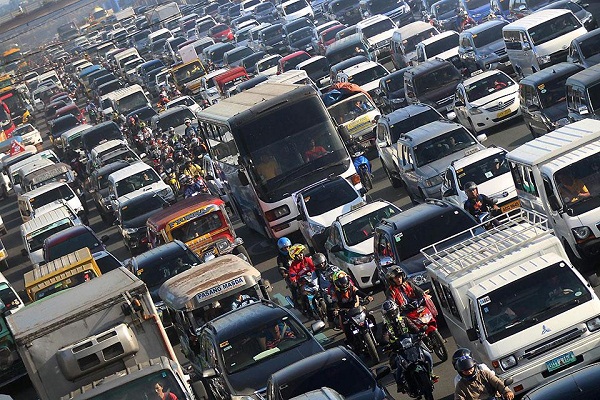 Welcome to hell. We've got pollution, health problems, and road rage
The same goes for Cebu, Davao City, and Cagayan de Oro, the country's other economic hubs. Leaving Macasanding in Cagayan de Oro through Tomas Saco Street every day is fast becoming a headache for many residents in that area.
Much worse is the traffic on the national highway from Gaisano City Mall CDO to Limketkai, and sometimes even to Gusa, a once peaceful area located east of the Cagayan de Oro center; this particular stretch is already considered the EDSA of Cagayan de Oro in terms of traffic volume.
While that's making light of the situation in CDO and by extension, Metro Manila, it foreshadows even scarier consequences.
Road accidents
Not surprisingly, more cars translate into more road accidents, which means even worse traffic flow. It's a vicious cycle that perpetuates itself.
>>> Keep updated: Road Accidents in the Philippines: Causes, Facts & Latest Statistics
II. Effect of Heavy Traffic in the Philippines
Traffic doesn't just inconvenience us with delays or burden us with damage to our vehicles; it also brings severe economic consequences.
One example is Cebu which recently declared that they did have a traffic crisis. A provincial board member cited research findings by the Japan International Cooperation Agency (JICA) saying that heavy traffic will cause the region to incur losses of up to PhP 3.5 billion every day in the coming years if the situation isn't remedied.
And if Cebu stands to lose that much, think of how much the daily losses will be for Metro Manila by 2025.
The cost of traffic can be calculated in the disruption of goods and services, damage to vehicles on account of extended idling and frequent start and stops, and drastically reduced revenue for PUVs that can only manage a few trips per day. This is on top of lost economic opportunities as meetings, appointments and transactions are canceled.
Metro Manila traffic congestion causing 'social consequences': ADB official
There are also lots of effects of traffic to students in the Philippines. Being late to class will not only taint a student's record but also results in less time and energy for studying and honing skills. Cue the snoring student sitting at the back of the class.
According to the World Health Organization (WHO), constant traffic congestion also has health and environmental effects. Exhaust emissions, especially from slow-moving traffic, cause carbon monoxide levels to increase, posing respiratory risks and contributing to climate change.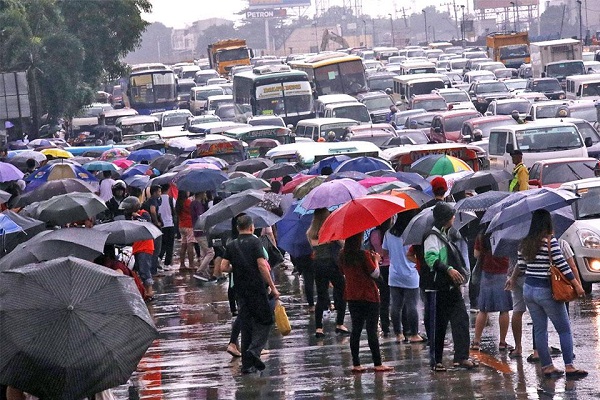 Stress, on top of environmental factors, takes its toll on both drivers and commuters
Then there's also the psychological effects by way of road rage, either as a victim or as an offender. Constant traffic increases stress levels and fatigue, affecting a person's mental health.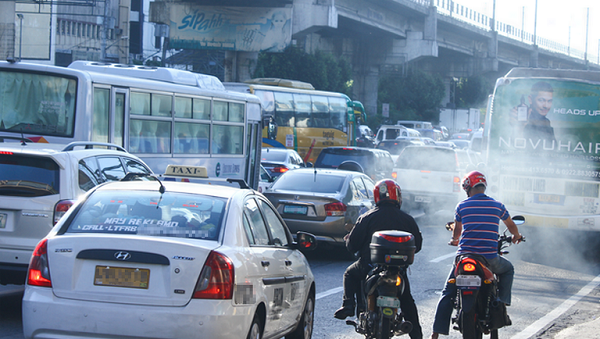 Nothing like the smell of car exhaust in the morning
III. Traffic in the Philippines: Afterword
We've talked about the causes of traffic in the Philippines, as well as its effects. There are initiatives been taken by the government that will hopefully help fix the situation, but that's fodder for another piece.
So did this article help you in your search for answers? We sure hope so. If we missed something though, feel free to air your thoughts on the comments section. Always keep safe out there.
For more tips and advice about all things automotive, keep reading here on Philkotse.com. Don't miss our next article!
---
Sources:
1. "Understanding urban planning, land use, transportation and traffic - The Manila Times Online". www.manilatimes.net.
2. Japan International Cooperation Agency (JICA) and National Economic Development Agency (NEDA) (March 2014). Roadmap for Transport Infrastructure Development for Metro Manila and Its Surrounding Areas (PDF). ALMEC Corporation. pp. 2–4.
3. "Busina: Current State, Alternatives and Emerging Filipino Values on Metro Manila Traffic | Chester Cabalza". Academia.edu. 1970-01-01.
4. "Stress, pollution, fatigue: How traffic jams affect your health | Lifestyle | GMA News Online". Gmanetwork.com.
5. "Philippine Population Density (Based on the 2015 Census of Population) | Philippine Statistics Authority". Psa.gov.ph. 2016-09-01.


Cesar G.B. Miguel
Author