Learn about the speed limit law Philippines and what you should and should not do.
Driving can be both fun and dangerous. Fun because it gives you the freedom to go from one place to another without the hassles of falling in line, sweating through the hot weather, and carrying all your stuff in a big bag.
Dangerous because of the untoward accidents that might happen like your car crashing and hitting someone or something. That is the reason why there are certain rules and regulations to be followed like the speed limit law Philippines.
Speeding is amongst the most common reasons why drivers and road bystanders are involved in highway accidents. As per available data, in the Philippines, deaths due to traffic or road accidents is about 10 people per 100,000 individuals, which is definitely increasing due to the number of cars on highways and the expansion of many roads, limiting the sidewalk space.
Speeding = Road Accident
With all those in mind, let Philkotse.com give you some of the important things to know about speeding and speed limits in the Philippines. By being knowledgeable, you can avoid penalties, apprehensions, and accidents.
I. Philippines Road Categories
As similar to any other countries in the world, the Philippines is made up of urban and rural areas. The country also has different types of road and traffic types. In fact, some accessible towns or barangays have "roads" that are not yet cemented, especially residential areas.
Similarly, some of the roads in the country are not wide enough to accommodate two or more than two vehicles. That said, in order to set reasonable speed limits and ensure the safety of the drivers, passengers, and bystanders, speed limit by street types has been put in place.
Here are the four categories by road specified in the Land Transportation and Traffic Code:
1. Open Country Roads
From the name itself, these are roads wherein there is no or limited foot traffic as well as not surrounded by residential and commercial properties. They include expressways like NLEX, SLEX, TPLEX, and SCTEX.
>>> Also check out: Increased toll fees applied for popular expressways in the Philippines in 2019
2. Through Streets
These streets are usually found in boulevards or areas wherein there are no or limited blind corners and is usually clear on traffic, both vehicles and humans. This may include subdivisions and villages wherein incoming and outgoing vehicles are closely monitored.
3. City and Municipal Streets
As self-explanatory as it may sound, these streets do not cover all the streets surrounding your municipality or city. This is a category that covers roads wherein there is light to moderate traffic for both humans and vehicles, as well as those that are not included in category two.
4. Crowded Streets
Yes, we do understand that as normal citizens, we consider almost all the roads in the country as crowded. However, just to be clear, those under this category are streets within school zones, markets, intersections, as well as those that have a lot of blind corners and stationary cars.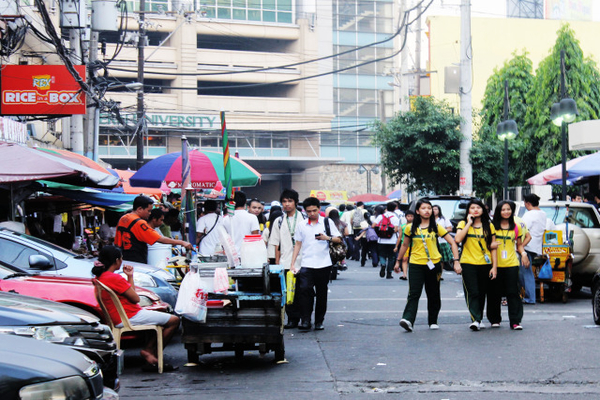 When there's human traffic, it's crowded
II. Speed Limit Law Philippines
Now that we are clear on the different types of roads or streets in the Philippines, here is a table of the standard speed limits as stated in Republic Act No 4136 or the so-called Land Transportation and Traffic Code.
Speed Limit Table
Road type
Max speed for cars, motorcycles
& similar vehicles (KPH)

Max speed for trucks, buses
& similar vehicles (KPH)

Open Country Road

80

50

Through Streets

40

30

City and Municipal

30

30

Crowded

20

20
1. The Lapses
Although the national speed limit seems justifiable and acceptable, some skeptics say that due to differences in road quality and situations, some localities might need lower speed limits to ensure the safety of its population. However, the problem is that the speed limit law does not allow local government units (LGUs) to set their own road speed limits.
Nonetheless, an independent, non-stock, and non-profit organization called ImagineLaw has conducted a study and found out that there are 56 out of 100 localities that have created their own ordinances regarding speed limits within their area. This, unfortunately, violates one of the provisions of RA 4136.
That being said, there was really no problem because the limits set were lower than the national speed limit.
2. The Solution
Upon agreement and careful evaluation, the Department of Transportation (DOTr), Department of Public Works and Highways (DPWH), and Department of Interior Local Government (DILG) authored and released the Joint Memorandum Circular (JMC) 2018-001, which allows LGUs to set their own speed limit as long as it does not exceed the national speed limit.
Likewise, the proposed local speed limit should be approved by DOTr and DPWH.
III. Speed Limit Violations
Definitely, every law violated will come with a consequence and when it comes to overspeeding, here are the penalties:
1. LTO
1st offense: P2,000 penalty fee overspeeding fine
2nd offense: P3,000 plus driver's license suspension for at least three months
3rd offense: P10,000 plus at least six months suspension of driver's license
4th offense: Revocation of license; for non-professional drivers, a two-year disqualification from getting a new license is also imposed.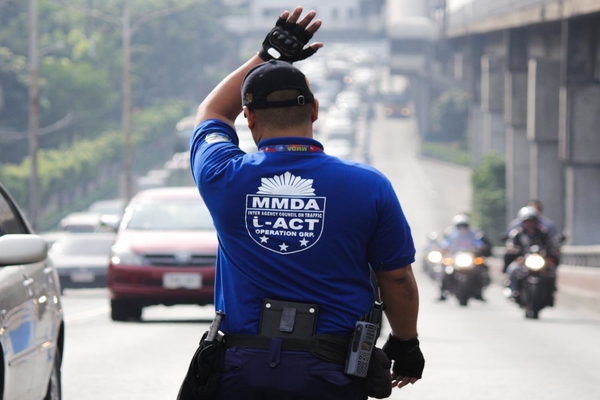 The MMDA is also authorized to apprehend violators within the Metro
2. Metropolitan Manila Development Authority (MMDA)
In Metro Manila, it should be kept in mind that there are also authorized highway patrol groups under MMDA who can apprehend traffic violators. As for their overspeeding penalty, it ranges from 1,200 to 2,000 pesos depending on the location. Similarly, they also have charges for any person caught doing drag racing or speed contests.
IV. Things to Do When Apprehended for Overspeeding
Once you are caught overspeeding without any valid reasons like a life-and-death emergency, a traffic enforcer will give you a sign that you need to pull over. Usually, they will follow you using a motorcycle with a siren and will give you a hand gesture. So, here are the things you should do:
Pull over
Stay in your car and look around for the speed limit sign. Most of the time, the sign also comes with the penalties.
Talk to you traffic enforcer respectfully.
Before handing your license over, make sure that the ticket being issued to you only covers your actual violation.
Never pay the traffic enforcer as you need to do this in the LTO office. Also, never bribe the officer or accept any money settlements being asked by the officer or what we call "kotong" in the local dialect.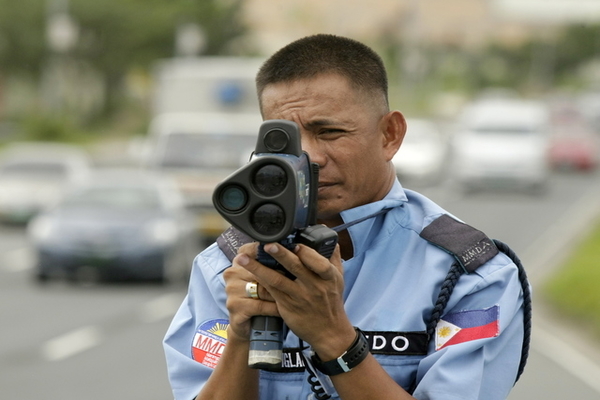 They're just around the corner; pull over when apprehended
V. Check Your Speed
Road safety is always important and making sure that you drive using the right speed will protect you, your passenger, and the people around. Although mishaps sometimes happen even if we are too careful, being knowledgeable and following the speed limit law Philippines is the best way to prevent those from happening. Always check your speed and make sure that you know what and what not to do when caught overspeeding.
Follow Philkotse.com for helpful driving tips and stay safety behind the wheel!


Charisse Kim
Author