MMDA to implement 60kph speed limit on EDSA
MMDA has recently published MMDA Regulation No. 19-001 which institutes the new 60 kph speed limit for motor vehicles passing through EDSA
Being the capital of the Philippines, Manila is where most people flock to look for opportunities. As a result, it has also become synonymous to heavy and unrelenting traffic.
The Epifanio De Los Santos Avenue or more popularly known as EDSA is one the busiest thoroughfare in Manila. It has earned a moniker of being the most horrible highway in the entire Philippines. The full 23 kilometers of traffic can surely test your patience.
Almost all vehicles both public and private ones would find themselves traversing this path. People going to the heart of Manila and leaving Manila will also find themselves usually stuck in traffic as they wait for the buses and cars to move along.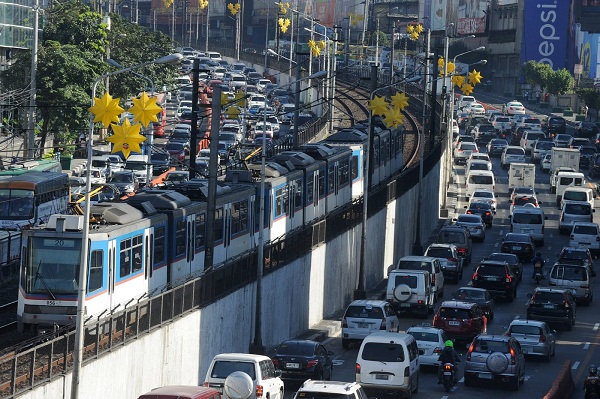 EDSA is one of the busiest thoroughfares in Manila
This is the perfect spot for a monster traffic jam and would entail more than half of your commute time.
The congestion along EDSA is usually not brought about just by the millions of vehicles on the road but also because of the road maintenance, accidents, and road closures happening on a daily basis. It is a sad state, and it is the commuters that always end up suffering from everyday challenges.
1. MMDA: 60km/h Speed Limit on EDSA
The Metropolitan Manila Development Authority (MMDA) is an organization created for the cities of Manila, Caloocan, Quezon City, Pasay, Mandaluyong, Makati, Marikina, Pasig, Muntinlupa, Parañaque, Las Piñas, Valenzuela, Taguig, Malabon, San Juan, Navotas and the municipality of Pateros.
This agency usually comes up with initiatives to lighten the traffic within its access road. They've had intentions of implementing a motorcycle only lane along EDSA, had their say with the 'lane system' for each particular vehicle, and now is implementing a specific speed limit for cars.
24 Oras: MMDA: No window hours policy, 60 kph speed limit to be enforced in 15-20 days
There are also the ban of driver-only cars in EDSA during the rush hours and the no window color coding scheme. All these resolutions, again, is to help with the traffic.
Last month, the MMDA announced of their plans to set a 60 kilometers per hour speed limit for Metro Manila. Recently, the agency has already published MMDA Regulation No. 19-001 which institutes the new 60 km/h speed limit for motor vehicles passing through the circumferential and radial roads in Manila.
2. Speed Limit on EDSA: Applied Roads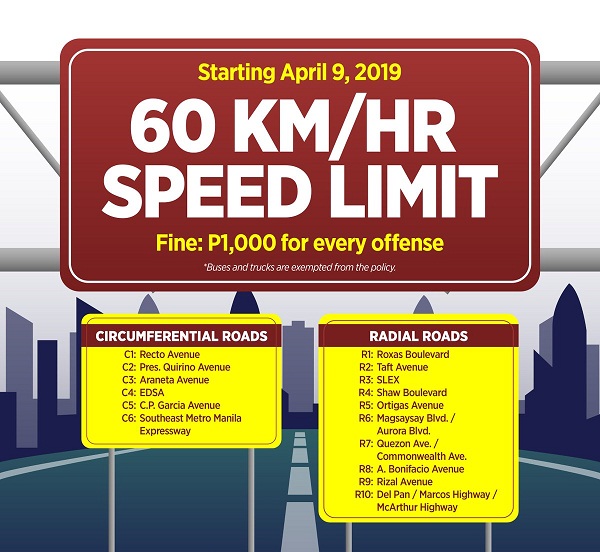 MMDA has already published MMDA Regulation No. 19-001 which institutes the new 60 km/h speed limit
The said regulation applies to all motor vehicles except for buses and trucks. This establishment is meant to minimize the occurrence of accidents which usually happens in Manila. These vehicular accidents are generally caused by over speeding thus the need to establish a certain speed for all motor vehicles.
As per the guideline, "said vehicular misfortunes cause unnecessary loss of innocent lives and destruction to property which requires the instant implementation of a speed limit for all motor vehicles, except for buses and trucks."
This bit of the regulation was echoed by the General Manager of MMDA, Jojo Garcia and he also added that this should minimize the accidents specifically during the off-peak hours and during the wee hours of the morning.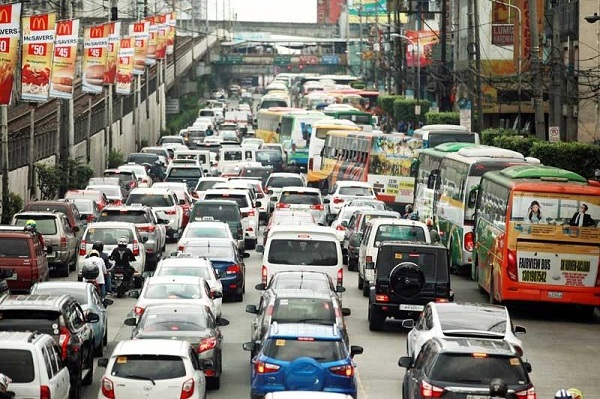 The said regulation applies to all motor vehicles except for buses and trucks
>>> Recommended posts:
3. MMDA Speed Limit on EDSA: Violation and Fines
Drivers found to be going beyond the speed limit of 60 km/h shall be fined PHP 1,000.00 for each instance. The MMDA is using speed guns to stop a speeding motorist.
A lot of activists and many of the public is not too keen when it comes this new regulation released by the MMDA. Some questioned the fact that trucks and buses were exempted when most accidents and holdups are being caused by these giant vehicles.
As per Assistant Secretary and MMDA spokesperson Celine Pialago, there is already an existing directive regulating the maximum speed of trucks and buses. As per MMDA Regulation No. 17-003, the maximum speed limit for buses and trucks is set to 50 km/h.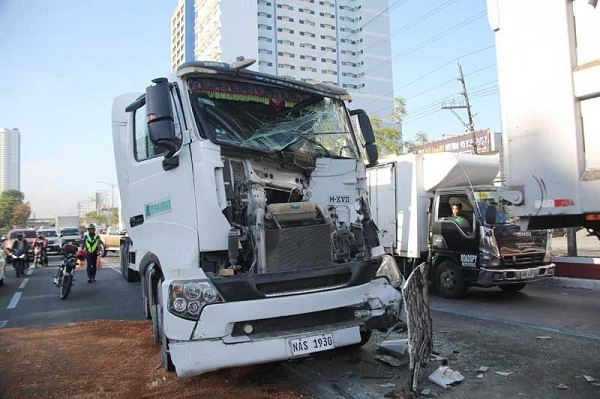 Most accidents and holdups are being caused by trucks and buses
>>> For your further reference: 7 Most Expensive Fines for Traffic Violations in the Philippines (MMDA)
4. MMDA Speed Limit on EDSA: Other concern
Another concern raised was the fact that the regulation cannot be expected to be implemented and enforced during the night where the MMDA workforce is limited.
This apprehension was answered by MMDA Traffic Chief Colonel Bong Nebrija stating that indeed, due to the lack of manpower and technology, the set speed limit will then be a guide for the motorists.
Furthermore, he stated that the driving public should abide by this regulation regardless if there are enforcers on the ground or not. He further shared that if the public understands the reason behind the policy, then they would follow it.
He shared specific examples like the current road conditions are not safe and suitable for high speed. In case there is a loss of engine brake, if you bump into something, the 60 km/h will not cause instant fatality. The damage will also be minimal.
Waze recently declared that Manila is among the worst in the world when it comes to traffic. Although this regulation is still at its early stage, it would be a good idea to have everyone abide by it and see if it will help improve daily commuting experience.
The MMDA should also enforce this the best that they can so they can have viable data and make some adjustments if needed to make this regulation a win-win for everybody.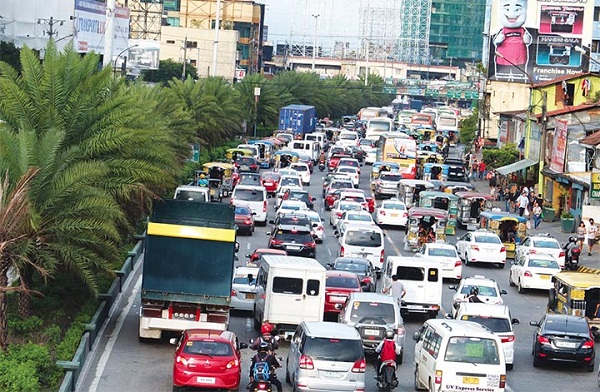 Waze recently declared that Manila is among the worst in the world when it comes to traffic
Change is a bit hard to incorporate in our daily routine but giving this new policy a chance is only fair after all, we all want our roads to be safe while at the same time traverse the streets with a shorter amount of time.
Traffic is a mood killer and having to deal with it every time you are in the streets of EDSA is almost enough just to have everything done remotely and never to leave the house. Hopefully, this new regulation will be an answered prayer for everyone.
Follow Philkotse.com for the latest traffic updates in the Philippines!
Author

Hanna is one of the most competitive swimmers in the country during her day. It was not long before she discovered her passion for the automotive industry as well. Nowadays, she balances her passion through writing as well as coaching.
Recent Posts