This comes as the world moves to ban combustion vehicles by 2050.
Toyota may have been successful with the Toyota Prius as the first mass-produced hybrid, but the company is also notorious for holding out on electric vehicle (EV) technology compared to its rivals. In a surprising turn of events, it's now waving the white flag.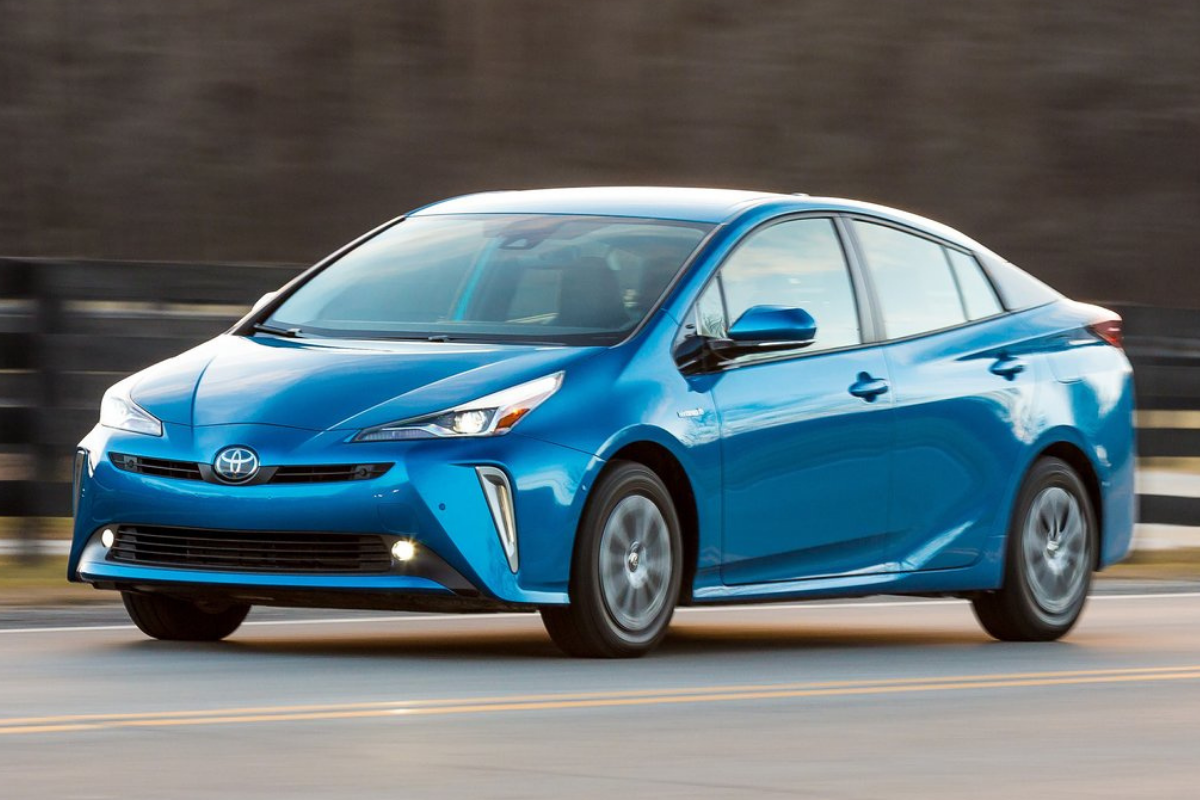 The Prius remains Toyota's most successful venture in alternative propulsion
A recent announcement by Toyota Motor North America (TMNA) reveals that the company will be launching three electric models in the U.S. this year, two of them are battery electric vehicles (BEV) and one plug-in hybrid electric vehicle (PHEV).
What prompted the company's 180-degree turn? The worldwide push for a combustion engine ban by the middle of the century could be the biggest reason, as both Toyota's domestic and international competitors are now racing to electrify their fleets.
That's not to say that the carmaker never dabbled in electric mobility, as it released electric versions of its Toyota RAV4 crossover twice – one on the first generation and another on the fourth iteration, the latter powered by Tesla batteries.
However, much of Toyota's efforts in alternative propulsion have been focused on hydrogen fuel cells, as evidenced by the Mirai.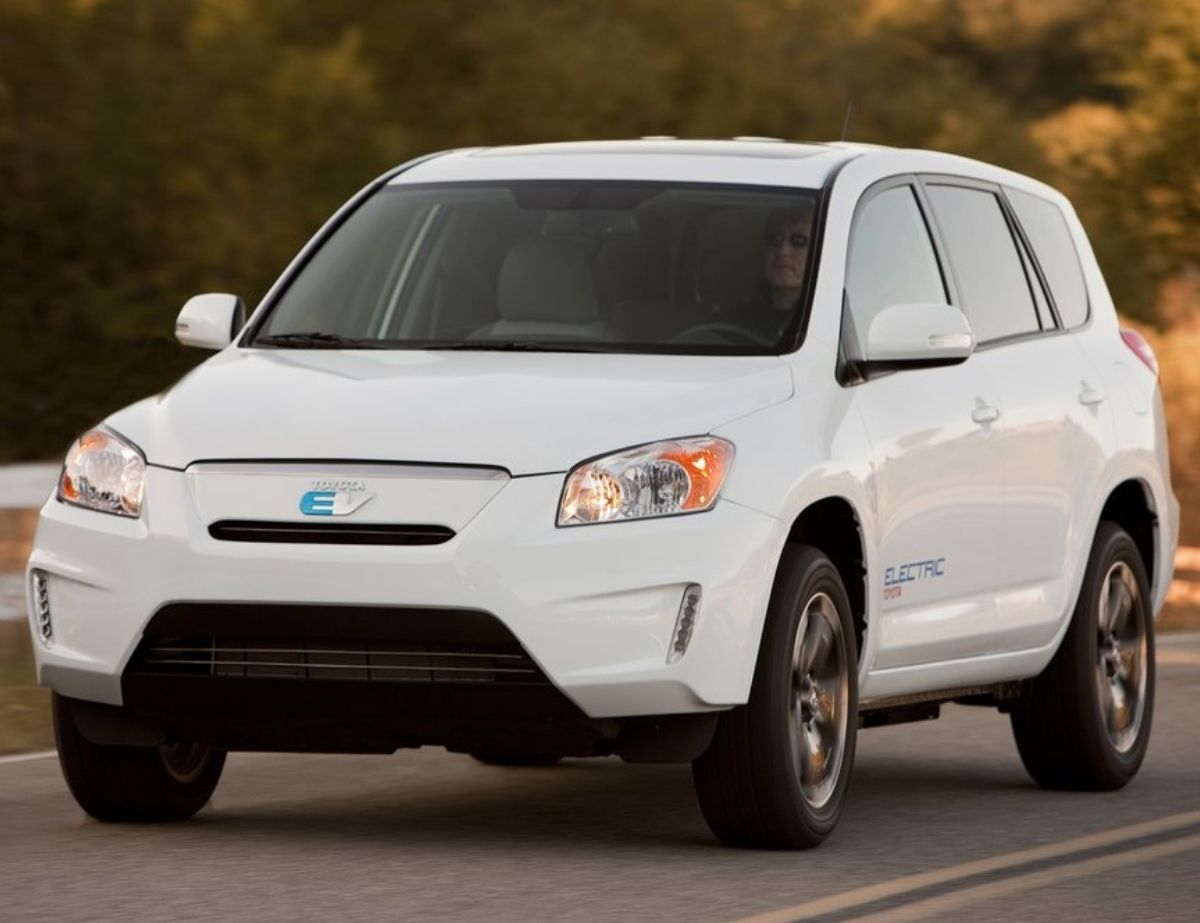 Toyota released two generations of the RAV4 EV, the second one in partnership with Tesla
>>> Related: Toyota's solid-state battery slated for 2021 reveal
With its latest announcement, Toyota is marching to a different drumbeat. By 2025, models made under the Toyota and Lexus badges worldwide will have an electrified option. A dedicated BEV platform is also in the works, called the e-TNGA, that will be flexible enough to accommodate every drive configuration.
All these are part of Toyota Environmental Challenge 2050, said to be the company's most ambitious environmental commitments to date.
It may not have a leg up yet on other automakers where EVs are concerned, but Toyota does enjoy a 40 percent share for alternative fuel vehicles in the U.S. This includes garnering 75 percent of the fuel cell market, with a combined 64 percent for both hybrids and plug-ins.
The carmaker aims to up the stakes in four years, with electrified models comprising 40 percent of new vehicle sales, increasing to more than 70 percent by 2030.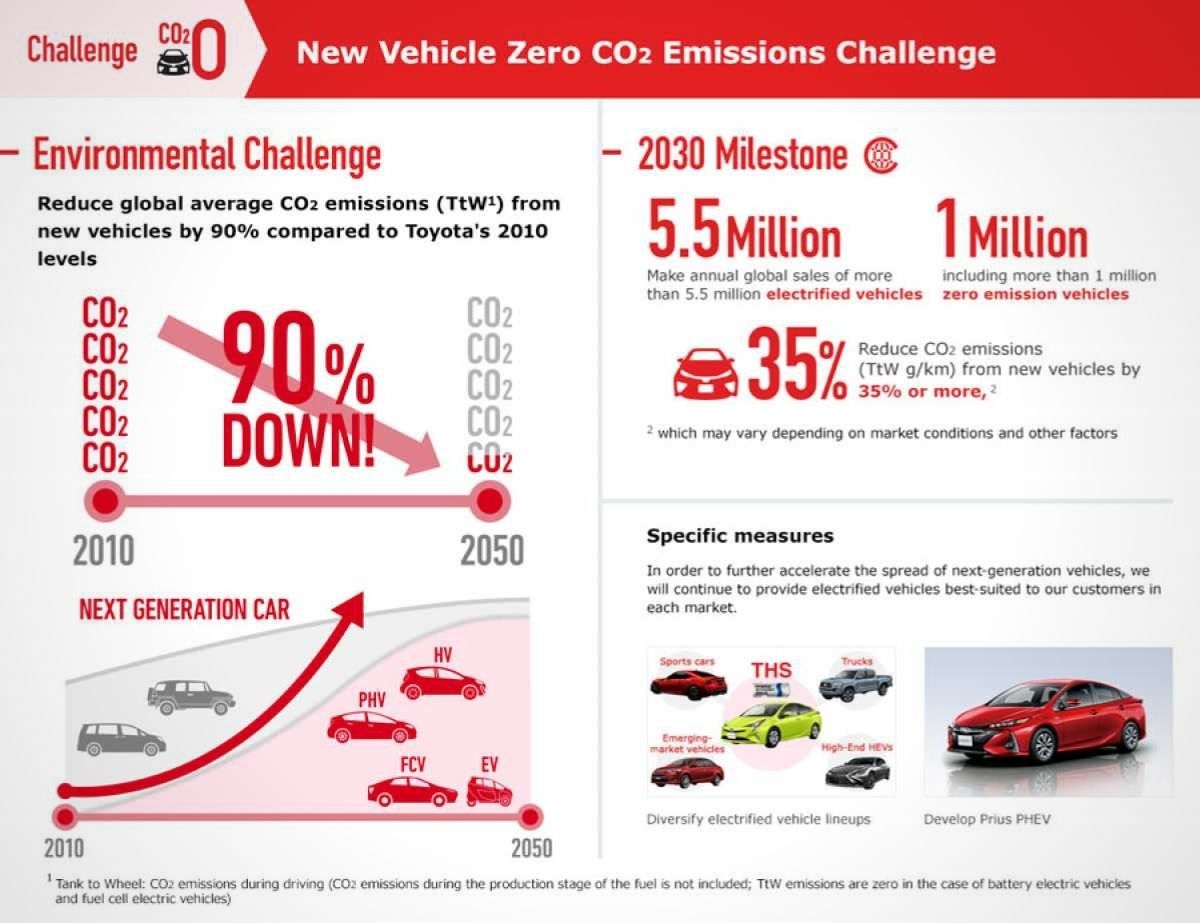 The carmaker has set some pretty ambitious goals for itself by 2050
>>> Related: List of Toyota Hybrid cars Philippines with price list, specs and brief review
Although Toyota already secured its commitment to electrification with an agreement to purchase power from a future wind farm, it's not counting out other propulsion options yet. According to Toyota Motor Corporation chief scientist and Toyota Research Institute CEO Gill Pratt, the strategy is to cover all the bases.
"At every price point and with multiple powertrains, we can put more people in cleaner automobiles across North America to have the greatest near-term impact on total carbon emissions," he said.
Plug into more industry updates at Philkotse.com.
Know more about Toyota RAV4 2021

To complement the contemporary sharp-angled design language, the Japanese carmaker created the all-new Toyota RAV4. It sits just on top of the Fortuner for being a more premium crossover-type that can accommodate five occupants. It was initially introduced as a compact SUV to the market in 1994 to provide the demands of urban markets. Now over the years, the Toyota RAV4 has evolved into something more and now part of the fifth-generation model. The Japanese automakers abandon the old rounded style that makes the car appear boxier. Designers of Toyota were inspired by the brand's rugged variety of SUVs, such as the US market midsize Tacoma truck as well as the 4Runner SUV. There are three distinct variants available - the LE worth Php 1.71 Million, XLE with a price tag of Php 1.92 Million, and LTD valued at Php 2.24 Million. The Toyota RAV4 is offered in nine different colors - Dark Blue Mica, Cyan Metallic, Urban Khaki, Red Mica, Attitude Black Mica, Grey, Silver, White Pearl Crystal Shine, and Super White. Furthermore, all the variants are powered by a 2.5-liter Dual VVT-i DOHC four-cylinder gasoline engine. The power plant generates 243 Nm of peak torque output and 202 hp. For safety purposes, Toyota RAV4 features seven airbags, electronic stability control, ABS with EBD, hill start assist, parking sensors, traction control, and the like.

Joseph Paolo Estabillo
Author