If you're wanting to go green this Christmas, here's a list of Toyota hybrid cars available in the Philippines.
To aid our readers who're in the market for a new car during this Christmas season, here's a list of Toyota hybrid cars currently being sold in the Philippines.
Included is a short review of each vehicle's performance, how it looks on the outside, its performance and fuel mileage, and of course…their features.
#1. Corolla Altis Hybrid - An affordable but stylish Toyota hybrid car
Specifications

Name

Engine

1.8-liter four-cylinder DOHC gasoline engine

Power

121 hp @ 5,200 rpm

Torque

207 Nm @ 3,600 rpm

Transmission

Continuously Variable Transmission (CVT)

Price

₱1,595,000
The Corolla Altis hybrid and the non-hybrid that currently being sold by Toyota Philippines today has a lineage that can be traced way back to the Toyota Corolla E10 which was released in 1966.
As the years went on and as Toyota's market expanded, the here in the Philippines and the rest of Southeast Asia has eventually been given the Altis name. In 2018, the Corolla, and by extension, the Corolla Altis, has evolved to become the E210, the 12th generation which uses the Toyota New Global Architecture (TNGA) platform.
This platform provides a much sportier stance which is lower down to the ground. This, of course, means a greater potential for a better driving experience. Apparently, this is a reflection of Akio Toyoda's mandate which states that Toyota, from now on, won't be making boring cars.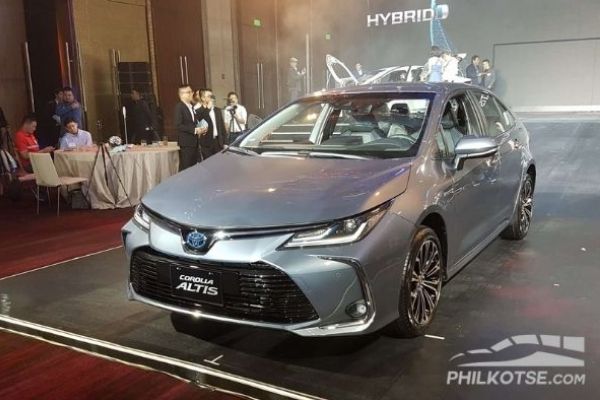 Finally, an affordable but stylish hybrid!
More recently, the Toyota Corolla Altis has been developed a hybrid-powered version whose powertrain is made obvious by the bluish Toyota logo and a different set of wheels.
Powering the Corolla Altis Hybrid is a 1.8-liter inline-4 gasoline engine that makes 97 horsepower and 142 nm of torque. Combined with the motor generation which makes 71 horsepower, the car makes a total system maximum output of 121 horsepower. Power is sent to the front wheels by a continuously variable transmission.
As expected, the EV mode can yield you 99.9 km/L. That, however, has a really short range so the combustion engine will activate after a while. On very heavy traffic, the Corolla Altis Hybrid can return 11km/l which is not bad at all. On the highway, it can return an impressive 28 km/l. This figure has a potential to get better if you use the hell out of the Radar Cruise Control.
Toyota Corolla Altis Hybrid Launch
And, in talking about the Corolla Altis Hybrid's interior. It of course looks a whole lot like the normal Corolla Altis' interior. Five people can fit inside and just like the top of the line Corolla Altis 1.8 V, the Hybrid version has leather seats and a LOT of soft-touch surfaces ranging from synthetic leather to silver-colored plating.
Also, the standard head unit has USB, AUX, Bluetooth and K2 Audio Enhancing technology and T-Link for Android and Apple. All are tied up to 4 speakers and 2 tweeters. The Hybrid, however, has a larger 7-inch color display for a gauge cluster.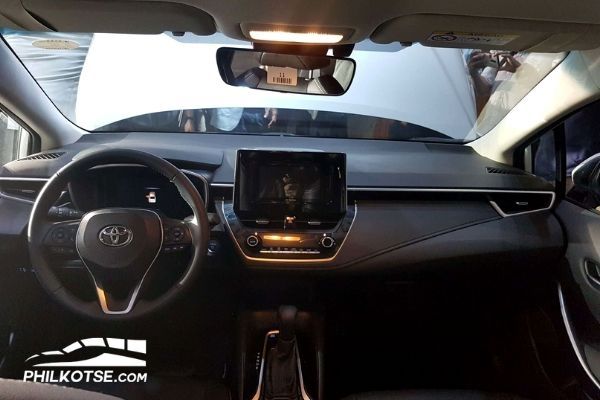 The interior of the Corolla Altis Hybrid is clean and yet very modern without being gauche
As for safety, the Corolla Altis Hybrid is even more of a departure from plainly internal combustion models. Take for example the steering switch. It has buttons for the dynamic radar cruise control and the lane departure alert.
Other driver-assist features also include the Toyota Safety Sense. On the PH-market Toyota Corolla Altis, those include a pre-collision system, automatic high beam, lane tracing assist, lane departure alert, and dynamic radar cruise control.
On the passive side, there's a driver and passenger airbag, side airbags, curtain airbags, knee airbags.
>>> Related: 
#2. Toyota Prius: Top-selling Toyota hybrid car
Specifications

Name

Toyota Prius 1.8 Hybrid

Engine

1.8-liter 2ZR-FXE inline-4

Power

99 hp @ 5,200 rpm

Torque

142 Nm @ 3,600 rpm

Transmission

Continuously Variable Transmission

Price

₱ 2,339,000

Review
Ladies and gents, the Toyota Prius is THE hybrid that started it all. It's one of the first that gained success on a worldwide scale, and it's also one of the first to be mass-marketed by Toyota. And by all intents and purposes, it's the car that launched the Green initiative that almost all major car manufacturers around the world have come to embrace.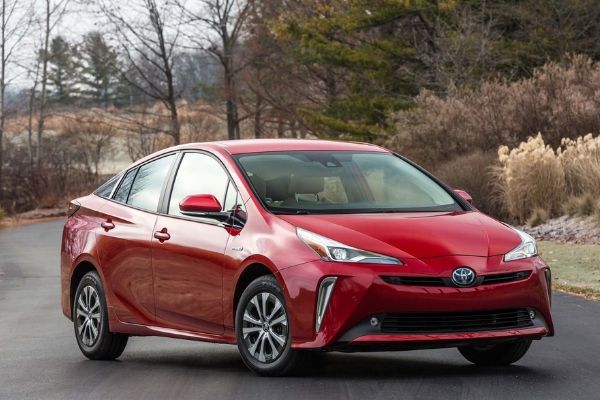 Yeah, the styling is polarizing but we admit that it's very recognizable on the road
In 2019, the Toyota Prius, despite its age, still remains as one of the top-selling hybrids models currently available right now. And for good reason.
It's 4th-generation models which were first shown in 2019 that are still being sold today, currently has the most efficient motor-generator/engine combos currently available in any hybrid.
Its engine is a 1.8-liter 2ZR-FXE inline-4 which it shares with the Toyota Corolla Altis. Combined with the motor generator can make a decent 121 horsepower. The Toyota Prius offered for Philippine market is a front-wheel-drive vehicle with a continuously variable transmission.
Also, of note is the 4th-generation already rides on a Toyota New Global Architecture which as we've said with the Corolla Altis Hybrid, has a low suspension.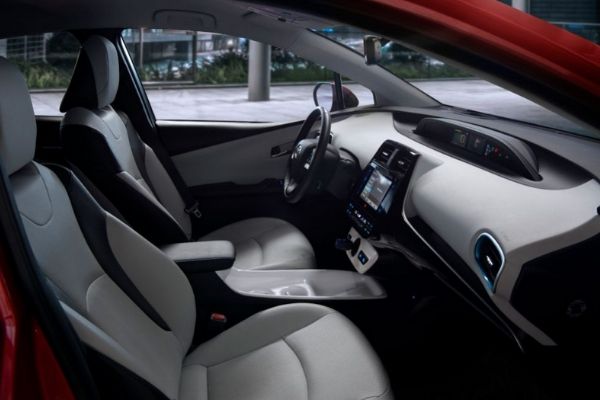 While derided by a lot on the internet, there's no denying that the Prius has lots of space inside
According to many sources, the Toyota Prius can return an impressive 40km/L. While that figure might depend on driving conditions, it's good to know that the car is capable of that.
>>> Related: 
#3. Prius C: A city Toyota hybrid car in the Philippines
Specifications

Name

Toyota Prius C 1.5 Full Option

Engine

1.5-liter Inline-4 Atkinson Cycle Engine

Power

130 hp @ 4,800 rpm

Torque

280 Nm @ 4,000 rpm

Transmission

Electronically Controlled Continuously Variable Transmission w/ ECO and EV Mode Settings

Price

₱ 1,970,000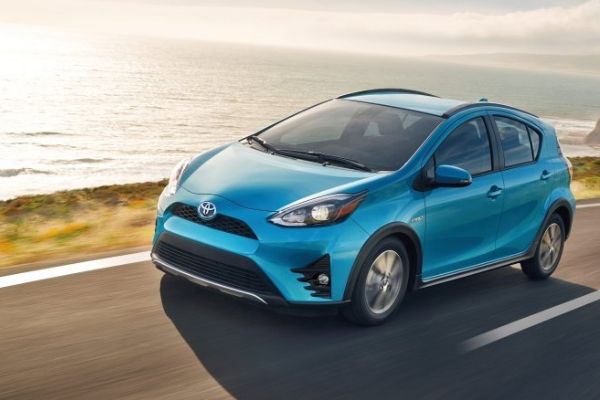 Whaddya think? Are we right in saying that it looks like the 2nd-gen Yaris or is the Prius C unique?
Another model under the Prius name is the Toyota Prius C. For those who don't know, the "C" in the name stands for "City" which of course is reflected in the smaller stature of this particular Toyota made a hybrid.
Indeed, it's smaller than the second vehicle on this list, but it still has a lot of Prius inspired styling cues on the outside, a really low drag coefficient of 0.28 for improved fuel economy.
Regardless, it looks like a more conventional hatchback. Some are even saying that it kinda looks like the old 2nd-generation Toyota Yaris which in turn is related (and is a bit similar looking) to another Toyota model that we all know and love, the Toyota Belta, aka, the 2nd-generation Vios.
Other than looks, the Prius C is indeed ideal for the city. Its small, maneuverable, and will do great in parking lots and small roads. For the highway…let's just say it's decent. So, are you convinced to buy a Toyota Prius C?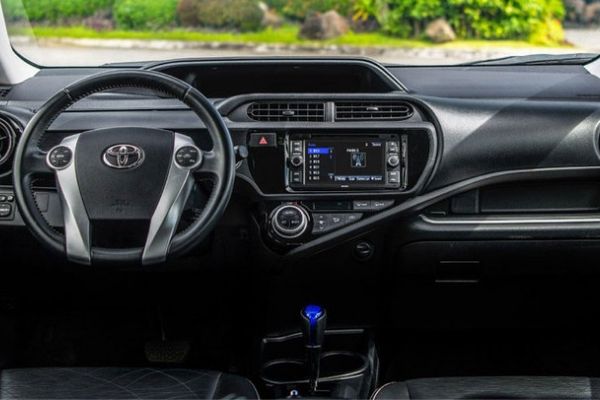 It's smaller than the Prius, as such, there will be a lot of differences when it comes to how the interior is arranged
Inside, the Toyota Prius C Philippines is smaller and simpler. There are a lot of hard touch plastics but it does have a lot of small storage cubby holes. Like the larger Prius and the Corolla Altis Hybrid, the Prius C can comfortably fit five people just fine. It's a bit tight in the back though if you're planning to load up your big-boned friends.
For its engine, the Prius C uses a 98 horsepower, 1.5-liter inline-4 Atkinson cycle engine that drinks gasoline. This is combined with a 45 kW electric motor.
Keep posted on Philkotse.com for more car news, tips & advice articles.


Cesar G.B. Miguel
Author