The pickup tops crash tests for adult and child protection.
The 2021 Toyota Hilux is a considerable improvement over its predecessor not only in terms of exterior appearance and interior tech but also in power. But there's been no change when it comes to safety, with the new Hilux again achieving a perfect 5-star rating from the ASEAN New Car Assessment Program (NCAP).
2021 Toyota Hilux Philippines Quick Look: Subtle changes that matter
For adult occupant protection, the Toyota Hilux scored 14.53 out of 16 points for frontal impact, a perfect 16 points for side-impact, and 2.4 out of four points for head protection technology (HPT), totaling 32.93 out of the maximum 36 points. Data from the frontal offset test showed that the Hilux provided good upper and lower body protection for the front occupants, although protection for the driver's lower legs was rated between marginal and adequate.
The Hilux again gets five stars from ASEAN NCAP for safety
In terms of child occupant protection, the Hilux managed 15.6 points out of 16 for frontal impact, a perfect 8 points for side-impact, and 11.44 points for installation of a child restraint system using the ISOFix anchors, for a total of 44.04 out of a maximum 49 points. A range of child seat brands was used in testing, with varying results depending on the orientation (front-facing or rear-facing) as well as the position within the cabin.
>>> Related: Improvements in the 2021 Toyota Hilux worthy of your attention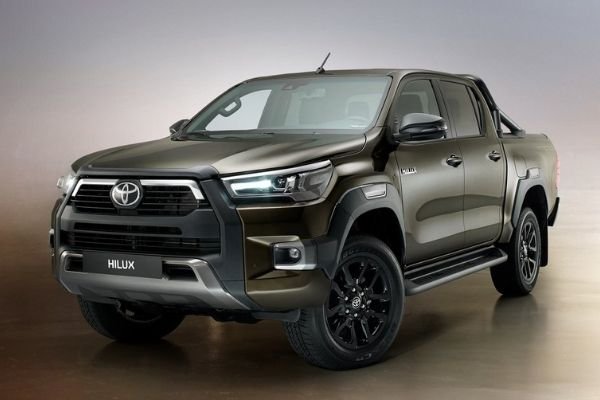 Both the previous and current Hilux use the same platform
For safety assist technology, 5.2 points out of eight were awarded for effective braking & avoidance, 3.75 points out of six went to seatbelt reminders, and a perfect two points out of two for advanced safety assist, resulting in 10.95 out of 18 points in total. The Hilux was not rated for blind spot technology.
The scores in each category added up to a weighted score of 83.42, equivalent to five stars under the 2017-2020 rating protocol. This was actually the second test that has been conducted on the Toyota Hilux, following the 2015 evaluation that saw the pickup score five stars for adult occupant protection. ASEAN NCAP retained the older model's 5-star front offset rating for the 2021 version, noting that both the previous and current Hilux utilize the same platform.
Find more five-star automotive industry updates only at Philkotse.com.
Know more about Toyota Hilux 2021

<p>The Toyota Hilux is a pickup with a globally known nameplate for being one of the reliable workhorse vehicles. It was 1968 when Toyota&#39;s pickup truck started building a reputation for being rugged and dependable, and it continues until today with the facelifted model launched in 2020. This popular pickup continues to evolve and slowly move upmarket after gaining luxuries. The most significant revolutionary jump of the Hilux happened in 2004 when the seventh-generation of the model was introduced. It was the first 21st-century iteration of Toyota&#39;s pickup. It is also the first generation to ride on Toyota&rsquo;s new Innovative Multi-purpose Vehicle architecture. It provided improved safety, better ride comfort, modern D-4D diesel engines, more interior space, and a more modern aerodynamic body. The current 8th generation offers a more refined and stylish design than its predecessor, but the tradition of being a tough pickup continues. It gets a much-awaited refresh in 2020 inline. Aside from improved looks, the Philippine iteration also comes with more powerful engine options. The Toyota Hilux is available in 4x4 and 4x2 variants. In the Philippines, the pickup truck is offered with diesel engines. It is available with automatic or manual transmission depending on the variant.</p>

Joseph Paolo Estabillo
Author